Last Updated on June 18, 2021 by Drew Thomas Hendricks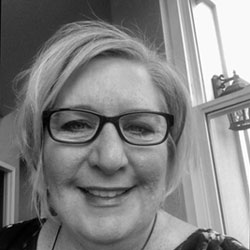 Kim Connolly is the Founder and CEO of Loupe Graphics, a digital printing company focused on providing customizable packaging and prints for CPG and DTC brands. Kim is also the Founder of Sandbox, a printing company that creates a unique and personalized unboxing experience for wineries of all sizes.
Kim has over 30 years of experience in the printing and packaging industries. She has worked for companies such as Peet's Coffee, Partner at Press, and has collaborated with countless wine brands. Kim is also the President of Books N Blankies, a nonprofit supporting literacy for children.
Here's a glimpse of what you'll learn:
Kim Connolly reflects on her career and how she landed in the wine and printing space
How the print industry has evolved over the past 30 years
Kim discusses the beginnings of Loupe Graphics and the steps she took to pivot during the pandemic
The story behind Sandbox — and how it's revolutionizing the unboxing experience
The impact a good unboxing experience has on repeat customers
Tips on making consumers feel more connected to your brand
Kim describes the multitude of ways wineries can customize their packaging and printing materials
The growth of virtual tastings during the pandemic
Kim gives a shout out to the nonprofit she runs, Books N Blankies, and why she's passionate about literacy for children
In this episode…
Have you ever had a subscription to a wine club? You wait all month for your box to arrive, full of exciting, new wines to try. It's finally the day, and you see a plain, boring brown box on your doorstep. No personalization and no information about the winery — just bottles wrapped in bubble wrap. What if that could all change?
Kim Connolly had that situation happen to her one too many times. Having 30 years of experience in the printing and packaging industries, she decided to revolutionize the wine industry and founded Sandbox, an arm of Loupe Graphics. Sandbox allows wineries of all sizes full customization of their wine boxes that creates a unique and memorable unboxing experience for consumers. Kim's here to share her story and tell you all about why the unboxing experience matters.
On this episode of Legends Behind the Craft, Drew Thomas Hendricks has a conversation with the Founder and CEO of Loupe Graphics, Kim Connolly. They discuss the impact of a good unboxing experience, tips for customer retention and engagement through packaging, the popularity of virtual tastings, and much more. You don't want to miss this jam-packed episode!
Resources Mentioned in this episode
Sponsor for this episode…
This episode is brought to you by Barrels Ahead.
Barrels Ahead is a wine and craft marketing agency that propels organic growth by using a powerful combination of content development, Search Engine Optimization, and paid search.
At Barrels Ahead, we know that your business is unique. That's why we work with you to create a one-of-a-kind marketing strategy that highlights your authenticity, tells your story, and makes your business stand out from your competitors.
Our team at Barrels Ahead helps you leverage your knowledge so you can enjoy the results and revenue your business deserves.
So, what are you waiting for? Unlock your results today!
To learn more, visit barrelsahead.com or email us at hello@barrelsahead.com to schedule a strategy call.
Episode Transcript
Intro 0:03
Welcome to the Legends Behind the Craft podcast where we feature top leaders in the wine and craft beverage industry, with your host Drew Thomas Hendricks. Now let's get started with the show.
Drew Thomas Hendricks 0:19
Drew Thomas Hendricks here I'm the host of the Legends Behind the Craft podcast where I talk with leaders in the wine and craft beverage industry, from the founder of BottleVin whose technology brings a wine story to life, to today's guest, Kim Connolly, whose latest venture empowers wineries of all sizes to elevate their wine club unboxing experience. Today's episode is sponsored by Barrels Ahead. At Barrels Ahead we work with you to implement a one of a kind marketing strategy. One that highlights your authenticity, tells her story and connects you with your ideal client. So Kim in short, if you're a business looking to retain a winery as a client, Barrels Ahead will figure out a plan to make it happen. Go to barrelsahead.com today to learn more. Before I introduce today's guest, I want to give a big thank you to Dr. Hoby Wedler and thank you to Dr. Jeremy Weisz of Rise25 for connecting us. On last week's show Hoby and I talked how brands are overreliant on visuals. Give the show and listen and discover why your brand needs to leverage all the senses. I'm super excited to talk with today's guest Kim Connolly CEO of Loupe Graphics. Kim is the linchpin between design and execution she brings to life the vision of a designer, whether it is a wine label, a can of seltzer, or shipping box. In fact, Kim's latest venture Sandbox leverages her 30 years of print experience. Sandbox enables small to medium sized wineries to create a fully branded unboxing experience that was previously only available to big brands. Welcome to the show, Kim.
Kim Connolly 1:42
Thanks very much, Drew. I'm really excited to be here.
Drew Thomas Hendricks 1:44
We're excited to have you on the show. To tell us all about yourself.
Kim Connolly 1:48
Well, I'll tell you it's been a career. I've been in printing for the 30 years, since I attended Cal Poly San Luis Obispo. And I've kind of moved with the industry as it's changed. I started out I actually did a internship with the Wall Street Journal and thought about newspapers. And thank goodness, I didn't go down that path. But subsequently I did a long history with direct mail, worked with a lot of different companies to help get the word out through the mail. And then when the recession hit in 2008, 2009, I shifted it a little bit and started working in packaging. And it's been kind of brilliant, because I love how I've been able to get back into all different types of print. As a result of that, especially in wine packaging, which is where most of my focus is there's such a wide variety of print techniques that are used, that it really pushes my pushes me every day to find, find new ways to get things done. I'm also a huge proponent, and this has been something I've tracked in my career for 10, 15, 20 years, the development of digital printing. And that's a game changer. It's now at a point where you almost don't have to care whether or not you're printing digitally, because the quality is so good. But yet the digital solution provides opportunities that other print processes don't, along with being more sustainable. So it's just a it's a great synergy of experience and technology and staying abreast of innovation that's led me down this path to where I started Loupe Graphics to really help my customers produce things the way they are best produced and looking the way that designers intend them to look.
Drew Thomas Hendricks 3:35
Fascinating. Yeah, you know what a little bit of a backstory, we talked to the pre pre show. And in the past life, I used to run a commercial print company. We had a couple Indigo presses. But that was only a few years. How have you seen that the print industry evolved beyond just digital over the last 30 years?
Kim Connolly 3:50
Oh, well, of course, everything is different from when I started, you know, the I saw I saw a tweet the other day that said put up a word that in your industry means something completely different than the common definition of it. And of course, mine was the word stripper. When I started in the industry, the people who worked in pre press were called strippers because they would strip together different layers of mylar and film negatives to create the printing plates for your print. And of course that has gone the way of the dinosaur. And now everything is done using pre press software. So that of course has changed things drastically. I mean, the whole paradigm of getting something printed, I have found has it's more from having an expert in your company that is a print buyer to another job that a procurement person often is responsible for. And so it's left kind of a gap of knowledge for a lot of companies buying millions of dollars worth of printed material and packaging and the people buying it don't necessarily know the questions to ask or the ways to value engineer something. So there's a there, it's made me kind of sad to see how that has disappeared, you know, yes, there are rep sales reps for different printing companies that will help you out. But you're reliant on sort of the fox in the henhouse, then to tell you the best way to do something. So I just feel like, you know, if you can find someone like me who can be agnostic and help you engineer your item to produce the best way possible, and help you find the best vendor to do it, then it's a win for everybody.
Drew Thomas Hendricks 5:36
That's a super big value. Because with the with the onset of digital, the technology is changing so quickly. And it's it's tough to keep abreast of what the latest and the best is, in the best type of digital for the, for the client, and for the medium that they're wanting to be printed on.
Kim Connolly 5:52
It's kind of ridiculous how much things change and how hard it is to keep up, you know, I do a fair amount of research in color management. And every time I read about it, my head kind of wants to explode. Because it's such a detailed minutia part of the work we do, but it's so crucial. And if that's the thing with digital is that, you know, designers are now asked to become pre press experts in order to supply files that are going to be accurate for production. And it's expanded what's needed by the designers now that we don't have cable strippers anymore to figure out how something's supposed to print.
Drew Thomas Hendricks 6:34
We still have table strippers, they're just very different.
Kim Connolly 6:37
They are, yes. But in any event, I find that you know, if those designers who make become educated in color management and can assign the correct color profiles at the correct time, much more successful when they want to go to produce something digitally. And quickly, you know, that's another part of this business that has changed drastically during my career is the expectation of speed, and how quickly people want things done. And you know, there's a risk involved with that, if you, if you don't want to follow the process, I'm kind of a process guru, we don't want to follow that process of, you know, getting a proper proof or getting a comp made of your new package and making sure everybody's aligned, you run the risk of it failing, and not meeting your expectations.
Drew Thomas Hendricks 7:27
So as far as speed, we always talked about that, that triangle, you can have it just you can have a cheap, and you can have an excellent, but you can only have two out of three.
Kim Connolly 7:36
That's right. That's right, that that that's the adage, right. And there's, there's a lot of truth to that, I think, especially in packaging, because there's so many stakeholders that have to be aligned to make something work properly.
Drew Thomas Hendricks 7:51
Oh, yeah. No, what was your motivation behind founding Loupe Graphics?
Kim Connolly 7:55
Well, I, um, I had worked for a pre press company in the CPG space for a number of years, and I was doing a lot of wine packaging specifically. And I wanted a broader experience I wanted, I wanted to look at other categories. So I went to work for Peet's Coffee for a time, and I managed their Creative Services team, so that I could get that breadth of experience, you know, we worked not only on retail store efforts, but also ready to drink category and the flexible packaging, of course, for the coffee and rigid cartons, and you know, all sorts of different categories beyond what I would typically see in wine. So I did that, because I wanted that broader experience. And, and at the same time, I knew I wanted to go out on my own, to support my customers with that design execution part of their, their, their needs. So I started looking at my, my, you know, list of contacts from my 30 years in business and just decided that there were plenty of people there that I knew that knew my reputation knew what my experience knew what I could bring to the table, and that I would be able to make a go of it.
Drew Thomas Hendricks 9:12
So important to have that guide and trusted guide to help you navigate that print world.
Kim Connolly 9:17
So I when I started Loupe in 2019 and 2019 you know, I got off to a good go and things are starting to happen. And then the pandemic hit. And so I was sort of at sixes and sevens business was continued to be okay, but I had a couple of customers who had like a whole refreshed for major wine brand that got put on hold. And I I think they still haven't really fully executed on it yet. So things weren't as busy. I wasn't as busy as I want it to be and I was seeing how much the pandemic was impacting the path to purchase, if you will and how that was changing and that money Most of my wine customers were of course having to make that that quick shift to being direct to consumer as their main way to, to sell more wine and get it out the door. So I thought about it and I had that I was doing some research on some of the online offerings to help businesses procure printed goods, if you will. And what I found was that if you wanted to put together a great box for shipping your wine and having a great unboxing moment with your, with your customer at home, you would have to go to at least three different places to order the materials to build that box, maybe four or five, depending on what you wanted to put together. So I decided to kind of shift that paradigm. And instead of saying, Oh, I can supply your corrugated boxes, I put together ecom site where you can find everything you need to build your wine club box.
Drew Thomas Hendricks 11:03
That's your new venture, Sandbox.
Kim Connolly 11:06
That's Sandbox. Yeah, exactly. And the reason I named it Sandbox is because in addition to it being that one place that you can gather everything you need, there's also design tool on the site. So for example, if you have, let's say, three or four different wine brands, you can design one box, and then you can use the online tool to change out the graphics on it for your other brands. So you don't have to incur the cost of a designer every time you can make some updates to your content within the site. It's a there's a video on my site, that is a quick tutorial on how to use it. And I'm not a designer and I, I use illustrator but I'm no expert. And so this tool, opens it up, it makes it anybody can go in and edit something and update. So I, I created some templates in there for common products. For example, one of the items is custom printed tissue paper. So if you wanted to wrap your wine bottles in tissue to really create that beautiful moment for someone to unwrap it as a more like a gift, you can go into my tissue template and just swap out the logo with your own. And within you have placed the order and then we'll produce that with your logo on it.
Drew Thomas Hendricks 12:30
That's awesome. I like how you talked about the beautiful moment that that unboxing experience, especially with COVID where people aren't stepping foot into the tasting rooms. Those people don't have experiences, actually at the winery, the only Nexus where they can get that kind of tactile feel. And just visual and just complete feeling with the brand is when they're opening the box. And we'll talk about that for a minute.
Kim Connolly 12:54
Yeah, I I'm, I do a fair amount of online shopping not a ton. But during COVID I that was I joke that was my market research was I tried out a boatload of wine clubs, partly to keep my seller stock, but also so that I could see how they were packing their product. And it's fascinating. There's a beautiful winery out of Santa Barbara, that I love. And so I thought, well, I'll order some wine from them, because I want to support them during COVID. And I'll tell you what, that wine showed up in a completely brown box with nothing to tell me who it came from, and absolutely nothing to tell me about the winery, I had another one that showed up was actually a gift that someone had sent me there was not even a there was nothing to even tell me what winery it came from, like literally nothing in the box that told me where that wine had come from. So I have found and there's some data, it's hard to find this data. But I have seen data, that branded boxes that create that unboxing moment, of course, hopefully, you know, you get a social media moment out of it, because a lot of people post those to their social media. But I've seen some initial data that it's more like your two to three times more likely to have a repeat customer if they have a good unboxing experience. And to me, that's kind of an invaluable thing, right? Because we all know in business, the hardest thing to do is to find a new customer. So you're much better off keeping an existing customer. And to me, that's kind of what the unboxing is, they know they want to try your product. So if you ship it to them and give them a reason to engage with your product, to feel connected to your brand. Through that unboxing they're more likely to come back to you again,
Drew Thomas Hendricks 14:47
That's so important, feel connected with your brand. And that's just one more of just if you don't put any effort into it or it's just distributed by a, you know, production facility. I think that huge opportunity when you've already spent so much time trying to acquire that first sale.
Kim Connolly 15:02
Absolutely. I mean, the first sale is the hardest, and whether they whether they've done it through, you know, your online offerings or finding you through social media, or even having come to your winery and, and joined your wine club. I mean, my goodness, you know, the retention rate for wine clubs is not stellar. And so –
Drew Thomas Hendricks 15:25
Super important thing to consider wine club retention, because a lot of times, you'll take a visit to Napa Valley, or you'll go to Sonoma, or go on vacation, you may be from New York, Virginia, and it may be your one, one time, they actually were in the facility, that magical moment at the winery, you signed up for the wine club, six, six months later, or four months later, you get the ship and you're like, oh, man, I forgot that I committed to $600 four times a year. And the winery needs to recapture that moment. And that's what your Sandbox does, it helps –
Kim Connolly 15:58
Absolutely. It gives them a chance, to communicate to have that tactile experience, again, to maybe remember the visit would love to see more connectedness between that visit and their shipment. Like there's no reason you couldn't there, your winery and they take a selfie on your location that you can get that image and repurpose it in a piece that you mail back to them. You know, there's all kinds of things that they do. I know, right? So it's easy to do now. And with the digital –
Drew Thomas Hendricks 16:31
Especially with digital printing, you could have like a variable loan getting variable data per box.
Kim Connolly 16:37
Totally. Yeah, that's exactly –
Drew Thomas Hendricks 16:39
With variable invoices per box, you might as well include a personal note.
Kim Connolly 16:42
Right? It doesn't. When you talk about variable data, it doesn't just have to be the name of the person, right? You can put a custom image in. And if you could capture one from when they visited your winery, how impactful would that be?
Drew Thomas Hendricks 16:56
That's phenomenal. That's a great idea. I love that.
Kim Connolly 16:59
Yeah, I talked with a designer one time about digital printing. And I asked ask them if they had used digital printing very much. And they kind of shook their head. And they're like, Oh, you know, we'll use it occasionally for sequential numbering. And I'm like, Oh, it's so much more than that. It's so much more than the sequential numbering. So.
Drew Thomas Hendricks 17:21
That's it. What are some other ways people can, you know, wineries can customize that box using the latest technology?
Kim Connolly 17:28
I've got a project I'm working on right now where we may be doing super short runs for a curated collection of wine and every shipment would be different a different varietal, different vineyard, a different winemaker. And the best way to do something like that is to do it digitally. So that you can do the short run, but also change the content. And so that way, we don't have to decide too early what the product is going to be, we can design something that you know, the design isn't necessarily going to change all that much. But the content will. So we'll do our 200 cases every other month, and do it digitally. And that's how we'll solve that problem. And every box then that ships will have that unique information on the outside of it.
Drew Thomas Hendricks 18:19
And that previously before the latest technology that would have been almost like cost prohibitive.
Kim Connolly 18:24
Oh, the only way really, you might have done it before would be with a label, you have to have a brown box and slap a label on it. But this way, you know, we can do a coated white paper out the exterior if we want and print anything we want. We can make it look like a crap box if that's what you want. But you know, it's digital, the sky's the limit. Really.
Drew Thomas Hendricks 18:48
That's amazing. As far as the other unboxing I just a personal story. I'm a member of probably too many wine clubs right now. The ones that I couple of the things I really like that's included in that unboxing experience. I know McPrice Myers has done a lot. They do have a simple, just plain brown box. But inside they always have sort of a refrigerator magnet or a recipe card or a letter from the winemaker. And then the other thing that's kind of tying the digital in with the unboxing experiences kind of the link in the notification that there's going to be a virtual tasting, which may be the other thing that came out at COVID is the rise of the virtual tastings.
Kim Connolly 19:24
Mm hmm. Yeah, one of the things I've got on my on Sandbox is what I call a box topper. So it's like a 12×19 that would sit on top of your inserts and on top of the wine. But that was kind of my vision with that is that somebody could use that to create a tasting mat for the wines in the box so that if they were going to be doing a virtual tasting, then that box topper would serve as like a placemat for the wine tasting and allow people to, you know, put down their notes and you know, you'd be able to print an image of the bottle and the information about the varietal and then they'd be able to add their own notes to it as they tasted through.
Drew Thomas Hendricks 20:01
Well, that's an awesome idea. I love that. Because yeah, I went through a virtual tasting the other couple of weeks ago with Reininger Winery, where the winemaker there was walking in through his latest releases, and I'd open the bottles, but no, they didn't have a tasting mat.
Kim Connolly 20:14
Yeah, see, and I think anything you can do to, I think the virtual tastings are really very clever. And, uh, and I hope they stick around, because I think it makes the whole wine tasting experience a lot more accessible. And, you know, it's hard to get to Napa, even when there's no COVID. So, you know, let's make it easy for people to participate and help them share in the joy of it.
Drew Thomas Hendricks 20:39
So the other way that I'm loving right now is that I'm including the recipe cards, and having the virtual recipe cooking, where they'll have this chef, we get the recipe card in the box, and then there's a date where the winemaker or someone at the winery starts cooking those recipes with the wine. It's just one more way to gauge someone.
Kim Connolly 20:58
That sounds great. Have you done any of those? Have you sat in on any?
Drew Thomas Hendricks 21:01
I haven't. I have used the recipe cards.
Kim Connolly 21:04
Yeah, me too. I love the recipes. I mean, they're often, you know, recipes I wouldn't find otherwise. So I love that. And I think you know, there's some great ways to access those now and, and develop. So our friend Laurie at Outshinery is doing a great job with the recipe development. Offering that as a solution.
Drew Thomas Hendricks 21:27
Oh yeah. One more thing to help that unboxing experience because a lot of people play it down. I mean, we kind of talked about the importance of it. But the down the other side is that it's all digital. Now no one cares about the physical box. It's about the wine, but the wine is so much more than just the juice in the bottle. It's the perception.
Kim Connolly 21:45
Completely. Yes, yes. I mean, that's the case in the grocery store, too. Right? You you've got to have that, that moment when somebody picks up the bottle and connects with it in the store. And it's the same with your unboxing. You know, again, I just can't stress enough like you see houses with, you know, three boxes up front on step and, and if there's one that's branded and printed properly, it's gonna stand out, then it's going to get their attention. And, you know, to be able to unbox it and feel like you're visiting the winery is, it's invaluable, just invaluable. So with Sandbox, I really did it, I built it in a way that I hope it's attractive to, to the small and medium size wineries that are, you know, the winemakers trying to figure this all out on their own I built Sandbox so that it's easy for them to elevate themselves to that level, you know, there's, you know, big huge conglomerates with their DTC teams and all that they've got it figured out. But you know, for the single shot guy that the winemaker who's trying to do everything, that's really who Sandbox is for so that they can just go in one place, order everything they need, customize it. Second, next time they come back, all those products are there, they might make a few updates, you know, if they want to do a new little tasting sheet they put up, they get that first design done, then they can go back in the next month, and just swap out the bottle images and the copy and they've got their new tasting note. So super easy.
Drew Thomas Hendricks 23:12
So valuable. I mean, they need all the help they can get to keep to compete with this industry that's consolidating, and consolidating. And the bigger guys are getting bigger in such a large amount of small wineries. In order for them to sustain they need tools like the ones that you're offering.
Kim Connolly 23:29
Yeah, super easy. And then the other part of it too, is that I like to think some of the more medium to larger organizations might find it valuable as sort of that on demand inventory. And from a sustainability point of view, there's great value there that you only order what you need when you need it. And so the idea of obsolescence goes away. I can't tell you how many projects I've been involved with where you know, the obsolescence was a line item on the budget to write off old inventory. And it would just slay me every time when I heard that number. I just Oh, just killed me to think that this beautiful project we worked on 18 months ago is now going in the trash because it's out of date. So with Sandbox, you know, and being everything's digital, you can you can print 250 copies, you know, you don't have to do 20,000 so it makes a huge difference.
Drew Thomas Hendricks 24:20
That's amazing. Now as we go towards the end, is there any other question that I haven't asked you that you want to talk about top of mind for you?
Kim Connolly 24:29
You know, I would just say that Sandbox aside, I just feel like you know, winemakers pour their heart and soul into their wine. And I'm here to tell you that I put my heart and soul into your packaging. You know, because to me, like you said before, you got to get get them through like the packaging to me is like like the first date. You know, you have to get past that before they can will actually taste that great wine that you've put in the bottle. So you've got to, you've got to invite them in. And that's really what I do with my work in packaging, my platform is Sandbox, it's really a way to get people to step in and say, Wow, I want to, I want to try that, that wine and be part of that experience. And it's key, you know, you're not going to do it, you're a plain white label and a plain brown box isn't going to get it done.
Drew Thomas Hendricks 25:23
Very true. Is there anybody you would like to thank or acknowledge? We're all about gratitude on this show, and like to give you a platform.
Kim Connolly 25:30
Um, you know, I've had a lot of great help getting Sandbox off the ground. So they're all the people who were behind that, not the least of which was my daughter, who helped me with a lot of copywriting in my life. So she, she's a great asset to me, I have, aside from my business, I run a nonprofit. And it's, I've always had a passionate belief in the need for literacy in our world. And that's sort of how I got into printing in the first place, wanting to make that platform available to anybody who wanted it. And that's why I was initially led, leading the path down to newspapers when I first got into this business, but my nonprofit now is a small effort here in Solano to get books in the hands of new moms. And so we work with some beautiful quilting groups that provide handmade quilts and we package those baby quilts with, with books, to give them to new moms in our community and get them read into their babies from day one. So I do that locally, but one of the organizations I support on a global basis is an organization called Room to Read. And they promote literacy around the world. And then in particular girls education around the world. And recently I got to I was invited to one of their fundraisers and it was so awesome when my worlds collide, because it was a tasting put on by Topel Wines and the winemaker there is Martin Brunello Hafner, and he led a tasting that was a fundraiser for Room to Read. And it was just such a lovely event and a lovely evening, and he put branded material in the box that reminded me of the date of the tasting because I had it wrong on my calendar. So that was really valuable. So it was just a great synergy and I love it when that happens when you know something that you do for your vocation melds with your avocation and comes together like that. And that was a really, really great moment I really enjoyed that.
Drew Thomas Hendricks 27:30
Sounds very special. How can people learn about your, your charity?
Kim Connolly 27:35
My charity is called Books N Blankies. And the website is booksnblankies.org. And it's Books with an N, Books N Blankies.
Drew Thomas Hendricks 27:45
Books N Blankies. And where can people learn about you Kim, and Sandbox?
Kim Connolly 27:49
You can go to my website, Loupe Graphics and Loupe for people who don't know it's spelled L-O-U-P-E. And Loupe is the tool that we use in printing to visualize what we're seeing on the press. So so that's where I get the name Loupe Graphics. And so my website loupegraphics.com has a link there to Sandbox. The Sandbox link is a little long, it's sandbox.loupegraphics.com, but you can go access it through my Loupe Graphics site as well and learn more about me and the work that I do for CPG companies and wineries.
Drew Thomas Hendricks 28:26
Awesome. Well, today we've been talking with Kim Connolly, founder and CEO of Loupe Graphics, and the creator of Sandbox. Thank you so much for being on the show.
Kim Connolly 28:35
Thanks for having me. This was great.
Outro 28:40
Thanks for listening to the Legends Behind the Craft podcast. We'll see you again next time and be sure to click subscribe to get future episodes