How Can Social Media Impact Your B2B Marketing Strategy?
These days social media is a mainstay of marketing strategies far and wide. But you'd be forgiven for thinking that social media marketing is more of a B2C thing.
STOP!
It's time to smash that misconception into oblivion.
Social media marketing is as effective (if not more so) in the B2B sphere as it is anywhere else.
It's time for more B2B businesses to start channeling the power of social.
And we're going to show you how.
B2B marketing is a highly effective strategy industry-wide. Even the most technical products can be positioned on social media with fantastic outcomes.
In this article, we'll be discussing everything you need to know about B2B social media marketing, from what it actually is and why you need it, to a step-by-step implementation plan.
Ready to go?
Here's a breakdown of everything we'll be covering:
What is B2B social media marketing?
In its most basic form, B2B social media marketing refers to social media strategies targeted specifically for use by business-to-business companies as opposed to business-to-consumer companies. And, in reality, the distinctions aren't as radical as you might, at first, think.
The ways in which social media align with consumer spending are clear. After all social media has become intimately ingrained in the day-to-day nuances of our personal lives – including our spending habits. It's fairly straightforward to reach individual consumers on social platforms through ad campaigns, sponsored content, clear brand messaging, and interactive content.
And really, businesses aren't all that different. Businesses make purchasing decisions just like consumers do. And, more and more, businesses are active on social media platforms. It, therefore, makes sense to use these platforms to market products and services to other businesses.
With the right strategy and techniques under your belt, it is eminently possible to mobilize an effective and lucrative social media campaign to both business and non-business audiences.
After all, businesses too seek out valuable content, support, and customer feedback before investing in new equipment, tools, and technologies for their company.
Providing value-filled, educational, and engaging social media content is an ideal way to reach out to fellow businesses and build engagement. And once you've cultivated some happy customers, you might even enjoy a referral or two.
Why is social media marketing important for B2B organizations?
Social media has become a go-to information source for businesses and individuals alike. And, increasingly, social media is becoming an integral component in business sales.
In fact, 71% of small-to-mid sized businesses now use social media to market themselves.  And not only this. Did you know that 84% of C-level and VP-level buyers are influenced by social media when making a business purchase?
Social media is now a major part of corporate and company decision-making. As the social-media generations become the business decision-makers of today, social media is taking hold as a professional, as well as a personal, research tool.
Why you need a social media marketing strategy right now
With social media marketing and research taking center stage, every business should be prioritizing its social media strategy for B2B outreach.
And here's why.
Your competitors are already there
If you've done your competitor research, you'll probably have noticed that your direct competitors are already on social media. Check to see if your business competitors are active on social media. If they are, chances are they're connecting with your target customer segment in a way that is currently out of reach for you. It's time to get yourself on social media. Meet your competitors and improve on their content quality to stand out and generate more leads.
Your target personas are already there
If your competitors are using social media, then that means your target personas are too. Otherwise, they wouldn't bother creating a social media marketing strategy in the first place. Remember, it's not just consumers who are active in these spaces.
Business decision-makers are too. Before making an investment, business decision-makers always do their research. And social media is one of the major information outlets available to them. With the ability to ask important questions, engage with real-time discussions, reviews, and interactive content, business executives value social media highly.
The benefits of social media marketing for B2B organizations
B2B organizations have many different marketing strategies at their disposal. From Search Engine Optimization (SEO) to referral marketing. Why is it that social media marketing remains so crucial?
Aside from the following amazing benefits, social media marketing actually supports B2B organizations' other marketing strategies. It's not about mobilizing social media instead of, say, SEO. It's about mobilizing social media with SEO.
So, without further ado, here are some of the biggest benefits of social media:
Facilitates personalization
Social media campaigns are ripe for personalization. Today's customers crave a more personal approach to sales and marketing. Brands that get this right stand out from the crowd and differentiate themselves from competitors. And the same goes for business-to-business campaigns.  In fact, over 60% of B2B businesses now adopt a strategy of content personalization.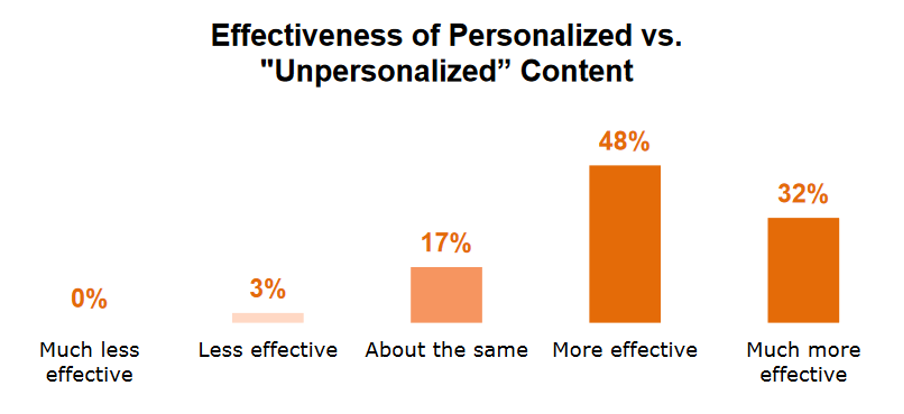 Image from https://neilpatel.com/
Broadens your reach
Social media has a broad reach. A really broad reach. According to Statista, in 2020 over 3.6 billion people were using social media, and that number is set to reach 4.41 billion by 2025. Prospects are using social media every single day. Reaching out on social media platforms is a no-brainer.
Great for providing customer support
When your customers are other businesses, you'd better make sure that customer service is top-notch. Business decision-makers won't put up with anything short of the ideal. And social media is the ideal channel from which to engage in fast-paced, customized, support. Plus, you'll also be able to benefit your business by engaging in social media research – or social media listening. By conducting surveys, seek feedback, and keep up to date on current trends.
Encourages engagement & collaboration
Social media is an ideal platform for educating prospects. It's extremely straightforward to engage with prospects and lead them in the direction of valuable, informative content. Using a social media platform to distribute informative documentation, network, or even host online events is a big plus.
Generates more traffic
Prospects might visit your social media page(s) before clicking through to your website. If your social platform is compelling, it has the power to generate traffic to the main event. Prospects will be more motivated to visit your website if they are already invested in the brand.
Distributes content
Social media is a fast and efficient way to distribute content. And, what's more, social media platforms have become increasingly established as reputable information sources for business. Enterprise content can be found across platforms.
Executive 'shoppers' looking for new business technologies, tools, and products are likely to check out your social media platforms for content, ideas, offers, reviews, and more. You'll find businesses linking to whitepapers, relevant articles, educational eBooks, courses, offers, and all sorts. Quality content offers and adds value. Period.
Improves SEO
Doing social media right is a great way to improve SEO. The more positive web mentions, third-party links, keyword content, and brand loyalty a business generates on social the better their search engine rankings will be as a result. It's a win-win.
Helps you build trust
Having an active, communicative social media platform is a great way to build trust. The more educational, interactive content your business posts on social media the more confident your buyers will be in their investment. Quality content and communication builds trust and loyalty.
Most importantly, makes it human
Social media is the best way to show the people behind your brand.
Create a B2B social media marketing strategy that works for you in 5 simple steps
Convinced that a B2B social media strategy is worth it?
Here's how to turn ideas into reality.
We're talking B2B marketing here. So, naturally, your social media strategy will need to reflect this. Whether you're going it alone or bringing in a third-party social media management company to manage the entire process, this 5-step approach will help you on your way.
Step 1: Ask yourself some questions
The best marketing strategies are self-aware. And that means asking yourself some mission-critical questions before even picking up the drawing board. These questions will help you identify the who, what, where, and whys of your B2B campaign. Here are four essential questions to get you started.
Why does your business want a social media platform?
Who is your social media platform targeted at?
What type of content do your target personas want/ need?
Where should you be posting content – which channels are best for B2B?
For example, if you're selling equipment and technology to wineries, you'll want to target those platforms where wineries are most active. You'll find that many wineries are already active on Instagram, for example, thanks to the visual nature of the platform.
Other platforms used for B2B marketing include LinkedIn, Twitter, Facebook, and YouTube. Each platform offers its own strengths. LinkedIn is a fantastic business networking platform, Twitter is best for quick-fire announcements, Facebook is the one for connection, and YouTube is ideal for posting audio-visual educational and instructional content.
Step 2: Identify opportunities and set smart goals
You've asked all the important questions and now it's time to set some goals. The best B2B campaigns are goal-oriented. And a great framework to work by is the SMART method. The SMART method posits that all goals should be (a) Specific (b) Measurable (c) Attainable (d) Relevant, and (e) Time-bound.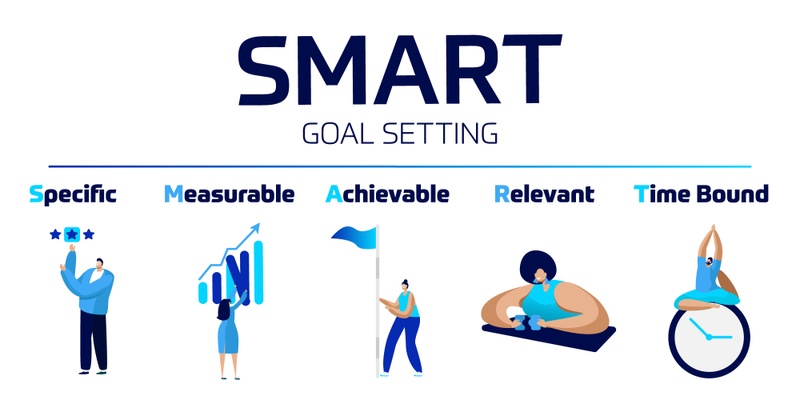 Here are some examples to help you make SMART goals of your own.
Specific – We will increase brand awareness by posting our equipment, bottles & closures on Instagram daily and post product demonstrations on Facebook and YouTube biweekly.
Measurable – We will be measuring the overall engagement rate before, during, and after increasing our social media posting and sharing.
Attainable - We will increase our engagement rate by 5% by the next quarter.
Relevant – By increasing our engagement rate we will gauge the corresponding impact on sales.
Time-bound – To be achieved by end of the quarter.
Step 3: Produce meaningful content and be consistent
They say that content is king. And it's true. Prioritize high-quality, meaningful content that offers value to your readers. And make sure that your content is original. Quality over quantity definitely holds true here. If daily posts are becoming forced, then focus on posting amazing content twice weekly. Remember different social media platforms are best suited to certain types of content. So don't just blanket run the same content across channels.
For companies in the food and beverage industry, this could mean reviewing the year's best equipment or posting instructional videos and tutorials about your products – whether that be a wine bottle, closure, or a piece of large-scale equipment. This is your chance to stand out.
Step 4: Be active and offer support
Don't neglect what social media is actually all about. Connection. Ensure that your team is active across social media and responding in good time to queries and comments from prospects. Investing time and effort into connectivity and support is always important, but perhaps even more so for B2B sales. Business purchases tend to require a longer sales cycle. Potential buyers are making investments for their companies.
As such, they will want to garner a substantial amount of reputable information before making a decision. If you can be there for them with the information at the ready, you'll be far more likely to secure their investment. Showing that your people are around, active, and engaged across your platforms is a must. It shows professionalism and builds trust amongst searchers.
Step 5: Optimize & measure
Last, but not least, always optimize and measure. The idea is to improve ROI after all. Data-driven insights will tell you if, and how, your strategy is making headway. When you can see what's working and what's not in real terms, you'll be able to optimize your campaigns for even better results and returns for the future. But how can one actually measure a social media campaign?
Well, you could (a) track activity over time or (b) home in on campaign-focussed metrics.
Helpful metrics that will help measure your social media campaign include:
Follower count – are you reaching enough people?
Impressions – how many times your posts show up on a timeline or feed
Web traffic – the amount of traffic coming to your website from social media campaigns
Share of voice – how engagement with your brand compares to your competitors
Clicks – how many people click on your links
Likes, shares, & comments – a great measure of engagement
Mentions – how many people are discussing your brand online
Lead conversion rate – how many of your leads actually make a purchase from you
Resolution rate- number of queries solved within a period of time
Give social media a starring role
If you're not already, it's time to give social media a starring role in your B2B marketing strategy. Social media isn't just for B2C – and don't let anybody tell you otherwise. More and more business executives and decision-makers are using social media platforms as legitimate information sources when it comes to making business investments. So, get yourself where your prospects are. And make sure you're offering a consistent supply of value-filled content to win around those leads.
If you are interested in learning more about how to incorporate social media in your B2B marketing strategy, set up a call today!