Last Updated on May 2, 2021 by rise25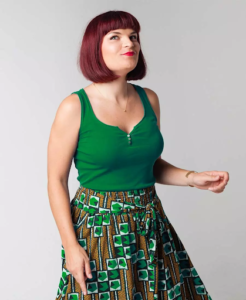 Laurie Millotte is an award-winning designer, world traveler, and the Founder and Chief Amazement Officer of Outshinery. Her company helps wineries of all sizes access high-quality, ready-to-use product photography and videos. Laurie is also an independent creative director and offers one-on-one services in brand strategy and design, packaging, copywriting, and more!
Laurie began her career as a Graphic Designer for Brandever Strategy, where her first design won Best of Show at the San Francisco Wine Labels Competition. She then moved on to become the Creative Director for the company, and 20 of her designs went on display at the San Francisco Museum of Modern Art. Laurie now resides in Vancouver, Canada, and continues to help clients create exceptional brands.
Here's a glimpse of what you'll learn:
Laurie Millotte discusses how she got into graphic design and branding in the wine industry
Behind the scenes of Laurie's business—and how she scaled her work
Future plans for Outshinery: working with recipe developers
How can you create connections with potential clients through your website?
Challenges suppliers might face in 2021—and how to work through them
Laurie shares some of her favorite software, tools, and resources
In this episode…
Your bottle label, design, and packaging are just as important as the beverage itself; they represent your company's story and brand. Luckily, you can take steps to create the best labels and visuals for your business and market yourself within the industry.
Laurie Millotte has over 10 years of experience as a designer and creative director in the craft beverage industry. She has worked with clients all over the world to create custom designs, and she's here to share her strategies for utilizing technology, connecting with your customers, and building a one-of-a-kind brand.
In this episode of Legends Behind the Craft, Drew Thomas Hendricks is joined by Laurie Millotte, Founder and Chief Amazement Officer of Outshinery. Laurie takes us behind the scenes to explore how her company uses technology to design labels and high-end marketing media. Laurie also shares her expert tips on shaping your brand, understanding your audience, and creating the best website possible. If you're interested in artistically scaling your craft beverage company, this episode is for you!
Resources Mentioned in this episode
Sponsor for this episode…
This episode is brought to you by Barrels Ahead.
Barrels Ahead is a wine and craft marketing agency that propels organic growth by using a powerful combination of content development, Search Engine Optimization, and paid search.
At Barrels Ahead, we know that your business is unique. That's why we work with you to create a one-of-a-kind marketing strategy that highlights your authenticity, tells your story, and makes your business stand out from your competitors.
Our team at Barrels Ahead helps you leverage your knowledge so you can enjoy the results and revenue your business deserves.
So, what are you waiting for? Unlock your results today!
To learn more, visit barrelsahead.com or email us at hello@barrelsahead.com to schedule a strategy call.
Episode Transcript
Intro (00:03):
Welcome to the Legends Behind the Craft Podcast, where we feature top leaders in the wine and craft beverage industry with your host Drew Thomas Hendricks. Now, let's get started with the show.
Drew Thomas Hendricks (00:20):
Drew Hendrick's here. I'm the host of the Legends Behind the Craft Podcast, where I talk with leaders in the wine and craft beverage industry from tech companies that use data to unlock brand growth. Today's guest Laurie Millotte of Outshinery who's taking the headache out of wine bottle photography. Today's episode brought to you by Barrels Ahead. At Barrels Ahead, we know your business is unique and we work with the implement a one of a kind content strategy, one that highlights your authenticity, tells your story, it makes your business stand out from your competitors. In short, we unlock your brand story to unleash your revenue. Go to barrelsahead.com today to learn more.
Drew Thomas Hendricks (00:53):
Now, before I introduce today's guest, I want to give a big thank you to last week's guest, Duncan Elmi of Fire Belly Marketing. Now Duncan and I, we talked about the importance of quality over quantity when it comes to social media followers, and Duncan gives a very compelling argument that it's way better to have a 100 really engaged followers than 1000s of indifferent ones. So be sure to check it out and let me know your thoughts.
Drew Thomas Hendricks (01:12):
I'm super excited to have today's guest on the show, Laurie Millotte, founder of Outshinery. So back in the day, when I sold wine, one of the biggest challenges that we faced was taking consistent pictures of our wines for the website and our monthly newsletter. The lighting was never right. The labels never showed well, and man, it was a never ending struggle to produce decent results. Well, Laurie, the problem-solver at heart created a solution to this problem, and frankly, it's amazing. This might be the reason her title is Chief Amazement Officer. Laurie, welcome to the show.
Laurie Millotte (01:41):
Hi there. Happy to be here.
Drew Thomas Hendricks (01:44):
I'm happy to have you on. How are you doing?
Laurie Millotte (01:47):
I'm great. Just like early in the afternoon here in Vancouver, Canada, and I'm very excited to be talking to you and sharing all my thinking around visuals, wine and more.
Drew Thomas Hendricks (01:58):
Sounds great. So tell our listeners about yourself and how you solve what has to be one of the biggest problems in wine marketing.
Laurie Millotte (02:05):
So probably as you can pick up from my accent, I'm originally from France, Burgundy actually. So I'm the person that will drink Pinot Noir anytime of the day. That being said, I studied in Paris graphic design and moved to Canada, British Columbia in 2006 and right away, I started doing wine labels and it was the best. I get to do design for the wineries and drink a lot of free wine. That was just like really, really the most compelling job I've ever had and still to this day. But one thing that really I struggled with was the quality of the bottle shots, the imagery after my work, as a packaging designer was like you mentioned, it's just incredibly complicated to photograph what seems on the outset, a super simple product. Here's a bottle, take a picture of it. We've all been there, right? It's almost like taking a selfie in a house of mirrors, it's highly respected. You can see everything and then it's a white wine, but you can see the back label showing through and it's never ending.
Laurie Millotte (03:04):
And winemakers seems to always come up with new wines to just keep adding and then you have to keep promoting. So I was really frustrated. For a while I was doing the pictures myself out of frustration at the back of my graphic design studio. Personally, I hated doing it. It's like the opposite of being creative. You have to be really standardized.