Getting Started with Hashtags
Social media has turned the old-school pound sign into the widely-used hashtag. Hashtags are incredible tools that can be used to find content that aligns with a brand's interests online. They help businesses, especially wineries, increase lead generation and overall reach efforts.
Your winery needs a top-notch digital marketing strategy that includes hashtags and we've got you covered. We'll break down how to build a hashtag strategy for wineries. We'll explore everything you need to know about creating the best possible hashtags for wineries on social media.
Let's start by exploring what a hashtag is.
Created back in 2007, hashtags are keywords that follow the "#" symbol that social media users can use to find different groups of topics within posts. Hashtags are typically included in Facebook posts, tweets, Instagram descriptions, and more. On most social media platforms, users can explore posts under a specific hashtag.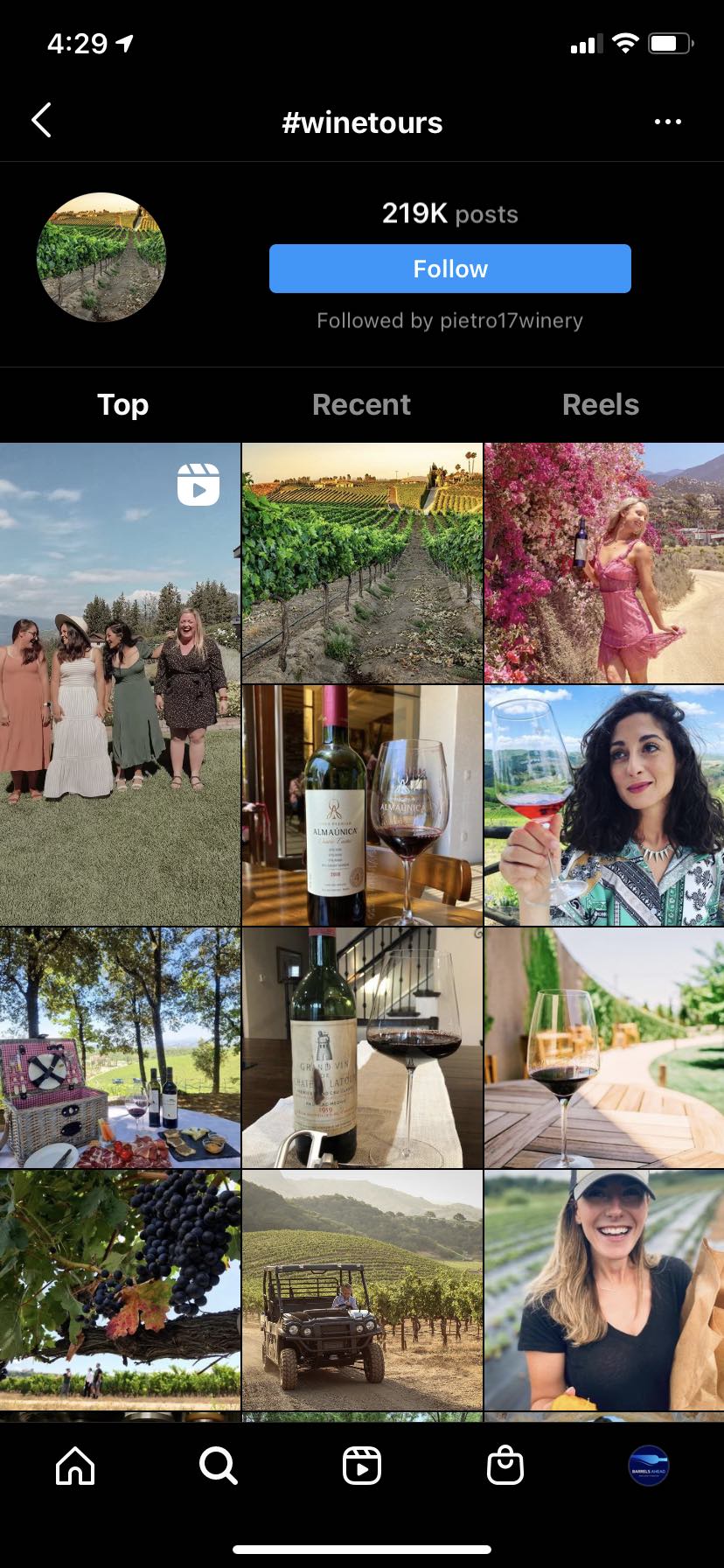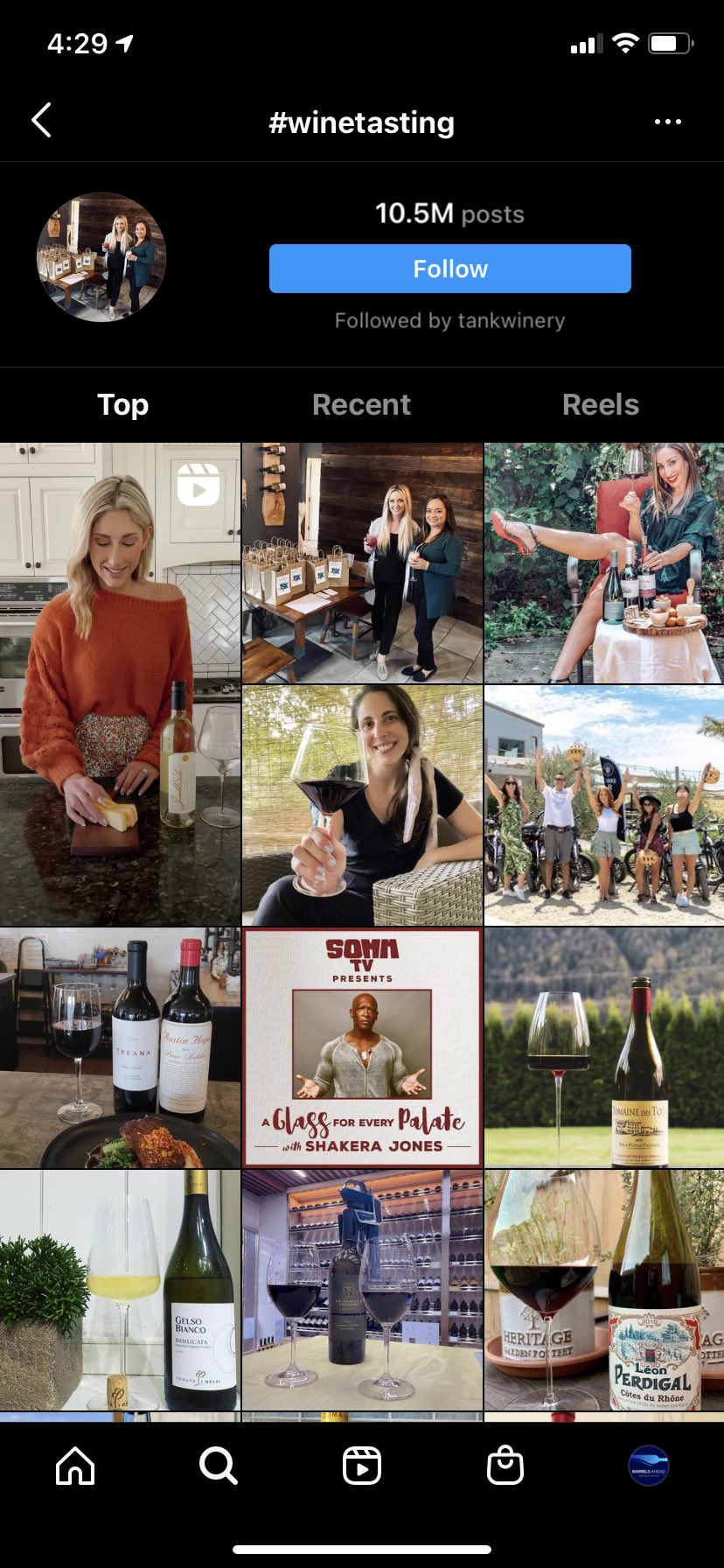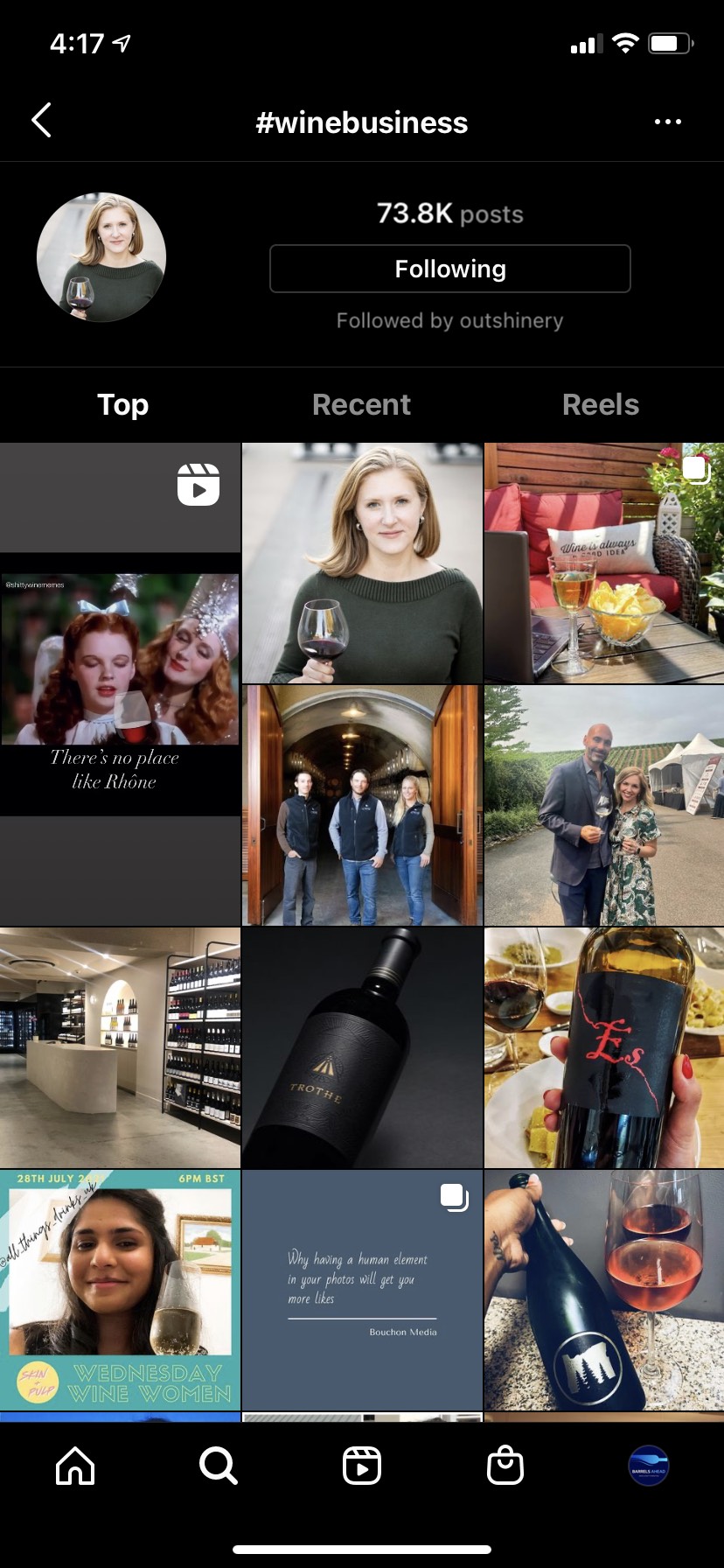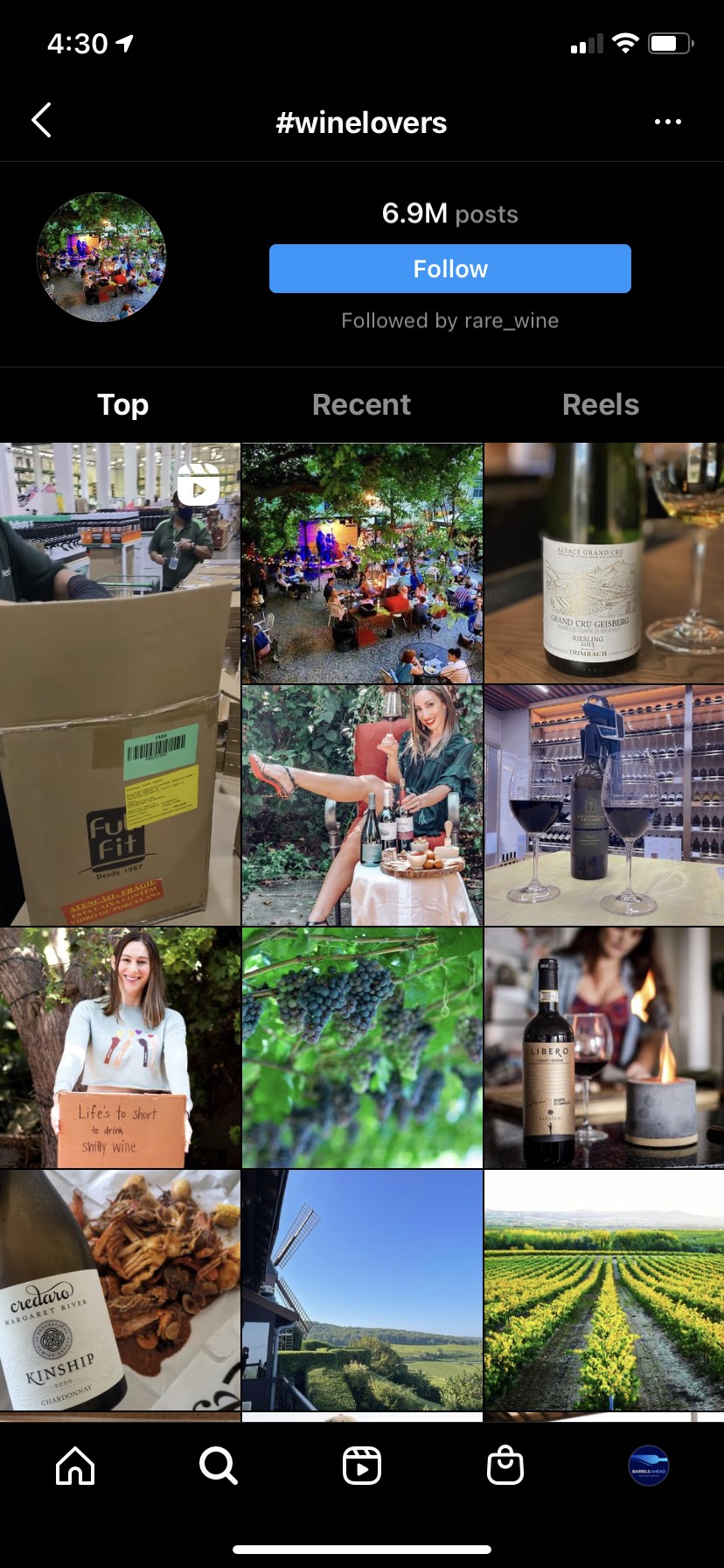 Businesses can include unique or general hashtags in their social media posts to make their posts and brand appear on hashtag pages for certain subjects, which gets their brand to the eyes of their target audience. A few examples of hashtags for winery businesses include:
#wine

#winetasting

#winelovers

#wineriesofinstagram

#wineoclock

#[your business name]MakesWine

#[your business name]Winery

#winewednesday

#winetours

#wines
What is the difference between hashtags, tagging, and mentions?
Hashtags are specific topic tags that businesses can use to improve brand awareness. Tags and mentions are quite different.
A tag allows users to "tag" other accounts or users on their posts. By doing so, that account's followers, as well as the followers of the tagged account, will be able to see the specific post the account is tagged in. Tagging is a popular influencer marketing strategy. An influencer who is relevant to one's brand makes a post about that brand's products and tags the brand's social media account, thus boosting the visibility of that brand.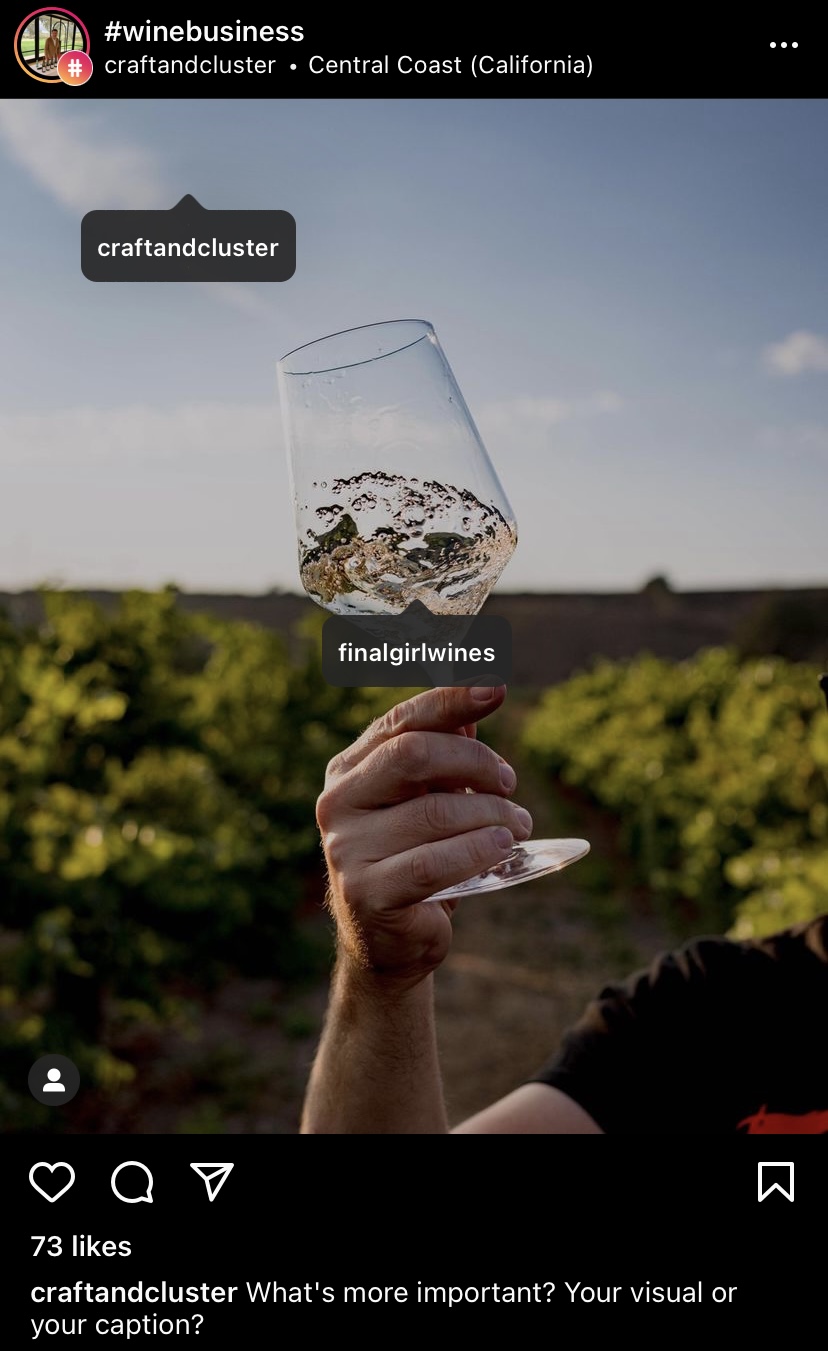 The tags in this picture are "craftandcluster" and "finalgirlwines"
A mention involves both hashtags and tags in general. Mentions are usually used with the "@" symbol. Whenever another social media account mentions your brand's name or product in their public posts, that would be considered a "mention". A mention can be your brand or product's name in the description of their post, a tag of your brand's account, or the use of your brand's branded hashtag. Mentions are valuable for influencer marketing, and marketing in general. Happy customers often mention brands that create products they've liked in their social media posts, which increases brand visibility.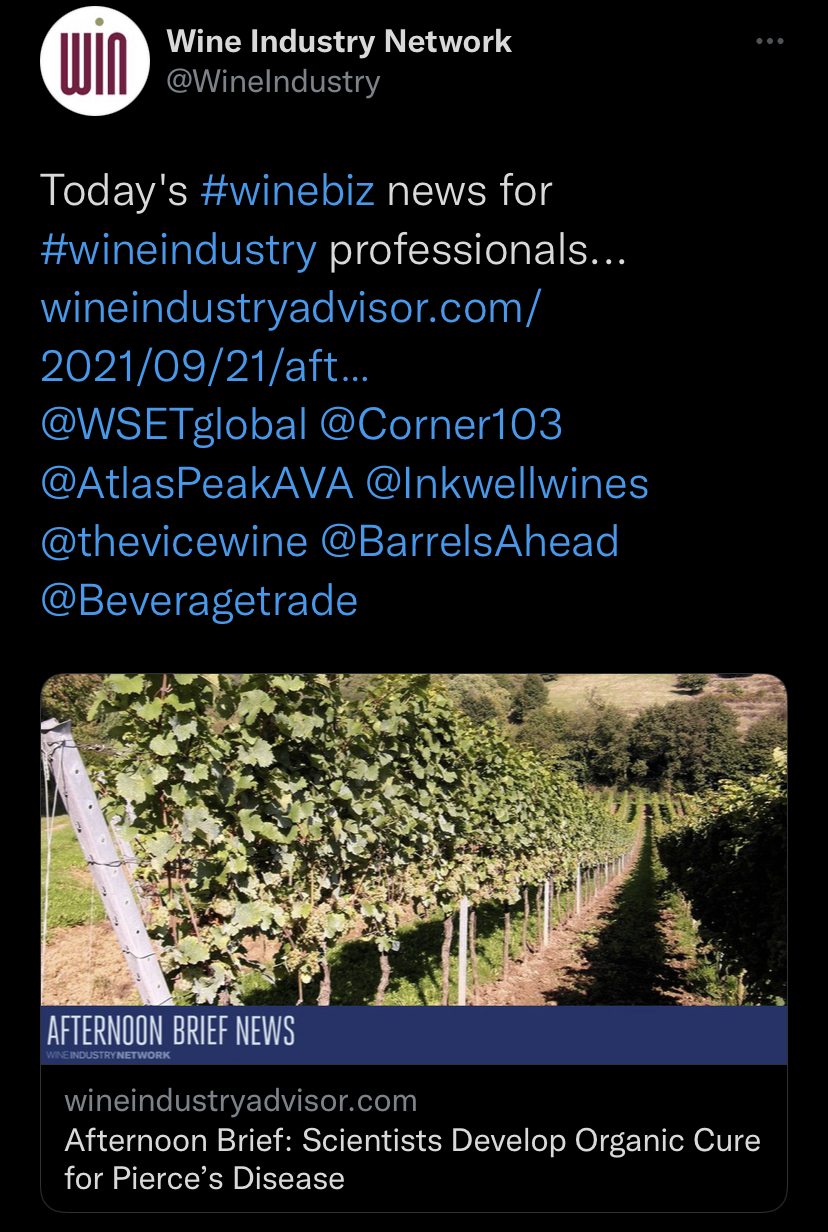 The mentions in this post are @WSETglobal, @Corner103, @AtlasPeakAVA, @Inkwellwines, @thevicewine, @BarrelsAhead, @Beveragetrade.
When should you use a hashtag over a tag or a mention?
When it comes to your social media account's marketing endeavors, hashtags, tags, and mentions are valuable. You could use a mention or tag an influencer in your own marketing posts to reach their audience. However, hashtags should be your main priority because they have a wider reach than mentions and tags.
Why are hashtags important?
Using a hashtag helps your brand reach its target audience as a wine business. Hashtags make it easier for your target audience to find your brand. Unique and relevant hashtags make your brand and its message stand out to users who see value in that specific hashtag.
How can hashtags increase brand visibility?
Hashtags are great for increasing brand visibility and categorizing your brand's social media content. You can reach your target audience more effectively because users can follow certain hashtags that they love.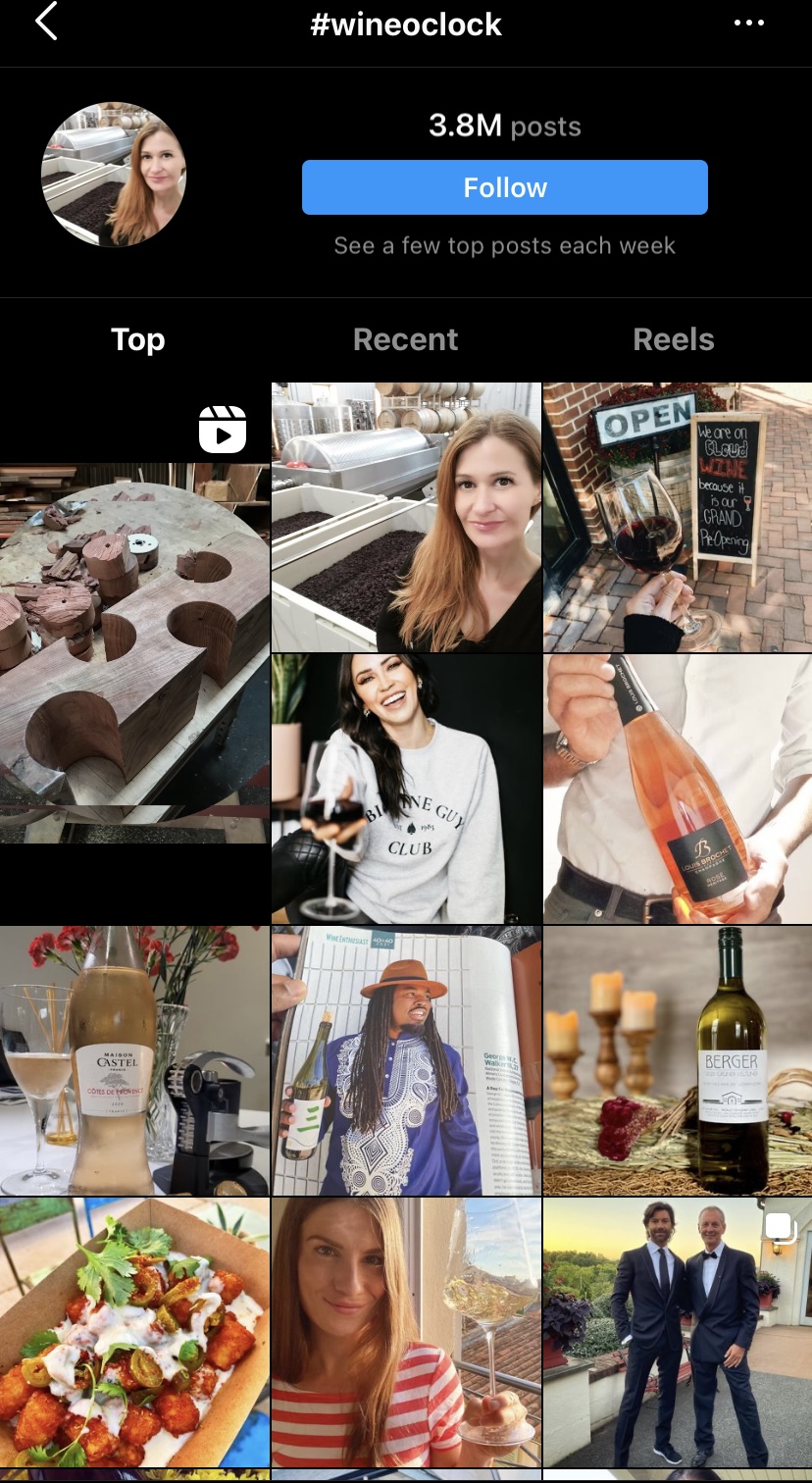 For example, a wine aficionado can follow "#wineoclock" on Instagram to connect with other wine lovers or discover new wine products to try.
Hashtags increase brand visibility due to the algorithms of different social media platforms, such as Facebook, Twitter, and Instagram. Using a group of relevant hashtags makes it easier for your target audience to see your posts without having to surf through a certain hashtag page. Brand visibility can lead to more followers and a better chance of standing out in the wine industry online.
How can you use hashtags to conduct content research?
Scroll through different posts under your relevant hashtags. Which posts have more likes and comments? Which posts have the most engagements? Do those posts use certain types of photos, videos, etc.? Are their Instagram story campaigns successful?
Look at the content your competitors post under your relevant hashtags to inspire your own campaign. Engagements, including comments, likes, and followers, are key indicators of successful hashtags marketing.
How can hashtags help you find out who your competitors are?
Hashtags are fantastic for competitor research. Come up with basic and popular hashtags that are relevant to your brand, then browse through that hashtag page. You will come across a variety of different brands that sell similar wine products. 
Highly specific hashtags that include your location or niche could bring up competitors that you may have not known about. You can explore your competitors' accounts to see what kind of hashtags they are using and what social media marketing or social media influencer tactics they are using.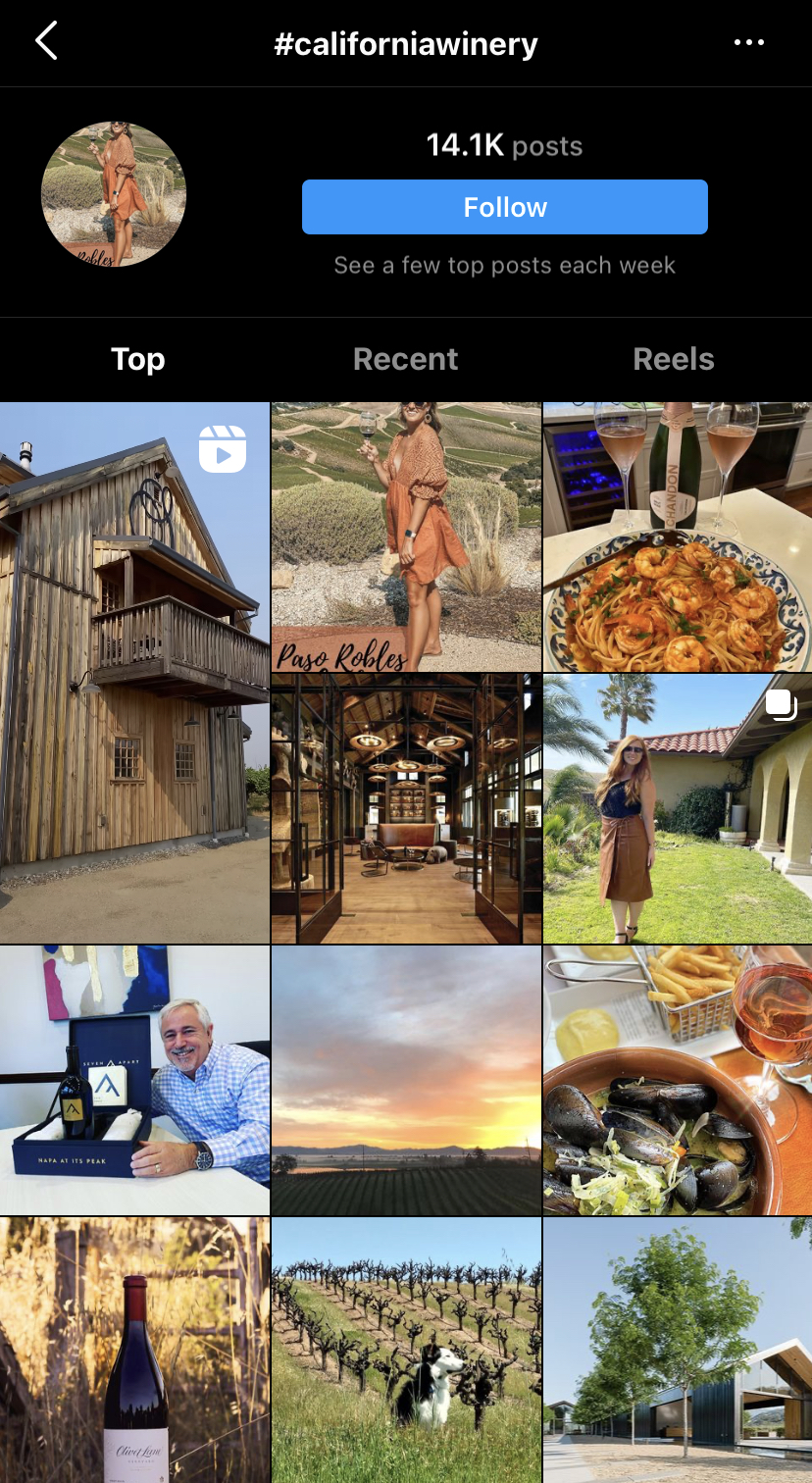 How can you use hashtags to reach your target audience?
Research hashtags that are making waves with your target audience. There are many tools designed to help you understand your brand's most relevant keywords that can be used as hashtags. These tools include Hootsuite, Hashtagify, KeyHole, TweetReach, and more. 
Use industry-specific trending hashtags to investigate influencers that could benefit your brand through a partnership. You can, also, find out which hashtags collect a community of users through likes, comments, interactions, engagements, etc.
Optimized wine hashtags and strategies
Wine lovers respond to exceptional wine hashtags and marketing strategies. It's important to optimize your hashtag strategy to further your reach, get more engagement, and boost your follower count. Whether you're promoting a wine event or overhauling your entire brand digital marketing campaign, optimization is key for visibility and success.
What are location hashtags?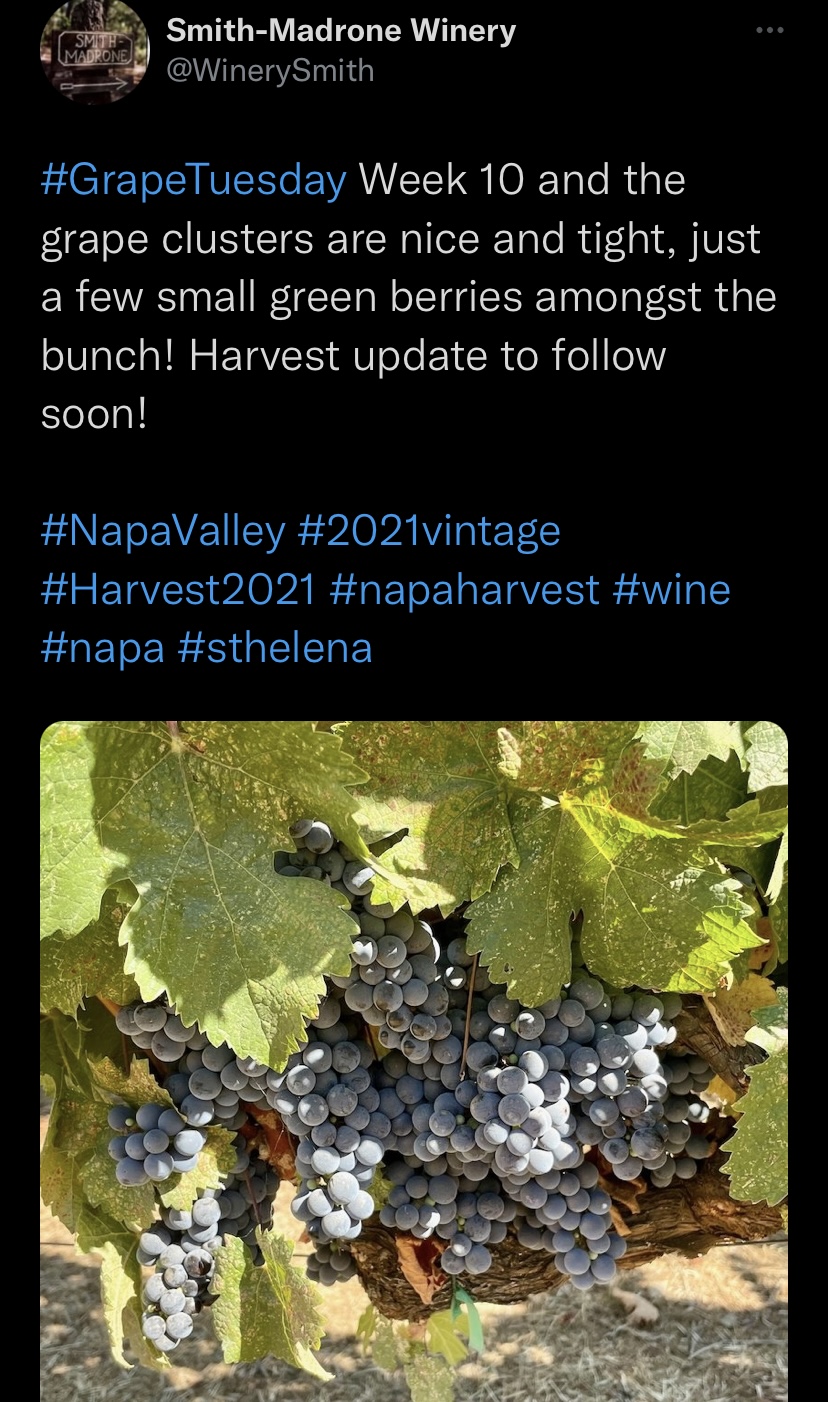 Location hashtags are hashtags associated with different locations. For example, Smith-Madrone Winery uses #NapaValley as a geographical reference to where they are located.
What are industry hashtags?
Industry hashtags are hashtags that are commonly used in a single industry. For example, Di Arie Vineyard and Winery uses industry-specific hashtags, such as #wineindustry and #winebusiness.

What are branded hashtags?
Branded hashtags are hashtags that a single company will use to promote its brand and separate it from other industry brands. For example, Opus One Winery uses #opusone to promote their brand on LinkedIn.
Like branded hashtags, event hashtags are only used for specific purposes, in this case an event. For example, Dirty Dozen uses #DirtyDozen2021 to promote its wine tasting event.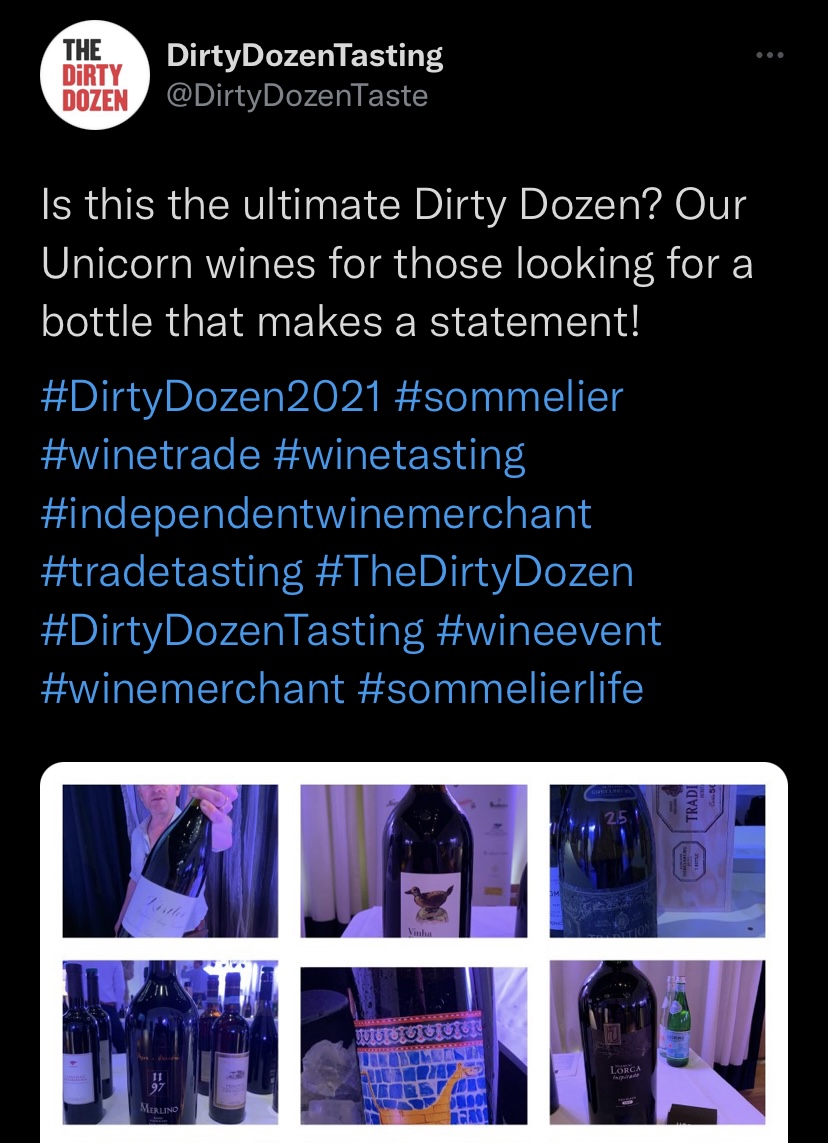 How to research and pick relevant hashtags
How do you choose which hashtags are best for each post?
Experiment with hashtag monitoring tools to see which hashtags do better than others. From there, organize your hashtags into different post types. Use these hashtags whenever you post a specific type of content.
How do you find the best hashtags for your industry?
Keyword research, tools like Hootsuite, and hashtag browsing are excellent ways to see what hashtags your competitors use.
Who is the core audience you should be targeting?
There are many hashtag research tools for boosting your social media marketing strategy through hashtags.
How do Hootsuite's hashtag features work?
You can queue all of your social media posts with Hootsuite Streams, including your hashtags. The platform has a "Generate Hashtag" feature that allows you to discover relevant hashtags and include them all in your posts.
To learn more about Hootsuite Streams and how it can benefit your winery's social media, watch the following video.
How do Buzzsumo's hashtag features work?
Users enter a specific hashtag in Buzzsumo's content analyzer to see which social media posts that hashtag appears in the most. Buzzsumo also makes hashtag suggestions.
Buzzsumo recorded a webinar that goes into detail about the best hashtag practices for content marketing.
How do Keyhole's hashtag features work?
Keyhole is a hashtag tracker that helps users track the success of their social media metrics for Facebook, Twitter, and Instagram. 
Here's a video that explains more of how the hashtag tracker works.
How do Agorapulse's hashtag features work?
Agorapulse can be integrated with your social media CRM and offer a variety of features, such as automated searches, hashtag monitoring, and more.
For more information about Agorapulse's hashtag tools, check out this article.
Managing your hashtags is just as important as research, discovery, and optimization.
How can you use Sproutsocial, Agorapulse, and Buffer to manage your hashtags?
These hashtag management tools work similarly with small variations. In general, you can use Sproutsocial, Agorapulse and Buffer to track social media activity across your chosen channels. These tools will monitor the performance of your hashtags and provide a clear view of which hashtags pull in the most engagements for your brand.
How to promote your winery with hashtags on LinkedIn
LinkedIn is an excellent platform to promote your winery with hashtags. You can reach business owners in need of an influencer partnership or a place to host workplace meetings or getaways.
How are LinkedIn hashtags different?
LinkedIn uses hashtags to help users find specific content. Hashtags help you reach audiences beyond those who follow you or have connected with you on the platform.
When to use LinkedIn hashtags
Use two broad hashtags and one niche hashtag, which is preferred for LinkedIn's algorithm.
Examples of wineries with good hashtags on LinkedIn
This vineyard uses a variety of different relevant hashtags in each post and make it a point to not bloat their posts with extended hashtags.
This vineyard uses more than just wine-specific hashtags. They took the time to research keywords relevant to their posts beyond wine keywords to extend their reach.
How to promote your winery with hashtags on Instagram
Your Instagram account is a gold mine for lead generation if you use the right hashtags.
How are Instagram hashtags different?
Hashtags are the core of a good Instagram marketing strategy. Hashtags can be used by users to find relevant content, by the Instagram algorithm to recommend content to users, and by brands to target specific buyer personas and audiences.
When to use Instagram hashtags
Instagram is a hashtag-heavy platform. Use a large volume of general, branded, and unique hashtags for each of your posts. You should also use hashtags in your Instagram stories as well.
Examples of wineries with good hashtags on Instagram
This wine company utilizes a range of different hashtags that are relevant to the wine industry and specific to the unique offerings of its brand.
This winery uses a mix of hashtags. They use location-specific and event-specific wine hashtags as well as unique hashtags for specific posts such as #winerydogs and #nationalredwineday.
How to promote your winery with hashtags on Twitter
Twitter is an excellent platform for promoting your winery with hashtags.
How are Twitter hashtags different?
Hashtags help users categorize tweets so they can follow relevant accounts. Tweets with hashtags increase engagement and help brand accounts gain more followers. However, you should not use a massive volume of hashtags in your Tweets.
When to use Twitter hashtags
Twitter, like Instagram, is hashtag heavy. Due to the limited character count, though, we recommend only use one or two very relevant hashtags per post.
Examples of wineries with good hashtags on Twitter
This winemaker successfully markets his wine company by using mostly name-specific hashtags along with location-based hashtags.
Darling Cellars has mastered the art of using popular hashtags that are relevant to their brand and boost their reach.
How to promote your winery with hashtags on Facebook
Facebook has a massive userbase that is advantageous for hashtag marketing.
How are Facebook hashtags different?
Branded hashtags help your followers and target audience understand what your content is about. Hashtags help you differentiate different campaigns from other posts on your account. Hashtags on Facebook increase a brand's chances of being discovered by users.
When to use Facebook hashtags
Use hashtags in each of your Facebook posts, especially your promoted posts. Be sure to use keyword optimization throughout your Facebook post copy as well.
Examples of wineries with good hashtag usage
Beaux Frères Vineyards & Winery
This winery uses a mix of hashtags, many of which are time-based and include "2021" in some capacity for relevance.
Using a minimal volume of hashtags, Hall Wines keeps things simple but also highly specific when it comes to wine types to reach specific wine lovers.
Hashtag strategies for wineries can be difficult to create on your own. We can help you develop a top-notch hashtag strategy to reach your target audience. Get in touch with us today to show you how a hashtag strategy can fit into your overall marketing plan.