Last Updated on June 18, 2021 by Drew Thomas Hendricks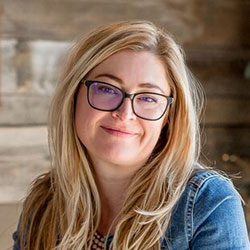 Shana Bull is a digital storyteller, marketing educator, and writer. She is an expert in social media marketing strategy, PR, digital advertising, SEO, and more! As a freelance writer, Shana covers the topics of music, social media, marketing, wine, lifestyle, food, and drinks. In addition to her freelance work, Shana is the author of the children's book, Randall the Blue Spider Goes Surfing, which she wrote with her son, Ryeson.
Shana recently launched a series of courses to help brands with Instagram marketing, content marketing and strategy, and goal setting. She was recognized as one of "40 under 40 professionals in the North Bay area," by North Bay Business Journal and one of 16 innovative marketers you should know by LinkedIn Marketing Solutions Blog.
Here's a glimpse of what you'll learn:
Shana Bull discusses her digital storytelling work — including the book she wrote with her 2-year-old son
Shana and Drew's favorite drinks and wineries
How has the story of wine evolved in the last few years?
Shana's advice for wineries looking to connect with younger customers
Sustainable brands you should check out right now
Shana talks about her content creation and Instagram marketing courses
What is the biggest mistake brands make on social media?
How to utilize Instagram, Pinterest, and other social media platforms to target your desired customers
Steps your winery can take to attract customers in the post-pandemic world
Shana's tips for making an elaborate cheeseboard
In this episode…
When it comes to social media, there are many different approaches your business can take. However, social media is more than just posting a pretty picture; you need a strategy, a story, and a customer service mindset. So, how can you optimize digital platforms for your company? And what steps can you take to create connections with your ideal customer?
According to Shana Bull, you will attract customers by being authentic. You should not only display your company's core values on social media, but also live out those values day-to-day. As you do so, you'll find customers with similar values who believe in your story and your company's purpose. Want to learn more?
Tune in to this episode of Legends Behind the Craft, where Drew Thomas Hendricks sits down with Shana Bull, digital storyteller, marketing educator, and writer. Together, they discuss the best ways to make social media work for you. Shana talks about digital storytelling and connecting with customers virtually, the biggest mistakes made on social media, and how to find the marketing approach that fits your company's needs. Plus, Shana shares free resources to elevate your social media strategy!
Resources Mentioned in this episode
Sponsor for this episode…
This episode is brought to you by Barrels Ahead.
Barrels Ahead is a wine and craft marketing agency that propels organic growth by using a powerful combination of content development, Search Engine Optimization, and paid search.
At Barrels Ahead, we know that your business is unique. That's why we work with you to create a one-of-a-kind marketing strategy that highlights your authenticity, tells your story, and makes your business stand out from your competitors.
Our team at Barrels Ahead helps you leverage your knowledge so you can enjoy the results and revenue your business deserves.
So, what are you waiting for? Unlock your results today!
To learn more, visit barrelsahead.com or email us at hello@barrelsahead.com to schedule a strategy call.
Episode Transcript
Intro 0:03
Welcome to the Legends Behind the Craft podcast where we feature top leaders in the wine and craft beverage industry, with your host Drew Thomas Hendricks. Now let's get started with the show.
Drew Thomas Hendricks 0:20
I'm the host of the Legends Behind the Craft podcast where I talk with leaders in the wine and craft beverage industry, from tech companies that enable wineries to operate at maximum efficiency. Today's guest Shana Bull, who helps wine and lifestyle brands connect with their audiences through social media. Past guests of Legends behind the craft include Paul Salcedo CEO of BottleVin, Ashley DuBois Leonard, CEO of InnoVint, and Duncan Alney, President of Firebelly Marketing, you haven't listened to these yet, be sure to check them out and subscribe. Today's episode is sponsored by Barrels Ahead, at Barrels Ahead, we work with you to implement a one-of-a-kind content strategy. One that highlights your authenticity, tells your story, and makes your business stand out from your competitors. So Shana In short, Barrels Ahead we unlock your brand story to unleash your revenue. Go to barrelsahead.com today to learn more. Now before I introduce today's guest, I want to give a big thank you to Jim Snediker, co founder and CEO of Stock Mfg. on last week's show, Jim gave some great advice for wineries who are looking to level up their brand experience in the tasting rooms. I am super excited to talk with today's guest Shana Bull. When I saw Shana speak last year at the Direct to Consumer Wine Symposium, I knew I had to have her on my show. Shana is a digital storyteller, marketing educator, and author. And she is super passionate about helping wine brands connect with their audiences by telling their unique stories through social media that Shana was just named by LinkedIn is one of the top 16 digital marketers to follow. Welcome to the show Shana.
Shana Bull 1:48
I am so excited to be here. Thank you for having me. And good seeing you again after you know a year
Drew Thomas Hendricks 1:55
is great to see we met for the first time over tacos got a whole taco hospitality meeting.
Shana Bull 2:00
It was kind of perfect because I've been to the DTC wine conference before but I always lived in Santa Rosa in Sonoma County. And this time last year, I just moved to Concord about five miles away from the Hilton. And I knew I wanted to have everyone go across the street to my favorite little like hipster taqueria. That's what I do. White White people taqueria. Unfortunately, it's a but it has damn good margaritas. So I was very confirmed. So I was excited to see a bunch of people show up their friends that I just met like you and then Twitter friends that I've had for the last 10 years.
Drew Thomas Hendricks 2:43
It's amazing. Yeah, I was sad that we didn't get to have it. We had to do it virtually this year.
Shana Bull 2:48
I, unfortunately, missed out on this year. But I heard there was some good, some good sessions. And you know, everybody will see each other again back in Concord. Oh, absolutely. It is such a great cause just to support the Free the Grapes initiative. Yeah, get wine across the United States. For people that can't even access alcohol. I don't even know what I would do.
Drew Thomas Hendricks 3:11
Yeah. Sunday morning, six dates. They're still holding out. Yeah. Shana, tell us about yourself.
Shana Bull 3:17
So like you mentioned, I'm a digital storyteller. You know, having my own business. For the last 12 years. I've had many random titles, but I've always stuck with digital storyteller. Because what I do is mostly social media, either management for clients. That's at least what I was doing in the past and consulting with lots of different wineries and hospitality marketers. And I really, I've always been a big fan of telling stories and in engaging with people and connecting with people. For me, wine has always been about the experience. It hasn't just been about, you know, tasting notes. So when I first started as a wine blogger back in, like 2009, I was one of the youngest. And I was like 27, and I wrote about experiences because that was what I loved about wine. I loved going to visit my loved events and hanging out with friends. And the wine was almost secondary. I'm not saying that good. Wine is not important. Because obviously, if we were going to good wineries, I lived in Hillsboro. And I always loved the experience. So digital storyteller is kind of my title that, like stuck with me because I
Drew Thomas Hendricks 4:29
love that title.
Shana Bull 4:30
Thank you, you know, another title that I don't officially have yet, but in a few weeks, I'm launching my first children's book. Oh, and it has nothing to do with wine I tried, but it didn't really work out. It's about us surfing spider named Randall. And I actually wrote it with my son when he was two years old. Awesome. And now we're relaunching it in a few weeks, and I'm just beyond excited. It's kind of where the pandemic took me I wasn't ever expecting to make it a thing. But you know, we we had extra time this past summer due to losing clients because of the pandemic. And also, I had to let go of some of my favorite clients because of the cancer treatments, but I'm doing better. And now I have a book because of it and I was able to
Drew Thomas Hendricks 5:21
what's the plot of the surfing spider.
Shana Bull 5:25
So it's about a surfing spider named Randall and he gets nervous and thankfully his friend helps him face his fears. And it was basically my toddler is a Rambler. He's five now so I can't even call him a toddler. But he was just telling stories all the time. And I finally was like, Okay, I need to write this down. Like I just need to figure out what what he's saying. And then together we kind of wrote this book and we have a few other ones that are kind of jumbled in our heads that we're going to get on paper two, I want to bring my food my food career into the into the book right now. It's all about travel and surfing, which isn't necessary. Travel is a big part of my life surfing. Isn't it was a part of my husband's because he grew up in Long Beach. Oh,
Drew Thomas Hendricks 6:12
it's a big part of mine. It's kind of funny. The surfing spider. I don't know if you can tell. But I've got a black eye right now. Oh my gosh. Yes.
Shana Bull 6:19
The glasses hide it. But
Drew Thomas Hendricks 6:20
yeah, what's up? Well, I didn't I shouldn't have called everyone out on it. But yeah, but the board hit me in the face two days ago.
Shana Bull 6:25
Oh, yeah. You're based in Carlsbad. Is that right? Yeah,
Drew Thomas Hendricks 6:28
we're down in Southern California.
Shana Bull 6:29
I love Carlsbad. Most every day. I went to college in Carlsbad. I don't know if I told you that. What's the only two I lived? I lived in Carlsbad. I went to college in San Marcos.
Drew Thomas Hendricks 6:41
Oh, you did? Oh, yeah. A couple miles away from Cal State San Marcos.
Shana Bull 6:44
Yep. And I worked at the Starbucks right at the flower fields are really oh man small world for about three years. Yeah, during college and we wouldn't serve but we would go and drink Margaritas at the beach watching the sunset or wine. That's actually when I discovered that I like wine. I grew up in wine country but I never liked wine because my mom drink box wine or white Zinfandel. And then my friend drank like really heavy chard or not Chardonnay Cabernets, and I was like, No, this isn't for me. And then I tried Pino and I was like, Oh, this I like, Oh, I like and ever since then. I've realized I like like, lower alcohol wines or like odd varietals stuff that isn't just Napa Valley cab.
Drew Thomas Hendricks 7:31
Absolutely. I'm a huge fan of Laura, especially some of the Austrian ones. what some of your favorites right now,
Shana Bull 7:37
right now, I would say Donkey & Goat and Rootdown Rootdown Cellars say they're based in Healdsburg, but they make wine from all over a lot of Mendocino County, a lot of, I think Amador County.
Drew Thomas Hendricks 7:52
That sounds fantastic. One of my favorites is from Tablas Creek cross board I kind of like their wines because they all tend to be low less than 14%. Then more on the European style.
Shana Bull 8:03
And that's Paso Robles.
Drew Thomas Hendricks 8:04
Right right in Paso Robles.
Shana Bull 8:05
Okay, I missed I haven't gone down to them. But I have visited paso wineries, and I've heard great things about them. Yeah, I
Drew Thomas Hendricks 8:13
believe you just went down there.
Shana Bull 8:15
Just last weekend. I was camping with my family in Avila beach. Oh, yeah. The KOA. It is. Yeah, it's
right off the freeway. I think all okay, always right off the freeway, but it's like two miles away from the beach. And if our five year old was a little bit older, I think we would walk because there's a walking trail right to Avila beach. But the last time I was there, there was no like no wine scene and now all of a sudden, you know, the San Luis Obispo wine scene is kind of popping up. There's like two wine bars on the ocean. They're 21 and over so we didn't bring the five-year-old. But I was excited to see all of the like, all the wineries and wine shops doing really well. It was also spring break.
Drew Thomas Hendricks 9:02
Yes. find any gems.
Shana Bull 9:03
We did. I'm blanking on the name we bought one from a little shop in pismo and you're putting me on the Oh, that's because I don't remember the name San Liege
Drew Thomas Hendricks 9:14
Did you go to San Liege there? Yeah, he's he's one of the first ones down there in Pismo Beach to set up it's set up as tasting room now he's got now he's got a big one in the past. Oh, and cider company Tin City Cider that I'm a fan of. And
Shana Bull 9:30
I look forward to going you know, without a kid and enjoying or, or with the grandparents, so they can watch the kid for a little bit. That's that's how it. Yeah, he doesn't want to go wine tasting with me. Even though you know, I've always been a big fan of experiences. And there's a lot of different experiences that wineries that aren't just wine.
Drew Thomas Hendricks 9:52
Yeah, you mention. You mentioned so the start of your digital storytelling was the experience of some of your first experiences of wine. What's a memorable one that sticks in your mind.
Shana Bull 10:02
It was always events, I love the barrel tasting. I don't know, I, a barrel tasting has obviously changed since I first started. I'm not gonna say obvious because when I first started, it was like $4 in northern Sonoma County. And they gave you apparently before that it was free and you brought your own glass and you just taste it out of barrels, but then it was $4. And you brought a you got a glass, and you got to go to a bunch of tasting rooms and just have fun with friends. Now, it's like this two-week-long event. And it's all like 20 somethings, and I don't want to have anything to do with that. But I remember just loving it, because I got to go try a lot of wineries. So I was one of those kids that was, you know, a little intoxicated and, and they probably looked down on me going, Oh, she's never gonna actually buy wine. And then, and then I turned out to be like a wine judge. Two years later,
Drew Thomas Hendricks 11:00
that's awesome. So
Shana Bull 11:01
I don't don't discount the 21-year-olds or the the young kids they do. They do care about wine in a different way. You know, they don't want to hear about the terroir and all of that they want to, they want to get to know the people behind the brand. And they're like if they share core values, stuff like that.
Drew Thomas Hendricks 11:20
I agree. I don't think things have changed too much. When I graduated from college, when I was in a man to many years ago, 93. I was 21 and got a job as a stock boy to San Francisco liquor store, over the course of two years, became a wine buyer for the store because I had such a great palate. But at that time, I was reading just everything I could about the terroir and everything. And then the stories of the wines because it was just based A lot of it then was based on the terroir and the geology. Yeah, do you see today? And maybe that's a good question. How do you How is the story of wine evolved over the last 10 15 years,
Shana Bull 11:54
you know, especially in the last year, winemakers and people behind the scenes are now kind of thrust in the forefront because of this wine, virtual wine tastings. But this was a trend that was happening even before the the pandemic experiences people wanting to get to know the people behind the wine and the connections. Like if I have a connection at a winery, I'm going to go to them. And I'm going to remember that more than the the taste of the wine. And it's really, social media has made it so important to create those connections with people. And then virtual wine tastings have just exploded over the last year. And I don't think you know, even when things open back up. I don't think that virtual wine tastings are going to go away. Because now you realize you can connect with people all over the country and all over the world.
Drew Thomas Hendricks 12:50
That's a great point. Because you may visit from New York, Napa Valley, and you're not going back every year. Well, maybe. But maybe once every four or five years, and you still want to be connected with that winery.
Shana Bull 13:00
Exactly. Yeah, there is a bar in New Orleans called Jake and Snake Christmas Lounge that I still follow on Twitter and Instagram, even though I haven't been to New Orleans for 10 years, but I still love what they're doing. And I comment on their stuff. And I'm like, okay, as soon as I go back, I'm going there. Oh, that's
Drew Thomas Hendricks 13:20
great.
Shana Bull 13:20
It was obviously I mean, the name. It's an obvious fun bar.
Drew Thomas Hendricks 13:25
So
Shana Bull 13:26
I'm really I met the owners that I had such a great time that like I remember this. And I tell anybody who goes to New Orleans to go there. Oh,
Drew Thomas Hendricks 13:35
I'm I'm writing it down right now. What I'm so talking about the 21-year-old people growing up, I mean, growing up, people just entering this sort of the line touring the wine drinking community. What advice would you give wineries to reach these people through stories you mentioned they're not so much interested in the geology. I think
Shana Bull 13:54
really figuring out what your core values are. What an article I just wrote about the like living being authentic wineries need to have a voice. And younger customers, especially younger customers are wanting to connect with wineries, breweries, you know, shoe brands that also they feel like they have similar values. And a lot of those values are social justice issues when it comes to race or LGBTQ issues. Also sustainability. I mean, the younger generation is getting they're getting handed a world that you know, they're dealing with fires every single year. I mean, I'm dealing with fires every single year as well, but I grew up not. I remember hearing about fires, like in Northern California, like I grew up in Sonoma County. And it was like every few years, but it happened somewhere else. And now it's literally every year in Napa and Sonoma. And now that I'm an hour south of Napa and Sonoma, it all all the smoke trickles here. So kids are inheriting this earth that sees wildfires every year. And they're like, okay, we need, we need people to do something about this. So I think if wineries are sharing how they're being sustainable, especially on social media, I think that's a great way to connect with people. But it's more than just sharing on social media, it's actually living that core value to really easy to find out that, you know, a winery or a business is talking about something that they value and then doing the exact opposite by
Drew Thomas Hendricks 15:29
donating won't mention any names. But one sticks in mind where the the wine or the cut down all the oak groves in a gap in the darkness of night, after they were told not to. Oops, we don't know where they went.
Shana Bull 15:41
Oops. And then yeah, and then like having a sustainability promotion for Earth Day, you're like, No, no, no, that you're you're not allowed to do that. We see through that huge disconnect. Yeah. And so that's, that's a big thing, that I I'm a fan of wineries that that are willing to put themselves out there right now. Because I want to spend money with brands that I believe in. And I know younger kids do, too.
Drew Thomas Hendricks 16:09
He told me a couple that we're doing the right thing.
Shana Bull 16:12
The one that comes to mind right now is Iron Horse. I worked with them for a little while, though, but they're not a client of mine right now. So this is not a sponsored comment. But they are huge into sustainability and working with the people with the Russian River to make sure that is always clean. And they provide money from their gratitude wine to the the Redwood Empire Food Bank, oh, so it's once a year they do a gratitude wine, and they donate to that, and then their oceans reserve, they always donate like $1 per bottle to nonprofits that help the ocean. So they're very big into that to the cause marketing is part of it. But they also understand that they need to get back that it's important to, you know, save the whales.
Drew Thomas Hendricks 17:01
Yeah, that's fantastic one that comes to mind that I'm a member of this winery Stolpman. They're down in Santa Maria. And they, they've got a brand, one of one of their lines is la quadreal. And it all the proceeds go to the workers of the winery.
Shana Bull 17:14
That. I love that is important. Because Yeah, you these people are, you know, working, like their butts off during harvest, and they're not getting any credit so that I appreciate wineries that, you know, call out and treat their workers really well. Yeah. Now Wente here in Livermore Valley, they're doing something because march was Women's History Month, and they were doing something the women of Wente, and they were sharing all the people behind the scenes. And I love that because it just it makes the people that work there, like proud to be a part of that brand. But it also makes me realize how many people behind the scene there are scenes there are
Drew Thomas Hendricks 18:01
for sure. Now I was on your cruising your site, Shanabull.com. And I saw you've got a series of courses out there right now to help educate people or help wineries educate themselves, or tell us a little bit about.
Shana Bull 18:14
Yeah, so I've been in the Social Media Marketing World Within the wine industry for 12 years. And I started off teaching classes on Twitter and Facebook. And then obviously, it has changed because of Instagram, and TikTok and Snapchat and all that. But it started off really being about connections. And then and then Instagram, was all about video and pictures and a pretty picture. And so I created a course that was in person that taught people both the engagement part and how to create content, because creating content is ongoing. This isn't just like a campaign where you you know, do something and throw it into Food and Wine Magazine, an ad, it's, you have to create content for every day, almost every day if you don't want to post every day, but it's it's a lot of work. So I created a course called recipe for Instagram, where I give marketers a recipe to plan, create content, engage with their online communities, and then how to make sales this obviously Instagram, it would be fun, you can play and you can scroll through but you need to learn how to make a sale using social media tools like Instagram ads and how to do a good call to action. So yeah, thank you. I also I was doing a lot of one on one ads or one on one counseling sessions businesses, and I really just turned that into the course. And then I also have social media resources on my website to where people can download a workbook or a Google spreadsheet for like a 12-month content calendar. So that That's made it a lot, I kind of been able to scale my business. So it isn't just one on one. So like, when I lost a lot of clients during the pandemic, people were looking for, you know, cheap kind of quick wins. And these social media resources were there to help people. And I loved being able to do that. And like when I was going through cancer treatments, and I wasn't doing anything, I was literally bedridden for a month and a half last summer, but I was still making money because people were going to this website. And that's what I love about e-commerce. You know, if you set yourself up, then it just kind of is like this waterfall that just keeps selling, eating, you know, without the tasting room doesn't work that way. You obviously need people to be in the tasting room, everybody are able to set stuff up on your website, where people you know, set up SEO where you're you got the right keywords that people are searching, then they come to your website, and they decide to download maybe a an E-book of recipes. That's one of my biggest my favorite things to do. I worked with ZAP Zinfandel Advocates and Producers to create a Zinfandel and barbecue pairing guide. And people would download it and then they would be part of this ZAP email list
Drew Thomas Hendricks 21:19
is things I used to go to those ZAP tastings every year back when in San
Shana Bull 21:23
Francisco. Oh, yeah. Yeah, that's actually where I met one of my best friends who introduced me to my husband, really. So I'm basically saying Zinfandel, introduced my enemy to my husband, and now I have a son because of Zinfandel.
Drew Thomas Hendricks 21:39
Hats off to Zinfandel. So I love the part, where you talked about how the wineries need to think beyond just the pretty pictures and adding color to their brand. I think of Instagram actually is a sales tool with a call to action. Would you say that that's one of the biggest mistakes that wineries are making with social media? Or is there other ones? Oh, there's plenty?
Shana Bull 22:01
No, that's any brand. Because, honestly, the biggest mistake is time, a lot of wineries in the past were having like their, their wine club manager or someone in the tasting room, do social media marketing. And it's more than just putting up a pretty picture of an image from the wine or the vineyard, it actually takes like strategy and insight and planning to create content, especially ongoing. So one of the biggest things is just thinking that anybody that's young can do social media, is that that's not true, you have to have some type of marketing, or customer service mindset to do it. And that can be taught, you know, it really comes down to making sure that you have dedicated time to create content beforehand. So planning ahead of time, not just realizing you need to post in the spur of the moment and going okay, I'm going to share a picture of this mug,
Drew Thomas Hendricks 23:00
you know, the college intern to do it.
Shana Bull 23:02
Yeah, no, that's not how it works anymore.
Drew Thomas Hendricks 23:05
But you know what, that's been a stereotype forever. Even back when the internet just started like, oh, let's just get a college kid to do our website. Yeah, yeah. So you're young, you post on Facebook, can you do our social media.
Shana Bull 23:16
And over the last year, we've seen the wineries that have been able to pivot and really focus on e-commerce have done pretty good. They, they were able to double down on what was working already. And they were able to connect with their customers through virtual wine tastings and stuff like that. So they were able to sell wine online, or, you know, get people to or deliver wine locally.
Drew Thomas Hendricks 23:44
So we see a lot of wineries do some cool things. Absolutely. This pandemic, one of the good, there is a good side effect is it finally kind of caused most of these wineries to actually come into the 21st century and actually start to think about their online sales.
Shana Bull 24:00
It's true. I mean, when we spoke at the DTC wine conference, I remember Simon from Highway 29, creative he said, Why are you spending millions of dollars on the lawn at your winery when you can? And then you're spending like 10 $10 on your website?
Drew Thomas Hendricks 24:18
I love that quote. I wrote it down. I was in that session when he said,
Shana Bull 24:22
I know it was not that exactly that but it this The idea is there. Why are you spending 1000s and 1000s of dollars on this tasting room, and then doing nothing to get people to come come to the tasting room or come to your website? Yeah, like that's where you should be spending your money. That's where you should be doubling down. And you know, I'm doing that for my own website. I have been doing Facebook ads for my own website for years. And I realized that I wasn't doing it properly. So I actually outsource that to Taylor Cork & Fork for. She also spoke at the DTC conference. Cuz she can do it better. And also
Drew Thomas Hendricks 25:02
the cobbler shoes, it's very hard to do your own marketing.
Shana Bull 25:05
It's so true. I'm realising this with the book coming out. I'm having to do all my own marketing, and I'm not getting paid for it. And that's weird. Like, I'm not like there's a chunk of time in the next few weeks that I'm not going to be getting a paycheck for all of this work that I'm doing. I'm so used to doing a lot of work for big, big events or launches and stuff like that, but I'm getting paid for it. Now. It's like, Oh, I can I don't, I'm not getting paid. I don't know what to do, even though I do know what to do. Because I have 12 years of doing marketing launches for brands, but when it's your own, it's it's personal. So it gives me a new sense of empathy for winemakers or wineries that are, you know, very, very small that it's like a one or two-man operation. Sure. Because they're doing their social media. They're doing the sales, they're doing the winemaking. They're cleaning the bathrooms. They're doing it all?
Drew Thomas Hendricks 26:01
Oh, yeah, I find that we, when we do our own stuff, we tend to overthink it, or we tend to raise it up on a level that you don't not that you don't give you give it almost too much attention. So it doesn't actually somehow just, at least for me, it doesn't accurately reflect what I'm trying to present. But if I tell it to someone else, and they go and produce it, you got it.
Shana Bull 26:21
Exactly. So that's that's that's exactly it, I overthink it and then realize that people are not thinking about my content, like I am there glancing at it. Oh, that's cute. Okay, next. It's not they're not like staring at you know, a coffee stain on my shirt or something like that, like I am. I'm like, I have to have everything perfect. Like I don't even know if this podcast is going to be videotaped. videotaped. That ages me.
Drew Thomas Hendricks 26:49
We are videotaping.
Shana Bull 26:50
We're, we're recording it. So I was like, Okay, I got it. I gotta put a nice shirt on, do my hair, not just have it up? And I was like, I don't know. So but at the end of the day, the content is what matters not, you know, the presentation where you look fantastic. Yeah,
Drew Thomas Hendricks 27:07
I think now, we find that with content all the time, where especially like, even with like some suppliers that you're getting a lot of these scientists their Ph.D. level, and they go so deep into what they think should be on their site that they've missed, like seven steps, that they just assume the knowledge is over at the winery is gonna be able to connect all the dots.
Shana Bull 27:26
Yes. Oh, especially that because you know, you get into wine, because you love wine, and you love geeking out on it. But you realize as like a business owner that you have to you have to talk a different way to your your clients. And that's definitely where I recommend outsourcing some of the like copywriting or website design to someone who knows what they're doing and still is able to geek out on the on the wine,
Drew Thomas Hendricks 27:57
maybe can help me here. There's so many channels popping up all the time. Now we've got Clubhouse TikTok, there's probably a couple that I haven't even found out that popped up today. What advice would you give a winery trying to keep track of all these channels? I mean, they can't be on everything. But they there's always that fear of missing out that you're not the first mover in the next channel. What advice could you give there?
Shana Bull 28:16
Go where your customers are. I don't care how fun TikTok is or you know, Clubhouse is good for journalists, your customers are mostly on Instagram and Facebook, and some are on Twitter. If you're a more national or worldwide brand. Your customers are more on Twitter. But if you're a local winery, looking to connect with people that are within, you know, 100 miles, Facebook and Instagram, focus on that. And then when you feel like you mastered them, then go somewhere else. But if you're if you're still struggling with Facebook and Instagram, don't bother with anything else. Focus on that.
Drew Thomas Hendricks 29:00
That's good. That's good advice. Get one thing, right and then and that'll actually set you up if the whole landscape evolves, and suddenly everyone's on Pinterest. Pinterest is going to have to embrace some of these other social media kind of tactics. So it's gonna transfer over probably
Shana Bull 29:15
what I will say about Pinterest. I want people to change their mindset about what Pinterest is. Pinterest is not a social network. It is a search engine. Hmm. So if you think about that some of the best ads I've done for a winery that I worked with did not have a tasting room. back three years ago, we did ads on Pinterest and sent people to an E-book and recipe book. And we did ads on Pinterest, Facebook, and Instagram and Pinterest got the most conversions. Really?
Drew Thomas Hendricks 29:48
Yeah. You know, Duncan, I don't know if you know Duncan Alney. He's a it's an Indiana-based social media company Firebelly Marketing. He was on the show a couple weeks ago and his he was actually saying In the praises of Pinterest for being able to like unify a brand for the boards and everything is on the same level.
Shana Bull 30:06
I love Pinterest, I am all for it. But if you think of it as just a way to do ads, and then do boards that kind of show showcases your core values. That's how you can look at doing Pinterest. That's not something you need to be doing every single day. You don't need to be creating extra content for that just pin pages from your website and then do ads. That's really all you have to be doing on Pinterest.
Drew Thomas Hendricks 30:32
That's That's good advice. Yeah. So as far as Instagram, here's something I asked him pretty much everybody that's on social media that is involved in social media marketing and giving advice on it. What do you feel about having your Instagram feed on your website?
Shana Bull 30:45
I like it. For me, my, my Instagram feed is a good representation of the things that I care about wine, food, travel, family and marketing like that. That's what I care about. So that's all you're gonna see on my, my personal, which is a brand page, my Instagram page. So I it being on my website, I think it's fine. Does it do anything? Not really, it's pretty and it works. Instagram reels don't translate to the website. Same with Insta or IGTV. So if you're really big on making sure that your Instagram feed is perfectly curated, and every picture looks good with each other. If you're doing Instagram reels and having it go to your website, that won't trance transfer over.
Drew Thomas Hendricks 31:31
Sure how it's good advice there.
Shana Bull 31:32
Yeah, I didn't. I didn't know that until recently. And I was like, why isn't this here? Yeah, I think it's fine. It's there with your website, you have to have one or two calls to action on each page. You don't want to have a lot because then you don't want to necessarily send people to Instagram. If you're on your website.
Drew Thomas Hendricks 31:50
That makes sense. Yeah. Can I actually want to make get them from Instagram to your website?
Shana Bull 31:54
Exactly. That's what I tried to do.
Drew Thomas Hendricks 31:56
That's great. So going forward into 2021. Hopefully, we're coming out of this pandemic, what some of the big challenges you see wineries facing
Shana Bull 32:04
right now, you know, we do see a light at the end of this tunnel in California here in the Bay Area in my county, everybody over 16 is now allowed to be vaccinated, and people are getting vaccinated like crazy in California. And I'm so excited about that, because it gives me a breath, like able, I feel like I'm able to breathe. And what I want to see from wineries and hospitality businesses is how they are building trust with their customers. It's it's a challenge, in general, because you had to in order to make a connection with people you have to know like and trust them. I don't know if you've heard that term. But now the trust is so important. I want to see wineries sharing how they are being safe with their their tables far away from each other. I want to see them wearing masks, I want to see them cleaning, I want to see them being safe, because that's going to inspire me to come back and like not be as anxious. You know, I'm not going to get on a plane until I feel really comfortable. And right now I don't I'm not there yet. Which is why I'm doing like mini staycations traveling in my RV to somewhere like Pismo, which was three and a half hours and a few weeks. I'm going back to Santa Rosa, and staying at a KOA in Petaluma. Oh, yeah. And I'm just going back up there. But I want to see, you know, the challenge is to build trust and get people to not be as anxious about visiting. I know I've talked to a lot of people in the wine industry and reservations are starting to come up on weekends, stuff like that. They're getting busier. And so they're starting to hire more, which is so good. That means that it's coming back. It's fantastic. I hope that you know, some of the trends that we saw pre-pandemic, like the rise of e-commerce, delivery services, online experiences, and like more connections with their customers, I hope that that doesn't go away. Because that was trending before the pandemic, and then it was accelerated. And we know that wineries tend to like to be in their safe zone, where Oh, we're doing okay, so we're not going to rock the boat and do different things. But I just want them to continue focusing on e-commerce, because that's going to be so important moving forward, because unfortunately, this isn't the last crisis. And I'm not talking about pan worldwide pandemics. I'm talking about fires or floods, stuff like that. And when people can't come to your tasting room,
Drew Thomas Hendricks 34:40
they can go online and in the 21-year-olds today they've only purchase stuff online. Yeah, by going to a store secondarily not
Shana Bull 34:48
true. I mean, I'm not going back to shopping for my groceries in person, not not for a while not that it's now that it's easy to do online, I and then I go pick it up. It's is fabulous. I love it. It saves me so much time. And I will say people like my mom who she's now late 60s, she has purchased stuff online for the very first time in her life pre-pandemic, she was so scared to put her credit card on, you know, Amazon or Target or wherever. She just she wouldn't do it. She's like, no, someone's gonna steal my identity. And like, Mom, it happens. But it also happens at the gas station like that. People steal your identity if you leave your house. Yeah,
Drew Thomas Hendricks 35:34
no, my mom has gone wild on Amazon this year since the pandemic. Accidentally just bought a leaf blower like to buy a leaf blower.
Shana Bull 35:45
Do you know that he probably got an ad for it. ads are very specific.
Drew Thomas Hendricks 35:52
Yeah, it was funny. I got a I got a metal detector for Christmas. She thought I'd like it. Yeah. Well, did you? I have not used it yet. But it was it was a random gift. It was a gift. I never knew I needed.
Shana Bull 36:03
Yeah. Well, you're close to the beach, I
Drew Thomas Hendricks 36:05
get the benefit of surfing. You can you can metal detect for an hour. So
Shana Bull 36:10
you got nothing else going on? Right. Thanks, Mom. That's hilarious. Yeah. But you know, boomers have figured out how to buy things online. And they're not gonna stop doing it just because they're allowed out of their house. Now that they're vaccinated. They've realized how easy it is. So that that is going to be a trend that just keeps keeps going. And the challenge for wineries is if they treat it like it is secondary to their tasting room.
Drew Thomas Hendricks 36:41
That's a good point. Yeah, we also have an RV. And we're that's one of our biggest, we also have three dogs. So it's very convenient for us to travel that way. Have you heard of harvest hosts?
Shana Bull 36:52
I have.
I don't like dry camping. I'm not I'm not ready for dry camping yet. You know, we have a five year old that is still trying to learn how to potty train at night. So we need we need all of that extra water and fun stuff.
Drew Thomas Hendricks 37:09
For people that are listening, they allow you to it's a network of wineries and orchards and farms that allow you to park your RV on their property for the night
Shana Bull 37:17
all across the United States. And it's like, it's like Amazon Prime, you pay for the service for the year and then you can stay at these places for free. I think it's so cool. Are you doing that?
Drew Thomas Hendricks 37:29
Well, we're planning a trip. We're going river rafting on the Rogue River. So we're gonna be driving from California to Oregon. Okay, June, we're gonna have a couple host picked out and we're gonna see, we're gonna
Shana Bull 37:41
I think it's such a cool idea. I think once my kid is a little bit older, we can feel more comfortable. And my husband and I are getting more comfortable with camping. We've never been camping people but the RV we bought last summer because we just were like, okay, we need to go somewhere. And we went a half hour away. Like we weren't, we were going crazy. We were going half hour away. And it was just it was fabulous. We felt normal for a little bit. And that's what I'm excited to see, you know, more wineries kind of as self-care for people going out in public. Absolutely.
Yeah.
Drew Thomas Hendricks 38:22
And so, kind of wrapping things down here. I do have to ask you What advice can you give somebody for the perfect elaborate cheeseboard. This was in your bio, I want to know what okay. Board advice, you
Shana Bull 38:34
know, have fun with it. No, I am obsessed with following this woman named Meg on I. Now I'm blanking on her Instagram handle, I'll have to share it with you. So you can put it in the show notes because oh my gosh, she makes the coolest boards and she does a really good job of teaching you how to do them.
I have you know,
these elaborate cheese boards that have become super popular because of Instagram. Even when you really break it down. It's not that hard to do. Like if it's like following a recipe when you when you look at it, it might feel scary. But when you break things down, it's actually really easy to make. So Trader Joe's is a great place to get a cheese, just a few things a cheese, you have to have some something to put that cheese on. You have to have a dip. And then you have to have either like something salty and something sweet.
Drew Thomas Hendricks 39:24
I'm always a big I'm always sad when I don't see like a jam or a honey or some sort of sweeping that I can put on the cheese.
Shana Bull 39:30
Exactly. And then you have to pair with either beer or wine. I'm gonna say beer because I love a good beer and cheese pairing.
Drew Thomas Hendricks 39:39
I that sounds fantastic. I what's a beer you're drinking in a cheesy eat all of them
Shana Bull 39:48
No. Any any like, non IPA beer, in my opinion, like I like stouts with cheese and pilsners or even sours
Drew Thomas Hendricks 39:58
and that'll be good.
Shana Bull 39:59
So You know the great thing about a cheese board is there's a little bit of something for everyone. And it is a complete meal so it is dinner. You got sharp cooter, you got you got vegetables, you get fruit, you get starch. And then you pair it with a few bottles of wine and see what works best. It just makes it fun. And what I've been loving is that during the pandemic, people are making smaller cheese boards. It isn't just the giant ones where you share with friends and family. You can make one for yourself. Oh,
Drew Thomas Hendricks 40:28
that's fantastic advice. Today we've been talking with Shana Bull, where can people learn more about you and find this course.
Shana Bull 40:34
So Shanabull.com shanabull.com. Or find me on Twitter and Instagram as sharayray it was an old inside joke marketing agency I worked at back in 2008 when Twitter first became a thing to re re my old my maiden name was Ray so Shana Ray, so it was Ray Ray, and I never changed it because Shanna Bull Bull sounds really stupid. And I was too late so I couldn't get Shana Bull on on those handles. So website Shanabull.com everywhere else. Sharayray, I have a daily social media checklist that's free on my website that people if you're, you know, worried about creating content ongoing, this kind of helps break it down, and it's free. So go to my website and get that.
Drew Thomas Hendricks 41:28
Awesome. Well, thank you so much.
Shana Bull 41:28
Absolutely. I appreciate being a part of this. And I look forward to seeing you next year at the DTC wine conference here in my hometown. Absolutely. Thank you.
Outro 41:47
Thanks for listening to the Legends Behind the Craft podcast. We'll see you again next time and be sure to click subscribe to get future episodes.