Last Updated on June 24, 2021 by Amy Geldean
I've always seen the act itself of selling and buying wine as a choreographed form of dancing but covid has changed that. As a consumer, you fear making a mistake, wasting money or appearing foolish in front of other people. And as a tasting room host you're meant to alleviate all of those fears while simultaneously entertaining, educating and, hopefully, selling.

Little do visitors know that behind the picturesque rural surroundings and romantic idyll images vineyards like to conjure up, growing wine is hard work. The costs are high and the revenues are uncertain, add a pandemic to the mix and it can almost feel like a lost cause.

Forget about competing against larger brands, how can boutique wineries stay afloat now that tasting rooms are closed under covid restrictions?

If you're like most people, you've asked yourself this very question day in and day out ever since the Covid-19 quarantine began. Do I have some good news for you. In reality, not only is the situation not as dire as it might seem, there's a silver lining if you know where to look. Let me show you what I mean…

What does this chart mean for you?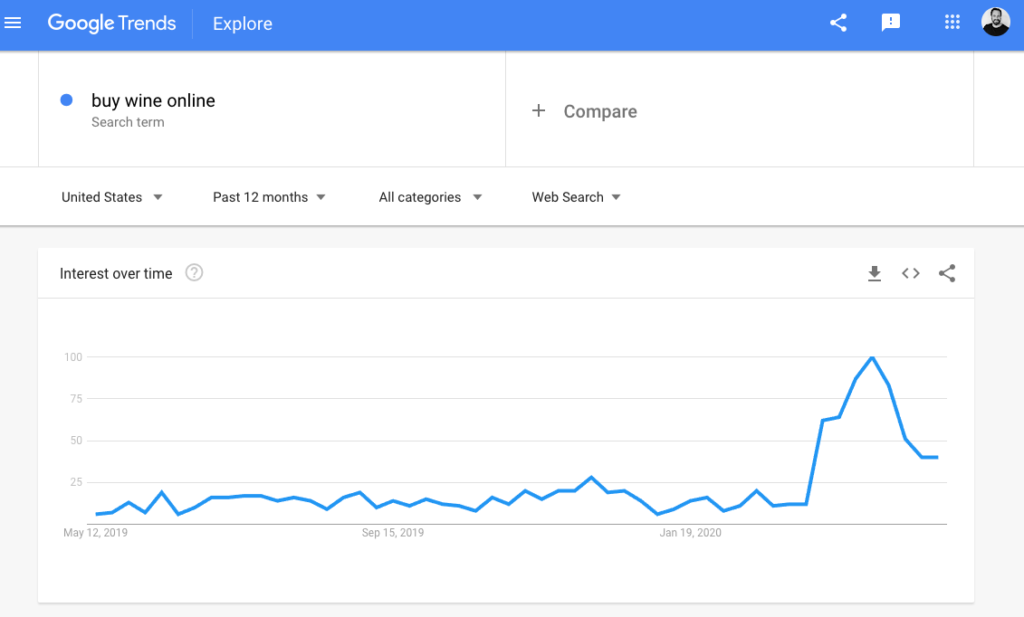 Traditionally, the direct sales model is primarily in person
As a winery, you sell to visitors in your tasting room, who buy wine to take home. Ideally they join the winery club and become regular customers. The boutique winery marketing model has been very linear for a long time, too long, perhaps.

What's changed? Well, a quick glance at the chart above describes the clear trend the pandemic has launched – as a society, we've collectively shifted towards buying wine online.

The primary concern I used get while talking with small winery owners used to be "It's impossible to get known in an area no one is looking for you…" Perhaps that's something you've said yourself. Well that's clearly no longer the case as people's eyes have opened up. It's as clear as day. Covid, for better or worse, has equalized the field because now you, as an owner of a boutique winery, can compete with the bigger brands that sell online. You can now go where your customers shop.

"An E-Commerce Future, Ready or Not", said the New York Times back in May.
Whether you've already made the conscious decision to adjust your D2C sales model, and/or jump on the e-commerce bandwagon, the online shopping phenomenon is here to stay.

E-commerce is up 18%, while brick and mortar is down by 14%. Click-and-collect and curbside pickup are expected to persist and experience a long-term trajectory of ecommerce growth post-pandemic. More specifically, Naked Wines saw revenues rise 81% in April and May, according to a statement made by the company on 21st June.
We've past the halfway mark of 2020
That means five months left to make it to 2021. We're in for a bumpy ride no doubt, but here's the bigger problem. This "Oh gosh, let's hurry up and get 2020 over with because it's a cluster" mindset, is wrong. I understand the temptation of wanting to make 2020 feel like a wash, especially seeing how the first six months have gone nothing like you planned.

This isn't the time to white knuckle your way through this pandemic, use this time intentionally. Take this opportunity to emerge stronger. Rise up, adapt and grow. Not only is this crisis not going away as quickly as we thought it would, but it has also changed consumer trends for good. The world is longing for a return to normalcy, but the reality is that the world as we know it has changed. People's attitudes, preferences and behaviors are adjusting.

If no one thought of wine as something to be bought online, that's clearly changed. With some crafty SEO you can now tap into this thirsty audience.

Slow and steady is an option, but it's not for us. It is our nature to look at the opportunities during times of disruption. The US is the biggest wine market in the world and is also one of the least efficient. Our winery specialized marketing solutions are uniquely crafted around your brand, budget, and business objectives. You don't have to do everything in-house, let us help you do it right, so you don't have to do it over. Click here to set up a strategy call.