Last Updated on January 18, 2021 by Drew Thomas Hendricks
Marketing has always been about telling stories, but wine businesses need more storytelling than any other. Even with a bottle of exceptional wine, a good story sells even more than time, oak, or terroir alone. Where should you expend your energy? Should you use website content or blogs to grow your wine business?
A study by Oxford food experts suggests that many self-styled wine connoisseurs cannot tell one wine from another. What matters most to them, apart from the ability of their palate to recognize exotic notes and accents, is what they have been told about the heritage and history of a wine brand.
When it comes to selling your wine through digital marketing, how you tell your story expands into how you use digital marketing channels such as website content and blogging. Many wine businesses trying to navigate the unique channels of the industry can get confused about what really counts when it comes to raising membership numbers or increasing wine sales.
Let's pour from that ol' web content bottle, shall we?
What is Web Content?
Technically speaking, web content is the sum of all content created for websites. That includes text, audio, video, or any other creative media. Articles, web copy, videos, infographics, whitepapers, reports, and anything else that you might use on your website is all part of web content.
However, website content refers to a narrower form of content placed on your website's home pages, service pages, or landing pages. It is what marketers call web copy, text that is crafted specifically to get visitors to take an action such as buy a product.
This kind of content is primarily used on high-level web-pages, what you would consider as your "digital storefront." It takes incredible finesse by skilled writers to create just a few paragraphs of this kind of text because it has to be very actionable, intent-based, and centered on the audience.
You can think of website page content as the modern-day version of carefully designed billboards, flyers, posters, and brochures, all in one. It is your most actionable marketing content that does most of the conversion.
For that reason, web copy doesn't have the luxury of being mediocre or generic. Quality content plays a big role in your online conversion rates, website ranking, and the whole customer experience. In fact, it is core to website design that you have well-crafted copy interacting with images, pop-ups, videos, links, and effective calls to action For a winery with a unique story and brand message, that would mean having creatives who are extremely well-versed with your brand, your message, customers, and entire marketing strategy.
Blogging for Wine Brands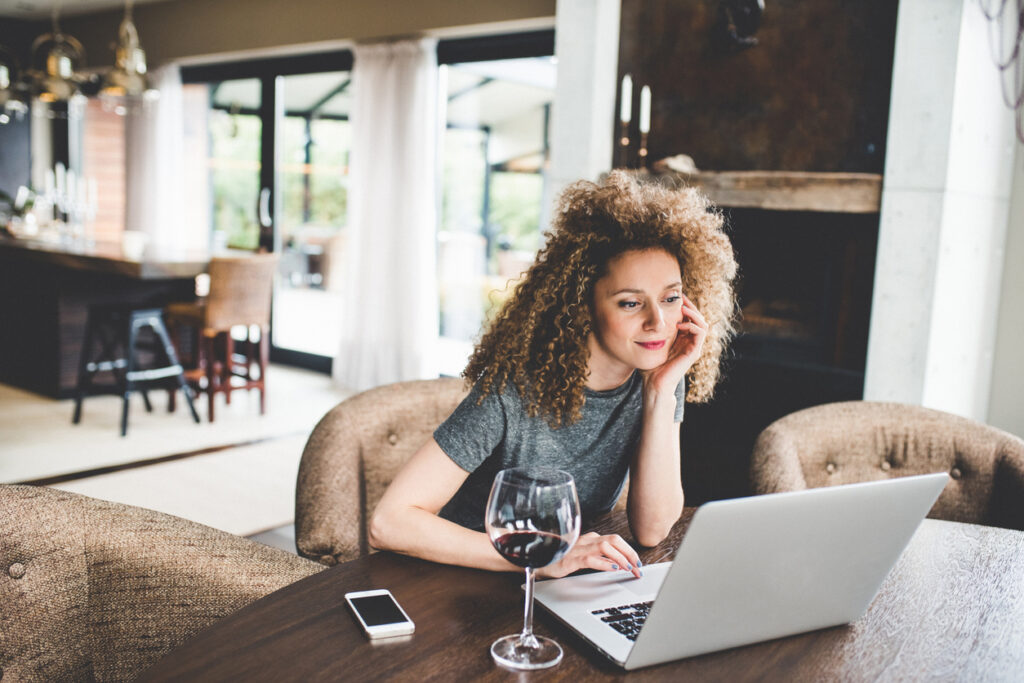 The origin of blogging is also intricately intertwined with the need to tell stories. Short for "web log," a blog is simply an online repository of conversational information, like something you would find in a (public) diary.
Blogs present their posts in reverse chronological order and contain longer forms of content including text, videos, images, and more. While a blog is technically a type of website built on a content management system, almost every brand today has integrated blog pages to merge webpage content with blogging.
Why is blogging so popular? Because it sells. According to OptinMonster , a top lead generation software company, blogs help brands achieve:97% more links to website landing pages434% more indexed pagesUsers who spend 3x more time on the siteThe power to attract 77% of web users who love to read blogs
In fact, blogging has been described as one of the most effective SEO tactics. It ensures great rankings and increased traffic – 67% more traffic, according to HubSpot . So while you don't have to have a blog, it is essential to successful digital marketing and your brand's authoritativeness, storytelling, and marketing funnel.
Website Content vs. Blog: Growing Your Wine Business?
There is no web content vs. blog post debate in the minds of top marketers. Each is essential to the success of the other, and together they provide a powerful multichannel synergy that has the power to drive your brand's visibility and engagement.
Every high-quality website balances out the key benefits and features of blogging and strong web copy to achieve maximum marketing results.
The Role of Blogging and Web Page Content in Sales
Successful blogging is an important part of lead generation. It draws in people looking for information and research online, who can then be nudged towards taking an action such as signing up for a wine-tasting event.
Blogs are updated quite often, as much as once or twice a week to maintain the freshness of content. Web copy for your wine business, on the other hand, is designed to be evergreen and static. Even though many top websites are moving towards a dynamic "headless" content infrastructure for better targeting, blogging remains the number one method of keeping websites alive.
Many wine brands still use the ubiquitous marketing funnel, in which blog content can sit at almost any stage of the process. On the other hand, web content is designed to lead visitors to the bottom of the funnel where they can ultimately make a purchase. It is important to develop a content marketing strategy to ensure that your site has the proper information at each stage of the funnel.
Looking at it this way, every kind of web content is equally important to your wine marketing goals. Your priorities should be on enhancing the quality and impact of both web content and blog content. If any of these is neglected, you run the risk of chasing away potential leads at any stage of your funnel.
How Wineries Can Balance Website Content and Blogs
Even though web copy is meant to be evergreen, there is truly no such thing. As your brand messaging evolves to target different clients with new products, so will your content marketing plan. It is vital that your marketing team make a routine practice of reviewing older posts to ensure that they are still in line with the plan.
Your blogging is, of course, a perennial marketing agenda. New blog articles need to be written constantly to keep the traffic flowing in, targeting new keywords and new customers. It is not enough to simply write an article stuffed with your chosen keywords and expect search engines like Google to rank you at the top of the SERP. It takes high-quality content to rank.
Your content calendar must include both types of website content to ensure perfect balance. Hubspot offers a free marketing calendar template and guide to get you started.
When you are targeting other wine businesses in the supply chain, both web copy and blogging helps you to establish authority and reputation in the industry to foster trust. B2B content creation must convey deep subject knowledge.
On the other hand, when you sell directly to customers, you need to be able to create and maintain your brand story in order to sell. There's more to storytelling for wineries, but the bottom line is that you need to create emotional connections that make today's wine consumers want to buy from you.
Balancing web content and blogging means varying your publishing frequency, tracking performance metrics, managing paid adverts vs organic marketing, and ultimately changing the type of content that you create.
Once the content published it is not enough to just sit back and wait for someone to find your content through a Google search. It is important to promote this new content through a multichannel digital marketing strategy. Promote your content through social media and email marketing. Social media marketing drives traffic to your site. Search engines use increased traffic as a signal of the content's importance. This signal in turn boosts the content's ranking.
How to Create Lifetime Customers for Your Wine Business
Like fine wine-making, content marketing for the wine industry needs constant attention. Above all, it requires experts who understand the industry, the people, and the subtle factors that make or break wine sales.
Out team at Barrels Ahead truly knows its stuff. We have the in-house expertise with specialists in both website copywriting and blogging to help you increase club memberships, retain existing members, and boost wine sales.
Talk to us today and let us help you amplify your marketing efforts.