While the pandemic threw all of us for a loop, the post-pandemic era promises similar challenges. The alarming surge of cases has proven that the wine industry can't let down its guard. Instead, it must remain adaptive with other obstacles, such as wildfires and extreme weather events, affecting the crush.
The essential thing to remember is that your online presence and website are more critical than ever post-pandemic. It's also worth noting that your reach has also expanded as non-tech-savvy individuals are going online for information. Over 80 percent of individuals will research a business on their smartphone before buying.
1. Engage your potential consumer base to create authority.
Blogging offers an excellent way to establish your winery as an authority and fun place to visit, as long as you keep it active. Too often, businesses jump into the blogosphere without realizing the commitment it entails. Winemaking can provide a plethora of topics. You can invite readers to follow the life cycle of the vines, from winter pruning through the harvest. Of course, pictures are a must.
Social media should be given enough attention as well. To ignore it is a missed opportunity with, 82 percent of Americans having at least one networking profile. Like blogs, you must stay engaged for it to benefit your business.
Excellent SEO is imperative for any content you produce. The blogosphere is a crowded place. You can use a web app, such as the Yoast Real-time Content Analysis tool, to see how your web content and blog measure up to the task. Minor tweaks can make a significant impact on your search ratings.
2. Offer more than just wine tours.
As wonderful as wine is, some people find it intimidating. That was one key finding of the Constellation Brands survey of wine buyers. It identified six types of consumers based on their knowledge, priorities, and engagement level. Not surprisingly, 19 percent are overwhelmed. About 21 percent make the price their deal-breaker. Another 20 percent tend to stick with the same labels.
These three segments offer excellent opportunities to engage these individuals with ways to learn about wine through tasting, classes (on-site or virtual), and educational materials on your website. The essential thing is to make it an open learning forum. Wine snobbery doesn't live here. However, it's also crucial to focus on wine enthusiasts who are more likely to spend more.
3. Host events.
Events go beyond a wine tour of the winery. It's also about finding innovative ways to explore different potentials with various audiences. The goal is to get visitors to become repeat customers. It could involve non-tour events, such as winter festivals, live music, or even classes on wine pairing. It'll make your business more of a destination that can sustain it year-round.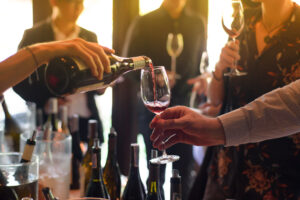 Another helpful strategy is to partner with other local businesses. Crosslinking on other websites can improve your SEO and provide more opportunities to spur interest in your winery. Promoting trails of local wineries can also help you capitalize on a new type of wine tourism. Napa Valley has made it an art form worth repeating.
4. Foster loyalty among your customers.
Labor shortages are a reality across the full spectrum of industries. It's a phenomenon experts have called the Great Resignation. Many are simply burnt out, from the added stress of remote learning for their children to what some have called turnover shock. We're rethinking what matters most in our lives. Interestingly, it's another open door for wineries and wine marketing.
Fostering loyalty among your customers can benefit both of you in the proverbial win-win. For example, you can put out the word for volunteers to help with the harvest. In exchange for a few hours of work, you can reward them with a bottle of wine. It can help make the difference between a casual wine drinker and a wine lover who wants to delve deeper.
It's also an outstanding opportunity to engage followers and readers on social media and your blog. It's another educational activity that can help your customers take ownership and move to the next level as brand ambassadors. Another idea you might consider is forming a league for a sport, such as bocce ball. The best thing is that it can ensure a reliable source of income throughout the season.
5. Tap into the potential of corporate and group outings.
Team-building activities have their place. However, many organizations and groups are on the lookout for something different. That's where you can promote the idea of these events for your winery. You can host outings such as a wine pairing dinner or wine tasting.
The events can provide a welcome income boost to promote your wine business and promote brand awareness. However, it's also a chance to tap into new revenue streams by bringing in new customers. It's worth noting that word of mouth is a powerful thing. Give the group a memorable experience, and it can become an annual thing.
6. Diversify your revenue sources.
The pandemic taught many industries a painful lesson. You can't rely on one segment of your business to carry the load. Wineries learned first-hand when the tasting room experience vanished. However, as one door closed, another opened. Such was the case with virtual tastings. Just because visitors can't come on-site doesn't mean you can't engage them over a Zoom call and make some wine sales.
Other opportunities exist with wine clubs, curbside sales, and remote events. The essential thing is to have multiple ways to respond to future lockdowns or restrictions.
7. Make E-Commerce a Priority
Perhaps one of the most important lessons of the pandemic was the meteoritic rise of e-commerce. Lockdowns didn't prevent people from wanting to sate their thirst. The market just pivoted to a different venue. This move represents many chances to make the most of your content strategy. Staying in contact with your consumer base through newsletters and mailing lists can fuel your e-commerce.
A successful e-commerce venue relies on several vital factors. Foremost, the process must make it as easy for people to give you money as possible. That means a robust website, guest purchases, and secure checkout to prevent cart abandonment. Part of your content strategy must address the reasons it may occur on your site. After all, a lost sale is also a potentially lost customer.
Plan Before You Start
The vital thing for a successful content strategy is planning. The pandemic and its fallout have affected wine marketing. Wine consumption has changed, along with the effects on the wine tourism experience. Safe travel and compliance with CDC guidelines are a fixture. The pandemic has also moved the goalposts for on and off-premise sales.
Social media marketing is also in flux with distinct changes in the demographics. That can ultimately affect how you reach your target audience. For example, individuals 50 years and older are an increasing presence on social media, whereas the millennials are declining. That makes scrutinizing the Key Performance Indicators (KPIs) different based on who you want to reach.
Final Thoughts
Wine tours are a business. No longer is it only about winery tours to meet the wine producer. It's about creating an economically sustainable business that can survive challenges like the pandemic. It involves marketing campaigns that capitalize on the importance of social media engagement and SEO. It's all about creating a memorable visitor experience to foster repeat business and brand loyalty.
There are a lot of ways to reach out to your audience and promote wine tourism across channels. Your content strategy is your most important resource. Let us help you build a more sustainable content strategy for your wine business-- talk to us today!