Last Updated on June 24, 2021 by Amy Geldean
Think about the moment when you enter a tasting room for the first time, whether it is your own tasting room or one at a friend or family member's winery. Everything matters about that first moment:
A strong smell of wine and grapes can immediately bring you to the present moment, starting the relaxing and unwinding process.
The colors and shades matter a lot too – are we in a warm, wood-tone-heavy space, or a gleaming, sleek stainless-steel space? Are we asking people to go back in time or are we bringing them the wine of the future?
As simple as it may seem, navigation matters. No one likes to stand there in the doorway, unsure where to go. They want to be ushered into the experience clearly so that they feel comfortable and part of this place.
As much as many tasting rooms love to just have people enjoying themselves and hanging out, there needs to be a natural move to purchase. Maybe your flagship product is a wine flight tasting experience, but to make the best of that purchase, you want attractive displays of those same wines for take-home purchase at the counter where they pay for their flights. Nothing is accidental!
Through it all, you want to maintain the breezy air of people enjoying themselves, experiencing a pleasant luxury and unwinding from daily life, all while becoming more and more loyal customers of your winery.
During a crisis that is making it hard to open tasting rooms or at minimum is impeding the "business as usual" air of open tasting rooms, it is more important than ever that your winery website design reflects the same principles that guide a great tasting room experience. Many wineries are getting creative with to-go kits and live virtual tasting guides, but even more fundamental is that you want customers to come to your website and feel that same familiar relaxation and comfort wash over them when they arrive at your website.
Here are just a few things to consider to make sure your tasting room experience is reflected in your winery website design.
First Impressions Matter – Go All Out on the Landing Page
One of the major reasons to align your website experience to your tasting room experience is that, when your marketing efforts bring someone to your website, it is often a first impression. You want their first impression to be one associated with your core brand principles: do you focus on relaxation, a beach or mountain nature feeling, or the love of interesting, complex, and rare wines? Whatever impression you want to make, work to make landing pages and a home page that convey this experience. Rather than thinking, "this looks like all other e-commerce websites," you want your guests to connect the same way they do when they first walk into your tasting room.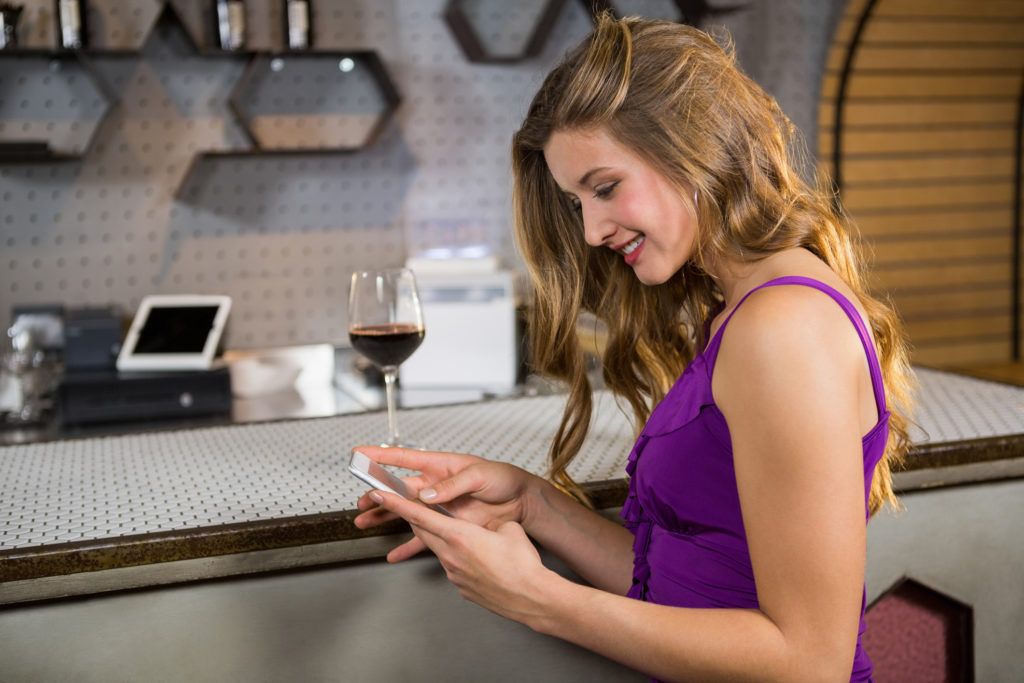 Make It Easy to Navigate to an Online Order or To-Go "Experience"
Whether you're offering wine subscriptions, to-go wine samplers, or another product that introduces new website visitors to your wine, making the process easy is great. In your tasting room, a discerning customer will push deeper and select a glass of what he or she likes, but you want to have a clear option for those who may just be getting into wine or may want some guidance, such as a wine tasting flight.
The same is true for websites, in that you can offer a wide variety of your wines and wine products while also using design principles to direct new customers to a core offering, such as an introductory offer on a wine-of-the-month club. Rather than feeling confused and navigating away from your website, offering a core product that can be easily selected without a lot of fuss allows the experience to mimic the smooth flow of a tasting room where many new customers order a standard offering.
Seamlessly Integrate Add-Ons That Enhance Your Customers' Experience
At the same time, if someone is excited to buy your wine and keep the good times rolling, why not create opportunities along the path to purchase that would add-on additional fun? Just like displays of wine by the cash register, your e-commerce site can easily incorporate upgrades to a wine subscription, additional goodies, and even the chance to share your purchase on social media. While you don't want so many options that the purchase process is muddied, you want your customers who are most excited to purchase your core product to also get the chance at one or two other options.
A website, like a tasting room, involves balance, and if you notice that having too many cash-register items is slowing down the browsing process, you might simplify a display. The same is true for your website. What's great is that websites offer even more opportunity to evaluate how traffic is moving; if you notice a drop or spike in purchases after a change to your website, you can continue the process of change and growth so that the website is even more productive in the future.
Want Help Creating Your Virtual Tasting Room? Reach Out Today!
As you can see, thinking of your website as a virtual tasting room is a great way to keep your approach to wine sales fresh and connected to what your customers want from their wine experience. Just because customers aren't currently visiting your tasting room doesn't mean you have to pause the good times. Helping them have a wine-tasting-room experience at home starts with an easy to navigate, beautiful, and inviting web presence that works equally well for a wine connoisseur as for a first-time wine drinker.
Barrels Ahead understands the way that we sell wine in the modern era, especially the unprecedented COVID-19 pandemic, is changing, and even the small details matter. We want to be part of the solution you need to get your excellent wine into the hands of customers who will become loyal fans who share the news that your wines are easy to acquire and delicious to drink. Get in touch with us today!