Last Updated on December 14, 2021 by Troika Gellido
Little did everyone know, social media efforts can help boost SEO.
Nowadays, it's no surprise how something can gain popularity overnight. SEO and social media both play a vital role in getting the public's attention online. These marketing channels create advantages for businesses, setting them up for instant success.
However, it's not always as easy as it seems. To incorporate social media into SEO, you will need a killer strategy. This can be a little tricky, especially for something as traditional as the wine industry.
A good SEO strategy provides avenues to capture your target audience' interest, while social media platforms make it possible to engage with customers on a personal level. When used together with a powerful content marketing strategy, these two can get you ahead of your competitors.
In popular industries like wineries, SEO tends to be a little more challenging. Using social media content in tandem with your SEO effort can help your winery brand reach a wider audience, encourage backlinks, and get more creative with your content marketing strategy.
SEO For Wineries: How to Incorporate Social Media Into Your Winery's SEO Strategy
Social media is one of the best tools out there when it comes to improving your brand awareness. Yet many winery business owners and marketers are still hesitant about it.
Unlike social media, optimizing your online content to rank better on search engines can test your patience. It's longer and has a more comprehensive process, but it's definitely something your brand will thank you for in the long run.
While the two channels may initially feel like competing priorities, social media and SEO can work closely in tandem to boost your winery's reach and brand awareness.
Let's start with the basics – what exactly is social media marketing and SEO?
What Is Social Media Marketing?
Social media marketing is using different social channels like Facebook or Twitter to engage and connect with your audience. This includes creating fresh content and engaging with the community across these social platforms. Social media drives businesses to get creative in marketing their brands and products through sound planning and social media strategy. If done right, this can help your business build an image and foster fruitful connections with your customers, helping you increase your winery's website traffic, sales, and revenue.
Social media marketing channels are continuing to grow and evolve. Some of the top social media marketing platforms for SEO include Facebook, Twitter, Youtube and many others.
Compared with other channels, social media marketing is relatively low-cost and can help brands reach a broader audience easily, making it one of the most popular digital marketing tactics.
What Is SEO Or Search Engine Optimization?
SEO (or Search Engine Optimization) is a marketing strategy where you improve your website's visibility by ranking on search engines. A strong SEO strategy can build a steady stream of organic traffic to your winery's site over time. Among the top search engines that businesses optimize for is Google.
SEO is a popular marketing strategy as it helps your brand target keywords and search phrases that correlate to users that are more likely to be a fit for your brand. A strong SEO strategy not only increases the quantity of traffic to your site but also improves the quality of that traffic.
Why Is SEO Strategy Important?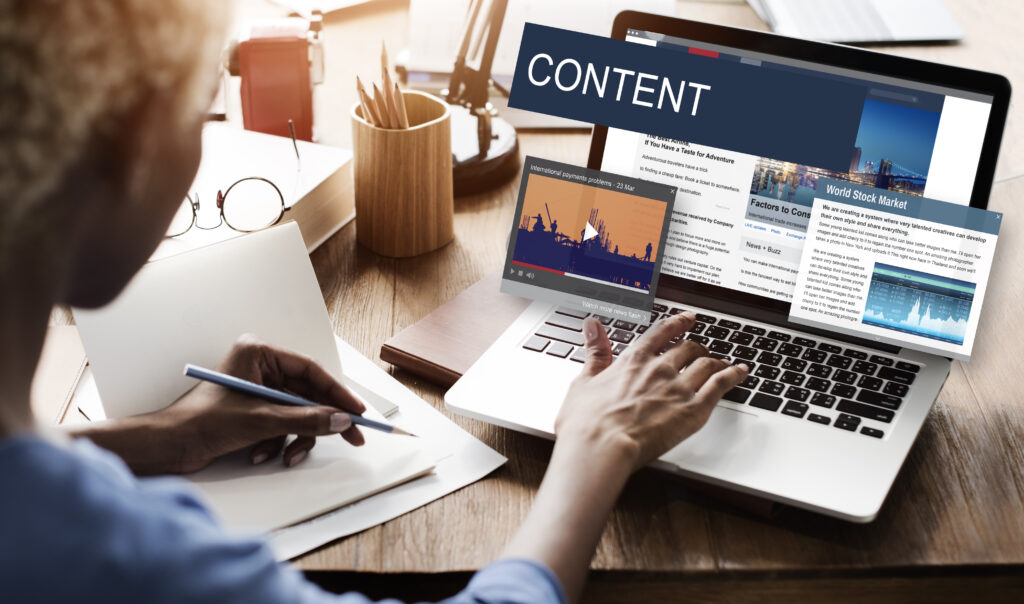 Many brands find SEO to be challenging since it often doesn't yield massive results in the short term. Investment in optimizing and distributing site content can result in long-term results but requires continuous effort to maintain those results. One of the ways to reap the benefits of SEO a bit quicker is through social media!
The Benefits Of Including Social Media In Your Winery's SEO Strategy
Social media doesn't directly contribute to your search rankings and is not considered a ranking factor. If the goal of SEO is to improve your search rankings, then you might be wondering why social media is important when it comes to your SEO strategy.
However, research has found that there is a correlation between strong social media engagement and higher search rankings.
Rankings correlate better with Facebook, LinkedIn, Google+, and Pinterest. It is said that brands who take advantage of these social channels have higher chances of making in on top of search engines.
Ultimately, the goal of any winery's marketing strategy is to connect your wine with buyers. There are many benefits to incorporating social media into your SEO marketing strategy, like:
Increasing your brand awareness
Achieving better online visibility
Providing more ways to earn organic traffic
Enhancing your content's longevity
Even though there is no direct relation with improving your search rankings, the SEO advantage of having a good social media presence is clear. So how can your winery successfully reap these benefits?
4 Examples Of Content That Successfully Translates Through Both Social Media And SEO
In search of some inspiration to get you started? Here are some examples of killer content that can support your social media strategy and SEO efforts.
1. Evergreen Content
Seasonal or newsworthy content can be incredibly engaging, but evergreen content should be the foundation of your content library. This type of content is relevant all year round, which means it can be re-shared an re-used as much as possible. Increasing the longevity of your content makes it easy to continue to build equity in the links.
2. Captivating Search-driven Content
Imagine spending days putting together content for both your site and social media, then realizing that very few customers engage with it. This can happen if you haven't taken the time to understand what your audience is searching for!
Use a keyword research tool to find what wine-related topics have high search volumes and then build content around these topics. The 'People also ask' questions on Google are also a great place to find what customers are searching for.

3. Link-worthy Content
At the end of the day, the goal of any SEO strategy is to drive traffic to your winery's website. To do that successfully, you need to create content that is easily linkable to your site.
Use your content on social media as a hook to grab your consumers' attention. Maybe the selling point is a fun wine fact or a customer review of your product.
In the food and wine industry, posting about recipes is also a tried and true method of directing traffic to your site.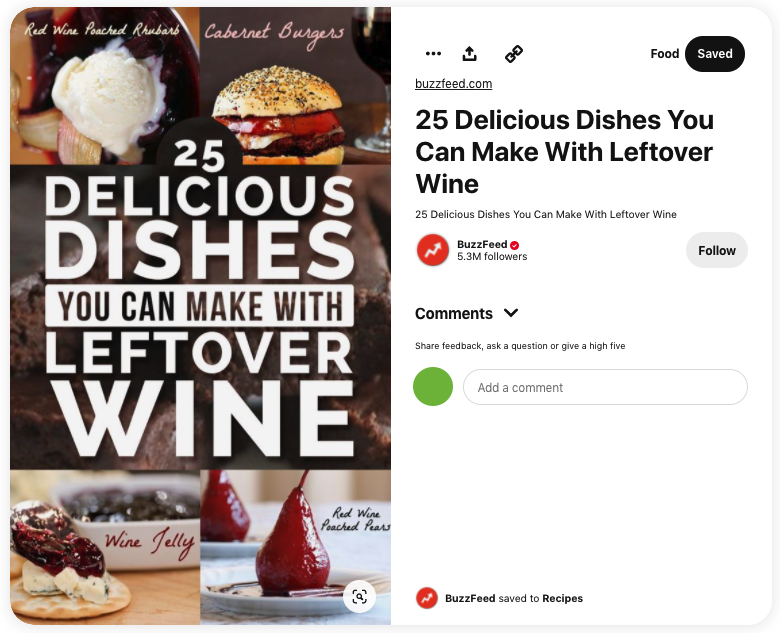 Leave the reader wanting more and point them to your website through a targeted call to action and a direct link. Make sure you are linking to relevant content, otherwise you might find yourself losing engagement and experiencing lower click-through rates over time.
Bonus? Make your content interesting for your target market, and shareable that other websites would want to link it to themselves! This would encourage backlinks to your site, making it rank better on search engines.
4. User-Generated Content
User-generated content and influencer marketing are incredibly lucrative and you can use this to strengthen your social media and SEO marketing strategies. Consumers love to see themselves reflected in a brand's content. Gone are the days of carefully brand-curated content. Encourage your winery's customers to share photos, reviews, and other content that can build trust and relationship with your brand. Your buyers are more likely to resonate with your brand if they can see themselves in your mission and values.
7 Things You Can Do To Boost Your SEO Strategy With Social Media
Search engine optimization is more than crafting great content. It should be done strategically to maximize value and results. Here are some strategies to improve SEO with social media of your winery business.
1. Repurpose Content
Content for SEO is typically long as it includes a lot of great information for your readers. One blog post can easily be turned into several bite-sized social media posts, such as interesting graphics, videos, and guides. Maximize the lifetime value of your content by recycling it in as many ways as possible!
2. Optimize Content
Social media can be a very crowded space, so consider the platform and audience when repurposing your content. Will your tips for choosing wine resonate better with your audience through a carousel image on Facebook, or a video content on Youtube? Will your audience enjoy this content better as an infographic on LinkedIn?
Social media has the potential to support your SEO goals, but it's important to optimize the content for each individual channel to see maximum results.
4. Re-share Content
While backlinks from social media platforms do not offer the same link-building value as those from other websites, it helps distribute your content to a wider audience. If enough users see value in your posts, it's almost guaranteed someone will include a link to your content on their blog or website which ultimately results in a quality backlink valued by Google. Indirectly, there is a link between search rankings and social shares.
Social sharing doesn't mean just sharing your content once. You can continue to re-share and update your content over longer periods of time, as long as it remains engaging for your audience.
5. Make Your Social Media Searchable
SEO can apply to social media platforms – many public social media posts get indexed. Some social media platforms such as Youtube and Pinterest can often be found at the top of the search results. While SEO is important for your site content, there is also value in making sure your social media is optimized for your targeted SEO keywords.
Use SEO principles to guide social media activity such as writing captions, alt text, even file-naming conventions. Even social media platforms like Instagram are searchable by using hashtags. Your social media and SEO people (or teams) should be communicating to help target the right strategic keywords and topics.
6. Focus On Quality Over Quantity
Make sure you're sharing content that is interesting and relevant. You should not be posting content for the sake of having content. Put yourself in the shoes of your audience and ask yourself, 'What does our audience would like to see more of?'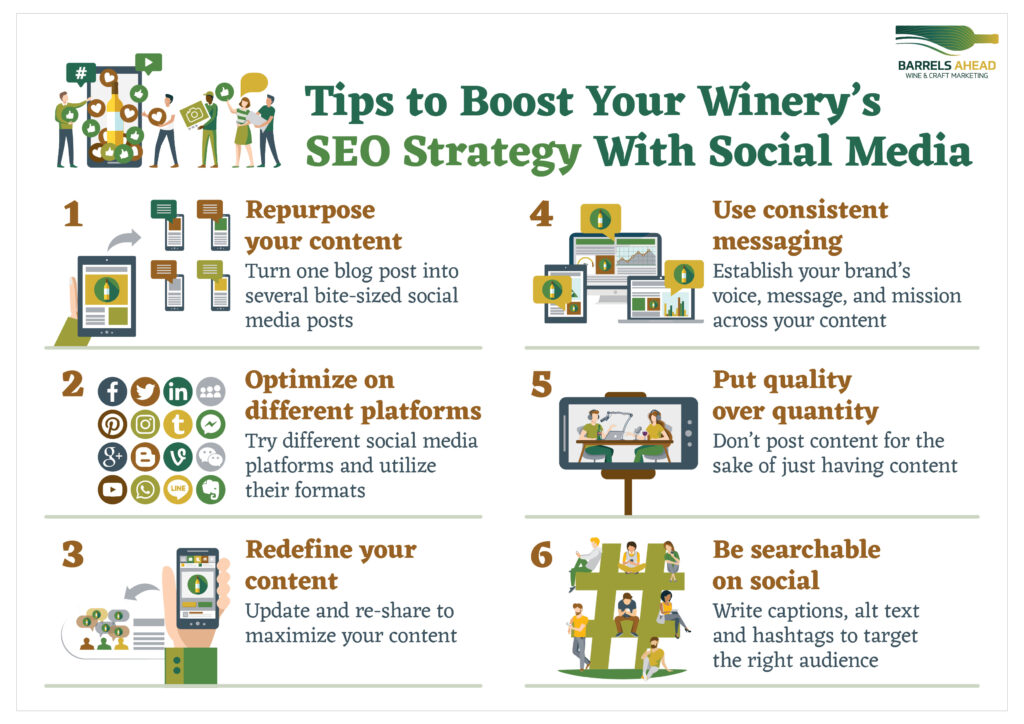 Social listening tools can also help your winery understand what conversations are happening in the industry, to help narrow down the topics that are trending and of interest to your audience. On the flip-side, keyword research can also indicate what is interesting to users on social media as well.
Sometimes even the best-researched content doesn't perform the way you want it to. Consider those instances as an opportunity to give your piece a revamp. You can always build on the content that you've already created rather than tossing it and starting with a whole new piece.
7. Use Consistent Messaging Across Channels
Consumers should be able to recognize your winery across all platforms. From socials to your website, the user experience should be seamless. Establish your brand's social signals through a clear tone of voice, message, and mission for your brand, and make sure this guides your content creation across social media and your website. This consistency should apply to your winery's visual branding as well!
Social Media And SEO Strategy Do Not Belong In Silos
Business owners and marketers often like to divide different marketing channels into their own separate barrels. In reality, social media is one way to leverage your content and add to your SEO efforts.
Your winery can use social media to capture new audiences, build brand awareness and increase the trustworthiness of your brand. If you create purposeful content that is shareable, you can harness the power of social media to scale your SEO strategy. With the right strategies, you'll be connecting your winery with more customers than ever before.
Was our guide helpful in helping your winery incorporate social media into your SEO strategy? We're happy to guide you more on your SEO and content strategy. Contact us and let's talk about how to leverage your social media for your SEO.