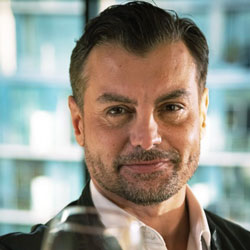 John Kochis is the President of Beck Family Estates, a family-owned company promoting unique vineyard sites and wineries in South Africa and Oregon. As a 27-year veteran of the wine industry, John began his career as a wine sales rep. He is a performance-driven executive leader with experience building and directing high-performance management teams.
Here's a glimpse of what you'll learn:
How John Kochis' career evolved from a wine salesman to a multinational president
Tips to achieve success in the fast-evolving wine industry
John's coaching strategy to help brands craft marketable wines
How John markets Beck Family Estates to achieve brand recognition
Beck Family Estates' distributor partnerships that aid in wine sales
John's approach to building a memorable brand for Beck Family Estates
What is the best marketing approach for selling wine?
John's advice for entering the wine industry
In this episode with John Kochis
In the aftermath of the Covid-19 pandemic, the demand for wine has increased, and marketing in the wine industry has evolved significantly. Many brands and wineries are struggling to adapt to these progressive changes and experience setbacks as a result. So what is the best method for marketing your brand to ensure you stay ahead of the game?
The direct-to-consumer model is essential for cultivating brand awareness and marketing your wine to consumers. With this model, wineries leverage the consumers' desire to discover new wines by offering engaging and informative tasting sessions. When you focus on building relationships, your customers become your brand ambassadors and sales representatives, since they are more likely to recommend your product to others.
In today's episode of Legends Behind the Craft, Drew Thomas Hendricks and Bianca Harmon sit down with John Kochis, President of Beck Family Estates, to discuss marketing your brand in the evolving wine industry. John talks about achieving success in the wine industry, his coaching strategy to help brands craft marketable wines, and the best marketing approach for selling your wine.
Resources Mentioned in this episode
Sponsor for this episode…
This episode is brought to you by Barrels Ahead.
Barrels Ahead is a wine and craft marketing agency that propels organic growth by using a powerful combination of content development, Search Engine Optimization, and paid search.
At Barrels Ahead, we know that your business is unique. That's why we work with you to create a one-of-a-kind marketing strategy that highlights your authenticity, tells your story, and makes your business stand out from your competitors.
Our team at Barrels Ahead helps you leverage your knowledge so you can enjoy the results and revenue your business deserves.
So, what are you waiting for? Unlock your results today!
To learn more, visit barrelsahead.com or email us at hello@barrelsahead.com to schedule a strategy call.
Episode Transcript
Intro 0:03
Welcome to the Legends Behind the Craft podcast where we feature top leaders in the wine and craft beverage industry with your host Drew Hendricks. Now let's get started with the show
Drew Thomas Hendricks  0:19  
Drew Thomas Hendricks here I'm the host of the Legends Behind the Craft podcast where I talk with leaders in the wine and craft beverage industry. Past guests of Legends Behind the Craft include Daniel Daou, Daou Vineyards, Joe Wagner, of Copper Cane Wine and Provisions, and Barry Waitte of Tamber Bey. If you haven't listened to these yet, be sure to check them out and subscribe. Today's episode, sponsored by Barrels Ahead. At Barrels Ahead, we work with you to implement a one of a kind marketing strategy. When that highlights your authenticity tells your story and connects you with your ideal customers. In short, we help wineries and craft beverage producers unlock their story to unleash their revenue. Go to barrelsahead.com today to learn more than a day Bianca Harmon's joining us again, Bianca is a direct to consumer marketing strategist at Barrels Ahead. If you want to level up your direct consumer game, give her a call. How's it going? Bianca?
Bianca Harmon 1:10
Going good. Sure. Thanks for having me excited to talk to John today and learn about Beck Family Estates and just his journey in the wine industry.
Drew Thomas Hendricks  1:19  
Yeah, today's guest is John Kochis. John's, a 27 year old veteran of the wine industry. He began his career as a wine rep slanted sales bag across his territory. And he's Portland in today. He now runs the US businesses for multinational wine company Beck Family Estates. Welcome to the show, John.
John Kochis 1:39
Thanks, Drew. Nice to have you. Nice to be here. And Bianca, thank you very much. And thanks for calling me 27 years old, I really appreciate that. That gives me a little ego boost. It's I'm going to be approaching the five oh, here coming up. So I'll take the 27. Anytime I would
Drew Thomas Hendricks  1:53  
take it to I had the 50 in October.
John Kochis 1:57
Very good to be here and talk about the business because it's changing so rapidly.
Drew Thomas Hendricks  2:01  
Yeah, we're now coming out of COVID. And before we jump into how it's the business has changed and evolved rapidly. over your past 27 years, you've evolved from falling on the sales bag to being a multinational president.
John Kochis 2:16
Yeah, no, it's definitely a journey. And it wasn't necessarily scripted that way. But when I look at it, in hindsight, it made sense. My parents were in the restaurant business growing up. And so it was the wild times of the 70s and 80s. And they picked a small town and Southern Oregon to start a business. So I think literally, the first bedroom, I remember is probably underneath table tent. And back in those days, there wasn't a lot of child labor laws. So we were working for free and everything, but it was fantastic time. And my parents were good visionaries, but weren't the best business people. So I've literally seen The Good, the Bad and the Ugly when it comes to the restaurant business. And there's a lot of similarities to that. My mom bless her hearts 71 years old and still works as a server and Southern Oregon. And I think it's to get away from my father and also because she could run for mayor if she wanted to. So it's definitely in our blood. So when I started my career, I was recruited by EA and J Gallo small little company may or may not have heard of. And, you know, it was about the opportunity within that company. So I went through from sales literally had this territory, East Portland buildings displays of Carlo Rossi franking, at least one of those four liter bottles in a BioMart store with concrete floors and then mopping for the next three hours. I'm like, Okay, I got a degree to do this. But the opportunity was amazing. And it was based on your ability. So I had a chance to go through the system as sales, district manager Field Marketing calling on distributors. I moved to Las Vegas, which is like dog years in 1999. So I was there for a year and a half of felt like eight, went back into our distributor in Portland, Oregon, and then raised my hand to go international, which was kind of a finite group within the Gallo team, thinking, you know, delusions of grandeur, Tuscan hillsides, you know, French countryside, all that and like how about Calgary, Alberta, Canada, being the non geography manager that I was like, okay, and where is that, but ended up falling in love up there and was a huge business change for me from perspective, because the US business is very small up there and you have to really figure out what you want to do. And so fell in love with the people built a great team ended up running half the country, and then coming back stateside running about 11 states with on premise business. But then the real key was I became kind of a guinea pig for their brick and mortar wineries with Gallo back in 2008.
Drew Thomas Hendricks  4:25  
Oh, kiss that's me made the leap from the kind of in house would be what you call it?
John Kochis 4:32
Yeah. So kind of the way I grew up sales and marketing, but I had a unique enough background. And we just bought a brand called Bridlewood. And so it was a strong base beautiful property and just outside of Santa Barbara. So I was living in Seattle though. How about going to Santa Barbara? Yes. I didn't know what the profit opportunity wasn't like yeah, I'm absolutely gonna go. And so that's when I got a chance to see kind of behind the curtain sort of, you know, the nuances of the wine business working with winemaking working with vineyard contracts working with pickers working with direct to consumer to kind of put it all together and this was when the economy was crashing. And we're smelling pretty much predominantly straw, which we all know the joke of straw is between a case of pneumonia. In the case of raw, you could get rid of a case of pneumonia. So like it was a really difficult time, but we were able to grow the business tap into Southern California market. And then we bought into Valley Vineyards in the Columbia winery ended up taking over the US business for Gallo and about 18 years is when I kind of decided what I wanted to do corporate, and having this skill set of brick and mortar wineries and working within the community, you know, you kind of need that billion dollar experience, but you can't afford it for the small limited size. And coming from a small, you know, family with restaurants, being able to give that business acumen as needed, was really kind of the key. And I built these relationships in the Central Coast. So I started my own consulting company, at that point time, working with brick and mortar up and down the west coast from mom and pops that had been in business for 25 years to brand new projects that are now up and running, you know, eight years later. And along the way, I picked up a small little wine brand that I tweaked called ground effects, and build that up. And so you know, fast forward about seven, eight years later from there, this opportunity came up with that family States wasn't really looking to make a change. But it was a colleague and consultant friend of mine. And what really drew to me, not only was the family, but seeing what scale looks like when you look at that family estates grand back is the lead brand. So it's bubbles from South Africa in the traditional method, but it's called cap classique there, and they had the seating they had all the momentum, but not really that push to it. You know, I've helped launch some of the biggest brands on the planet in my in my career. And I saw with Graham back the DNA to be able to take it to the next level. And for me, especially coming out of COVID. That's what gets me out of that like seeing that excitement. We have the heavy lifting, we have the distribution, we have the sales team, but what do we do to get it to the next level. So we have that piece of it. Plus, we also have properties in Oregon. And I'm actually based in Portland, Oregon. And so we have some endeavors that we're working with some high end rollers and vineyards and we just open up our new winery out here called added claim, which is a by appointment, very high scale Burgundian proposition. So we kind of have a bet, you know, it's kind of taken everything that I've done in my career, and then getting the opportunity now eight months in with that family to put it all together. And that's really been the exciting part.
Drew Thomas Hendricks  7:16  
That is exciting to get all the 27 years. Now,
John Kochis 7:20
when you use all of it
Drew Thomas Hendricks  7:22  
this one endeavor.
John Kochis 7:23
Yeah, yeah, absolutely, you definitely use all of it. Because now you've got to be, as I say, you know, the waters deeper colder, and the sharks are bigger than ever. And you have to be laser like in your in your strategy and your focus, you know, 30 years ago, you can hang a shingle on the side of the road, and put your kids through college and have a nice little nest egg, those days are gone. It's it is it is hand to hand combat. And this game is won or lost in the trenches,
Drew Thomas Hendricks  7:46  
in USA run and lost in the trenches. But a lots evolved from the days of just slinging a bag across town, especially with COVID, you're not, there's not a lot of people flinging bags,
John Kochis 7:55
now, but they're coming back into it. And the thing is, you know, working with a lot of different clients and different people throughout my career is in the wine business, there is no silver bullet, right, there is no algo that you can write that's going to solve all the problems and sell all the cases for you. This is still very much a personal relationship business because you know, you're selling something that you only have one time a year to make, right? You're selling something to people that have an unknown emotional connection to the wine itself. And then you have the nuances of three tier system, direct to consumer system, all those different pieces dealing with wholesalers calling on major buyers, you have all those pieces put together. So I would say that it's probably one of the most difficult CPG businesses to get it to
Drew Thomas Hendricks  8:35  
the one wine industry. Absolutely.
Bianca Harmon 8:37
Do you think that it's changed? I mean, do you think you know, back in the day, it wasn't this hard to get started? What do you think the key is now to making it stay successful? And you have
John Kochis 8:48
to be relevant, right, you have to be relevant and strategic, because you think about now there's over 10,000 wineries, you know, in the US, California, I think has over 7500. So there's just more, right? The pie is only so big, but there's just more and more slices being taken out of it. And you have the big guys that represent, you know, I think it's 93% of the volume is still done under $20. And then you have everybody fighting for the other 7%. And everybody wants to get into the business. And to be honest, a lot of people think that it's easy, and they've got the money and all their friends are gonna buy their wines when the winery and these guys get chewed up and spit out. It's
Bianca Harmon 9:22
because they just retired from their big financial background. And now they want to go take all this money and invest it in winery.
John Kochis 9:28
Yep, exactly. So when I was consulting, I worked a lot with those guys. And I'd be the one sitting across from these very powerful, you know, somewhat retired individuals telling them no, and they weren't used to that these guys haven't been told no, or their spouses for probably 15 or 20 years, much less their kids. So I'm like I'm telling them what they need to hear or want to hear. And it's not it's not easy for them. But they realized that this business, you know, it's a great equalizer. The three of us could start a brand in a garage and sell it for 100 million in 10 years or we can come into it with 100 million lose it and five, the business doesn't care. You don't have to by brand red infrastructure, cost of goods, discipline, distribution relationships, you're done before you start, get out of the don't get in the business, join 15 Wine clubs and just enjoy that.
Bianca Harmon 10:12
Invest your money in the wine, not the winery.
John Kochis 10:15
Exactly. I mean, it's so fraught with risk, because then you have mother nature too. And again, you get one time beer business distillery business, you can throw it back and start over again, you can throw out a batch like we dealt with in Oregon and 2020 in Southern California with the fires, I mean, detrimental. And now we're dealing with a bit of a frost up here as well. So you can only weather those storms literally so many times. Yeah,
Drew Thomas Hendricks  10:38  
I heard about that frost and Willamette. Yeah, it's still a
John Kochis 10:41
little too early to tell. The wait wettest April on record. So we're kind of waiting. The vines are still like, they're they're grumpy because they should be waking up by now. But Mother Nature is saying like, stay down for a little bit longer.
Drew Thomas Hendricks  10:54  
So don't be vines don't fall lot better than losing 50% of your crop. Yeah. The last thing I read.
John Kochis 11:00
Yeah, I know. And honestly, like people need to kind of just sit on their hands and put duct tape on their mouths for a little bit until we know more. We've got an incredible viticultural team here in Oregon. And it's just it's too early to tell.
Drew Thomas Hendricks 11:11  
Well, that's good to hear. So, so I'm talking said telling the rich founder, no. In the consulting career, what was the biggest advice that you were able to give these guys to actually help them succeed with their wealth and capital,
John Kochis 11:26
the focus had to be on cost of goods, Pricing and Distribution, right, whether it was a combination of direct consumer solely, or what I would always say is you needed to have an arm and a wholesale. And thank goodness, we went down that path, because with COVID, because when COVID hit, if you were 100%, DTC, you were dead in the water. And he's not a ton of people that were selling really nice wines for discounts online, etc. But if you had wholesale, you still had a distributor and retail became massive, you know, the brand that I owned at the time was was embedded 90% into on premise. So talking about having to adapt quickly, you know, I went from dealing with some of the top restaurants in New York City and great distributors to having to talk to Trader Joe's and Costco. But you have to, you know, adapt and evolve or you become extinct in this business. So and I think the word pivot has been overused way too many times when it comes to COVID. And coming out of it, but you just have to be you have to be that chameleon in the business and you have to be able to adapt, and you sometimes you have to throw out, you know, the business plan that you wrote for 10 years, because you gotta survive.
Drew Thomas Hendricks  12:25  
Did you find that most of them had a business plan, or they just wanted to have a wine, or they just wanted to, like I talked to a lot of the not so much on this show. But just in the course of business, a lot of these wealthy founders were there. So goal is just to be the person that produced the we're responsible for 100 Point wine, so they'll focus all their capital, just on the consultants on the barrels on the Cooper's to get that 100 Point wine, and they know that they're hoping then the wine will just keep growing because of it. Exactly. And they never have, I always wonder what happens after that 100 point.
John Kochis 12:58
Call me to come fix it. The trouble is
Drew Thomas Hendricks  13:01  
next year, it's 94, the 92. And suddenly, it's they're known as that one hit wonder,
John Kochis 13:06
we have all those key iconic brands that are you know, the see smokes for the world, and, you know, all those major players that, you know, hit kind of lightning in the bottle. But the difference was is there's you know, 80% Less wineries out there. So they had that. I mean, it's very, very difficult to try to duplicate that model. I know everybody wants that. But without the right discipline, and then you're paying consulting winemakers. And the one thing with money, I mean, you can buy the winery, the vineyards, the winemaker, the barrels, everything. But the one thing you can't buy is time. Time is everything in this business. That is the key. And it's one glass, one person one story at a time, that helps you build it back. And then you look 5 10 years back and you say, I've gone through this journey of carved up this path to the jungle, and now there's a clearing. And that's what people you know that everybody that people get impatient. And this is not this is this is this is a patient's business.
Drew Thomas Hendricks  13:58  
I like that the one thing you have is time because that was the visually that story I was telling was originally. It's like they're setting the stage for this aha moment. Right. But then they don't they haven't really thought about the time it takes for even that to resonate with the audience.
John Kochis 14:13
Yeah. Great about what Graham Beck because they go back to 1983. So even they're relatively new. In the US. They've been around since 1983. So it's been you know, being able to tell that story. Plus, it's sparkling. And that's completely changing the dynamics now because it's now looked at more of them. And every day type of a drinker especially with millennials, so really tapping into that, and there's some buzz. And that's been really kind of fun to play in that field because it's exciting and the tagline that I've been using, but that is there's always a reason. Because you think about if you're in the still wine business after New Year's, it's kind of a bit of a hangover, but it's sparkling. You got Valentine's Day. Yeah. And then you got Easter and you got Mother's Day and you got graduation. You got fourth July, and then you get back into holidays again. So there really is always a reason. So getting people comfortable and confident and having those glass pours as bubbles versus distill want.
Drew Thomas Hendricks  15:02  
Sure and I also see a huge opportunity with the expanding category with of sparkling just beyond just celebration, but is a is an actual go to That's the type I want to drink at dinner because it's refreshing. It's it's fantastic. I gotta step back because you mentioned a term and I didn't catch it it's the South African term for sparkling Oh, sorry, capital, you know a lot of this, but I didn't hear that. I've never heard that. Yeah,
John Kochis 15:25
it's cap classiques. So it's made in the same methods methods champion Wah, but because it's not an it should not in Champagne, and South Africa. So it's called, you know, basically cave class seeks to cap classique. Okay, exact same method, but since it's made there, so qualitatively, you know, I would put up our like non vintage or brute and brew Rosae that is retail between 18 and 20, up against anything a double, if not triple the price from a qualitative standpoint. So that's what makes it very fun. Because we're confident in everything that's in the bottle. We're confident the story. Now we're just gonna go tell that story to more people.
Drew Thomas Hendricks 15:58  
Oh, yeah. You're talking about that story. You talked about the brand DNA that really excited you to keep on going. It's this is you're gonna, yeah, well, it's, it's talking about this DNA that was in place and what you're gonna be doing with it? Well, because
John Kochis 16:10
you have that history, right, we're not new. The one thing we have, like I just said, it's time. So we have the time we had the distribution, we have the quality, we have the pricing. Now, it's just getting out into the trade that we can again, and be able to tell that story, you know, and sell. Like I said, it's this is trench warfare. And you'd be amazed how much better it is to be able to sell in person, I just got back from a trip to Chicago. And it was extremely successful, because I get to meet our distributors. For the first time face to face, I got to meet buyers, for the first time face to face. And those, it's the nonverbal, it's the personalities that come through. And that's what makes this game so compelling. And the whitespace. And so for me coming out of COVID, knowing things would change and be able to take this, you know, this DNA and these holdings and be able to take it to the next level. Those are the things that get me out of bed, because that's the thrill of the hunt. That's the fun part
Drew Thomas Hendricks 17:00  
of this visceral thing when you're there. Yeah, just you can can't do it for me, you can do a virtual taste, and you're tasting and I'm tasting it, we're over zoom, but you lack the kind of visceral, just immediacy.
John Kochis 17:11
Yeah. And it just say you grew up on, it's based on its hospitality. Yeah. And one of the thing I realized I missed so much, because I'd be, you know, it'd be in a different city, or even in my hometown, and it'd be like, the creepy guy in the corner at a bar with a laptop. But you know, sitting there learning, having a glass of wine appetizers, talking with the bartenders, and you know, meeting people, some of the best deals I've ever put together, where it's just in that situation, we're not necessarily selling, but you're listening, you learn so much about the business and the city and the dynamics, just doing that.
Drew Thomas Hendricks 17:39  
100% agree that I started my career selling wine in a store, I knew I knew, if I could just hand the customer, just put the ball in their hand, usually they wouldn't put it back on the shelf. Because they got the immediacy or if they, if they even if they didn't want it is you just hand them a glass to taste it, eventually, they'll buy it way more than just trying to sell it over the phone. Yeah, you can.
John Kochis 18:00
Yeah, it's the one in the glass. That's the most important thing. And now we can actually demo and do that again. So now we can have people in the trade actually sampling it versus dropping up bottles that nobody really cared about.
Drew Thomas Hendricks 18:10  
Yeah, talking about going back and hitting the streets again, to the model change after COVID, from the way it was before, it has
John Kochis 18:18
it has. And I think I think certainly for the better. A couple of things happened, there was a natural calling of, you know, restaurants we know closed and retailers closed and all that, but it was heavy up. And like I said the pie was spread really, really thin. It also made us realize, from a supplier standpoint, that we didn't actually have to be in front of our distributors, you know, every other week, or certainly every month, because it just became tedious for both sides. You know, typical supplier wine rep would be in a car for eight hours a day, the reps didn't necessarily like it wasn't the most efficient of time and use and you're calling on maybe one or two accounts. And we also realized we could still do business without having to be there all the time. When I had for my other brands. My number one distributor was in New York, I didn't mean him for six years. It didn't mean I probably got in the way. And so it's kind of that balancing act, and certainly from a buyer standpoint, so it's about less is more and being better and focused. And I think also the suppliers now realize because the wholesalers are gotten so busy with consolidation, they've got 20 535 different priorities. So these distributor sales reps are just running around the supplier piece comes into it. So what we try to do is become that supplier choice and partner with them. So we'll make our own appointments, we want to go out and see who the top accounts are, build that relationship on our side, and then help out the distributor, also selling the wine. So if we have the relationship, they have the relationship, everybody wins versus just putting all your eggs in one basket. So my team is tasked with the fact of understanding like who the best and the brightest are and then go spend the time you know, in those accounts and meet those people and build those relationships.
Drew Thomas Hendricks  19:50  
Yeah, that I think that is the shift. There's helping an increased responsibility of the wineries to work with the distributors and do the mark Being part of it, build those relationships. Whereas back in the day, the person holding the bag was just the one selling it and the wineries were somewhat detached from it.
John Kochis 20:09
Yeah, I mean, I had a lot of clients that thought as soon as they got a distributor, the work was done. And to be honest, that's when the heavy lifting starts, right? Because these guys have those different priorities. And if you're not a supplier choice, offering value, and helping them sell wine and putting revenue through the wholesaler, they don't care. And you're easily replaceable. I mean, I've seen so many, you know, very big brands that had been jettison from different distributors, and now they're the puppy dogs out the window, because the distributors don't really need us anymore. 15 years ago, suppliers had so much leverage. Now it's completely switched. So we're trying to make it more balanced. So we can have as much leverage and again, add value and ultimately sell more one. Yeah, it's
Drew Thomas Hendricks  20:46  
kind of the discussion has gone from one side, someone saying, well, distributors now just purely logistics, wineries need to take all the marketing part of it to the point where you need a partnership where it's distributors a little more than logistics they do. So it's kind of hard, not offending anyone, but you do see both sides of the equation, it what is the role of the distributor now?
John Kochis 21:06
Yeah, yeah. And that's really, I think they're trying to figure that out. And, you know, they're bringing people back on that I've been furloughed, and, and trying to be, you know, the partner of choice with the right suppliers, but then also be able to, you know, handle the logistics and, and they're dealing with typically with fewer people. So because a lot of people haven't come back, or, as, like, we've heard about before, is finding that people period, to want to carry a bag and go through the trenches in the wine business, just like anywhere in hospitality. I mean, it's, it's kind of an epidemic of trying to find good people. Yeah, I've never heard the term ghosting. I've heard related relationships before, but never like in a workforce, you know, document. And now I hear it all the time. You know, go through the hiring process, they give these kids computers or whatever it is, and then they just don't show up. They're just gone goes through.
Drew Thomas Hendricks  21:53  
That's amazing. That's gonna change, I would think,
John Kochis 21:58
I would hope so. I was talking about this with somebody last night about, you know, where are they doing? I mean, there's, you know, there's not money coming in SLA from the government at that level. I'm like, What are these people doing? Because the business is coming back. And we need those people, you know, restaurants, hotels, wineries, distribution, wholesalers across the board.
Drew Thomas Hendricks  22:15  
Absolutely. shifting, shifting a little bit. So we talked about three tier and what you're doing with it, do you do any of the direct consumer side is present? Or? We do Yeah, we do. Without between DDC and free tier.
John Kochis 22:28
Well, it's separate. So with grant that we're mainly just in three tier, but our winery out here, outside of Carlton, Carlton ABA added claim is pretty much 99%, direct to consumer. And, you know, it's a curated experience. And the focus, I think now is people able to come back out have typically some money parked on the side. And they want the experience, right, they want to see behind the curtain, they want to touch and feel and engage with winemaking to the facility and all those things. And so what we're trying to do is really curate that and bring that holistic experience. And I really kind of sets the standard, because that's where people are hungry, for they've been cooped up for two years, they've been drinking a lot of wine. So they're exposed to it and probably, you know, better customers than they were beforehand, because they've been exposed to it because just to you know, load up at the, you know, the side of the liquor store. And Michael, that's good. But now they've they've learned enough, they've drunk enough, their palates probably changed and evolved. But it's like now what's that next level? So we've really found this hunger for the consumers to come out and really engage in all levels and ask a lot of questions. You know, typically in the past, you'd have like a 60 minute tasting now we're close at 92, even almost two hours, because we want to stay listen and learn. And that's great for us. Because people talk about brand ambassadors. That's one level, I want to build brand evangelists. And that's the next level, because they're the ones that are telling their friends, and they're the ones that are bringing them back here. So they'd become our best salespeople. So if you can get to that level, you've made it.
Drew Thomas Hendricks  24:02  
The brand evangelists I like that, because I also like the fact that the average time spent at the winery is like 60 to 90 going up to 90 minutes. I've seen the same thing personally, just on our free time, just I mean, business tastings, but we've gone from like, going on a trip and hitting five wineries to just in an afternoon one, just really going deep with that wine at those two places. Yeah. And I feel it's just gotten so much better. I feel like the wine I thought, I feel like ultimately more wine sold in that circumstance than just the casual. Let's, let's see if we can hit all the wineries on this row. Yeah,
John Kochis 24:40
I mean, I've had, I've been at wineries that I've run where, you know, we've seen 300 people in a weekend, or here will maybe see 30 people, you know, in a day, and it's just such a different level of experience. And I you know, and I appreciate the fact that people they want to know, right, because we're relatively new, but the buzz is starting to spread out there. And it's you know, it's about the experience and certainly the quote Quality of the wines. So it's I think it's a good evolution in the space and there's also fewer places for them to go.
Drew Thomas Hendricks  25:06  
Absolutely. From a holistic standpoint of marketing between the DTS you're ever DTC marketing team and you ever three tier marketing team? Is that an iron curtain between the two? Or do you guys share data and vision there's
John Kochis 25:18
data shared. But what's what I was drawn to from this the business is because each one kind of has its own strengths. So we kind of get to put them each in a different silo, I've been in other projects where you there has to be the synergies between direct to consumer and wholesale. Because like, say, you got a key placements in the restaurant stay in downtown Portland, when people come into town, they're going to try the wine. So they try to have a claim. They're like, Hey, we're gonna be a wine tasting. While we love that wine. Let's go out there. And I've seen that happen time and time again, a lot of people try to keep it you know, very much a separation of church and state, there has to be those synergies because one certainly leads to another, they've got to be complimentary. It's a different set of skews, it's a different set of pricing, because then you're trying to play in the by the glass range, which is very different than the three etc range. But for lack of a better term, it kind of becomes the gateway drug, right? It gets them into think about the brand, talk about the brand, and then you can take them down the journey when they come to the winery.
Drew Thomas Hendricks  26:12  
Yes, it starts with the wine by the glass and ends with the club membership.
John Kochis 26:16
There it is, there it is, you said right there.
Drew Thomas Hendricks  26:20  
ideal world. Yes, absolutely. Bianca, yes. What would you say is like, so want to bring into this conversation a little bit. So the skill selling DTC versus the skill selling three tier?
Bianca Harmon 26:39
Oh, man, I mean. persistency is, is key, I guess, with one, you know, sticking with it, sticking to it. selling direct to consumer, I mean, personally, I've always loved the direct to consumer model. Now, I know times have changed, but I just I really do believe that, that face to face interaction that they sitting there doing a tasting with somebody help sell the wine and the product because you build a relationship with that person, and not just with the wine itself. But I do completely understand the three tier model and where it's going, and especially in this day and age and what we've learned and why we have to have it because but at the end of the day, I think persistency is key with Yeah,
John Kochis 27:33
yeah, I agree, especially in both fronts. Now more than ever, I mean, you've got to you've got to take that DTC holistic sales type of mentality out to the streets, because that's what's going to separate you from just anybody else that's got, you know, 15 wines in their bag. And there's a queue of six different reps waiting to talk to, you know, the song, you know, at buying at a restaurant, like, you've got to figure out your strategic advantage and your relevance, you know, and sometimes, like, we'll only go out like, two or three wants where, you know, other distributors will have 15 I mean, that's just, it's too much. To be thoughtful. You have to be thoughtful, and as an edge guy, no,
Bianca Harmon 28:09
I mean, it is, I think that a balance between the two is I mean, it's just can really be beneficial. You know, like you were saying earlier about DTC where you're like, a lot of these wineries just didn't survive. I know, a winery, particularly that is a very successful billion dollar winery, and they've always been DTC. And all of a sudden, we were at Costco. Costco. I was like, uh, holy moly, what happened here, and it was just, it was just one wine. And it was just one year and it was just a random thing that they did, but they did it. And so then there were customers calling, upset because they had done, you know, they've done like future orders on this line. And now this line was sitting there at Costco. And it was cheaper than what the futures they paid for it. Were right. So
John Kochis 29:04
consumers remember, I mean, and it's, yeah, it's, it's easy to go down. But once you do, it's really hard to go back up, even if, even if it's pandemic because consumers won't care. Like, oh, Paris pandemic, I got up for a lower price for that price forever.
Bianca Harmon 29:18
Right? Yeah, no, it's just it's very interesting. I just remember that very vividly. And I was like, Oh, crap, this isn't going to be good. Yeah, was it? I mean, they're fine. There's still a billion dollar winery. But, you know, gotta be careful when you do something like that.
John Kochis 29:35
Really. And I think when you look at the three tier, you've got retail on one side, and you have on premise in the other and I think there's a lot more similarities and synergies between DTC selling and then and then presenting to on premise, because what I've seen coming out of COVID is kind of this renaissance in the on premise space, because the old guard, you know, either, you know, went out, got out or sold out. And so you have these new people In this new generation of managers and owners coming into are more thoughtful about the wines, they're curating a different experience on the wine list. They're more business savvy, they understand the value like that the by the glass program presents to these restaurants, because it pays for most of the staff, if done correctly, since 93%, of the business is done DTG. And so being out in the trade, again, people have actually wanted to talk to us, they understand the value that a brand like grand back presents for by the glass program and the margins that they can make and having those synergies in place. It's a much more thoughtful business discussion than it was in the past. And so that's been very, very refreshing.
Bianca Harmon 30:36
Yeah, no, I agree with you 100%. I mean, I don't know how it is up in like Oregon area. But in, you know, a lot of the wineries out here don't even sell by the glass. They can legally and because just to sell by the glass is a whole nother licensing. And so a lot of these whiners just don't even do it. So their main way of selling is bringing in customers to their choice retail store tasting and hoping that they purchase. And that's it, you know, some of them aren't even distributed, like so. Yeah,
John Kochis 31:16
and by the glass is tough, definitely. Because typically, your margins are a lot lower than selling direct to consumer, you're typically at a 25 to 28% margin for wholesale versus upwards of 70 to 80%, direct consumer. But you I look at it as your sales and marketing because it's getting in people's classes. And so we can go out and spend $10,000 and put an ad in the Wine Spectator, or we could take that margin and put it into an on premise by the glass program, and fund it with those dollars and win hearts and minds that way. So a lot of examples in the past, I've presented it that way. And it makes sense. And it's always great when you see the final numbers, but you get those people to try it. And then that equates back to direct to consumer. Plus you're building wholesale value, which is also you know, working capital that's coming in, which is the other all important part of this business. And, you know, and that's what keeps you that keeps the lights on.
Drew Thomas Hendricks 32:07  
And then, for me like when I've had a few conversations over this past couple of weeks about the difference between marketing DTC and what the deacons DTC side of the company could learn from the three tier and vice versa. But we're dealing with three tiers needs to learn is that relationships, that kind of going out understanding the customer, like I said, understand the metrics of the by the glass, which is the same thing that on the DTC side, they need to understand the the business aspect of the sail a bit more, and they kind of learn a little bit for each other. And I see I see that kind of a fusion of horizons, they're going forward.
John Kochis 32:43
Yeah, I think much more. So coming out of COVID. Because you needed every part to survive. So just naturally, they've had to come together to figure out how do we make this work? How do we keep the winery going? So you know, maybe it's fewer people, maybe one person's running both sides before it was separate? siloed. So I think that's been helpful, because again, there are there's synergies, and they both have to work side by side for a true success of any winery.
Bianca Harmon 33:04
Yeah, I agree. I think maybe that's the one positive we can take from COVID is watching some of these businesses and wineries get beyond creative too. Oh, completely, the doors open and keep things afloat? Yes. I know I
John Kochis 33:19
better for him, I think we're smarter, we're sharper, we're more adaptable. And I think, you know, the market across the board, from retailers to restaurant tours across the board is going to make it a lot better from a business standpoint, for us to be able to move forward and grow. But I mean, I firmly believe coming out of COVID, the investment that wineries and suppliers make in the next 12 months, we'll set the stage for the next five years. And there's two thoughts, right, a lot of people have spent everything or their loan to the hilt they can't, the others are doubling down. One thing we're doing is doubling down to get it out there to show what we know we're willing to commit, we have a chance to raise awareness and market share in a short amount of time. And people have been very receptive to that. So it's been it's been a huge gain for us just to get that brand out there. But it takes that investment in that commitment, and not everybody's willing or able to be able to do it.
Bianca Harmon 34:04
I agree. I agree. I mean, and especially when you look at the cost of bottle pricing these days and corks and I mean just down to the bare minimum of wind stuff. People if you're not doubling down, yeah, got to think you
John Kochis 34:21
know, completely, you know, then we put the logistics on top of it. And luckily, you know, we we planned ahead we brought as much product in from South Africa as possible but we've seen the delays in the one thing we're able to tell our consumers is that we're going to be holding price and we have and we can guarantee product, which a lot of people especially in the sparkling world, the champagne world can't say that. So that's been a huge advantage for us coming out and talking with distributors and buyers over the last few months. Because logistics are you know, it's it's a nightmare. The ports are backed up and people just can't get in, you know, wine sitting out there just aging on the you know, on a container and who knows what kind of weather
Bianca Harmon 34:55
see and I don't even think about things like that when you are dealing with wine coming thing from another country. Those are just things that like, wow, my mind was blown just like well, I can't believe I didn't think of that aspect of things like this wine is being imported over and now it's just been
Drew Thomas Hendricks 35:11  
such as empty bottles sitting out there. Yeah,
John Kochis 35:14
exactly, exactly. So yeah, you know not for the faint of heart the wine. This is super simple.
Bianca Harmon 35:21
If you have a bunch of money and invest in a wine, buy a winery is what he's telling you.
John Kochis 35:26
Yes. Easy, easy stuff.
Drew Thomas Hendricks  35:28  
Easy. Awesome about wineries? No, I do want to know a little bit more about the to the difference between Abbott claim and Angela vineyards, certainly running to their own completely independently or is brands within a single house.
John Kochis 35:41
So we have, it's all comes off the same vineyard. So I have to claim that we have we have separated Angela vineyards to go directly into that brand. So think of Angela is kind of accustomed crush, basically client inside of the Abbott clan winery. Angela was first added clan came second. And so we built the winery and called it that. So Angela gets the benefits of being in this world class facility. It's made a little bit different stylistically, it's more approachable from a pricing standpoint, but it gets the benefit of both. So certainly over delivers in the price point. And then added claim is made in a much more ago. It's much more coddled and
Drew Thomas Hendricks 36:17  
like a traditional second level of like the it's not it's kind of a
John Kochis 36:21
hybrid because Angela came first. And then it's abit claim was, you know, we're separating out the two different characters. Because they're very different from a personality standpoint. So good problems to have. It's still trying to, you know, how do we how do we keep them identifiable? So, Angela is more you know, personality and lifestyle driven and avid claim is more that very traditional Burgundian style, you know, very, very serious wines that we're only going to do Pinot and Chardonnay. I don't have a claim. That's it.
Drew Thomas Hendricks  36:48  
Then Angeles has the broad diverse and then yeah, broader diversity was more on the three tier side or the boring
John Kochis 36:55
the three tier side. Yep, absolutely. Yeah. So it's nice to be able to kind of have that. So you've got, like I said, we've got the AVID claim, which is DTC, Angela's a little bit of this hybrid, you've got grand back that is pretty much predominately three tier. And then we have this fun little brand that's called Steenberg. In South Africa, as well, that's a massive brand down there and just kind of coming into its own up here. And the lead SKU on that is a sparkling soft launch that hits at a below the $20 price point. That is the stunning one of the few sparkling saw belongs in the US. And it's got this great feminine style, this beautiful aromatics and kind of this coat little wine that we you know, we just brought it in when COVID hit. And just getting it back now out into the
Drew Thomas Hendricks  37:33  
trade. Sounds fantastic.
Bianca Harmon 37:35
I know I'd love to. Yeah.
John Kochis 37:37
So you can see kind of the how the how there was so attractive with these four different, you very unique personalities to be able to come in with my experience and kind of bring it all together, but still keep the identities whole.
Drew Thomas Hendricks 37:48  
Oh, absolutely.
John Kochis 37:50
It's been a dream. It's been an absolute dream.
Bianca Harmon 37:53
That's fantastic.
Drew Thomas Hendricks  37:56  
So just we kind of wrap down this episode, I was like, just because I think I haven't asked you.
John Kochis 38:03
Well, how much do I think we need to do more podcasts, we really want to get into the nitty gritty. But I think that's it as I say it's, it's been enough to be dangerous in the business. And, you know, I wasn't quite sure I was gonna stand to it, you know, pre COVID Because I've kind of done it all. And when I saw what was happening and kind of the business changing on the side, and a chance for up and coming distributors and brands to kind of go out and take market share and change the trajectory of what they could do. That's what was exciting. For me. It's so it was complete reinvigoration coming into it. Because obviously there was obstacles with COVID. But I think there's more opportunities than there were before. Yeah, talks
Drew Thomas Hendricks  38:39  
about opportunities. If someone just you know, they just graduated, they're like me 30 years ago, just graduate with a degree in philosophy and Greek wanted to get in the wine industry. Where would you start in given your path? What would you have done differently?
John Kochis 38:52
I, you know, I, I would say first, the first part of the question is, just make sure if you if you like the business, if you like wine, drink more. Because you have to develop a palate, because people like to my palate is not that sophisticated. I'm like, Well, you should be drinking more than because that's the one way and if you're gonna if you were going to buy a Chardonnay buy to and understand once from Sonoma, once from Oregon and build your palate that way. But, you know, the barriers to entry to get into the wine business are very low. I mean, I only had a business degree, but you can have poli sci it doesn't matter, right? It's the personality. It's about your passion. It's about your innovation, your willingness to get out there and ask the question, and that's not always for everybody, but there's no set degree that gets you in there. And, you know, the people that you meet in the business are absolutely incredible. Because it's a you know, it's an incestuous bunch, but we all kind of stick together. And so it's kind of this, you know, this badge of honor that we carry, and it's a fun, you know, it's kind of a fun fraternity within the business because we all can relate to the pain and suffering that can go into it, but then also the perks of, you know, getting into go to Australia or South Africa, you know, on for six days and just drink wine. And so it's, you have that dichotomy within the business which He's so fascinating. And then you have, the difficulty is, you know of selling it. So you know, there between starting at a wine shop, starting at a restaurant, getting a feel for it starting as a hostess, my daughter works as a hostess, so she sort of understand the wine game a little bit, and you know, it's in her blood. So that's kind of your exposure to it, and then you're gonna meet people in network, and then you kind of take it to the next level, but highly, highly recommend it because it teaches you, you know, a lot. When are you still learning every single day?
Drew Thomas Hendricks  40:29  
What path would you have done differently?
John Kochis 40:31
Honestly, and I just may sound contrived, but my path carved itself out, I think there was, you know, certainly some luck and opportunities and just the drive. I couldn't have scripted anything else. You know, I didn't, you know, I thought maybe for a time I'd be in corporate America forever. But, you know, branching out and jumping off, you know, into the deep end with a water wings for the first time was scary as hell, but the best thing I could ever have done, because it made me better what I do now. So I think taking some of those risks, you know, maybe I waited a little too long, but I'm also a believer, everything happens for a reason.
Drew Thomas Hendricks  41:03  
So never. You can never second guess waiting too long. Because you just don't know, you know, but you can always guess not taking that leap. You took the leap from Vegas, from Portland to Vegas to Calgary enjoyed all the ones up in Penticton. Some great ones up
John Kochis 41:20
there. Yeah, Okanagan? Absolutely. Yep. So yeah, so it's just you know, you gotta stay the course things happen for a reason. And if you're looking for something now know that if you wait and use one one person told me a long time ago, my career because you know, you're this hungry 20 to 23 year old and you're like, Oh, I didn't get promoted. I didn't get this thing. And this guy said, and he was a great area manager at the time. He says, you know, if you take care of business, business will take care of you. And if you're committed to whatever you're doing, new opportunities will arise. That's the best advice I've ever take.
Drew Thomas Hendricks 41:51  
That's some great advice for end to end on that. I don't think we go any higher.
John Kochis 41:56
There we go. I'll say nothing else.
Drew Thomas Hendricks 41:59  
John, where can people find more about Yeah.
John Kochis 42:02
LinkedIn with five easy as you can just search John Kochis on that. And then Beck Family Estates. And don't forget, Graham Beck because there's always a reason.
Drew Thomas Hendricks  42:11  
Oh, absolutely. Well, thank you. Thank you very much.
John Kochis 42:14
My pleasure. Thank you so much for having time. It's been an honor. Thank you. Have a good day.
Outro 42:26
Thanks for listening to the Legends Behind the Craft podcast. We'll see you again next time and be sure to click Subscribe to get future episodes.