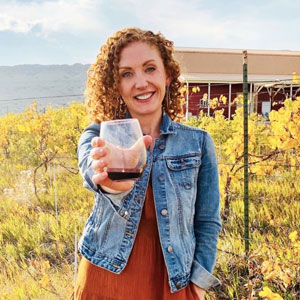 Sara Moll is a community builder, a supporter of women in entrepreneurship, and the Founder and CEO of Vin Social. She officially started the business back in 2015 with a vision for rethinking how we discover wine. Their emphasis is on sustainable and smaller-production brands, shining a spotlight on the wines that deserve it most.
Sara began as a creative director in the world of New York City fashion. From there, she enrolled in a professional sommelier training program and officially shifted her career path. In addition to Vin Social, Sara is a member of Kindred and Chief, both of which work towards maintaining equitable leadership in business.
Here's a glimpse of what you'll learn:
Sara Moll of Vin Social explains how she went from fashion to the wine industry
The origin of underground wine sessions
Finding your niche as a business in the world of wine
How does a virtual wine tasting work?
Sourcing wine from equitable and diverse winemakers
Advice for wineries looking to try their own virtual tastings
The differences between a spirit and a wine tasting
In this episode with Sara Moll
COVID-19 left an indelible mark on the world of wine, but this was especially the case with smaller wineries. Many of these brands relied on in-person tastings to secure new customers. Without them, they struggled to be noticed next to more recognizable names. Virtual wine tastings existed before the pandemic, but this was the domain of those same larger brands.
For Sara Moll, she wanted to highlight underappreciated wineries while also introducing customers to new wines they would love. This is why she founded Vin Social, a business that runs the gamut from virtual tastings to wine subscriptions to education and more. Her company has seen tremendous growth over the past year, even expanding into craft spirits. So how has she been successful and how has her unique vision come to life?
On this episode of the Legends Behind the Craft podcast, Drew Thomas Hendricks sits down with Sara Moll, the Founder and CEO of Vin Social, to discuss virtual wine tastings and the story behind the business. Sara goes through her own career switch, how she got into wine, and how Vin Social found success. They also cover the details of their virtual wine tastings and the advice Sara would give to new wineries looking to do the same. Stay tuned.
Resources Mentioned in this episode
Sponsor for this episode…
This episode is brought to you by Barrels Ahead.
Barrels Ahead is a wine and craft marketing agency that propels organic growth by using a powerful combination of content development, Search Engine Optimization, and paid search.
At Barrels Ahead, we know that your business is unique. That's why we work with you to create a one-of-a-kind marketing strategy that highlights your authenticity, tells your story, and makes your business stand out from your competitors.
Our team at Barrels Ahead helps you leverage your knowledge so you can enjoy the results and revenue your business deserves.
So, what are you waiting for? Unlock your results today!
To learn more, visit barrelsahead.com or email us at hello@barrelsahead.com to schedule a strategy call.
Episode Transcript
Intro 0:03
Welcome to the Legends Behind the Craft podcast where we feature top leaders in the wine and craft beverage industry, with your host Drew Thomas Hendricks. Now let's get started with the show.
Drew Thomas Hendricks 0:20
Drew Thomas Hendricks here I'm the host of the Legends Behind the Craft podcast where I talk with leaders in the wine and craft beverage industry, from winery owners like Mark Hanson of Bricoleur Vineyard, who created a holistic plan to plate wine tasting experience for his winery visitors. to today's guest, Sara Moll, is redefining what a virtual wine tasting experience can be. Today's episode is sponsored by Barrels Ahead. Barrels Ahead, we work with you to implement a one of a kind marketing strategy that highlights your authenticity, tells your story and connects you with your ideal customers. In short, if you're a business looking to retain a winery, or craft beverage producers or client barrels ahead, we'll develop a plan to make it happen. Go to barrelsahead.com today to learn more. Now before I introduce today's guest, I want to give a big thank you to Rob Griswold and Stephan Martinez from Trysk Printing. on last week's show, we discussed the latest innovations in wine label printing. Check out this episode to learn how to level up your wine and craft labels from just a visual brand expression to a full tactile sensory experience. I'm super excited to talk with today's guest, Sara Moll. And I want to thank Darren Fox from Idea Marketing for introducing us. Sara is the founder and CEO of Vin Social is a certified sommelier, certified specialist of wine. And w set three certified. Sara has working in multiple facets in the wine industry, from wholesale and retail sales, the event production, and she created Vin Social with a mission of democratizing access to the wine lifestyle. Welcome to the show, Sara.
Sara Moll 1:48
Thank you so much. Drew. It's a pleasure to be here.
Drew Thomas Hendricks 1:51
It's a pleasure to have you on So Sara, tell us a little bit about yourself.
Sara Moll 1:55
Yes, thank you. Um, well, I grew up in the Midwest, sort of a wine desert, if you will, made my way to New York City after graduating college. My degree was in fashion design and fashion merchandising. So of course, I had to go to New York City, the Big Apple had a decade long career in the fashion industry on the creative side working in the accessories space, and you know, create career trajectory, lots of amazing opportunities. But as I got older and wiser and more world aware, I had a lot of ethical conflict with a lot, you know, the fashion industry is the second most toxic and pollutive industry in the world. And I just had a lot of ethical grind, as I said. So I set out to figure out what the next chapter was going to look like. And the culinary arts that always captivated my heart. Living in New York, I was taking a bunch of culinary classes and wine classes wherever I could just for fun just to sort of feed my soul, my passion. And I decided, let's see if I can make this a career. So fortunately, at a very supportive husband who was like, Sure, you can just leave your career and go to wine school. So I attended the International Culinary Centers professional program, which was incredible, it was really a remarkable life changing experience. You're very intense, but learned the whole world of wine from all master psalms of the world and really came because it got spit out the other side of the line rabbit hole, a certified sommelier. And Vin Social was sort of an idea. I would call an incubation form at that point. I just knew I wanted to do something entrepreneurial. I wanted to create my own career path in wine, I was you know, 30 ish, didn't want to really work the floor as a sommelier. It wasn't gonna really be a lifestyle fit at that point in my life. Um, but I did end up jumping in and start working, you know, in for some amazing boutique retailers. Really, you know, just getting my feet wet in the industry worked for a wholesale, you know, wine importer, Italian wine importer, started working with trade organizations to do event programming, things like that. And it was sort of like drinking from the firehose, just like so ravenous, how can I really understand all the different facets and the players in the space of course, New York is really like the playground for the wine community. And, but Vin Social was really born sort of from a realization that there was a huge opportunity to reinvent what wine education looked like, in a modern sense. You know, my network was made up primarily of, you know, not wine, hospitality people, right? They're sort of traditional business people. And I was now they're sort of the I would say, the de facto wine guru of the network now and people so many people
Drew Thomas Hendricks 4:39
This is the bourbon social.
Sara Moll 4:41
So this in the evolution of when Vin Social was like, coming into like, you know, an idea. But really, the spark was based on this prolific realization that so many people so many folks are really truly interested in the subject of line, but for some reason, there's a widespread insecurity around the subject, you know, people feel like you either have to have a certification or go to like some formal wine training to join the conversation, which is just completely ridiculous. And so that's what I set out to do just democratize access and make wine more inclusive, accessible, more friendly, more fun, like remove all this not remove all the like Bs, that sort of makes people feel insecure around the subject, just meeting them where they are. And so my creative background came in real handy. As I sort of branded Vin Social threw up my first Squarespace site and started marketing to consumers and creating ticket ticketed wine sales in New York City. I was always searching for cool venues like partnering with restaurants or event venues where I could test skills, if you will, teaching people about wine and really, at the over over many years developed a really a core sort of proprietary approach to educating people around wine. And that is firmly rooted in narrative really bringing the stories behind the bottles to life. And drawing that connection to guests of the humble roots of wine is the source, right? It's the people it's the farmers. Soon as you realize or you meet a winemaker and you're having a tasting with them and you realize that they're wearing like, mud covered? Not they're not wearing a suit and tie and a label pin and a lapel pin.
Drew Thomas Hendricks 6:24
The official Patagonia vest.
Sara Moll 6:27
Yes, exactly. Or the T shirt, the T shirt or leg whatever it's so that was really kind of how Vin Social started. It was really just more an idea and like, the desire to deconstruct the way wine is, you know, discovered by consumers.
Drew Thomas Hendricks 6:42
Now how long? How long? Yeah, so this is the early stages. This is-
Sara Moll 6:49
So graduated in 2014 from wine schools, we call it quote wine school. And then Vin Social really born almost prior to and during that that period, but formally in 2015. And that was after, you know, I started getting on the radar of company so companies started hiring me to do what I was doing to create ways for them.
Drew Thomas Hendricks 7:11
I want to hear about these experiences. So the early days in New York, you're finding ticketed.
Sara Moll 7:16
Oh man, there was one there was one program we called underground wind sessions I was working for I was sort of managing and running events for this really cool boutique wine shop that was new brand new and meatpacking. Unfortunately, they they've gone out of business since but what very unique in that they had an underground cellar that was this beautiful sort of intimate tasting room. And so fortunately, you know, being one of the only places in the city that could offer that, you know, a lot of these winemakers are always coming through New York to meet their their customers, right? So the their buyers, like the people that run the wine shops, right? And so I said, Well, why don't we extend that to the consumers? The trade people always get access to the makers when they come into town through portfolio tastings and things like that. But why doesn't Why isn't there like a consumer night like I feel like this would be you know, something that people would pay for to join. So that's really what started so underground wine sessions, when winemakers would come in town, we would put together a really intimate invite only tasting or, you know, advertise it out to our customer base, and bring them in. I mean, I was able to, that's where I met some of like Pepe Raventos of Raventos I Blanc, we hosted, hosted the, the founder and maker of COS Winery in Sicily, you know, some amazing producers from Napa and Oregon, and that was really just lit my fire for really wanting to extend that access much more widely, right, which is the end consumer very infrequently has the privilege, the access to the actual makers. And so that's been a differentiator for Vin Social since the beginning where as much as possible, really, can I say, you know, connecting you to the source. And that's really where I think a lot of people have that aha moment of, you know, except for if you go to the vineyard, you know, in person, but like the next best thing is to meet the winemaker.
Drew Thomas Hendricks 9:11
Oh absolutely. Oh, that's fantastic. So you started grassroots grassroots underground tastings in New York. And then the next step in Vin Social as you're broadening out to what was the next step?
Sara Moll 9:21
Corporate. Yeah, so then I started getting hired by companies who were looking to for differentiated ways to entertain wine and dine, if you will. They're their clients, their teams, their prospects. And that was really successful. And I did that for many, many years, while also sort of jumping into the tangle of figuring out how I could also become an e-commerce platform, and the nightmare that exists around figuring out the legal compliance, licensing and all those things. And so that was a journey that began I In 2017, when I was pregnant with my first child, like, I got to scale this baby, because I'm gonna have a kid and how am I going to keep doing this? Because I was a one woman show. So that was the impetus to really think about what what has Vin Social look like, at scale. And where does this go? beyond just me teaching wine education, you know, experiences?
Drew Thomas Hendricks 10:21
Sure. Oh, that's amazing. What was the biggest challenge in figuring out the e-commerce platform? I'm always talking to wineries about that?
Sara Moll 10:28
Well, yeah, I mean, I think the I feel like I went through a bit of a legal education, really understanding the complexities of the regulatory system, that was the biggest and most time consuming, you know, it was a quite an investment to spent lots of dollars, figuring it out, and really just figuring out how do we set Vin Social up to do this? How do we become a retailer? Do we get fully licensed? Or do we operate as a third party marketplace, and after lots of you know, advice and legal fees, we ultimately decided that our best to do what we do best is really to be a third party marketplace and partner with the sellers and figure out how to do the fulfillment, and the logistics and the compliance sort of, you know, behind the scenes.
Drew Thomas Hendricks 11:17
That's great advice, to figure out exactly what role you you want to do, because you can't do it all.
Sara Moll 11:23
Exactly, exactly. And, you know, we knew that we wanted to be on the engagement, the experiential side, we are, you know, we are very brand minded, you know, my backgrounds in creative. So that's really kind of what we what we set out to do. And I'm, I'm just so grateful that, that we persevered to figure all of that out. So we were able to launch our e-commerce shop was the, you know, the v1 have Vin Social, you know, CO, as ecommerce was just a beta test in New York State, as a quarterly Wine Club subscription. So it was the idea is taking what we do from an experiential standpoint, and merging it with the typical version of a wine club where you receive some regular interval of curated wines. But on top of that, it was then getting access to educational experiences, like video content, things to really reinforce, and bring to life, those bottles that you've just received. And that was, you know, growing small and organically, and we were considering, you know, scaling nationally. When, what are we what happened in 2020?
Drew Thomas Hendricks 12:28
Oh, yeah, you won't remember what you're, you're actually setting yourself up for success pre COVID.
Sara Moll 12:34
I was little did I know. But the, when COVID came roaring in like a bat out of hell, right, we were perfectly positioned to just pivot and go 100% virtual, because I now had all of the infrastructure and partner you know, partners in place to do national product with them, we can now ship wine to 45 states, which is just a huge, huge like, is that hurdle to overcome? What that position does perfectly to be able to navigate this virtual world where we are now creating virtual versions of Vin Socials. But now we can fulfill the product to anybody anywhere so that anyone that joins Vin Social has the same product in their hands, which to me, is the big differentiator, right, like you can have throw up a zoom and have a happy hour. But this is about building intimacy through a shared experience and exploring through a sensory experience together.
Drew Thomas Hendricks 13:32
That's amazing. What Um, so you call it a joint Vin Social. So Vin Socials, the the, the new term for the location? Or is it in a group you call it like joining up Vin Social?
Sara Moll 13:43
Yeah, I mean, the noun, the noun, it's a verb. Really, that's the goal is that you know what I've said from the beginning, it's not a wine tasting. It's a Vin Social. It's very different. very highly designed, very interactive. Like I said, we've built a lot of proprietary educational tools, and image, you know, collateral and things that are very visually stimulating, and simple and fun.
Drew Thomas Hendricks 14:10
Walk me through one of those experiences.
Sara Moll 14:13
Okay, so I'll show you I know your viewers can't see. But this is one of our like, really most incredible tools. I like it. So we call it the Vin Social color chart. And this was actually an idea that was born when I was in wine school. So when you're learning to taste and describe wine, right, I thought it was so difficult in the beginning to just pull things out of thin air, you're like, reminds me of something. What is that thing you know? And so one of my mentors who's a master sommelier, Christopher Bates, amazing guy from upstate New York, he drew this connection for the color of wine, like what is the actual color of the liquid in your glass, and what aromas and flavors might, might you also experience in the glass so like, if you're looking Get a wine that's really like deep purple. Okay, well, what things are deep purple, like plums, you know, dark berries, violets, maybe. And so that is why I was like this made so much sense to me as a visual person, a creative person. So we put together sort of our edited, or our attempt to put the most common aromas and flavors that you find in wine into one little place. And it's organized by color.
Drew Thomas Hendricks 15:24
I like the simplicity of that it looks just it looks very easy to grasp.
Sara Moll 15:28
Yeah, it is. And I think it's one of the things that, you know, we send with every package so that people can keep it, you know, you could put it on your fridge or whatever. Anytime you're tasting wine. It's a great conversation starter. And it's simple to understand. You're like, oh, okay, my wine is ruby red. There's strawberries, there's cranberry.
Drew Thomas Hendricks 15:46
That's great. So it starts off. So this virtual experience starts off with a tasting card, do you ship the wines do each one of the people that participate in the tasting?
Sara Moll 15:54
Absolutely, that is obviously, in our minds mission critical. So we have most of our business is working with companies now. So companies are hiring us, you know, we work with incredible companies like Salesforce and Amazon Web Services and Verizon, and, you know, the Fortune 1000. And we help them enable their sales initiative. So essentially, you I always say business is done on the barstool. It's not done in the boardroom. And there's a very important reason why corporate america spends so much money on entertainment and gifting. Because that's where, you know, relationships are born. And you know, sales and deals happen. So when, you know, the hospitality, the traditional hospitality world collapsed in 2020, there was a massive vacuum, right? So every company, every event planner, field marketer sales team is like, Oh, my gosh, how do we keep in close contact with our clients that we normally are entertaining, or taking out to dinners or bringing to events, that's where we really stepped in as a turnkey, very premium solution for them, where we can deliver everything from event production, event design, graphic design, you know, program development, we we have the experts to run the technology. So we operate and run multiple virtual venues, as I call them. And then of course, the most difficult component for any client they could not do themselves is get the product to everybody the same product to everybody, nationally. So for us, we are sort of like this holistic end to end solution for these clients. And, yes, so to anthem long story short, yes, everybody must receive the same box, the same event kit, as we call it, which has either wine we've also do craft spirits and cocktails. And getting the right box from the right client to the right guests at the right time, is the biggest problem we solve for our clients beyond all the awesome other stuff, like the production and the experience design stuff.
Drew Thomas Hendricks 18:01
From fulfillment. That's that's a tremendous help. Now, what size are some of these events? What was the what was the largest one that you've done?
Sara Moll 18:09
Yeah, it really ranges, I would say most typically, there's somewhere between 30 to 60 guests, right, because we've we've done events up to like 300 people and a smallest a five. But for a client that wants to invest in this, right, they want to make sure there's enough people to make it worth their while, but not too many people that they can't actually, you know, interact with all of them, because that's the real idea. We provide I say, the warm up in the lineup, warm them up, we wind them up, and then we break them out, we help our clients work straight face to face engagement through breakout rooms and sessions that are you know, aligned with their clients. So that say, a sales account exec can be matched with his or her clients in a breakout room. So they can actually talk business, you know, whatever, you know, just converse and build rapport with one another.
Drew Thomas Hendricks 19:03
That's phenomenal. So in the midst of the wine tasting, you might have a present a wine wine a and then breakout sessions to discuss wine. And then what a great What a great way, how now, how long do these experiences usually last?
Sara Moll 19:17
It depends. So we have a 30 minute format, a 45 minute pro format and a 60 minute format. And we also have two different approaches. So we have an approach for the client who doesn't need all the tech support, they maybe already have invested in their own virtual event platform. Okay, we just provide the talent. So what what the wine event we have Vin Social sommeliers who've been trained in our program and vetted for being excellent on camera storytellers and hosts and then we also do the product film and we also have a high tech we call bespoke program where it's the plant that literally is like, I just want you to do everything. And so we will do all the event production will will produce the event on one of our tech platforms provide the talent course run the show. And do all the product deployment. So we really can fit whatever needs our clients have whatever budget they have. And we are really helping them design the experience for their audience. Because if it's an internal audience, we might want different types of experience. It's more fun with trivia and games and competition, if it's client facing, it needs to be a little bit more buttoned up. Maybe there's a sales presentation. So we do all of that. In in house, which is, I think, what makes us really special and unique among other sort of pseudo competitors out there.
Drew Thomas Hendricks 20:32
But what a valuable service and I know business has boomed over the last year.
Sara Moll 20:36
Yes, to say the least, I always say we built the airplane while flying through the storm of COVID.
Drew Thomas Hendricks 20:42
I like that phrase, and you and your currently and I wanted to kind of step back from Vin Social and actually figure out you're currently seeking funds and doing a venture campaign.
Sara Moll 20:52
We are yeah, so we are fundraising, we're raising capital to further grow and scale Vin Social, to bring on additional team members, we're also looking at the ability to invest in some proprietary technology, and tech enable automation, that it's going to allow us to deliver exponentially more events for more clients, with a really small, finely tuned team, and also building out our pipeline of suppliers. So we work in partner exclusively with craft brands in mind, and spirit. So these are independent businesses. And right now, because we have the liberty to be very selective, we're only working with brands that have either women or bipoc individuals in their leadership teams. Because as a woman in this industry and an industry that is behind the times, in terms of diversity and inclusivity, it's really important that we're prioritizing that. So that is, you know, we're looking for more brands that fit that fit that makeup to bring into our programs. So we build out for every you know, winery or distillery that we partner with, we build out a program that's sort of an enduring, ongoing program that we you know, sell to our clients and produce.
Drew Thomas Hendricks 22:09
Oh, that's fantastic. What a great initiative. Thanks, man backed up on that funding, kind of got me I was actually when I actually want to talk about this more with the idea, I had no idea you had such a good diversity, and, so all all of your wines in your club and on your events are women on winemakers,
Sara Moll 22:27
For the b2b programs. Yeah, for the quarterly club subscription we go every quarter to a different region in the world of wine in some regions are harder than others to find diversity coming to be honest with you. So for the b2b program, which is really wherever spent, where the volume of product is going out the doors through these b2b programs, that's where you can really add a lot of impact to our supplier partners, because they're seeing we sort of serve not we don't sort of we do serve them as a net new and alternative sales and marketing channel. So you know, if they're thinking, Oh, my gosh, you know, especially during COVID, their wine, their tasting rooms, close, I mean that in a lot of small brands, that is a exponentially, you know, a significant portion of their annual sales, so was really helpful and validating for us to be able to step in and be like, hey, let us help you move some product, through online and virtually and also, you know, our Brand Partners would have told us this as well it's like value to them is that they're now getting in front of new audiences are getting much wider exposure. And we're making them look good and sound good, right? So we invest heavily on the upfront, we're building a program around a brand, like, make sure we have really beautiful high quality content, we sort of train them in there, you know, pulling out and delivering their narrative in a really compelling way. To make sure they're they're ready for stage essentially.
Drew Thomas Hendricks 23:52
Oh, that's fantastic. Do you work with wineries directly helping them with their virtual tastings?
Sara Moll 23:57
We do actually. And it's happening more and more as sort of the world is opening back up and their attention is being turned back to Oh, my gosh, I gotta get my tasting room back open and deal with my, you know, physical guests. A few of our partners are actually starting to outsource their event, their virtual events sort of inbound to us, because they'll admit it's not their core competency. They got into it during COVID because it was a survival mechanism. And as a way to stay in contact with their, you know, club members and customers and a lot of them got inbound interest from corporate as well. Literally every company out there was like, we got to do a virtual wine tasting so and so we can help them as well. With that as sort of a white label or partnership solution.
Drew Thomas Hendricks 24:40
Oh, that's fantastic. Because these virtual tastings I mean they're not going away, especially in the especially in the wine clubs, because people will visit Napa, maybe once taste the wines join the club. But there's very little ways they may live on the east coast and not be able to visit every year in the virtual tasting is one of the only ways to like keep them keep keep these Club members engaged in part of the story.
Sara Moll 25:02
That's what I mean, the beauty, the silver lining of all of this that we've all just lived through, right is that it forced us to realize these alternative ways to connect and stay engaged with our customers and our audiences in a way that is actually really fulfilling and rewarding and impactful. And in a way, it's democratized access to all kinds of things, knowledge, you know, experts, whatever it may be. And for the wine industry, it's such a huge step forward in delivering on inclusivity. Because not everybody has the means to fly to Napa and visit the winery and the tasting room, but they may have the, you know, the means to order two bottles a quarter and join a virtual experience. So I think it's just a great way for the wine industry to really get in front of more people and build some real, you know, honest connection.
Drew Thomas Hendricks 25:54
Absolutely. What advice. So a winery wanting to bootstrap this? What advice would you give them trying to they may be a little late in the game setting up the virtual tastings, maybe? What What advice would you give them to bootstrap something?
Sara Moll 26:06
Yeah, I mean, Zoom is a great tool, right? I you know, we utilize Zoom for some of our programming, we also use some other, you know, more higher touch event specific platforms. But it's all about the storytelling. It's about being really prepared with a concise delivery of your story. And a tasting, I would say, you know, keep it under 16 minutes to you. I've been, I've joined a few that I didn't produce, they've gone on for two hours. It's like, it's too much. Remember this. One, the attention span is limited. So keep it really short and tight. And don't try to taste like six wines on a virtual tasting like we do, too. We do too, in 40 30 45 or 60 minutes, no matter how long it is, we do two wines. And that is plentiful, because there's that allows for a lot of time for questions and answers. And to really let an organic conversation happen with the people in the room.
Drew Thomas Hendricks 27:00
That's a that is great advice. Now I've been to a fewer I think when we went through eight wines with the winemaker.
Sara Moll 27:07
Nobody's gonna remember anything about the 5678.
Drew Thomas Hendricks 27:13
It was fun, but man, there was a lot of wines.
Sara Moll 27:16
And for small wineries to like it's a, it's a reason to keep people coming back from multiple experiences. Because let's say you have 10 different wines in your lineup. split it up into five events of two you might get repeat people you know, and then they're actually going to remember those two lines, you can go deeper. And I we always just do like a contrast dynamic. So like one white, one red one rose, one red, like something like that, because then you kind of please everybody.
Drew Thomas Hendricks 27:43
That's, that's fantastic. Because a lot of the virtual tasting started is just mimicking what happens in the in person tasting room. When you when you're present, you can actually kind of go through six wines. They are online that that's a that is a huge tip. Yeah. On craft and I wanted to let you mentioned that you have to craft beverages and even cocktails. How do you how do you do you send out the cocktails premixed or No? Then the ingredients and everybody gets to mix their own?
Sara Moll 28:12
Yeah, so we partner with a couple different companies woman led Of course, cheeky cocktails and perfectly cordial. They both do incredible high quality ingredient like fresh juice mixes, which is awesome because they can be used to make a mocktail if you're a non drinker, or it's an easy like one to one mix with whatever spirit. So that's how we what we do with our cocktail kits. With the with the spirit specifically, we do we work with the distilleries to bottle small formats, so that you're not delivering like two 750 ml of booze the lot. It's one thing to maybe drink two full sized bottles of wine, it's another to drink too. Our spirits in mixologist kits are a little bit different than the wine with the wine we always send to full size 750 ml with educational materials and any swag and things that the client wants to know wine openers or glassware whenever.
Drew Thomas Hendricks 29:13
That's fantastic. That's it. What would you say the mixes of your corporate clients between wine spirits and cocktails?
Sara Moll 29:21
So yeah, so it's about 5050 between spirits and wine, which is exciting. So we launched our spirits program in late December for a client who is a very important client may have heard of Salesforce right so they Well yes, we'll build it for you Salesforce. So we put together our first whiskey program in partnership with Milam and Greene which is an amazing amazing if you guys don't know about them, woman led distillery and out of Texas. together collectively the team has more experience than any other whiskey brand in the country. And so that ignited are sort of endeavor into the spirits were all even though you know, I'm as assembly and love spirits, but wasn't part of my like business model at the time. But we really realized that our clients were so so so ravenous for the spirits as well. And it's for us been great because now the the more programs we add the more events they want to do. So we're just, that's why we just keep building new programs bringing new brands as fast as we can because it's fast we can bring it in.
Drew Thomas Hendricks 30:27
That's true for a client when they're deciding between a spirit or a wine. Is there a certain advice that you give for them? Like, I know you guys need to do a wine tasting? Or you should be you should really be doing craft cocktails at this? Yeah, it
Sara Moll 30:40
kind of depends. I think a lot of times, you know, we have clients that most of our clients are doing multiple events. And so for them, it's an opportunity to just layer in diversity to get different people in the door, right? So not everybody likes wine. Everybody likes whiskey. So it's really usually they're the ones that are kind of coming to us like, Hey, we want to do this. And we have a nice menu that we can we send to our clients that you can kind of choose, you know, what program Do you want to do? But we also do we give our input, like if they have an idea of kind of like the demographic of their audience, you know, and will will say, well, we think your audience would love whiskey, and or we think your audience would love wine. But typically, the client is pretty clear on exactly what they want.
Drew Thomas Hendricks 31:26
Have you moved into craft beer at all?
Sara Moll 31:27
Not yet. Although I am a huge beer lover. In fact, I live in Colorado, and I live in Fort Collins, which is the Napa Valley of craft beer. So I have huge ambitions to bring beer into the mix. We haven't yet actually own hops social. There's an expansion opportunity there to craft beer, which will be obviously the next sort of obvious extension for us.
Drew Thomas Hendricks 31:51
Oh, that's fantastic. Well, it's about gratitude here. And you mentioned women owned businesses, empowering, you know, really increasing diversity, who do you admire most right now in the wine industry and the work that they're doing?
Sara Moll 32:04
Yeah, I'm gonna give a huge shout out, there's been so many amazing organizations, obviously, that have popped up through COVID to really address you know, the Black Lives Matter movement, and the, the misalignment with diversity and equity and inclusion in this industry. And The Roots Fund is amazing, have been, you know, Ikimi, I'll give her a shout out. She's an amazing woman who really, I think, really the engine behind this fund. And what they do is they it's a fund to really create opportunities for bipoc, the bipoc community to get into the wine industry through like scholarships and work opportunities. And, you know, I think, in order for this industry to really, you know, move into full blown inclusion. And we've got to empower those and get more people of color into the industry by giving them opportunities and showing them how to even work in this industry. So I think that what the work they're doing is amazing. So huge shout out to The Roots Fund.
Drew Thomas Hendricks 33:05
That's great, man. Check them out. I'm not as familiar as I need to be on that. So Sara, where can people find more about you and learn about Vin Social?
Sara Moll 33:14
Yeah, absolutely. Our website is the best place to go. It's vinsocial.co. So from our main landing page, if you're interested in learning more about the corporate events, you can go there and more interested in learning about our quarterly, you know, consumer facing Wine Club subscription. Also, as we sort of mentioned, and just got busy talking, we are raising capital, and we're raising it through regulation crowdfunding, which means that through wefunder.com, which is a platform we're raising capital on, anybody can invest in Vin Social as little as $100, for an actual stake of ownership in the company. It's a really exciting new movement that's happening out there in the fundraising world. So for anybody also listening who is an inspiring an aspiring entrepreneur or a small business seeking funding, I encourage you to investigate equity crowdfunding, it's different than like Kickstarter, and Indiegogo, and all those things of yesteryear. It's actually a legitimate way to raise equity capital.
Drew Thomas Hendricks 34:15
That's amazing.
Sara Moll 34:17
For underrepresented founders, like women only get 2% of venture capital dollars. It's a really empowering way to sort of take matters into your own hands and raise capital from a really wide community of your own community, your own friends and family, as well as sort of the wider community that supporting equity crowdfunding out there.
Drew Thomas Hendricks 34:36
That's amazing. I wish I had that about 10 years ago.
Sara Moll 34:39
I know right, it's, it's, it's, it's been quite a journey. So anybody also I just will say I'm really, really accessible. So anyone that's listening, that would want advice on equity, crowdfunding or getting into the wine industry, whatever, just connect with me on LinkedIn.
Drew Thomas Hendricks 34:57
That sounds great. So Everyone we've been talking with Sara Moll from Vin Social, know where to find her. And if you need help with your equity crowdfunding hit her up on LinkedIn. Thank you so much Sara.
Sara Moll 35:10
Thank you so much, Drew. It was such a pleasure.
Drew Thomas Hendricks 35:13
Bye, everyone.
Outro 35:20
Thanks for listening to the Legends Behind the Craft podcast. We'll see you again next time and be sure to click subscribe to get future episodes.