Last Updated on June 3, 2022 by Troika Gellido
The dot-com boom permanently altered the face of commerce as countless industries shifted their storefronts and their markets to the worldwide web.
Every development of new technology has brought fresh opportunities to the business world. From communication capabilities developing to perfecting products, technological advancements go hand in hand with economic improvements.
Wine has been a prominent part of the human experience for over 8,000 years. From burying fruit juice underground to crafting spirits via reverse osmosis, the development of wine and spirits has gone hand in hand with the development of humanity itself. We'll shed light on how you can use this 'shiny new thing' called the Metaverse in wine marketing.
The Grapes of Math: Physical Pleasures in a Digital Age
In the twenty-first century, America finally surpassed France as the biggest consumer of wine globally. As wonderful as that boon was, American tastes have shifted as we hurtle into the third decade of this millennium.
Wine marketing may sound redundant. Wine, made by early humans, hardly needs advertisement. However, the challenge in wine marketing is not necessarily selling the product – it is differentiating the product from the competition.
The Wine Industry of Today
While the COVID-19 pandemic affected many industries, the wine industry suffered minor losses. Sales not only failed to drop in the wake of the quarantine era but, in some cases, profits increased. A third of winery owners consider 2021 their most successful year to date.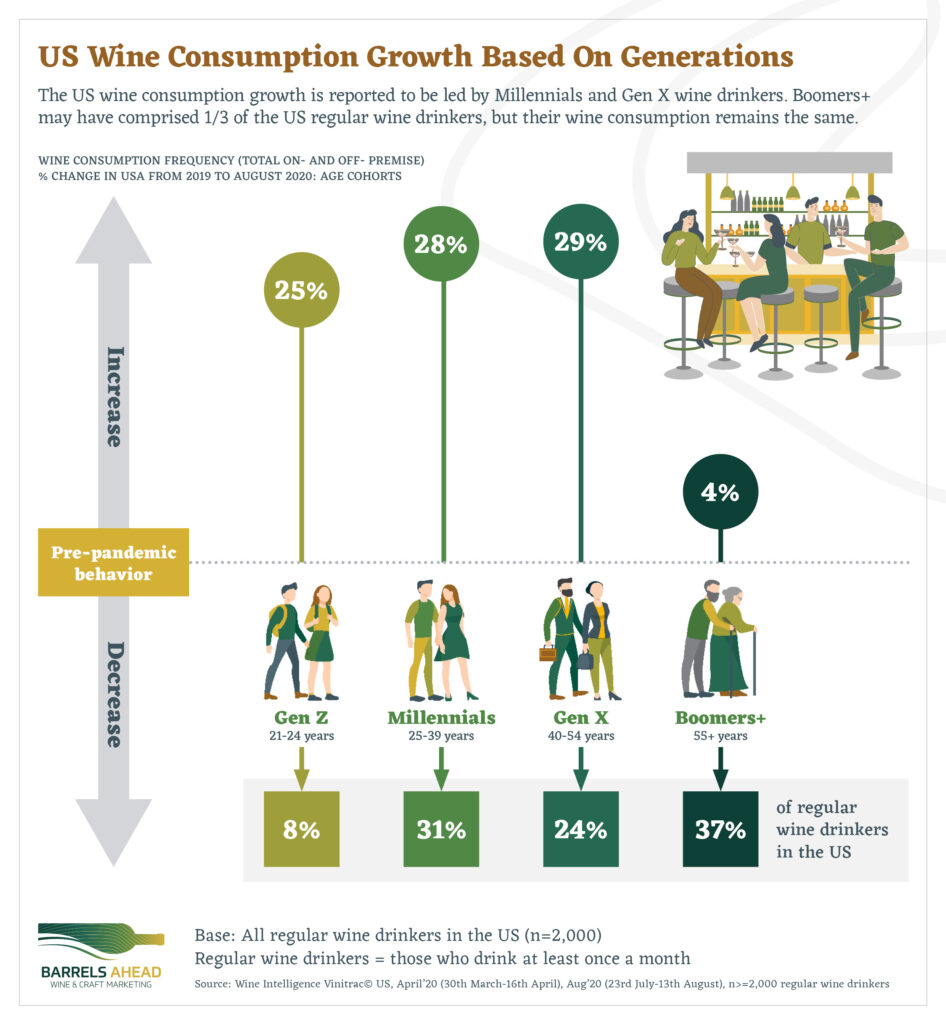 All stakeholders in the alcohol industry did not experience this boon. Venues that serve wine and spirits, such as bars, restaurants, and wedding venues, suffered greatly during the pandemic.
Adapting to Change
Though it seems that wine vendors should have also felt this loss, their savvy employed a new tactic. Online storefronts allowed winery owners to interface with consumers in a medium never used before. This facilitated sales on a local level at a volume never seen before. Almost ten percent of all wine sales occurred online.
That said, this bubble is bound to burst. Climate change threatens water access. Wine is losing market share to other forms of alcohol and non-alcoholic beverages. Younger audiences are finding alternatives to wine, often in the form of seltzers.
Wine Marketing and the Changing Digital Landscape
When asked what they would bring to share at a party, almost half of the respondents over 65 answered wine, while the respondents aged 21-34 overwhelmingly favored other options, such as beer, flavored malts, and seltzers.
A mere 15% said they would bring wine. Experts in the wine industry fear that as the baby boomer generation passes, domestic demand for wine may drop by a fifth or more.
Consultants to the industry emphasize to winery owners and market leaders alike that the solution is not to stick with traditional methodology. Marketing to the younger generations must become a priority and in the native tongue of modern youth.
Not only does marketing need to be youth-directed, but it needs to account for the values of the younger generations. Prioritizing climate change, ethnic and social diversity, mental and physical well-being, and social justice issues endears brands to a new generation of consumers.
What is the Metaverse?
A fanciful science fiction term like the Metaverse may scare away the unfamiliar. However, metaverses have existed for years in many forms. A metaverse is a digital place where users can interact directly. Usually, they have features such as chat functions, games, and a digital currency.
These interactions facilitate via avatars, virtual reality, augmented reality, or other digital representations. Metaverses function to eliminate the friction of daily living. Obstacles like distance, the difference in social status, and physical limitations do not exist in a Metaverse. All are equal at their keyboard.
The wine industry may seem pretentious to the unaware user, so this concept of equality can provide a boost in confidence and encourage flavor exploration.
Existent Metaverses
Metaverses have existed since the early days of the internet. Notable examples include Roblox, Minecraft, and Second Life.
Top 40 artists host concerts in Roblox, and Second Life holds forums for real-life political issues. During the pandemic, Minecraft became a place where people 12-20 years old socialized, developing their own rules in play.
Wineries can use the Metaverse for similar events. Virtual shows in the grapevines, tours of the wine-making facilities, and interactive collaborations with celebrities and influencers make the wine industry more accessible.
Mark Zuckerberg's Metaverse
In late 2021, Zuckerberg and the Facebook company changed the name of their services to Meta. Users access Meta via virtual reality goggles. Facebook's Metaverse aims to direct a parallel to our physical reality. An avatar mimics the actual presentation of the user.
Many brands are contemplating implementing a virtual work environment in the Zuckerberg Metaverse. Using a virtual reality headset, users would meet at virtual conference tables with virtual designer chairs to have their meetings. Rather than the Zoom video, they would interact with the avatars of their coworkers.
How Could the Existence of Metaverse In Wine Marketing Affect The Industry?
The first industries to make a profit in Metaverse spaces were overwhelmingly pornographic. In a land of low regulations, enterprises that have struggled against laws can flourish.
The promotion of already established brands is a relatively new marketing concept in the metaverse multiverse. Most major companies have not ventured into the Metaverse quite yet, but bigwigs like Microsoft have started working on building virtual settings that benefit businesses and customers.
For the wine industry, the Metaverse could wear a multitude of faces. Virtual programs could take users on winery tours or take a quiz to find their perfect wine match.
While the term 'Metaverse' gained popularity recently, its concept has been stagnant– A true indication that years from now, it can be the new norm.
Take a look at Walmart's vision of interactive grocery shopping in the metaverse back in 2017. This brand activation video was criticized and mocked four years ago. But with how things are panning out recently, this looks like it's making more sense.
Microtransactions & Wine Sales
Microtransactions are how many games make large profits from free-to-play platforms. The role-playing game Genshin Impact made over a billion dollars via microtransactions within its first six months. Metaverses like Fortnite use microtransactions to sell brand-affiliated outfits and dances.
Despite its connotation, microtransactions are not minimal dollar amounts. Sipping a glass of wine seems worlds away from purchasing a new suit of armor in a mobile game, but the two are more connected than you may think.
Microtransactions can help wineries, and wine sellers, expand their reach to younger generations and make purchasing wine a personalized, fun experience. For example, a winery may design a game encouraging users to acquire add-ons to receive discounted wine.
Subscription boxes are another way microtransactions may suit the wine selling industry. Customized boxes mailed every month with optional add-ons and exclusive wines will entice those that may not be well-versed in wines and want to try them in their own homes.
Ways How Wine & Alcohol Companies Can Use the Metaverse
The Metaverse contains potential as boundless as its capabilities. Whatever the goal of the winery owner or alcohol brand, the Metaverse can be a place to connect with consumers on a level never before possible.
E-commerce & Consumer Sales
Rather than allowing customers to venture out into the jungle of the world wide web in hopes that they will hack their way into a bottle of good wine, services are popping up to guide the consumer on their journey for the perfect wine for their lifestyle.
Rather than a basic quiz, the Metaverse could host an interactive gallery for consumers to peruse wines. Consider the experience of a virtual reality wine tasting. Customers can connect, discuss their favorite wines, and further explore wine pairings.
Subscription Boxes
Subscription boxes are a reliable tool to boost sales and ensure customer loyalty. Subscription boxes can net a 40-60% profit margin.
Wine subscription boxes exist by the dozen. What is missing from the market is a place for subscribers to bond over their purchases. With the decay of chat rooms and other forums, the Metaverse provides a perfect virtual reality forum for consumers to compare subscription boxes and bond over their membership.
Consider a wine-based social media platform based on a subscription box plan – members with similar tastes could be in groups, and promotions such as discounted wine may work as an incentive for users to participate.
Wine Non-Fungible Tokens
Non-fungible tokens, or NFTs, are digital representations of existing items, though that item can also be digital. It is similar to cryptocurrency in that both have their transactions logged on the blockchain.
Sales of NFTs can garner billions of dollars, making it a lucrative opportunity for luxury producers. Yao Family Wines sold a limited option of 200 bottles of 2016 The Chop Cabernet Sauvignon. Each purchase of a bottle included an NFT. Half of the bottles sold immediately.
Hello Fam
Hello Fam is the world's first NFT wine club. Customers bought two hundred and fifty cases of Hello Fam wine on launch day. Their website makes it clear that their long-term goal is full Metaverse integration.
Purchasing a case of their wine does not mean the wine ships to you. Instead, it is held for the customer at the Hello Fam facilities, while its NFT is an asset able to be freely traded.
Not only does the purchase of a Hello Fam Grape Fam NFT equivalent to a six-bottle case of Hello Fam Genesis Vintage, but with some luck, investors can get a massive return on investment. A golden Grape Fam is worth over six figures. Each purchase has a slight chance of getting this elite surprise.
Marketing and Scholarships
As the industry works to appeal to young people, associating wine brands with the offering of academic scholarships is a natural way to boost brand recognition and affinity.
Caution: Prepare for Legal Obstacles Ahead
The advent of the Metaverse brings with it a new frontier. Like the frontier of the American West, this unique opportunity comes with a level of lawlessness that will require a trial-and-error approach to legislation.
These crimes may include cyberbullying, extortion, kidnapping, grooming, and terrorism. Though the capacity for physical harm is minimal, the potential for emotional damage is exponential. Even a seemingly innocent industry such as wine has its bad apples – or grapes.
Wineries can at least deter some unwanted visitors by implementing a team of well-versed cyber security experts. They do not just help your business stay afloat. They also keep customers safe, ensuring that they continue purchasing bottles from your Metaverse.
Intellectual Property
Intellectual property disputes can include piracy, patent issues, ownership of assets, and protection of assets. What constitutes intellectual property has been under scrutiny as the digital world explodes. Is a YouTube video inherently intellectual property? What about a tweet? Or a meme?
Some legal services have already begun establishing Metaverse presences to deal with disputes. Developers have looked into crafting artificial intelligence bots capable of mediating and automating large parts of the regulatory processes.
For wine-centric platforms, intellectual property can include anything from quizzes to games. Creators should ensure that their games have the proper licensing to avoid theft and keep their wine business separate from the rest.
Security And Privacy
Machine-generated content poses novel threats to users. New formats provide new opportunities for users and brands alike to be taken advantage of – solutions that have worked for decades in the physical realm fail in the digital landscape.
This security becomes an unimaginable challenge in a Zuckerberg Metaverse looking to connect online avatars to real people. What does a verification process look like for working in the Metaverse? How effective can facial recognition be as deep fake capacities evolve? Trolling has hacked many Twitter accounts, sullying brands for years to come.
If a wine seller decides to create a social media platform, extra precautions like a strict vetting system or multi-factor logins should work to protect private information.
Antitrust
Antitrust and anti-monopoly laws rarely leverage against tech brands, but the Metaverse may finally push that envelope too far. Antitrust laws were developed for a completely different economic landscape, unable to contend with the collisions possible in a digital world.
Is the Metaverse the Future of Wine Marketing?
Yes! The Metaverse seems to be the inevitable direction of the future of the wine industry. With a desperate need for the younger generations to get invested in wine now, the need to diversify online access to wineries, and the overwhelming shift to eCommerce, the Metaverse is the new frontier for the wine industry.