Last Updated on August 31, 2021 by Amy Geldean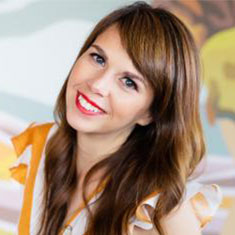 Scout Driscoll is the Founder and CEO of VINT Studio. VINT's award-winning, all-women studio designs unique branding and packaging for wine brands of all sizes. Scout is also the Founder and CEO of DesignScout, VINT's parent company. DesignScout is a branding agency with 20 years of brand building under its belt.
Scout was recently a panelist for the Beverage Tasting Institute's International Packaging Design Awards and a judge for the 2020 and 2021 Restaurant Development + Design Magazine Awards. She has received awards from the Harper's Design Awards, Indy International Wine Competition, and the Beverage Tasting Institute International Packaging Design Competition. Scout is also a graduate of the Goldman Sachs 10,000 Small Businesses program.
Here's a glimpse of what you'll learn:
Scout Driscoll describes how VINT came to be
How to create a distinct brand message for each bottle of wine
Why trendy designs aren't always the best route to take
What are some of the biggest mistakes wineries make when designing their labels?
Scout shares her opinions on augmented reality wine labels and the steady move towards digital branding
How a wine label can encapsulate a whole brand
Scout explains her team's label design process when working with a new client
Maneuvering through regulations when designing labels
Scout talks about VINT's parent company, DesignScout, and their work partnering with nonprofits
Why Scout loves working with an all-women team
Scout shares some of her favorite wines
In this episode with
Scout Driscoll
What goes into a wine label? How can wineries tell their stories through their branding and packaging? What's the best Zinfandel on the market? Scout Driscoll is here to answer all these questions — and more!
Scout Driscoll began her creative agency, DesignScout, 18 years ago, working with an all-women team to break the traditional branding mold. Now, she's on a new venture as the Founder and CEO of VINT Studio, helping winemakers boost their brand stories and messages through innovative and strategic labels. She's here to tell her story and give some wine recommendations along the way.
On this episode of the Legends Behind the Craft podcast, Drew Thomas Hendricks has a conversation with the Founder and CEO of VINT Studio, Scout Driscoll, about what makes a killer wine label. They discuss why trendy designs aren't always the easiest path, how labels convey brand messages, and tips for storytelling through wine bottles. Stay tuned!
Resources Mentioned in this episode
Sponsor for this episode…
This episode is brought to you by Barrels Ahead.
Barrels Ahead is a wine and craft marketing agency that propels organic growth by using a powerful combination of content development, Search Engine Optimization, and paid search.
At Barrels Ahead, we know that your business is unique. That's why we work with you to create a one-of-a-kind marketing strategy that highlights your authenticity, tells your story, and makes your business stand out from your competitors.
Our team at Barrels Ahead helps you leverage your knowledge so you can enjoy the results and revenue your business deserves.
So, what are you waiting for? Unlock your results today!
To learn more, visit barrelsahead.com or email us at hello@barrelsahead.com to schedule a strategy call.
Episode Transcript
Intro 0:03
Welcome to the Legends Behind the Craft podcast where we feature top leaders in the wine and craft beverage industry, with your host Drew Thomas Hendricks. Now let's get started with the show.
Drew Thomas Hendricks 0:19
Drew Thomas Hendricks here I'm the host of the Legends Behind the Craft podcast where I talk with leaders in the wine and craft beverage industry. From the CEO of Stock Manufacturing, his innovative work where helps tasting room staff remain on brand point. Today's guest Scout Driscoll who helps wineries tell their story through visual design. Today's episode is sponsored by Barrels Ahead. At Barrels Ahead we work with you to implement a one of a kind marketing strategy when the highlights your authenticity, tells your story and connects you with your ideal customers. Scout. In short, if you're a business looking to retain a winery as a client girl's head, we'll figure out a plan to make it happen. Go to barrelsahead.com today to learn more. And before I introduce today's guests, I want to give a big thank you to Zach Kamphuis of Commerce7. On last week's show, Zach and I discussed the difference between a wine club and a wine subscription. Check out that episode and learn why it might be better for your winery to switch to a subscription model for your wine club. I am super excited to talk with today's guest Scout Driscoll. And I really want to thank Dr. Jeremy Weisz of Rise25 for connecting us. Scout is the CEO and founder of VINT the design studio behind the nation's largest Wine Club, Cooper's Hawk winery and restaurant for award-winning all-women design and branding studio, located in Chicago, Illinois, helps wine brands tell their story through design. Welcome to the show, Scout.
Scout Driscoll 1:35
Thank you.
Drew Thomas Hendricks 1:37
Thank you for being on. So Scout, tell us a little bit about yourself.
Scout Driscoll 1:40
Sure. So I'm living in Chicago, and originally from Detroit. And we really designed DesignScout that was a studio that I formed 18 years ago in 2003. I started when I was 23 year old. And over the years we've evolved to work with clients in all industries, but really, really, really love the restaurant hospitality industries. And then in 2020, when of course, all the restaurants had trouble during the pandemic decided to focus primarily on growing our wine industry opportunities and create our new studio VINT.
Drew Thomas Hendricks 2:09
VINT that's a great name. So VINT was the process, I can't speak today. VINT was the product of your of your original design studio.
Scout Driscoll 2:18
Yes, VINT is the division of DesignScout. And we're an all women's design studio. We really focused a lot on brand evolutions, packaging, a holistic branding, and really helping our clients on all industries, really, especially the wine industry connect with the emotions that the brands are very much emotion driven brand strategist to do.
Drew Thomas Hendricks 2:38
That's amazing. So you are you have the claim to fame of actually doing the labels for the America's largest Wine Club.
Scout Driscoll 2:44
Yeah, yeah. So we've done over 100 labels for Cooper's Hawk winery and restaurants. And a lot of the folks on the West Coast are familiar with Cooper's Hawk just because besides his scale of what they do there, I think 31 on the list of the Top 50 wineries in the country, in terms of production. So we work with them to do all of their one of the month planning design labels, a lot of their marketing, design, Art Direction cryptography, and really, you know, help them hone in on the overall visual brand strategy for their brand, which is all about bringing a taste of Napa Sonoma experience in the West Coast to suburbs across America. So they just opened their first Western location in last Arizona, but they've now got 46, 47 other locations all over the country.
Drew Thomas Hendricks 3:26
It's amazing. How do you go about with 100? With 100 different labels and all the different wines that they have? How do you go about creating just a distinct brand message for all of them?
Scout Driscoll 3:34
Yeah, you know, it's funny, because, you know, one of the challenges that we saw is that they're not for sale in regular retailers. So you can't necessarily go to a little wine or they can only get it at their restaurants and they're not the SE c room or through the wine club. And for a while I thought of as a little bit curious feel, especially as a studio, because you know, we don't have this really, I didn't really have experience to have that like shelf presence per se, or even the brand consistency but we've been doing that for so long with our other clients and other industries. Of course we do. What I see now is an opportunity to have the world's biggest sandbox when it comes to my time. So like all the ones behind me, every single wines behind me and every single one has a different feel. But it kind of is in the same vein of the overall brand spirit of Cooper's Hawk but because everyone you know goes straight to wine club member was only available on the shelf next to their own lines, we get to play music so everyone is about the story everyone is about you know something whether it's the green or the origin or collaboration we've taken to the wine club wine club members have the opportunity to learn about amazing wine and it's like all Jean-Charles l but Jean-Charles Boisset's winery to du Bois Collection we work with Raymond we've worked with John Legend's LVE Winery Saint Michel we just did an amazing collaboration with Dr. Loosen, a steep slippery design out of Mosul, Germany. So we've really been able to flex our muscle more so than a lot of studios, because we're constantly playing, we're constantly trying to make the wine the story in the hero, not yourself.
That's a super unique opportunity that you have, like you said, a sandbox, because oftentimes you're designing label and you don't know where it's gonna be placed next to it on the shelf, whereas you have almost complete control of the comparison and contrasting of all the, all the labels across just many different varietals and countries and brands.
Scout Driscoll 5:23
Drew Thomas Hendricks 5:07
Yeah, it's some of the wines we designed from them are very playful and very summertime. You know, for example, we were just working on a rose, it's cool wine, or, you know, we're also kicking off a September wine later on New Year's new really rich red. So understanding the sphere and personality of the line, that can be the focus story. Or maybe it's the story of the terroir, the land, you just did this wonderful wine called below the belt, which is all about a blend of mines who just after the fader, and those sort of beautiful execution, where we're able to really tell that story the wine, and follow through on that through line, through the graphics, you know, people always say, you want to say that it's the most important tell your story through design, but what they don't realize is that people read that story. And I, and that you have to have a very, very rich strategy behind what you're showing, so that you can say the right thing in our studio isn't really, we do a lot of things that become cool, but it's because they're so authentic. And it's not, we're never going to be the team that's just gonna say, Well, you know, millennial peak is hot these days, and put it in the can because trends and are like these typefaces are really, really all over Canva, we must be cool. It's so much more about –
Drew Thomas Hendricks 6:31
Go to Canva, for your design ideas.
Scout Driscoll 6:33
I know, I know. We we love trendy design. But that's a point that your team and saying like this has to be focused on the brand story because that's evergreen, most of our clients have been with us for 18 years. And in the identity that we made 18 years ago, is still fresh, because it is based on them and their strategy and their storytelling, and not chasing trends and not chasing influencers or you know any of that. So it's, you're able to kind of catch the capture that coolness actually just be yourself. And 89% of millennials say they want an authentic brand experience. So the best thing you can do is actually serve your story, as opposed to, you know, whatever story is hot those days. So
Drew Thomas Hendricks 7:15
That's, that's great advice. Now, it's a pre show you did show me that below the belt bottle. And I just to describe it for those people not not gonna look at it on YouTube. It's a fantastic label, and then it's split in the lower part. Actually, Scout, you can probably describe it better than I can.
Scout Driscoll 7:32
Yeah, it's a die cut label with a rounded top. And the top of the label is the globe where there's a slice to the label and beautiful die cut where you see the glass shine through like the equator. Yeah, like the equator. And the top half of the art is actually a photograph of a painting. And then below the earth is rendered its contents knocked out. And it's all in this beautiful gold foil. And what I like about the top part as well, we made it variable data printing. So no two bottles are alike. And every the artwork that shows when the canvas at the top of the globe is different on every bottle. So you do this really beautiful series of labels that are really unique and highlight the artistry of the wine below is intentionally upside down below the belt and I every other time I look at it, I think we made a mistake. Like, oh, yeah, that's on purpose. Got it. That was that was a story. Okay, but it's so it's so fun to take a wine story. We're like South Africa, it's Australia. It's South America. How do we blend that story? habit? You again visible like you're not-
Drew Thomas Hendricks 8:31
In the blink of an eye I could tell that that was from down under. Yeah, I mean, it was your did an incredible job of having that label actually embody the wine at least at least for me, not that I've tasted it looks good. I didn't catch that the first time. So on that variable data, you basically took a little subsection of the entire canvas. I don't think I've seen that before in a wine. I know like the artists that you know, a lot of wineries have artist series Kenwood artists series you got, but I've never seen one that has that amount of variation.
Scout Driscoll 8:59
Yeah, so every every wine is a little different snippet of a much larger, more tones. So they look like a family when they're together. It's not like one is Picasso, the other one Cezanne. It's not the same painting. But it's a really neat way to get that variation, which I love.
Drew Thomas Hendricks 9:13
Fantastic. As you're designing labels, what advice would you give me? Actually, I'll rephrase that. What do you think is one of the biggest mistakes winners are making today when they're designing their wine labels?
Scout Driscoll 9:23
It's a hard choice for question. I think, you know, one thing that's really, really important to us now, that probably changed considerably, in the last five or 10 years, is making sure that you understand the meaning of shelf presence today, you know, shelf presence five years ago, that meant my wines on the shelf, the other wines. Or other wines in the category or, you know, I'm I'm at Benny's and I'm searching for something, be able to recognize your product and also be able to look like the category that you're in Napa cabs with like Napa cabs. You know, most of these Rieslings look like most of these French, you know, Alsace wines are from the same same feeling visually and I think that's important to kind of see scratch that itch of the static of the wine that you're selling. But what's even more important now is that that label is so differentiable not just on the shelf, but on your screen, and on the palm of your hand, seeing that, you know, direct to consumer sales by 16% by volume this year, which is no surprise, given what everyone's experienced pandemic, it's never been more important that your wine is recognizable and differentiated at you know, a centimeter tall. So whether it's on Drizzly and a tiny little bottle shot, or whether it's on Instagram, and someone is sharing a moment of their life, chances are, I mean, even for people watching this video on their phone, you need to be able to see what that wine is very, very small. So a lot of times people have incredibly tiny, tight, or putting into your story, or they're really trying so hard to look like the category of wine that they're in, that they're losing that differentiation. And all people are seeing are the price tag. And when you're on that, you know, page of online shopping, it's all the wines in the same category and they all look the same, you're really seeing people shopping and buy anything but your story or what's in the wine, or what makes it different.
Drew Thomas Hendricks 11:04
That's a that's an excellent point. Think about your wine label a centimeter tall, can you pick yours out from the rest?
Scout Driscoll 11:11
Yeah. And also like people have such such little control now over where their line appears. Now and everyone's pushing Instagram so much everyone's doing a lot Instagram lives and to be saying, like a full world is just moved into these tiny, tiny little places. I feel like it's it's almost like the film industry. You know, it was griping five years ago saying like, movies are not meant to be seen on the phone. You know, and now you know, I sit on my peloton working out watching TV shows or movies. And I'm like, Yeah, like wine is meant to be seen on a phone. Now as much as that might be put might be drawn into that kicking and screaming, as long as people are selling wine on third party websites, and on third party retailers and things like that online, you really do have to compete. And you're seeing a lot of bigger labels, you're seeing a lot more colorful and vibrant labels, we we can execute labels that feel very on brand for certain genres of wine, our city is now known for being a little more contemporary, and pushing the envelope a little bit in terms of like static, which kind of helps you stand out. But But people really do need to make sure they're leaning into that recognizability it's almost like they think about as soon as driving by at 65 miles an hour, they're scrolling by or scrolls a minute, you know, you really want to stop and get back. And and that's something that you can be really aware of as we find.
Drew Thomas Hendricks 12:31
That's a great point, taking a phone and telling your story and wine labels. What are your thoughts on the recent trend towards augmented reality labels?
Scout Driscoll 12:39
Yeah, I really liked it. I think there's a as AR technology has changed, and you're able to do webinars. So you know, as you know, Google and Apple come out with the opportunity to do AR like right in your browser. So you don't have to download the app anymore. I think that's the opportunity for it to jump to the mainstream. And so you can begin to tell that story without the added step that interstitial step to make it a lot more accessible. And to make it accessible for people who are really by and large, making the most wine, which is GenX and boomers. So I think there's a lot of opportunity, people are gonna start experiencing that all over the place. We've actually been looking a lot lately studio, we just made that client to get a $60,000 to pull it off.
Drew Thomas Hendricks 13:17
Yeah, let's let's find your one. Anyone, anyone? Okay. I like it because it actually liberates the story from the bottle a little bit, especially if you can jump out like before, you're basically had to cram everything into the back label. But that's what you had. But through QR codes and through, you know, augmented reality can actually just liberate well I say liberate but you know, expand that story, allow people to get as much as they want, or as little as they want from that story through through their phone or through their, through their computer.
Scout Driscoll 13:48
And I'm all about quality in wine, but I like to get more accessible. And when we integrate our AI you're adding a sense of humor, a sense of a sense of playfulness to wine. And, and that just adds so much more experience to me, especially because people are drinking wine at home. No, I don't think AR at a really beautiful restaurant or I'm spending a lot of money a bottle of wine like I might, it might not always be appropriate. It's like it's not always appropriate to photograph of your amazing dinner at Alinea. But at the same time, you know, people aren't really experiencing wine that way currently. So why not make a experience and opportunities for tasting opportunity in your small winery to pull up a video you know floating next to your bottle of wine made me discussing their experience and you know, my favorite winemaker story of the day was Instagram Live he was saying like I make 10,000 cases because that's as many as like my nose in. That makes sense. Like that's that's how much fun I can personally smell every day. You know, get in there and test throughout the season so stories I can come to life on your wine label. you're tying it in to some of what we've learned from Instagram over the last year and pulling it into that current drinking experience through AR can be really fun.
Drew Thomas Hendricks 15:03
Yeah, that is so important to make the label is a, you know, is this doorway to accessibility, because for so long, like when I started 30 years ago, labels were as opaque as can be, because I dealt mostly with European labels. And he learned everything about the label, because he knew the region was from where you because it was from this region, you know, it was this bridle, because it was in this bottle shape, you knew it had this rifle in it. Now that's changed a bit, but the only way to get the information is to go find this big book, look it up, read it, and then suddenly, you're this like, you know, a safe of knowledge. And it makes you, you know, it's just like, a closed a closed system. So you have these authorities, whereas now people can actually go to the store, they can actually learn a lot about the wine. It's way less intimidating, I think, than it used to be about 30 years ago,
Scout Driscoll 15:50
Well wineries are communicating so much more now, especially smaller, independent wineries, whereas you know, and during COVID you think they're talking about that an SDP report where people are shopping for a much shorter time periods in retail during COVID? People were afraid to have conversations literally afraid for their lives to say, what wine Should I get. So you saw the ads that people were very familiar with already skyrocketing in sales, the nineteen Prime's the Josh's so. So if that conversation isn't happening at retail, and it's gonna be wild, where people feel comfortable engaging in conversation with retail employees, like, let's make your messaging and your online story, carry the weight back. And so I think it's been so fun to watch the wine industry kind of make this monumental shift to telling stories and telling them in ways that are very accessible to consumers like Instagram, Facebook, live in getting out of their comfort zone a little bit. And the ones who have gotten out of their comfort zone are the ones that are really seeing success. And I think it's going to help help Finally, right, the shift in the direction that it has to move for these younger wine drinkers. People who are used to this one hand experiences.
Drew Thomas Hendricks 16:53
That's great. That's great advice. What advice would you give us? So you deal with some of the largest brands and incredible designs? What What advice would you give a small, you know, they're all family owned wineries. But what would you give a small like limited production winery? It's really trying to bootstrap it what what's your best design advice for somebody in that in that situation?
Scout Driscoll 17:13
And we, you know, we've worked with bigger companies, I think what they said is, is pretty huge, but I built my business owner occupied brands, you know, my whole career, I've had such a love for entrepreneurs and startups, especially the osafo. She is an all women business for female founders and woman founded brands. But for us, it's all about emotion, and really beginning to think about your brand. And you know, and I say brand, because I mean more than just your label. I think a lot of wineries complete, it's about labor. First and foremost. It first depends on where you're selling and what channels you're using. But what's really important about your brand is how you make people feel, you know, people are gonna buy, you know, a Cabernet because they want a Cabernet, people are gonna buy your Cabernet because of how you make them feel in getting in front of that emotion. And in that core Northstar to your brand, at the very beginning. And letting that influence all of your decisions is going to make your brand so much stronger and so much more feeling. And really, you know, find the authentic voice for your brand. So with our clients usually begin with a brand compass and you begin to think about that Northstar for your brand. And what is that emotion and by that I mean like you know for example, Disney, you know Disney's northstar is magic. Every single thing that Disney says shows dies has that feeling that well Tinkerbell of magic. You know, Harley Davidson is independent, the open road, it's about that feeling of a velvet rope that appeals to boots on white collar, everyone. What is that for your winery? What is that feeling, whether it's the terroir, the space in our community winery, Oregon, and there is this beautiful Canyon and she's like, it's just majestic. You know, there's just this feeling that you get when you're here. Like, that's amazing, because that's what we're trying to convey. So really think about your emotions and really think about core tenants. There's a great exercise, you can do called the brand key as well, which is a nine step exercise that really helps you through understanding clarity for your brand, I highly recommend that if you're just getting started Google it. I didn't invent it as a common marketing tactic for the brands. The process is nine steps to really give you clarity in terms of your brand. That's going to become the filter through which you make all of your choices moving forward. Am I modern, my traditional? Am I playful? Am I reserved, am I aspirational? Am I approachable, like all of those questions will be answered by going through the process like that.
Drew Thomas Hendricks 19:33
So once you put that once you go through the brand key, once you figure out your Northstar, then the label just kind of falls into place. And there's actually some guidance on that.
Scout Driscoll 19:41
Exactly. And it's not even the label only that's what does your tasting room look like? That's Wow, should I can this? Should I put it in a box? You know, it just it really starts to begin to align with your values with your personality, with your target audience, understanding your demographic, understanding what everyone else graphic is doing that you can stand out just a little bit, and bring that to life. So we really highly recommend focusing on strategy first. And that will filter down to everything that you do. And it's most of the brands that you love, right? That's the brands in wine that we all connect with and instantly want to be a part of. And you know, the ones that are even emails are super trendy, or trendy, because they have that that wow, moment, you know, it could be like vape wine, where it's like just fun and people and party and boat wine, I'm like, I want to be part of that, because I know what they're selling. You know, 19 Primes 19 Primes s is about it is about the feeling of the Australian criminal diaspora has nothing to do with the wine in the bottle. You know, like, it's really about the it's more about freedom and rebellion and like making a steak and like that, that feeling is why you buy that one. And of course, the AR is just that the like Poway breeds like also scooped dog. So that's good enough for me.
Drew Thomas Hendricks 21:01
That's great. So going back to your new venture, VINT, what is the North Star event.
Scout Driscoll 21:05
So VINT is really about authenticity. And I know it's a real buzzword. But it's about finding that rich storytelling and finding the authentic voice in your brand. And bringing that to life. And that's just one part of your system, right. And for us authentic means a lot of ways our ego free work style, you know, I think, you know, in the wine world, especially in really the whole design world, a lot of ego. And you would never hear our studio say that we were the new better. Because it's the whole goal is to find out who you are in, no one knows better who you want to. So it's really you know, about authenticity in the way that like, we just have a very different style. My studio, you know, in 18 years, I've never given a promotion, because I don't believe in ladders, I really truly when I give raises, and I get more responsibility and leadership. But there is no ladder here. Every every project that we work on is collaborated on by the entire team. You know, even our HR person weighs in on design concepts. So it's just a very humble very mind approach to beautiful, authentic.
Drew Thomas Hendricks 22:10
That's a great approach. You talked a little bit about the eight, you know, the brand key, what is your label design process when a new winery comes in? And they choose in selection to design their new label or their new brand?
Scout Driscoll 22:21
Yeah, so we definitely begin with brand strategy and an understanding either what's happening and existing brand strategy or what is happening in a that seed? You know, it's just beginning. So depends our process varies on how established companies. And for us, it's always about that story about finding that strategy, honing in on those emotions, those core tenants of the brand, the core tenets are really the hows and whys, right? Beyond that, you know, line design. And at the end, the day, it's a four by six inch sticky paper. It's not rocket science, but it is rocket science. So beginning to hone in on what we're trying to accomplish with that line is where we start. So we talked about overall storytelling, we talked about the competitive set, we talked about the themes, and overall genre of design. And sometimes, you know, clients will want to see a huge variation of that. And there have been decks that have left our studio that go that were from like Austria and mountain Dirndl like literally look like a Dirndl to punk rock. very traditional, like the Australian, or I'm sorry, Austrian, like flag inspired design. So it really, really varies, but starting to hone in on the overall ritual approach. And style is really important for us. And then you know, of course, we'll present a number of concepts, we always saw at least three to five concepts for a client and, you know, understand all the color regulation or the regulations, and he's made for color and all that. But it's usually like six to eight week process to get us to to get into and if we do it on a larger scale, or a smaller budget, more nimble project, we're always happy to speed it up a little bit, too.
Drew Thomas Hendricks 23:53
That's great. And you brought up a good point, though about design is, especially in wine labels, and there's a lot of regulations, the what you can and cannot have on a wine label, which is important to actually look for a design firm that's skilled in actually doing that, versus skilled and just kind of creating a design. How did you guys I mean, obviously, being part of this wine club, you've got the you've got the tech, you've got the tech and you know, the parameters that it takes, but how hard is it to get some of your labels passed?
Scout Driscoll 24:21
You know, some of the things that surprised us are just wording, you know, it's not usually when it comes to like, everything must be two millimeters tall, you know, or certainly, you know, what your ABA has to be two millimeters tall things like that, Oh, we got covered, but it's usually, you know, if we describe something or you know, adding a hyphen inspired, behind the other like you're inspired by the French Alps, then it's like no, no French inspired wine, or, you know, American wine, blend. So it's usually just like little wording things that we have to tweak here and there. But being careful with things like numbers like I would love to say this was the ninth version of something or for example, we just did our sixth collaboration with Jean-Charles Boisset, and we could never write zero six on the label because it wasn't an O segmenting. And being aware of little little pitfalls like that. We can push the envelope a little bit sometimes. And sometimes it depends on who you get to when you label TTB can be kind of fickle. So but in general, it's it's not too difficult to follow the rules. Everything's great needs to be.
Drew Thomas Hendricks 25:26
There's always there's always a surprise, they can't believe that they flag that they know why. Little little things. So on DesignScout, I mean, you got you've got a great charity referral program and it's on there. It's so great that you support the community and you've got these terrible givings, do you want to talk a little bit about that.
Scout Driscoll 25:43
Yeah, so to DesignScout, we have a referral program. But anyone who refers business to us, I'm happy to extend that to the clients as well, for any new clients are referred to us we allow that are free to choose nonprofit, usually a woman supporting nonprofit. So, for example, we've worked with them in a mess of pronunciation. Suenos Sin Fronteras I think that's how it goes. Anyway, they work with Mexican immigrant mothers and Latin American immigrant mothers in Texas and helping them get settled after the release, from detention centers and helping them to get their bearings, they helped the little girl lung, like they're incredible. I work with a lot of women shelters, things like that. So we're just really all about helping you get back there. And then you because we really love and support, we want to help grow the percentage of women online. We also offer with SEO, which is not our website, we have a female founders grant. So we typically give $2500 off of most branding projects for women on wineries are just getting started. And making sure that we can kind of offer a really a nice entry point for them to do it right. Under themselves as well. So it's another way that we kind of build on our values. Oh, that's fantastic.
Drew Thomas Hendricks 26:57
Oh, that's fantastic. So anyone winemakers out there, take note.
Scout Driscoll 27:01
All Lady team, you know, and I should say like, I certainly have an equal, equal hire opportunities to do. A lot of wonderful men would be in the past, my first three employees were all dudes, and they were like six foot six, and I'm five, four, it was like, it was really great. So I could stand at their desk and be at eye level with them. So I absolutely love and cherish men, I'm married to one. And my my, my team became a woman turns an accident, like naturally my last male employee onto the opportunity. And the next person I hired happens to be a woman. But it was kind of I can't think of it the way it was after I got married to my husband. After eight years, we've been married for about together for eight years, we got married, and I was like, what's the difference? And it was just a takeaway be like. And that's what happened when I became all in studio, it was just a moment of like, Huh, like, you have tampons in the closet? No, it's just, it's just a kind of emotional intelligence in the studio, female or male doesn't matter. Like we just we have such a, most emotionally intelligent to you, I could not have survived COVID. Without my team that I have right now, it has just been so seamless, and so amazing. And they're so collaborative and have each other's back in every way. So it's just unreal.
Drew Thomas Hendricks 28:13
What a great environment to design. That's fantastic.
Scout Driscoll 28:17
And like I'm like, you know, we start talking about process. Like, we share almost every project. So truly, like, were there a lot of times where I say I'll give someone three concepts, but right now we have five designers on our team, and you're gonna get five concepts because we all want a swing at it. And we want to like grow off of them and build ideas off of one another. So every every idea that we show the next one gets better because it's just one more person who's adding their insights and acumen and or do we have Gen Z's, we have millennials, we have a Gen X, you know, it's just a fun to blend those these life experiences, design aesthetics, you know, all those approaches together. And landing it's really diverse and beautiful work on strategy. It's each one says the right thing. It just has a different way. And that's what's really so fun. It's a dream job. I'm just really grateful.
Drew Thomas Hendricks 29:06
That's fantastic. I love it. So when you're not when you're not designing and running your team what what sort of wines Do you like drinking?
Scout Driscoll 29:13
I'm an Old Vines Zin gal that you know, on the red side I just love and you know, I know a lot of old world wines are amazing, but I love Old Vines Zin I love like a punchy bass juicy jammy red. I know anything from Lodi like really it's more like what cities do I drink from because if it's not from Lodi or Marlboro, I'm probably not feeling like it. Like any any amount of LA. Any of those are really my go tos. But I'm really it's so fun because I think that the Cooper's Hawk Wine Club bottle, they actually take their wine around the world. And I've learned more I was just telling someone yesterday, I sat with the W's that one for sure already, because I had the pleasure of receiving inspiration and storytelling from Emily Wines. You know, head of master CA is right now, and she is the sommelier for Cooper's Hawk. And she gives us a definite inspiration story that tells us like what makes you know a bit about wonder so amazing or why is mozal steep Riesling so great, so great. So, so I feel like as a member of their wine club, you get such an education. And so I'm constantly expanding my personal palate by absorbing all of these different spirits, the lights and everything else out there. That's so amazing.
Drew Thomas Hendricks 30:32
Oh man, that what a great opportunity is, um, towards the end of the show, I was trying to ask, you know, we're all about gratitude here. Is there anybody that you want to Who do you admire most right now in the wine industry or somebody you want to thank?
Scout Driscoll 30:43
Yeah, you know, it's so hard to answer that question because I've really spent the last year in building events, broadening my my world in the mining industry, and like getting to nowadays Macedonia mining streets. I've talked with everyone from custom crush operators, amazing printers, solvents, and one person that I liked so much I was like hire instantly hired was this woman named Amy Troutmiller had it from common field consulting, and she is kind of the left brains my right brain when it comes to the wine world. She helps wineries, domestic wineries, wineries overseas, she helps them with the operation side, whether it's very outcasted sold, distribution, really getting a pricing the right way. We have just all of the operation side that a lot of people struggle with, you know, Someone once told me that the wine industry is actually three businesses, which one do you want to be in? You could either be a farmer, you could be a winemaker. Or you could be a sales and marketing person. And I think what a lot of winemakers get into the business, they don't realize that you have to wear all those hats to certain extent. And Amy is so amazing at the operation side and she's such a connector. I just really admire her work. And I think she's probably who I'm most excited about having the opportunity to work with her and like really help send all the work that way because she just she's totally baller.
Drew Thomas Hendricks 32:03
Awesome. So Scout, where can people find you online?
Scout Driscoll 32:06
Well, you can check out our website at vint.studio, or we're on Instagram @VINTStudio. And then I'm on LinkedIn a lot. So if you ever are interested in gaining some mind, insights, we're seeing all this work. You're also welcome to connect with me on LinkedIn. And that's just under Scout Driscoll.
Drew Thomas Hendricks 32:22
Thank you so much. Today we've been talking with Scout Driscoll, the founder of VINT Design, and learn a whole lot about wine labels. Thank you so much, Scout, Scout. So I don't think I've ever closed a show correctly. And I'm gonna leave that on. Thank you so much Scout.
Scout Driscoll 32:41
Wait till I start my podcast VINTED and hope to hear me stutter.
Outro 32:54
Thanks for listening to the Legends Behind the Craft podcast. We'll see you again next time and be sure to click subscribe to get future episodes.