Wine and craft suppliers don't have it easy. They need to prove to others within the distribution and retail markets why buying their stuff in bulk is a good idea. As a result, most of us consumers never actually get to see the hard work that goes into making each bottle of wine or craft beer.
This is why all wine and craft suppliers should take actionable steps to turbocharge their digital marketing efforts and get the boost they need. For example, content marketing for wineries should involve relatable, moving stories that help businesses connect with their long-term patrons and new clients.
You'll find guidance on all that and a lot more in an excellent book by Marcus Sheridan called "They Ask You Answer: A Revolutionary Approach to Inbound Sales, Content Marketing, and Today's Digital Consumer."
Its mantras and marketing lessons apply to every industry that needs guidance in marketing strategy and inbound sales. Business owners in the wine industry would find Sheridan's book significant to the needs of their market today.
So, without further ado, let's dive into the book that lays out the ideal foundation for wine marketing and other businesses.
They Ask, You Answer - A Few Simple Practices Can Boost Your Content As A Wine Supplier
"They Ask, You Answer" by Marcus Sheridan is a self-help book for marketers and business owners to help them create a solid digital marketing content plan.
It helps you create a more cohesive digital marketing strategy using the simple concept of answering consumers' questions.
An Overview of "They Ask, You Answer" by Marcus Sheridan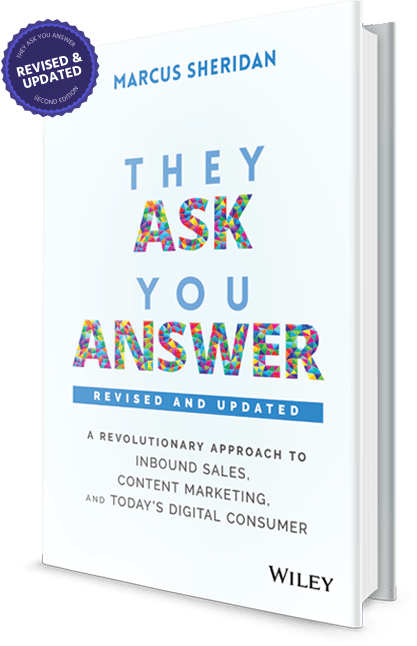 "As consumers, we expect to be fed great information. As businesses, we like to talk about ourselves and therefore don't focus on what our prospects and customers are thinking about, worrying about, and asking about. The whole thing is contrary to the very nature of that which we call building trust."

- Marcus Sheridan, "They Ask You Answer: A Revolutionary Approach to Inbound Sales, Content Marketing, and Today's Digital Consumer."
We've all heard the saying: 'content is king." That age-old adage is now more accurate than ever. To market yourself effectively, your digital presence needs to be shaped per their expectations. However, that is easier said than done, especially when you are a smaller wine supplier without a full-fledged marketing department working for them.
However, that is where the 'They Ask You Answer' theory comes into play.
In this book by Marcus Sheridan, he explains to us, by using his own career story as an example about how people can turn their business around through inbound marketing. He takes us along on the long and eventful journey that started with him becoming a pool boy, a business partner, losing everything, and then transforming into a content marketing guru.
This book is more intriguing than the countless other similar offerings because Marcus discusses content marketing in the simplest way possible. He breaks down the steps that businesses can implement to see measurable results.
And what is the motive behind his idea? Simply to make your customers trust you. It can be done in three ways: determine what your consumers want to know, be objective, and take advantage of the algorithm. Let's discuss these in more detail.
Figure Out Consumers' Concerns
Marcus lost everything he invested in River Pools and Spas after the 2007-2009 financial crisis.
He had all the time in the world to notice how the internet transformed the way people interact with businesses. Moreover, he observed that marketers created content strategies that talked about themselves instead of answering consumers' questions.
It's a simple concept: if your prospective customers can't tell what you're selling and how it helps them, they likely won't invest in it. People want complete transparency, and even the slightest doubt can put them off your business.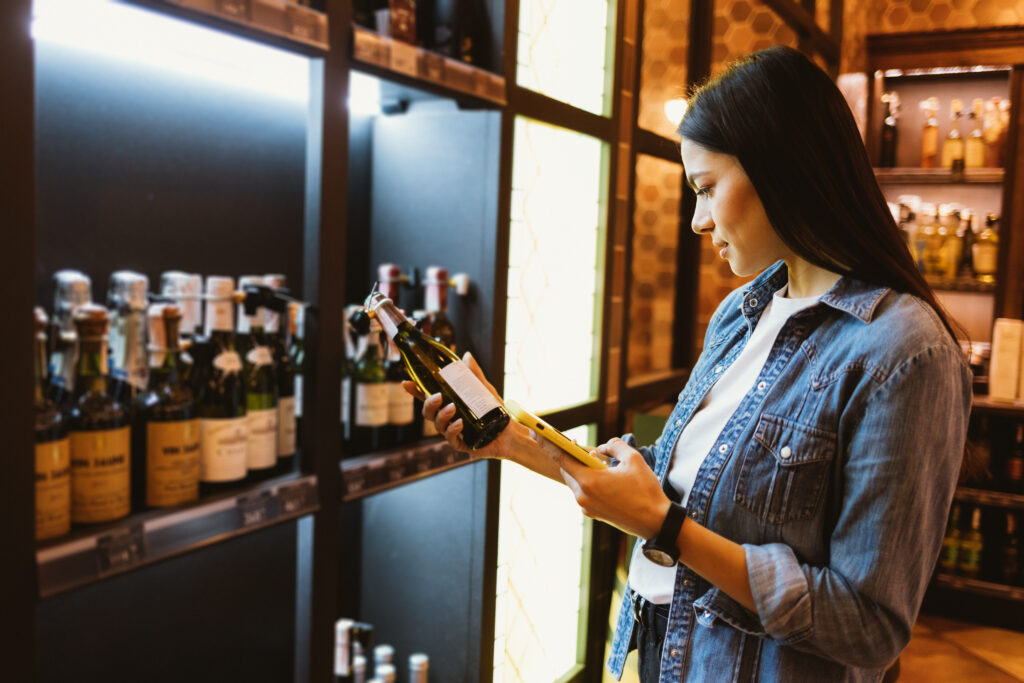 As a winery business owner, you need to ensure that your clients are aware about the kinds of products you sell, your brand's quality and how it differs from others, or maybe tell them a little bit about your wine-making processes, etc. There is a lot they need to know before they put their trust and money in you, and it's your job to answer all these queries through content.
The right content strategy applied in your digital marketing efforts can help you find your consumer's burning concerns, so you don't even have to wait for them to ask before providing them the answer. There are a lot of digital marketing tools that can offer you help on this. You can research the most frequent online searches regarding your niche, even if they seem a bit irrelevant, and make a note of them. Also, you can conduct market research, a fancy term for going out and asking people what they want to know. And don't forget to scour social media sites to find out what people are talking about when it comes to your brand and products.
The book also recommends that you need to think about every business query you have ever received from your customers to know what kind of content you should create.
Another simple way is to keep a list of the most frequently asked questions that you get in emails or on customer representative hotlines. You could also check your inboxes if you have a social media profile on Instagram, Facebook, and the like to see what people are asking you about.
Providing answers to commonly asked questions can be done through your website and other digital marketing handles in the form of FAQs, blog posts, or social media posts. This helps customers get the answers they need without calling you up or emailing you every time they have a query.
They Ask You Answer also mentions the five most common questions consumers ask online. These are related to:
The price of your service or product
A problem with your service or product
How your product compares to others
The actual worth of your product
The right category for your product
Seems a lot? How about writing your first five blogs addressing each of these pain points? Try dissecting each and every area about wine brand or winery business that you think your customers need to know. Remember that an effective content marketing strategy doesn't happen overnight. It's a series of carefully created and curated content meant to help your customers know more about you, your brand and your products.
Be Objective
It isn't enough to just vaguely answer all these questions, only to start promoting and selling your product like crazy. Just imagine how you would feel if you were looking for a clear and valid answer online but realized it was all made up by a business to promote themselves. It's frustrating.
Don't be the type of businesses end up sounding like snake oil salesmen trying to entice their customers to buy using ridiculously aggressive and superficial language, all under the garb of caring for the reader. Your audience can see it coming from a mile off. Inbound marketing needs your content strategy to be less hard-sell, and more importantly, to give your readers the information they need.
Though it can feel counterproductive to not focus on advertising yourself in your content marketing strategy, you must write content from an unbiased point of view. Your only purpose is to educate, inform and possibly entertain the audience. The rest can wait.
When people find a company promoting themselves shamelessly in their answers, they can instantly distrust them. They won't appreciate that the key phrases they searched led them to a solution that was ultimately off the mark.
The main point that Marcus Sheridan is trying to drive home in his book is never to aggressively advertise your services or products to your prospective customers. Instead, your focus should be on providing them with valuable content, so they feel like you care about them.
When that trust is developed, they will be more likely to invest in you, and that's when you can move in for sale. For wine businesses, focus on becoming an authority on the subject, and let your clients know that you are the best in the winery industry for a reason.
Essentially, remain objective in your content and work on building consumer trust. Would you trust someone shoving their products or services down your throat, begging you to purchase them? Probably not. So, don't be that guy.
As a winery owner, trust is the ultimate foundation upon which your client base is built. Therefore buzzwords and keyphrases meant to promote yourself and your work will speak for themselves soon enough.
Take Advantage of the Algorithm
So, as we all know, search engines are what consumers head to when they need to know about a product or company. Using the They Ask, You Answer framework; you can successfully placate customers' concerns while promoting your offerings discretely.
Simply put, the more content you generate, and the more it is read and shared online, the more people will know about what you have to offer. But the main point is to create content that people get something out of.
For example, a wine retailer in need of a supplier can look online to search for the best out there. If your content shows him how your system works, guides him to understand your brand better, and gives him all the answers he needs, he might not look for anything else. This way, you can urge them to move down your marketing funnel, giving you higher chances of converting them into a sale. Moreover, you also get to improve brand awareness and familiarity online.
These posts will also beef up your website and social media profiles. People will see that you care about them and want them to know everything, so you aren't holding back.
Key Takeaways of "They Ask, You Answer" by Marcus Sheridan For Wine Suppliers
'"Inbound Marketing," as I understood it, was simply the process of attracting (instead of chasing) customers. And "Content Marketing." was simply the act of teaching and problem-solving to earn buyer trust.'

- Marcus Sheridan, "They Ask You Answer: A Revolutionary Approach to Inbound Sales, Content Marketing, and Today's Digital Consumer."
The 'They Ask, You Answer' philosophy teaches many vital things to those of us in the wine and craft industry:
Look at what craft, and wine distributors and retailers are looking for. Answer their queries, and establish your brand as an authority in the context of their needs
Don't focus on heavily promoting yourself in your content; instead, ensure that you are connecting with your target audience and letting them know you care about them and that they should trust you
Ensure that every query related to your field is covered either on your website or social media. Just by doing that, you will be creating more opportunities for your content to market your services
Overall, "They Ask, You Answer" is a valuable marketing resource that all businesses, B2B or B2C, can take help from. It showcases how social media, video, and inbound marketing can be leveraged as well. In particular, this book is a goldmine for winery businesses, as it talks about more than just essential marketing. It goes in-depth into how to tell moving brand stories, which many in the wine industry may struggle with.
Sheridan lays out his framework in an easy-to-understand way, with relevant examples so even laymen can understand marketing basics.
All in all, we highly recommend that everyone give this book a read!
10 Ways Your Wine and Craft Supply Business Can Implement the 'They Ask, You Answer' Framework for Content Marketing
"We make a big mistake within the marketing space because, fundamentally, too many of us think and speak like marketers."

- Marcus Sheridan, "They Ask You Answer: A Revolutionary Approach to Inbound Sales, Content Marketing, and Today's Digital Consumer"
Out of the many tips, tricks, and advice that Marcus Sheridan shares in They Ask You Answer, we have noted the ten actionable steps that winery owners can use to create winning content marketing strategies. However, keep in mind that these steps can be used beyond just inbound and content marketing and can become the core philosophy on which your company stands.
1 - Understand what content marketing is
Content marketing is simply using content to tell your story and earn the trust of consumers. It also helps build an interest in people regarding your products.
The basic premise of this marketing method is to be completely transparent with consumers and build their confidence about you. It's a way of making them see you as humans, rather than a brand that is always in their face trying to sell them stuff.
For example, local businesses selling wine would love to find suppliers who have in-depth knowledge about the different wines. You can create a blog post about each type; an example for a title would be, 'What is the difference between sauvignon blanc and cabernet sauvignon?' Or something else that could help them, such as the concept of virtual tasting, even if you don't offer it. This will make them see you as the authority on everything wine, and they will trust you, thus coming back to you.
2 - Develop an in-house content management team
Most businesses prefer not to have an in-house content management team and run off to outsource these services instead. Though this may seem more convenient and cost-effective, there is a better option.
Build your own team and hire people who know how to create stellar content for your winery business. This is the only way to get things done faster. It will also give you more control over how much content you want to produce, where it's published, and you can make changes as you see fit at any time.
3 - Make content that answers your customers' questions
As the title suggests, whatever is being asked online about your products, services, and business practices, you should answer it.
There's always something. From Reddit to Twitter, there's always a discussion of some kind involving your industry. So, to be seen as resourceful, make sure your brand has a representation at these forums. Also, consider creating content that is beneficial to those within the wine industry.
These five questions should be answered first and foremost:
How much does your product or service cost?
What is the problem with your product or service?
How does your product compare to this other product?
Is this product worth the cost?
Is this product the best on the market currently?
4 - Create a learning center
No one wants to go through each page of your website and search through thousands of products and pages to find what they want. Thus, having a learning center on your website can be mega helpful for your visitors.
A learning center organizes all resources (videos, blogs, case studies, articles, discussions, reviews, etc.) in one place so people can easily search for the answers they are looking for. Your prospective buyers will appreciate it.
5 - Use seven types of videos for video marketing
Video is a highly underutilized marketing method and is an integral part of a solid content marketing strategy. Marcus Sheridan recommends using seven types of videos to connect with your customers: Landing page videos, customer journey videos, employee biography videos, short and sweet FAQ videos, videos that note who is not a good fit for your brand, cost videos, and claims videos.
6 - Identify your biases and leave them behind
Every business owner can agree to the fact that it's hard to keep biases, especially if it's their business we're talking about. This brings us back to what Sheridan urges businesses to do: to think first of their customers. Does your content sound annoying? Would your target audience find your blog a good read? Or are your just luring them to an ad promotion?
Just remember that as a true wine enthusiast, you should be as honest as possible about what you have to offer and the reviews you have received. Moreover, it would help if you ask the experts to do your content marketing for you. This can save you the hassle and effort of keeping yourself unbiased about your business.
7 - Make self-service tools easy to access
As discussed earlier, creating an organized learning base where people can quickly look for answers to their questions is essential. To further improve the customer experience, consider adding self-service tools to the mix. It will increase the value of your learning center and attract more people to try it out, quickly turning you into an authority in the industry.
Self-service tools like chatbots, that can automatically answer customers and provide further information regarding the niche and your supplies without human intervention. We know that content is essential, but the way your content is presented is just as important.
8 - Work on building trust
Most businesses may look at trust as a valuable asset, but are still unsure of how they can get this across. Remember that something this valuable can't be gained overnight.
Ensure that the primary goal of content marketing is to gain trust. Work on your wine marketing strategy to provide solutions, educate, or entertain people in the winery industry. When people start trusting you through the content you provide, they bring others to your site and get them to trust you as well. The friend of a friend will also become a friend!
9 - Adopt CRM and MarTech Tools
As vital as it is to ensure you develop trust and create content that helps your prospective clients, you also need to know if your efforts are working. You are investing a lot of resources, money, and time to implement content and inbound marketing tactics, so you should also have the technology to help you figure out if it's even worth the effort.
For example, marketing automation can help you get content out on time, and CRM platforms can help you track whether your content is helpful for your clients.
10 - Teach your Marketing Team About The Eight Principles
The companies that most benefited from the They Ask You Answer philosophy ensured that everyone was on the same page. You as the supplier may know what you want to get out of your content marketing, but you have to make sure your team does too.
Of course, it can be hard to make everyone understand the importance of this method and capture your vision perfectly. Thus, take it slow, and make sure every person within your marketing team learns about these eight principles:
Prospective buyers' expectations constantly change
The importance of search engines in getting your website to rank high
About the five questions, we discussed earlier
How to brainstorm creative ways of answering these questions
Why it is essential to hone your talent, knowledge, and voice
Your editorial guidelines as per They Ask You Answer for inbound content
A detailed discussion of how inbound marketing might not work effectively (so those things can be avoided)
When your marketing teams understand entirely the why, what, and how of inbound, you will be instilling a new culture and creating a foundation for future marketing success.
Barrels Ahead Can Help Your Wine and Craft Supplying Business Succeed With Content Marketing
Barrels Ahead is an online digital agency that services wine and craft suppliers. Our goal is to help you give your business a boost on the B2B side of things, including crafting excellent content marketing materials.
Did you like our review of Marcus Sheridan's book "They Ask, You Answer" and our list of ten actionable steps for wine and craft suppliers to improve their storytelling and overall branding?
We want to hear which tips from Marcus Sheridan in our review summary helped you learn how to tell your wine and craft supplier's story. Tell us what your journey has been like in the comments section below!