Last Updated on August 25, 2022 by Troika Gellido
It's time we start getting to know the next generation of wine consumers — the GenZ
Forbes pinpointed this group of people has $143 billion in purchasing power. GenZ just entered the wine industry less than a decade ago, 2016 to be exact. However, the wine industry hasn't yet tapped this generation's full potential.
What's puzzling industry experts and financial and marketing wizards is what GenZers spend their money on. GenZers are the future that can break or make the wine, beer, and spirits industry.
Now the million-dollar question is, what makes GenZ wine drinkers different from other generations? How can wineries reach them and encourage them to purchase? Let's discuss more of that in this article.
Who Are The GenZ? How Do They Differ From Other Generations Of Wine Consumers?
There's always been a battle among generations. This newest addition (Alphas are not part of this discussion) falls into the birth gap between 1995 to 2009 (slightly fluctuating periods).
This generation is sometimes called the i-Generation, Post Millenials, or Centennials, but are most frequently called Gen Z (80 million of them).
They dominate with a larger share in the age segment than Millenials (72 Million) in the USA. Globally, GenZ's percentage of the population captures 32%. That means industry experts are clamoring to understand what GenZ wants to spend its money on and if wine is on the menu.
Consuming wine is often considered a sophisticated preference. After all, not even the most decadent beer consumers go around sniffing their lager.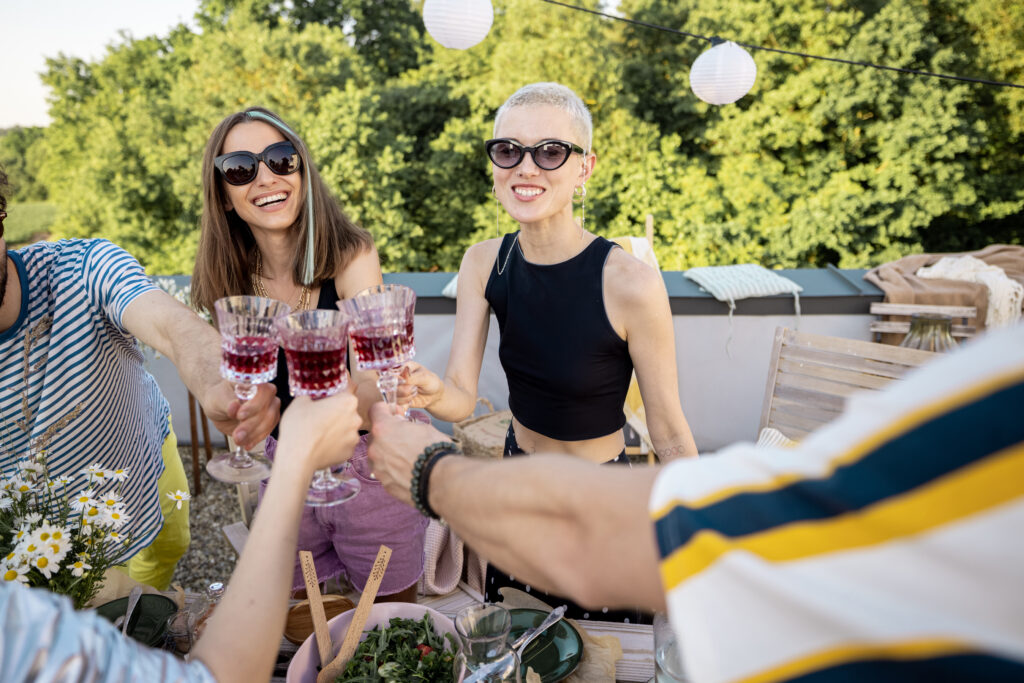 But what about GenZ? They grew up during the recession and watched their parents endure economic hardships. However, the beverage industry has always been able to ward off the fallout of recessions. According to DISCUS (Distilled Spirits Council of the U.S), overall alcohol consumption teeters on the precipice. Wine and beer sales for affordable alcoholic beverages increase while high-end brands plummet. It's always been a predictable circle until now.
GenZers aren't like generations that came before them. This bright generation has the advantage that they never had to live without the Smart technology that dominates our lives. They're a diverse group that'll influence upcoming elections and reforms and continues relying on social media and texting as a preferred method to express themselves.
Naturally, the Baby Boomer generation is steadily declining according to the laws of nature. The Millenial segment is seeing a population increase from young immigrants and 90% of this group consumes alcohol. GenZ is only buying at 84%.
Those marketing and wine gurus who invest in the GenZ generation's habits and can capture their attention with social media, new inspiring flavors, and sweetened hard drinks will win.
How Can Wineries Reach GenZ?
So, how can your winery reach those tricky hard-to-please GenZ clients? Here's how. 
1. Focus on GenZ Traits
Due to becoming the largest segment of the consumer market, brands, e-commerce, and marketing companies are desperate to solve the errors they made with the Millennial market.
GenZ kids entered the workforce only a few years ago. They're digitally savvy and understand that online companies and brands use their personal information for their gain. That said, only 39% of GenZers have any confidence that the information they share with online brands acts to keep personal data safe.
Nurtured and influenced by social media, they rely on this tool for social and emotional expression.
GenZ also shops differently. They share the 75% category of BNPL (buy now pay later) consumers with their sibling Millennials. BNPL consumers enjoy what they buy now and pay later for the financial services offered. GenZers use this option to manage their budgets, reward themselves with the opportunity and luxury it affords them, and enjoy flexibility.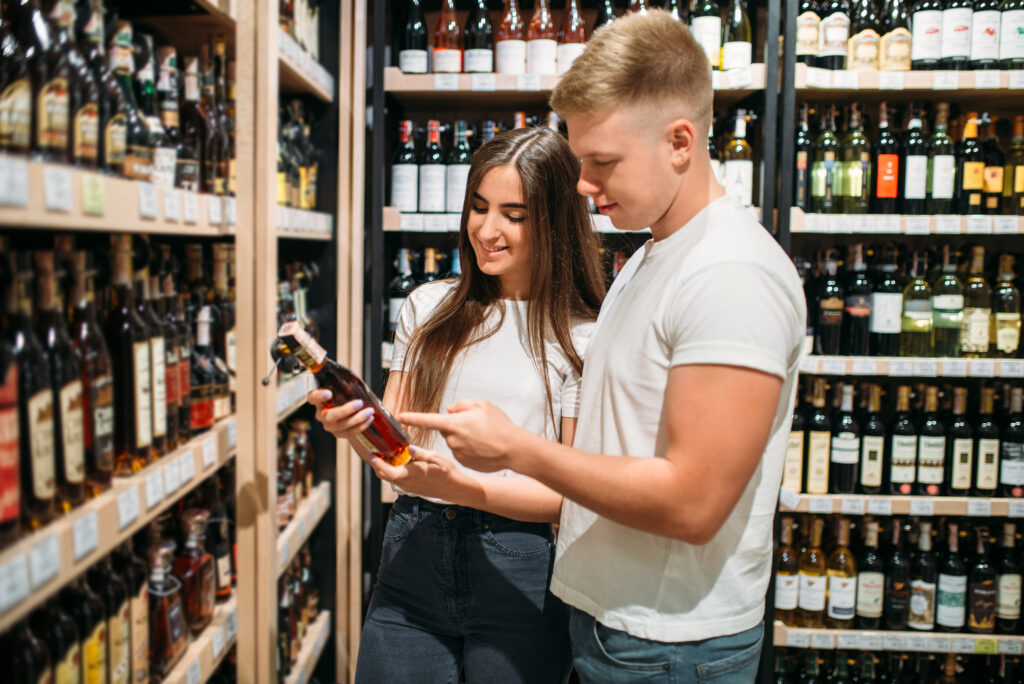 Another important trait that product marketing shouldn't overlook is that GenZ expects diversity contingent on brand identity. Inclusivity isn't a catchphrase; it's a must.
Of course, GenZ also stands for sustainability and the environmental impact their choices make. Along with Millennials, the GenZ generation confronts climate change concerns. This subject is an excellent opportunity for winemakers to harness and use in their marketing and consumer awareness campaigns.
2. Remember, GenZ Drinks Wine Differently
Undoubtedly, GenZ has fond memories of seeing wine served at their grandparents, the quickly declining Baby Boomer generation's dinner table.
Wine has always been an integral part of the American lifestyle. Early settlers brought their love of wine from Europe and began harvesting muscadine grapes in the 1500s. Baby Boomers have enjoyed a complete sampling of wines, beers, and cosmopolitan cocktails and graduated to premium whiskeys and liqueurs.
GenZ and Millennials grew up under the craft beverage banner. They survived their parents' and grandparents' domestic beer favorites until Microbrewers reshaped the beer landscape.
Wine revamped itself over the last few decades and became a favorite pairing beverage to accompany exquisite charcuterie and celebratory moments.
Canned wine, which undoubtedly causes connoisseurs to roll their eyes in disgust, has enjoyed a 68% growth rate. Convenience and that cans are recyclable may significantly impact younger generations entering and exploring the canned wine market.
The American consumer market for wine, beer, and spirits is massive. Even losing a few percentages of market share to the competition is a colossal hit on a company.
Beer is still the favorite alcoholic beverage of Americans. The beer industry accounts for 42.5% or 98 billion (2020), expected to reach 146 billion in 2025. Although beer has lost market share since 2000, new brands, flavor initiatives, and seltzer have helped revamp the category.
These numbers make it difficult to extrapolate fact from fiction. With fewer GenZers consuming alcohol, how can the alcohol industry expand? Undoubtedly, marketing and market research teams diligently scour for opportunities to reach this generation.
Spirits take second place with a 41.3% share. Wine owns 16.1%, a 63.69 billion (2021) value, with the expectation of growing at a compounded annual rate of 6.8% from now (2022) to 2030.
Younger generations have a distinct opinion of wine. Millennials and GenZ consumers equate an elevated social status with wine. Innovation in wine palate and color and contemporary packaging stimulated wine sales growth toward a younger, more upbeat market and social media influencers.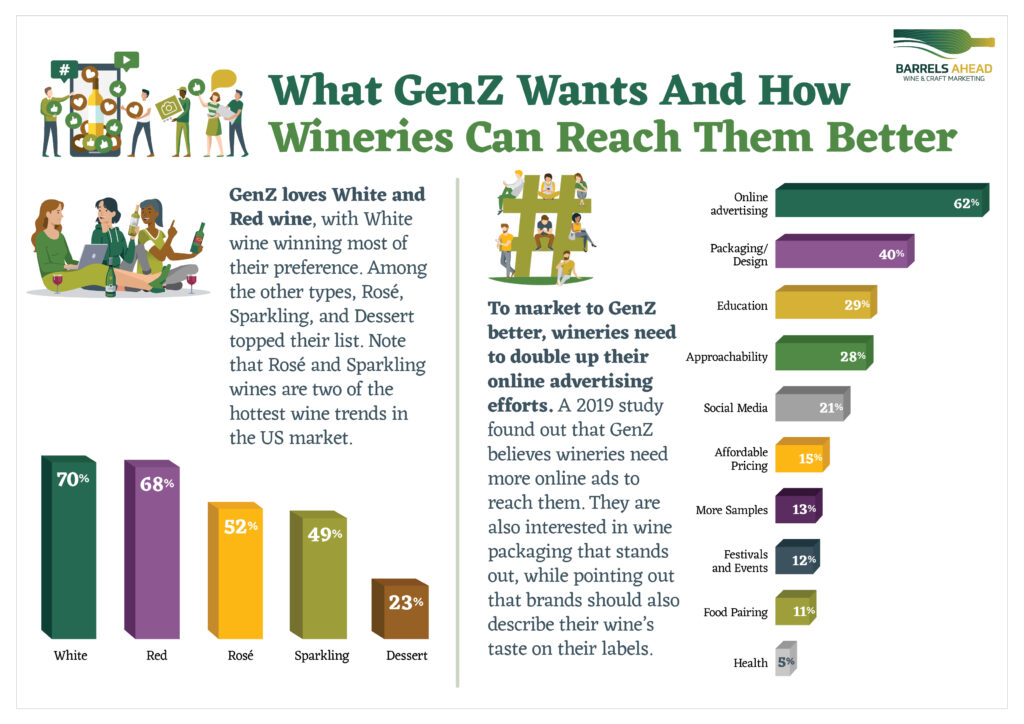 Off-trade wine sales didn't suffer the financial hardships many other businesses faced during the pandemic. Online sales helped to maintain and even supersede expectations.
Dessert and sparkling wines are on target to reach new sales projections. Wise wineries will tap into the potential of those two categories for a younger market client who enjoys those segments' sweeter and fruitier nuances.
Locally made homegrown wines help fill a niche market in the organic and natural food and beverage category. Health and wellness and climate change impact the awareness of younger generations and have helped to grow the newly minted organic wine category.
Prudent wine producers will harness the potential of an organic wine market to help grow the business.
In one episode of our Legends Behind The Craft podcast, East Coast wine grower and expert, Jerry Amabile talked about how the young generation likes their wine:
"Unlike the West Coast, you know, palates are different in every region of the country. In our area, especially the younger generation. They like drinking something a bit little bit lightly sweet."
3. Make It Interesting and Diverse
The winery industry's biggest mistake is to underestimate the discerning tastes of GenZ.
GenZ has a surprising interest in a diverse menu of drinks. This generation enjoys hard beverages and prestige drinks like cognac. The market for malt beverages is wide open for its trendsetting power and the higher standard of living that appeals to GenZ.
Non-alcohol drinks derived from wines, beers, and mocktails supplement their penchant for consumable drinks in the CBD and cannabis category. GenZers enjoy sodas, tea, energy drinks, and sparkling water to keep things interesting.
Combing through the long list of beverages GenZ partakes in makes it difficult to focus on one category. Perhaps this is also the giant gap of opportunity.
4. Research Consumption Habits
Industry studies on GenZ's consumption habits suggest that brands that captivate this generation's social and freedom of personal expression profile are gaining.
Seagrams, Mike's Hard, Smirnoff, and Coors are tapping this market by speaking the generation's language. These brands are communicating with their target audience by building on GenZ's social network, environmental hot-bed topics, and alternative lifestyle values.
Researching GenZ habits and their likes and dislikes also highlight that this generation is a conundrum. They have ethics, yet they just want to have fun when it comes to consuming alcohol.
Millennials use alcohol to escape and relax. Statistics suggest that Gen X is the powerhouse of wine consumers. The industry shouldn't put all its proverbial eggs in one basket.
GenZ is also snubbing beer. Previous generations like Baby Boomers and Gen X would have turned their noses up to seltzer-infused beers and malted drinks and favored traditional cocktails. GenZ is demanding something wholly different and tailor-made for them.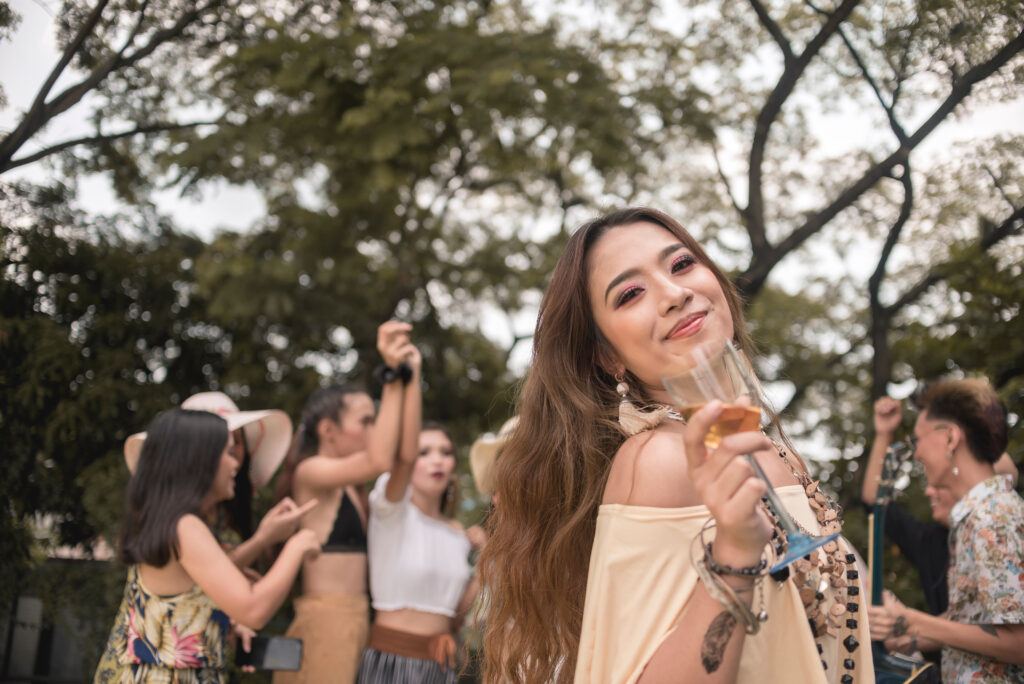 Studies suggest that 58% of GenZ drinkers enjoy a mix of red wines and sparkling white wines. This generation is competing with Baby Boomers and Generation X in wine consumption.
The conundrum has a wide-reaching influence. Brands that can speak to GenZ's demands that a drink should quench thirst, hydrate, delivers health and nutritional benefits, and jolt them with a blast of energy while being active on the social scene, might have a winning combination.
5. Try New Wines
Vineyards and wine manufacturers are not immune to constant mergers and shuffling of crucial players in the wine market. Big wholesale players in distribution manage 70% of the market across the USA. These mega distributors operate on different dynamics and can pass on their savings to retailers and consumers, hopefully attracting new buyers to the segment.
Industry legends like E. & J. Gallo collaborated with Post Malone, a legendary rapper, who created Maison No.9. This new French rose is a great way to capture the younger market and already has 196K followers on Instagram and 14K on Tiktok (after one month on the market).
This prettily packaged rose wine has a premium price of $30 for a 750ml bottle.
Wine entries are a great way to introduce younger generations to the category. Wine producers who look to the future and invest in sustainable and organic permaculture farming will also leave a favorable impression on GenZ.
Table wine holds the largest share of the wine segment while sparkling wine grows at 7.7%. Champagne and prosecco help drive that segment while lower price points and product diversity gain popularity. Sparkling wines are the new gut health tonic that aids digestion and provides polyphenols from red grapes to promote probiotic health benefits.
6. Enter Fruit Wine Opportunity
Fruit wines are becoming a popular dinner companion for plenty of reasons. Fruit wines thrive as consumers scour the market for healthier versions of food and beverages. Fruit-based wines answer that need.
Fruit wines are also popular because the younger drinker cares about sustainability and shops locally for organic products that quench their craving for a unique and satisfying consumable.
Fruit wines are a fruit juice derivative fermented with yeast and have a full range of flavor potential. There are subtle differences between grape wine varieties and fruit-based wines. Unique enzymes help to capitalize on the aromatic profile, and consumers appreciate the alternative health benefits. Natural wines make excellent dinner guests and have a distinct appeal.
Fruit wines struggled with acid stability and sugar balance, which makes production more challenging. However, improved technology and sophisticated instruments help produce fine natural wines with a wide variety of fruit flavors.
Aside from health benefits, consumers like to build a brand relationship, and shopping for local goods is a great way to connect fruit wine producers to their clients and vice versa.
Wine producer Amabile makes an interesting point, "I always say if you're drinking a wine made from our fruit wines and they're 100% fruit. If you like mangoes, you're gonna love the Mangawhai. Our state is one of the largest producers of cranberries, we have to make cranberry wine, you're gonna love our cranberry wine."
GenZ May Be Different, But Reaching Them Isn't That Hard
While one-hit wonders succeed, this group of consumers is different. GenZ loves the big brands they grew up with, yet they champion niche brands that contribute to their ideal lifestyle.
"But why should we be critical of somebody who likes a sweet wine versus a dry wine, we should be open-minded because we're all in this together." According to Amabile, that's what's going to drive the business.
It's not difficult to surmise that alcoholic beverage industries are scrambling to capture the attention of the GenZ public. Understanding that this generation has raised the bar is paramount and we interpret the data to make sense of it.