Last Updated on February 1, 2022 by Troika Gellido
The wine consumers market has changed dramatically in the past five years. As with any industry, marketing needs to adapt to encourage growth, especially to the younger (and more challenging) age group: the Millennials.
It's not particularly easy to sell wine to millennials. Wine industry veterans can tell the struggle of reaching out to this highly discerning age group. However, this pandemic has not only turned these millennial adventurers into home buddies but also gave them a reason to start drinking wine– and they've gotten really thirsty this time.
According to a Wine Market Council report, 42% of all wine consumers in the US were millennials between the age group of 21 to 38 years. The newest report states that 41% of millennials drink wine, and 58% of GenZ drink wine. Baby Boomers drink the most wine exclusively, but Gen Z, in particular, is catching up.
From New York to California, millennials don't do things in traditional ways. That's why wineries need to find out how to get the attention of their millennial audience. They are ready to engage with brands that serve delicious wine and market it using new digital marketing trends. With that, let's proceed: selling your wine to millennials: a 2022 guide.
Millennials and the 2021 Wine Industry
Let's discuss the challenges the wine industry has faced in 2021 and the most significant trends.
Biggest Wine Trends and Challenges in 2021
The COVID-19 pandemic hasn't left the wine brands untouched. Patterns in the global consumption of wine have faced serious disruptions. Fortunately, you can turn a few challenges into an opportunity by targeting the largest adult demographic with spending power: Millennials.
After an initial stockpiling of wines at home, overall sales are still down compared to before the pandemic. This leaves potential to market towards home-drinking as a solution to tap into emerging wine markets.
The consumption of organic and natural wines has also increased over the past 1.5 years, becoming a trend as millennials turn to healthier, more sustainable options. Countries like New Zealand lead the way with sustainable winemaking.
Who Are the Millennial Wine Consumers?
Millennials are one of the largest cohorts in the history of the USA-even beating out Gen X and Baby Boomers, and they are substantial wine consumers who are poised to surpass the GenX generation.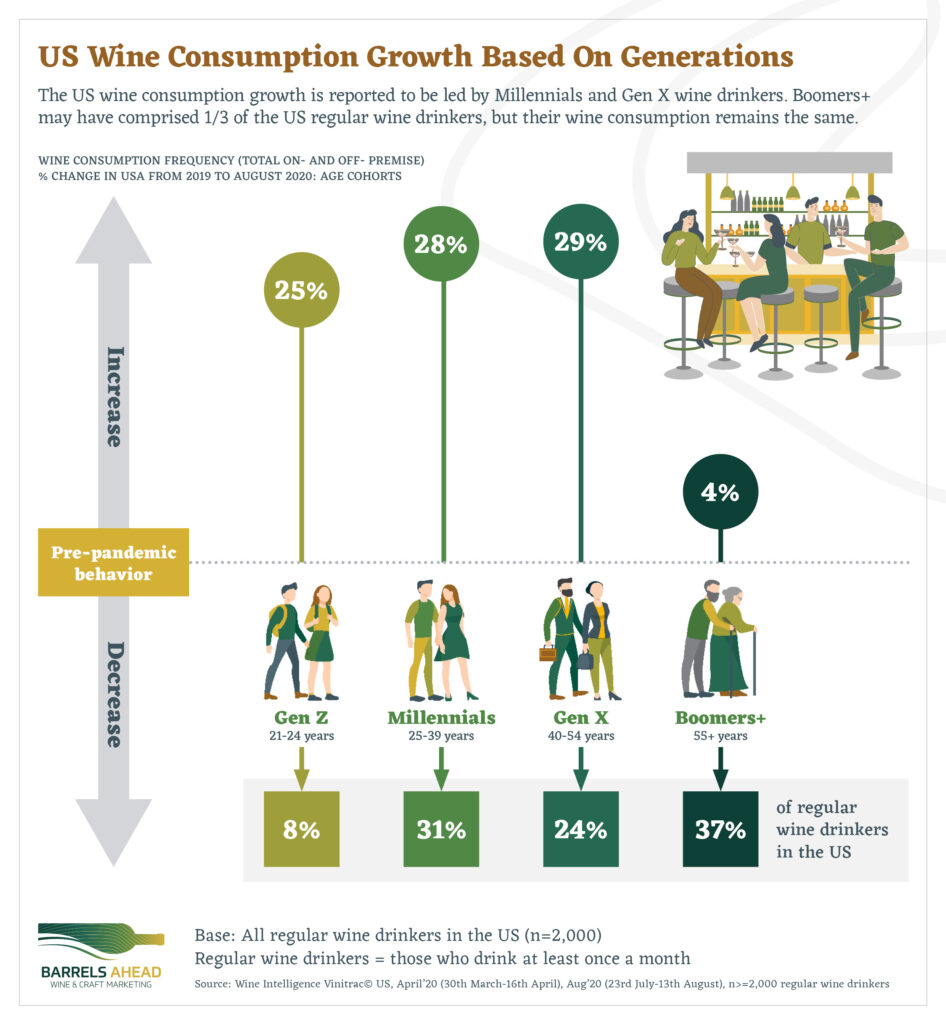 They have different expectations concerning wine products, taste, and prices. Millennials, who are considered the hipsters and techies of any industry, have brought up the reputation of the wine industry, focusing on quality over quantity, unlike previous generations in their youths.
Tips On How To Market And Sell Wine To Millennials (And Gen Z)
Where can you get started marketing wine to millennials? The answer is where you can find them, and you guessed it: online. And when you do online, make sure to provide a mix of marketing efforts across channels, also known as omnichannel marketing.
Social Media
Millennials grew up as technology adapted and exploded into the world. Now, nearly every single millennial uses the internet. Millennials own more smartphones than any other generation (though Gen Z will likely surpass even them).
However, using social media to market towards millennials takes nuance. This generation only responds well to online ads that are credible, entertaining, and offer something of value via an incentive.
It is, therefore, no surprise that several wine companies have found success with their social media presence.
The millennials are well informed, and they prefer to read online reviews before purchasing. They rely on online reviews and social media feedback more than any other kind of advertising. It's why a promotional video or a wine blog can help you reach out to millennials.
eCommerce Store
According to one research, Generation Z has consumed more wine during the pandemic than any other generation. Most of them got their wine by ordering online, making it the most popular way to shop for wine.
It depicts that you have to implement eCommerce in your wine business for better and more effective marketing. You don't have to spend too much money on marketing if you get into the right system.
Video Marketing
Millennials are pretty active on video sites like TikTok, so you can implement a video marketing strategy in your wine business. The main focus of this strategy is to grab attention, inform, and educate the consumers.
You can create a video aimed at reaching out to the millennial audience. If you don't know how to do it, you can always hire digital marketers and wine market professionals to take care of such things.
Make Wine Accessible Across Communities
A big part of marketing wine is making it accessible across communities. The wine industry may be global, but that doesn't mean its challenges aren't shared across the board, so to speak.
Making wine accessible across the community is something that is going to take a lot of time. You have to remember that millennials are the most likely consumers of wine, so you have to focus on them (the right way) and implement the right strategies.
Email Marketing
Email marketing is a great way to reach out to millennials, again, so long as you provide them with an incentive. If someone has purchased your wine in stores or visited the tasting room, you can encourage your audience to sign-up for an email to get updates about the offers and discounts.
Millennials are different from older generations because they don't really like receiving unnecessary messages in their inbox. They expect email content to be relevant and targeted, so inserting a wine promo offer or a tasting room invitation right into their inboxes makes a difference.
Best Wine Types According To Millennials
Among the other generations, this once hard-to-reach demographic has started tasting (and loving) a few good wines in the market. Millennials sure know how to pick their own type and wine brand. These are their top faves:
Merlot
The taste of Merlot seems to attract these millennial red wine drinkers the most. Its exquisite blend of dark fruit flavors, with herbal notes and mocha and vanilla undertones, captivate this generations' selective tastes.
Pinot Noir
Following the red wine category, Pinot Noir got the second vote for the most preferred wine by millennial drinkers. About 43% of this market segment prefer it for its fresh, fruity taste.
Sangria
It seems millennials also want their wines sweet. Tying this interest with cocktails and party punches, millennials favor Sangria both in the red and white wine categories. They love serving this fruity wine with more fruits that makes it taste interestingly good.
Moscato
Another sweet wine preference in the white wine category, millennials would also love a drink or two of their favorite Moscato during meals. A high 57% of these wine drinkers consume this wine type almost regularly. This preference isn't that surprising for a generation who prefers light wines with low alcohol content as an aperitif.
Chardonnay
The most famous white wine, Chardonnay, is also a top favorite among this age group. This dry wine gets a 48% vote among the white wine millennial drinkers due to its interestingly variating flavors. Its changing taste variations, from apple and lemon to papaya and pineapple spell fun for these picky drinkers.
Rosé
Coming from the middle-flavor profile, Rosé captures the hearts of millennial drinkers, making it to their top preferred wines. Its fresh and fruity taste, complimented by red berries, and a certain brightness and crispness to top it all off make it one of the best for this demographic.
Global Wine Predictions For 2022
The global wine industry has always faced challenges, and they will be the same in the upcoming months, like keeping the costs down, persuading customers to trade up, and keeping wine lightweight. These challenges are critical for the wine industry to maintain its market share. It means that a winery needs to be aware of how global wine markets work and what consumers want to be successful.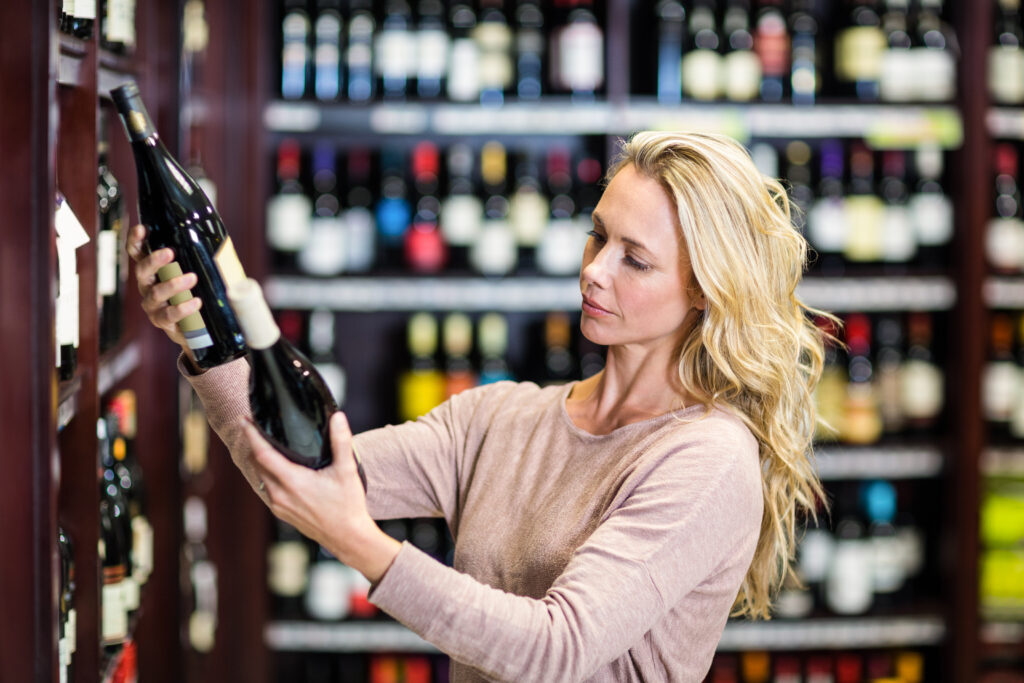 There are also some interesting predictions and changes regarding the overall market share of the wine industry. The industry is working to reduce glass packaging and encourage lightweight wine packaging. In 2022, the sold volume of wine is expected to rise to 281 million cases, worth more than $32 billion, with a CAGR of around 3%.
As millennials return to life outside the home, it is likely that their tastes will have refined thanks to subscription packages and experimenting with new, more expensive brands. Because of this, they will be less likely to tolerate poor quality, even for a cheaper price tag.
Conclusion
So, how was your wine business in 2021? And what's going to happen in 2022? These are essential questions to consider if you want to take your business to the next level.
If you want to reach your wine revenue goals, you need to ensure that your marketing strategies are working in marketing wine to millennials and other age groups with different tastes. We'd love to help– Get expert advice for your wine business today!