Last Updated on December 7, 2021 by Troika Gellido
It's time you reconsider your website's design
Your website plays a crucial role in giving your winery business, or any other business, an online presence. Coupled with the rise of direct-to-consumer eCommerce and the need for digital marketing just to stand out in a competitive market, you'd be doing your business a disservice if you didn't have a website.
But to ensure ethical behavior among businesses, there are certain rules that govern how you should do your marketing. And one of those regulations is ADA compliance. So, what is the ADA and how can you ensure your winery website is ADA compliant? Let's dive in and answer all your burning questions.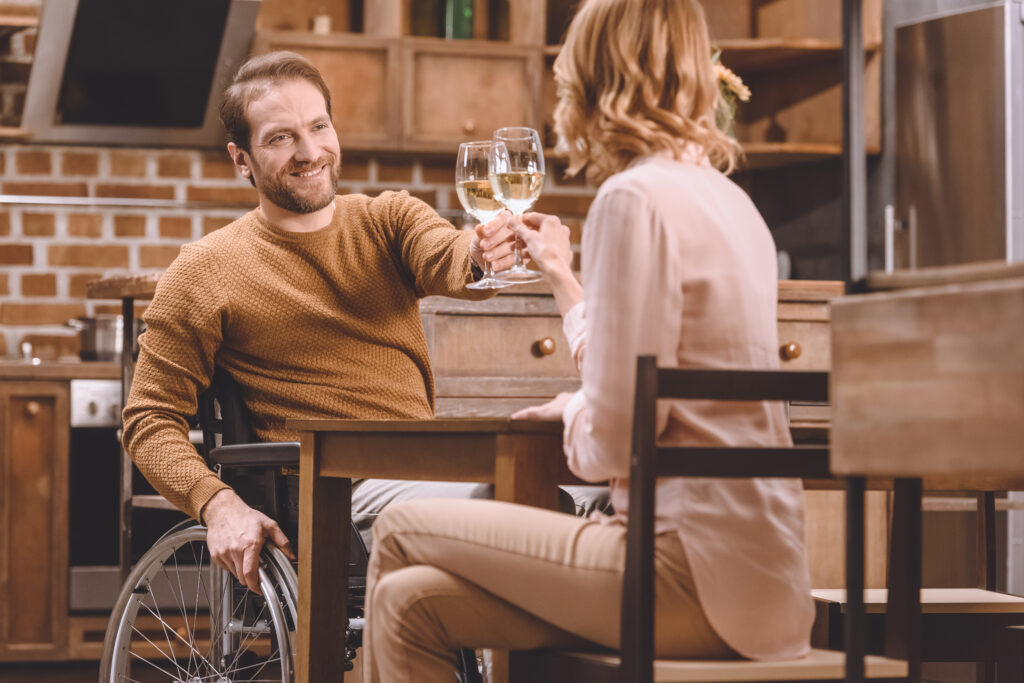 What is ADA Compliance?
ADA stands for the "Americans with Disability Act", which came into effect in the 1990s. This law was introduced to ensure that the disabled are not discriminated against in places of business and that support is provided to them in the form of ramps, wheelchairs, and other assistive technology.
The winery industry, in particular, took a lot of heat because most of its websites were not accessible to people with visual disabilities. Since the law was enacted, many companies have been criticized, prosecuted and forced to pay hefty fines due to not being ADA compliant.
Generally, ADA compliance is a requirement for all companies to comply with all the necessary standards to ensure that anyone can consume the content on their websites. This means that they have to embrace website accessibility practices. We'll dive deeper into the specifics of website accessibility later on in the article.
The Benefits of Making Your Winery Website ADA Compliant
The best part about becoming ADA compliant is that it not only helps the disabled but all web users. Let's explore these benefits.
Wider Reach
There are many types of disabilities, including visual, hearing, or cognitive disabilities. And millions of people across the globe and living and struggling with these disabilities every day. So don't ignore your duty to install a tool like Accesibe. Aside from viewing content, installing this tool will also empower disabled people to purchase wine products from your site, translating to increased sales.
Improved Public Relations
There is a lot of activism on the internet nowadays. Consumers are not setting low standards, and they are giving their support to brands that understand their needs. This is evidenced by the fact that most of them make purchases from brands that treat them well. By making your winery website accessible, many disabled people who might feel left out will buy your products and, most importantly, recommend others, thus improving your brand image in the eyes of the public.
Avoiding Legal Complaints and Discrimination
The fact that the internet and other digital technologies have become so ingrained in daily life, has made web accessibility a civil right for disabled people. Therefore, failing to make your winery website ADA compliant is just a lawsuit waiting to happen. And the price to pay won't be a small fine, either. Why take on that much risk when you can simply adopt web accessibility standards and have peace of mind?
Recent ADA Compliance Lawsuits Against Wineries
In the recent past, users and prosecutors have been giving ADA non-compliant winery websites a tough time. Federal law enforcers have become more serious about ADA compliance by refusing to look the other way as winery businesses keep running their websites without considering the needs of Americans with disabilities. There, they have begun to micro-target each of these non-compliant wineries.
A good example of the recent lawsuits was that of Finger Lake wineries. These non-compliant wineries were thrust into the limelight when a legally blind man could not access one of their websites. This issue was not taken lightly, and since then, many wineries have been sued under the Americans with Disability Act.
Another recent lawsuit targeting wineries happened in New York City, where over 15 wineries were charged for discriminating against the visually impaired. Some of the sued wineries include Pindar Vineyards, Bedell Cellars, and Demarest Hill Winery, a small winery company.
There have also been lawsuits against high-profile people. A good example is Beyoncé, whose website failed to provide access to visually–impaired and blind people, thus violating ADA compliance laws. The musician was sued by a visually impaired lady who claimed that since she uses software to read the website content, she couldn't access Beyoncé's website. According to the law, the lady was denied access to services, which violates ADA compliance.
How to Make Your Winery Website ADA Compliant?
This is a question that many people in the wine business struggle to get answers to. Unfortunately, there are no clear guidelines on how to have an ADA-compliant website. The Department of Justice, however, had considered defining clear criteria to help private companies evaluate the ADA compliance of their websites. Unfortunately, the idea never came to fruition since the DoJ stopped weighing in on this issue.
All was not lost, however, because the World Wide Web Consortium jumped into action soon after. The international organization has set up accessibility coding standards and the WCAG (the Web Content Accessibility Guide) 2.0 AA.
Even though these standards have not been encoded into federal law, most complaints filed against wineries in New York rely on it to make their cases. In addition to this, the DoJ has made it clear that all wineries can be safe by adhering to the WCAG 2.0 standards. Due to all of this, wineries should collaborate with their IT service providers to ensure their websites, mobile sites, and apps meet the WCAG 2.0 AA accessibility coding standards.
Top 3 Things You Can Do to Make Your Winery Website ADA Compliant
There are three ways to be on the safe side of the law by making your website ADA compliant. Let us explore each of these tips in detail.
1. Design Your Website According to the WCAG 2.0 AA
The WCAG 2.0 AA consists of 3 key standards.
Good color contrast
People have different visual abilities, which determine how they read texts on their computers or mobile devices. According to the standards, every text and image presented on your winery website should have a contrast ratio of 4:5:1. This is to say that the background color and the font's text should not appear to be too similar, which in turn makes it easy to read.
Non-text content should have a text alternative.
Text alternatives are mostly important for people who are unable to hear audio files or read what you have displayed on your site. The WCAG 2.0 AA standards feature this guideline to ensure that anyone can have a friendly user experience on your website. Making an image on your website readable is simple too. All you need to do is add an alternative text tag (alt tag) to the image. Most Content Management Systems (CMS) out today natively support this feature.
In doing so, you will be giving the audience a description of what the image or video is about. Sometimes images also fail to load on websites, and if that happens, the alternative text will be displayed, thus ensuring the visitor doesn't miss any content.
Interestingly, alternative texts are also helpful in situations where the user reads your site's content with the help of assistant technology. In other words, the alt text on the image will be read by the technology and give the disabled individual a description of the content.
Functionality of keyboards
This is another standard set by the WCAG 2.0AA stating that the user should be able to use a keyboard interface to access the content. Their keystrokes also shouldn't be designed with timings. Implementing this functionality should be easy with the help of a CMS plugin.
In summary, the above-mentioned practices are crucial to implement because they will offer a good user experience to present and potential clients. This, in turn, ensures that the website visitors will develop a positive association with your winery business.
2. Install an Accessibility Plugin
Let's dispel a common myth: designing your website with visually impaired people in mind doesn't have to mean that your winery website will look boring. You can still have a warm and attractive website by using a web accessibility tool like Accesibe. This is a plugin that was developed to make it easier for website owners to make their content ADA compliant in accordance with WCAG 2.- AA standards.
Accesibe is versatile and can easily be installed on websites of any kind. Once you have installed it, you notice a small icon on your website's corner through which users will access your winery website to learn more about your business. Once a user clicks on the icon, the plugin makes it easy for any user to browse your website by offering them various content format options. It even gives users the freedom to adjust color contrast and increase font sizes.
3. Update Your Website Policies
Privacy policies entail all your data practices, including data disclosure and data security. Privacy policies are critical in safeguarding customers and your winery business, which is why you should update the website's policies after implementing ADA compliance rules. Remember to notify your customers of the changes you have made as well.
Tools for Implementing ADA Compliance
The internet is an inclusive platform, which is why websites should not be difficult to read. An inaccessible website can be frustrating and will also limit your business in terms of sales. The negative reality of inaccessibility dawns on you when you realize just how many disabled people are accessing the internet every second of the day. Is it fair to deny them access to the same services that all able-bodied individuals benefit from?
Unfortunately, most web designers don't even consider this group of people, thus making the WCAG 2.0 AA law a necessity. There are several ways in which visually impaired people can access your winery website. But the easiest way is by installing a Userway widget or an accessibility plugin like Accesibe, which we mentioned earlier. These two will not only allow disabled people to access your website, but also keep your winery safe from any prosecution related to ADA compliance.
We already touched on Accessibe above, so let's briefly go over Userway.
Userway
Userway is a globally trusted brand used by the world's leading companies and millions of websites. This program enables all people to navigate websites by fixing the problems that your winery website might have. One doesn't have to be an expert in programming to use the Userway widget, either. Moreover, the way it's coded makes it highly compatible with any web design. Hence why it's the ideal tool to use for making your winery website ADA compliant.
Installing the Userway program is easy, too. All you have to do is sign up by adding your email, first name, last name, and the site's URL.
After you're finished, you'll be emailed a special code that enables you to embed Userway on your website.
Final Thoughts on ADA Compliance for Winery Websites
In summary, the Web Content Accessibility Guidelines are currently the only accepted standards for web accessibility. They should, therefore, not only be implemented by winery websites, but all other business ventures (even government institutions).
You stand to gain much customer affinity with ADA compliance, in addition to helping reduce discrimination against the disabled. Avoid being on the wrong side of the law by embracing web accessibility tools like Userway and Accesibe.