Last Updated on January 25, 2022 by Troika Gellido
It's going to be a good year for wineries.
Younger generations, particularly Millennials and Gen Z, are leading the growth of wine buyers in 2021 and are projected to continue to provide a positive impact on the wine industry in the coming year. Their wine-buying habits, however, differ from those of previous generations. Younger wine lovers purchase bottles through their mobile devices instead of visiting vineyards or ordering bottles while dining in restaurants. With the current pandemic, expect that wine marketing trends are focused in this specific group.
This desire to delve into the vast world of the wine market via the internet isn't new. People have become increasingly comfortable with purchasing all types of beverages digitally over time. In addition, the COVID-19 pandemic made online wine purchases more common and convenient. At the same time, buying wine online is a more cost-effective choice for those who don't have the funds to travel to California or Italy but do have enough to have a backyard wine-and-cheese party.
So, how does this affect wineries and wine businesses? On a basic level, you should build a solid digital wine marketing plan to assist you in improving wine sales if you haven't already. Otherwise, you risk losing out to competitors eager to seize the market share and profit from shifting customer behaviors.
Are you interested in how the wine economy is going to be for the next year? As 2021 is coming to a close, this guide can help winery businesses learn how to strategize their digital marketing strategies. We'll break down the state of the wine economy in 2021, expert analysis of the future of the wine industry in 2022, and some key tips and advice for wine businesses who want to take advantage of the growth in wine interest in the coming year.
The State of the Wine Economy in 2021
To better understand the state of the wine industry in 2021, we soured some facts from Mondor Intelligence via their Industry Reports.
COVID-19 had a significant influence on the wine industry, according to Mordor Intelligence, because of the forced shutdown of on-trade wineries in numerous nations such as the United States, the United Kingdom, and others to reduce the pandemic's impact.
The current situation, on the other hand, may present a chance for the wine sector to reclaim lost consumer attention. According to Mondor Intelligence, overall wine volumes are increasing year over year as more consumers buy wine to drink at home with their meals, particularly in European and North American countries.
On the other hand, it's unclear if the present off-trade boom will last after customers' stocks run out, the on-trade slowly reopens, and consumer behavior returns to pre-COVID-19 levels. It's an unpredictable time for most businesses, especially those in the wine industry.
Despite setbacks in 2021, the wine industry is still expected to have a compound annual growth rate (CAGR) of 4.28% between 2021 and 2026.
Experts Predict Good Things for the Wine Industry in 2022
Globally, the wine market is expected to be driven by rising demand for wine due to its health advantages and the growing popularity of wine products, as well as taste innovation and more modern distribution networks.
To start, studies have found that sparkling wine has grown 1.4% globally since 2020, even during 2020's major down year for overall wine sales. In addition to a growing interest in sparkling wine, experts have found that prosecco is becoming popular, according to research from BackBar. Champagne blends are still the most popular types of sparkling wines, but prosecco has boosted its inventory market share by 4.7% in 2021. That number is expected to grow.
It's clear that wine is still popular, even in the wake of the pandemic and despite global supply chain problems. 2022 could be a great year for wine businesses.
9 Tips On How Winery Owners and Businesses Can Strategize Their Digital Marketing Goals for 2022
There are so many things that winery owners and wine businesses can do to strategize their digital marketing goals in the coming here. The following are just a few different tactics that could prove beneficial in 2022:
Focus on SEO.
Everyone (even the older generations) have started embracing the digital world more. Wine businesses should focus on improving their search engine optimization practices to better align with Google's algorithm and reach new target audiences. For 2022, expect that competition will be more tough in the SEO space. It's best to equip yourself with the best tools and expertise to stand out.
Put effort on content marketing.
People are consuming more content as they are spending more time online than ever. The recent pandemic also forced consumers to turn to online when buying products. Content marketing, when paired with top-notch SEO practices, is the best formula for a successful digital marketing campaign. In 2022, make more valuable and engaging content that earn your target audience' attention.
Spend more time on social media.
Social media marketing is a great way to build personal relationships with your target market and existing customers. Social media presence isn't enough. You should know how to make use of social media to know more about consumer attitudes and customer engagement. It should involve creating relatable social media content that doesn't only turn heads, but also capture hearts.
Consider implementing a trendier product into your existing product arsenal.
People's consumption is changing too, and expect that it will continue to change for 2022. It's the best time to work on new products for today's wine-thirsty market. For example, alcohol-free wine and CBD-infused wines are gaining popularity, in addition to hard tea and portion-controlled canned wine. Consider what products could fit into your wine business to catch the attention of younger, trendier markets who are showing great interest in the wine and spirits industry.
Revamp your website.
2022 should be the year you start revamping and improving your online presence, especially your website. To increase online wine sales, your website should be able to answer to the most common customer requests. Maybe it's time to consider e-commerce into your website strategy? Customers treat the online world as anything they wish it to be, and this coming year, you might want to work more on that aspect. Find out how to make buying wine online a pleasurable experience for your customers.
Concentrate on crafting a compelling story for your marketing initiatives.
In far too many cases, the way many wine marketers employ storytelling might require a big overhaul. Always portray your consumer as the hero and your brand as the friendly guide. Focus on telling tales that are relevant, emotive, and valuable.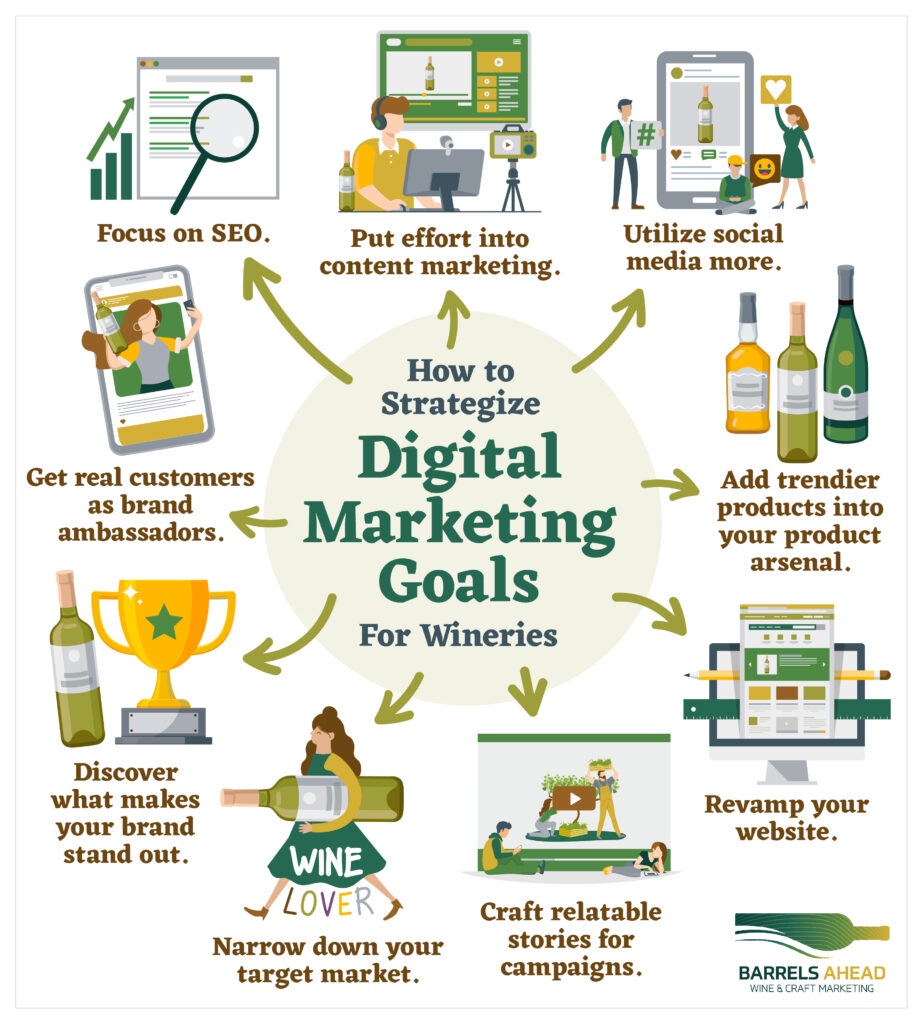 Recognize who your target market is.
Looking at wine drinkers too broadly can be ineffective for your marketing campaign. Thanks to digital marketing, even the tiniest wine businesses can use social listening tactics through SEO and social media. Once you have defined who you target market is, do not forget to ask them questions and observe their behavior so you'd know how to engage with them. Customers in 2022 would want a wine brand who knows them and listens to what they need. Ask restaurant sommeliers how customers want their wine served. See if your premium wines need to have a cheaper, trendier alternative. Be open-minded about your market's needs.
Dig deep to discover what makes your wine brand stand out.
For the regular consumer, it's not surprising to find a thousand wineries that claim to be estate-grown, operated by brilliant visionaries and multi-generational. You'll have to dig a little deeper. The reality is that, creating great wine is not enough. You should know how to market it to the right people. Wine consumption trends tell us that a brand should know their clients, understand what they want, and deliver their promise seamlessly and efficiently. You may have an interesting story to tell, but make sure to involve your customers in your story.
Get in touch with your existing customers and brand ambassadors.
Collect as much as you can about why they love your wine business, why they feel connected to the brand, and how your company has solved a significant problem in their lives. This information is incredibly valuable when creating a brand story.
Post-Pandemic Opportunities for Winery Businesses
As the pandemic finally begins to move to a close, there are some great opportunities for growth in the wine industry.
To start, events and wine tourism will likely see a boost in popularity, as wine enthusiasts have not been able to attend events due to COVID-19 restrictions. As tourism increases, it's quite likely that wine business owners will see an increase in attendance at wine events. Take advantage of this interest in wine events and launch different tastings, parties, events, and meetings that target your specific market.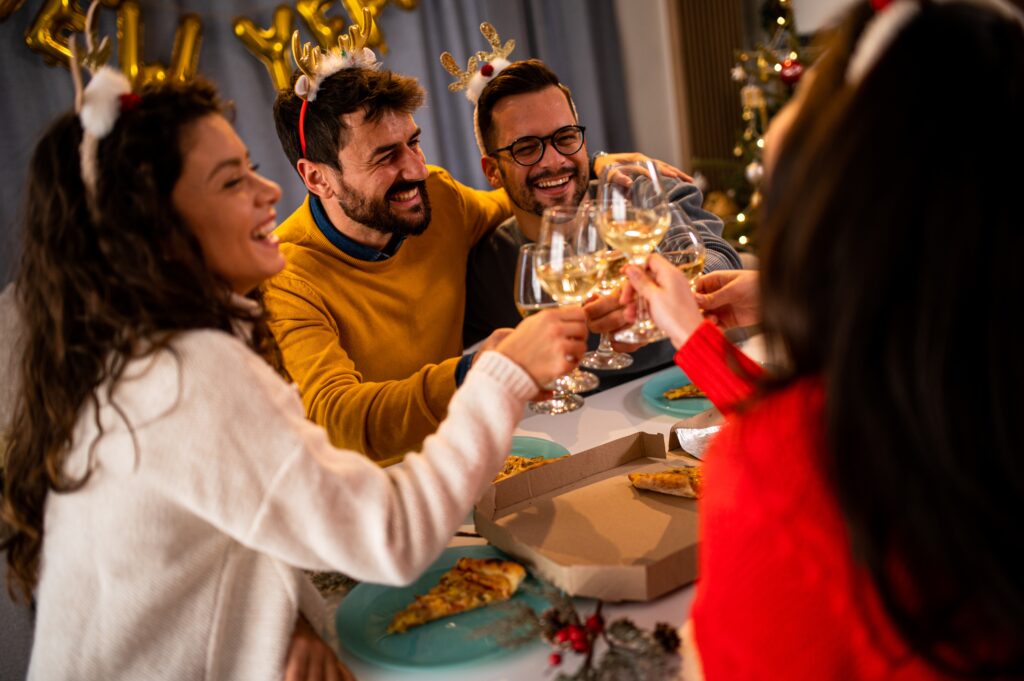 According to Consulting.us' recent analysis on the wine business in the United States, the already sizable market for wine beverages will continue to expand in the near future. The wine industry in the United States is expected to increase rapidly, reaching close to $43 billion by 2022. That's a huge opportunity for growth for wine business owners, and it could be a good time to launch a new product.
Even though wine tasting and live events will likely come back in still post-pandemic, there are still great opportunities for online wine tastings in 2022. A wine tasting event over Zoom may seem like a reach. However, it was successfully accomplished by many in 2021. To make digital tastings work, you'll need to think outside the box. To increase sales and improve attendance, consider pre-selling a sample kit. Alternatively, combine tasting and recipe-making with the notion of a "night out in a box." Many people are still dining more at home these days, and many are undoubtedly looking for new experiences.
How was 2021 for your winery business? Are your strategies in line with 2022's marketing trends? Let's tackle every aspect in your digital marketing strategy to help leverage your winery business for the coming year. Get expert advice when you contact us today!