Last Updated on August 25, 2022 by rise25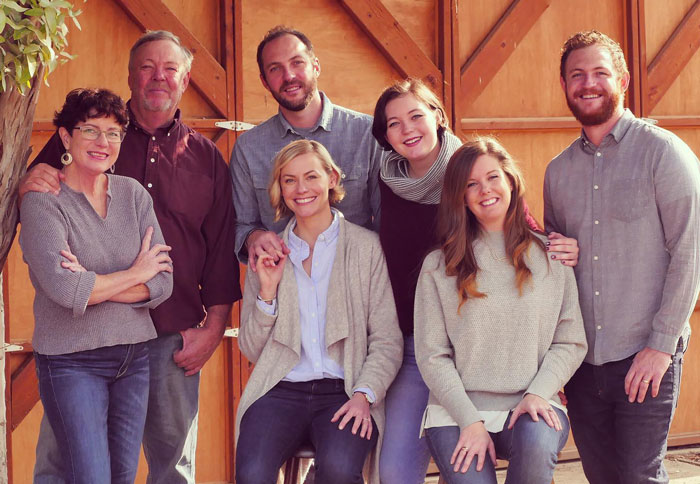 The Kirchhoff family lives and farms south of Clarksburg, CA, on the Sacramento River Delta. Growing grapes is more than an occupation in their family — it's a passion. Their hands-on grape-growing approach and dry farming techniques evoke the truest expression their land has to offer and promote sustainable practices, preserving the land for future generations.
Craig Kirchhoff and his family began planting a variety of grape vines in 2009. The family's first wines were produced from these vines in 2013. Today, Kirchhoff Wines is run by the members of the growing Kirchhoff clan — Craig and Nancy, their children, Clayton, Casey, and Emma, and their in-laws, Lisa and Gabby.
Here's a glimpse of what you'll learn:
Craig Kirchhoff shares how their family's winery started
Nancy Kirchhoff explains why they settled in Clarksburg
The Kirchhoff siblings talk about what it was like growing up in the vineyard
What sets Kirchhoff Wines apart from the other wineries in California?
Clayton Kirchhoff talks about the benefits and challenges of working exclusively with the materials in their vineyard
Clayton describes different Kirchhoff wines
How the vineyard makeup evolved over the years
Emma Kirchhoff describes their tasting room experience
Lisa Kirchhoff talks about Wine and Swine, vineyard tours, and other events and experiences they offer
How art is incorporated into Kirchhoff labels
In this episode with Craig Kirchhoff, Nancy Kirchhoff, Clayton Kirchhoff, Casey Kirchhoff, Lisa Kirchhoff, and Emma Kirchhoff
Not all children whose parents own a winery or vineyard want to work in their family business when they grow up. Most of them look forward to leaving town and pursuing new interests. But what happens when these children find themselves coming back home and incorporating everything they learned into the family business?
For the Kirchhoff family, their vineyard started to grow and evolve in a new and modern direction when their eldest son, Clayton, came back home with a newfound passion and interest for winemaking after spending time abroad. The grape vines planted by his father — previously sold to other wineries — are now being made into their very own Kirchhoff Wines.
In this episode of the Legends Behind the Craft podcast, Drew Thomas Hendricks hosts Craig, Nancy, Clayton, Casey, Lisa, and Emma Kirchhoff of Kirchhoff Wines. They talk about the story of how their family started a vineyard operation business and successfully grew it into a winery. The Kirchhoffs also talk about the role each family member plays and how important their family dynamics are to the growth and success of their business.
Resources Mentioned in this episode
Sponsor for this episode…
This episode is brought to you by Barrels Ahead.
Barrels Ahead is a wine and craft marketing agency that propels organic growth by using a powerful combination of content development, Search Engine Optimization, and paid search.
At Barrels Ahead, we know that your business is unique. That's why we work with you to create a one-of-a-kind marketing strategy that highlights your authenticity, tells your story, and makes your business stand out from your competitors.
Our team at Barrels Ahead helps you leverage your knowledge so you can enjoy the results and revenue your business deserves.
So, what are you waiting for? Unlock your results today!
To learn more, visit barrelsahead.com or email us at hello@barrelsahead.com to schedule a strategy call.
Episode Transcript
Intro 0:03
Welcome to the Legends Behind the Craft podcast where we feature top leaders in the wine and craft beverage industry with your host Drew Hendricks. Now let's get started with the show.
Drew Thomas Hendricks 0:20
Drew Thomas Hendricks here I'm the host of the Legends Behind the Craft podcast where I talk with leaders in the wine and craft beverage industry. Past guests the Legends Behind the Craft include Guillaume Fabre of Clos Solene, Jason Bushong, Bushong Vintage wine company, and Daniel Daou, Daou Vineyards. If you haven't listened to these yet, be sure to check them out and subscribe. Today's episode is sponsored by Barrels Ahead, in Barrels Ahead, we work with you to implement a one of a kind marketing strategy. When that highlights your authenticity, tells your story and connects you with your ideal customers. In short, we help wineries and craft beverage producers unlock their story to unleash their revenue. Go to barrelsahead.com today to learn more. Today, we have a really special show, we're taking a deep dive into the Kirchhoff Family Wines. Now they're located just south of Clarksburg, California and the Sacramento River Delta. We talk a lot about the show about small family one wineries, but you'd only have one or two of the members. Today, we got a whole group, and we're going to they're going to help us paint a picture about what it really means to run a small winery, its origin, the teamwork it takes and their vision for growth. Now we get a lot of people on the show, so I'm gonna let everyone kind of take a second to introduce themselves. Why don't we begin with you?
Emma Kirchhoff 1:31
I'm wonderful. Thank you. Hi, I'm Emma Kirchhoff. I am the youngest Kirchhoff sibling. Kind of do everything. Gal. I've I've spent time in our tasting room as well as this last year, I was our harvest intern, working alongside Casey, and Shawn. And I've grown up in the vineyard. So it's a kind of happy place for me.
Drew Thomas Hendricks 1:31
excited to hear your insight. Lisa, you're next up on my screen.
Lisa Kirchhoff 2:03
Hi, I'm Lisa. I'm married to Casey. And I've kind of watched this family grow from vineyards to winemakers. And it's been really fun a part of the process like Emma said, we kind of all take part in everything. So whether that's helping in the cellar, helping in the vineyards helping in the tasting room. I really got to have a hand in helping the wine club grow and getting connected with our customers.
Drew Thomas Hendricks 2:31
Cool. Casey, you're married to Casey sitting right next to him right now.
Casey Kirchhoff 2:36
Yeah. So I'm the Casey the middle child and kind of acting everything for the company. I'm at our full time wine maker on site and as well as manage our wine club and the tasting room as well.
Drew Thomas Hendricks 2:56
That's very good. And we're gonna move to the to the parents, the originators Nancy.
Nancy Kirchhoff 3:05
Nancy Kirchhoff, affectionately known as Mama K, when I work in the tasting room. I am the mama and my my job description has changed through the course of the years. Luckily, now I get to be the grandma and the kids do all the work but at one time I've done a little bit of everything helped Clayton with his very first batch of wine in the garage from there and to this point where we are today, so Yeah.
Drew Thomas Hendricks 3:43
Fantastic Craig
Craig Kirchhoff 3:44
I'm Craig Kirchhoff, the father of most of this bunch. I am the grape grower the family I guess. I run the vineyards and try and produce grapes these guys can make into it into an excellent wine. I like everyone else is just put it out. I do most everything. Anything needed. So it can be forklift driver to to tasting room do anything but kind of kind of a jack of all trades, I guess.
Drew Thomas Hendricks 4:25
Sounds like that is so necessary in a family way. You just have to be able to do everything. Now leads us to Clayton Clayton. Introduce yourself. How do you do?
Clayton Kirchhoff 4:35
Clayton Kirchhoff from the oldest son of the plan. Essentially consult on the winemaking work with my brother on the wines and yeah, kind of help. Make sure that we're we're producing really great wine.
Drew Thomas Hendricks 4:54
Very good. Very good. So I guess starting off this first question goes to Craig Craig. How did this winery get start?
Craig Kirchhoff 5:04
Our story, our story starts in the mid 80s. Nancy and I, I grew up on a cattle and cattle corn and soybean ranch in Nebraska and I met Nancy while vacationing in California. And so our dream was at some time or another to, to, of course farm in Nebraska but then also to, to try our hand and in California. So when the opportunity opportunity came up to to learn grape growing in the California delta we we jumped on board and put everything in a cattle trailer and moved up, moved out to Clarksburg, California for a couple of years. And we moved back to Nebraska for almost 10 years. And then in the late 90s, we we moved out here on a permanent basis and worked at worked in the vineyards learned the trade and we're fortunate enough to purchase a couple of a couple of vineyards in a home out here in the Delta so so our kids are always in tow wherever we you know, wherever we went, Come on, kids hop in and we're gonna go we're gonna go try something different. And maybe that's where, where they've all gotten this, this adventurous ideals of let's try something. Let's try something as a family. So
Drew Thomas Hendricks 6:33
dig in, roll up your sleeves, what, um, what treated grape growing, taking the lead from cattle and soybeans.
Craig Kirchhoff 6:42
Actually, I had I had made a pledge to Nancy that we would that we would try California for a while and she found that she found a replacement here in California to work in the vineyard. So so we jumped on it. We jumped on board with that and and like I say, we were very, very fortunate to have some very good instructors and then help along the way and allowed us to start our own vineyard. So
Drew Thomas Hendricks 7:16
I guess Parkesburg area, what about what why clarksburg versus all the other areas in California.
Nancy Kirchhoff 7:25
That was who was offered the job.
Drew Thomas Hendricks 7:30
That was wondering, well, people wind up in certain places.
Nancy Kirchhoff 7:33
Well, and that's really good question because Craig's comfort level was very good complete here in Clarksburg. Because clarksburg is a very small community. People wave on the roads to lane roads. So little Nebraska boy, he made the transition to California pretty easily to this area, whereas if he'd been he wouldn't have gone to San Francisco. We wouldn't gone to LA where I grew up, you know, the clarksburg was right up in and right up our alley. And you asked why how we transition from corn to grapes. Well, that was the market you know, at the time that we we came back to California in the late 90s. Like Craig said, we were still growing corn and tomatoes and so forth on the Delta, but farming is farming and you you need to produce what people are buying. You know, so and as it turns out, clarksburg the has just developed as this wine growing region the ABA has just proved itself over and over again to to grow, grow fantastic fruit. So not only do people want it, it, well they want it because it's great. So,
Drew Thomas Hendricks 8:59
how would you describe the clarksburg Aava and what makes it unique?
Craig Kirchhoff 9:05
First of all, first of all the soil, the soils in Clarksburg are some of the some of the best you'll find in the world. They're just a Louisville eluvial soils you can grow you know, so many different so many different products here that that are kind of kind of unique to the area that that can be grown here but clarksburg clarksburg we always talked about the nice Delta breeze is that you know it's gonna be could be 100 degrees today but but five o'clock the Delta breeze kicks in or tools is found and that's kind of it makes for makes for a really mild place to to grow some some some extra grapes
Nancy Kirchhoff 9:45
in 15 minutes or 20 minutes out of Sacramento as soon as you cross the bridge. You know how we all have temperature gauges in our cars and our dashboards now immediately drops five degrees as soon as you cross the river you know, out of out of the heat Get the city and on into the country. It's just a different climate
Drew Thomas Hendricks 10:06
feels so good. I don't want to throw it into the kids and what what was it like growing up on the vineyard? This is before you're making wine. We were just kind of growing grapes. Maybe Casey are Clayton or Emma, tell me about this growing up on in Clarksburg?
Casey Kirchhoff 10:25
Well, I'll speak that both Clayton and I were were older and both of us couldn't wait to get out, I guess from a small town. We both were excited to go off to college. And click the state business I studied design and didn't think that we would end up here another 10 years down the road. But you know, it's really it's just a, it's just a gorgeous place to live. And, like mom mentioned that people are great out here. So that kind of drew us back into agriculture and then obviously, doing business of our own. That which that was, you know, familiar with growing grapes and how to do that. And Clayton can speak to how he got into wine, but he started becoming started making wine. And that really kind of confluence of well. We've got a winemaker, the family got grapes. Let's do a project. So that's, that's how this whole project came came about. Yeah, I don't know, Clayton, what brought you into wine.
Clayton Kirchhoff 11:49
The lifestyle wine. Mine's both a little bit of a rural lifestyle and you know, pears, food and enjoyment and, and life all together. And so it was pretty, pretty quickly after I graduated from college, I realized that that was that there was something special and that that, so I moved back and yeah, just kind of became a sponge and just read a lot, learned as much as I could. And that brought me to Napa. And ultimately, the possibility for us to make our wines. The three that I worked at, allowed us to, at some point allowed us to produce some wines in their facility. And that's kind of when it started to take off as a business, I guess.
Drew Thomas Hendricks 12:38
I'm always always curious to learn the stories on what, especially with the children, the way they leave, and then come back and what draws them back. As far as you Emma, tell me about Clarksburg, in your experience in joining the wiener.
Emma Kirchhoff 12:53
Absolutely, um, I was fortunate to spend most of my childhood and young adulthood on our home ranch and that we you know, take a lot of pride in and get to really watch it grow. It did mean that there were Saturday mornings after a week of of all the activities in high school, waking up at five or 6am and dragging your friend of mine out with me to the vineyard. So it was kind of a different, a different way to grow up. But clarksburg especially is such a wonderful community that's geared towards this kind of lifestyle. There's a wonderful FFA chapter Future Farmers of America at Delta High School. That helps me kind of integrate my my home, my home farm life and my my school life as well. And kind of cultivate a love for agriculture. And I see that a lot and a lot of my classmates and a lot of the people who leave the leave the area for a little bit and then come back. I have a lot of friends who right now are kind of moving back home or starting to take an interest in their family businesses. So it's a really interesting and special culture out in Clarksburg.
Drew Thomas Hendricks 14:14
It does sound really special, especially in the fact that you refer to as the ranch and the farm and pretty much all in agriculture is source. Oftentimes, we're talking to wineries and it's really just kind of about the wine and not really about. I mean, there's the vineyard vineyard talk, but it doesn't go beyond to greater agriculture. I want to spend a second about wine and we kind of talked about you had a vineyard as we'll make wine, but I always like to ask this question. I'm gonna ask Nancy this. Why wine? What excites you about wine?
Nancy Kirchhoff 14:46
Okay, well, again, like you said, we've already touched on the fact that we were growing grapes. But the younger Gen ration of in our family it was the inspiration to go to this step of making wine. For one thing, they've traveled the world but both of the boys and actually Ma is currently traveling the world and they and they have an appreciation for Wine, wine and food etc, etc. And then here's dad sitting at home with you know, so many acres of Chardonnay, just selling it so we're gonna do and wine in this region again promoting Clarksburg, but it is just it. The grapes produce good wine if the vintner can produce, you know, a lot of grapes went out of our district before but then this younger generation, Clayton and Casey have come home again, with the world skills and knowledge of wanting to to create, create that product and to do it and so kind of a no brainer. You got the fridge you got you got the talent to make it into wine.
Drew Thomas Hendricks 16:10
It's a perfect entrepreneurial medium for the fuel the passion. Yeah.
Nancy Kirchhoff 16:15
Passion is a big part of it. I have to say, wine is a no brainer for for when we started. Clayton is a natural winemaker. And he and through his tutelage, Casey has followed in his footsteps, and I'm very, you know, I can, I'm mama Kay. I'm very proud of these boys. Because they make just excellent wine. It's just good.
Casey Kirchhoff 16:46
I was saying I, I got into wine, kind of seeing it through Clayton's eyes who has really brought a passion to winemaking. And so I get to see him basically being able to what he's done with his winemaking style. And what we've implemented is really showcasing a certain place in a certain time. And that's what's to me it's so special about wine and vintages of wine is because it's a it's a snapshot of a year, you only get to make one product, you get to one chance to put it in into the tank. And if it goes bad, then you don't get to put it in the bottle. If it goes good, you get to put it in the bottle and share it with people. So I really liked that aspect of it. And really, it just showcases our land with this, which we'll get into a little bit later of, of maybe our ethos of we're trying to showcase the land and really just kind of let the grapes speak for themselves. So, you know, we really stand behind our product and what we're doing here because we're we're we're basically trying to be stewards of the land and share that land with as many people as possible.
Drew Thomas Hendricks 18:07
The snapshot in time that it's, it's been called a bottle memory and it's one of those things you get to experience you get to take that evolution as it kind of matures and see that expression that snapshot girl with you. Emma, you're I think you're in Spain right now.
Emma Kirchhoff 18:25
Yes, that's correct.
Drew Thomas Hendricks 18:27
Where are you in Spain?
Emma Kirchhoff 18:29
I so I live in a small town. It's actually very similar to clarksburg and how it feels but it's called teeth hogwash. It's an hour away from Valencia. Yeah, so I'm out here. I'm out here teaching English.
Drew Thomas Hendricks 18:47
Are you okay? So your experience of wine and vineyards in Spain? How compare that with your experience in Clarksburg.
Emma Kirchhoff 18:58
It's a little different. It's it's interesting to see because this particular area grows a lot of somebody new and so being able to kind of compare that to the process we go through with our our white wines, since we do create a lot of Spanish varietals. It's it's very interesting to get to kind of compare that and it's, you know, an abundance here. It's a very, a very, not wine centric culture, but it's there. They're very interested in their wines and they're very proud of it here as well in my in my town, and actually part of a tiny part of the inspiration for what got me out here in this Clayton because he actually had interned in Spain studying winemaking so his experience would be a little more hands on than my own with trying some Spanish varietals.
Drew Thomas Hendricks 20:00
culture. I mean, it's great to see the comparison of culture and I do think I spent a lot of time by was a wine buyer in Spain, and I do really appreciate the just the agriculture and the family run wineries there as well.
Emma Kirchhoff 20:14
Absolutely. It's awesome to see the cooperatives and and how involved even on a community, a communal level, how they all are involved in their winemaking out here.
Drew Thomas Hendricks 20:28
Oh, yeah. Lisa, we haven't heard from you in a little bit. Why why? Lisa had to step off
Casey Kirchhoff 20:35
for just a sec. Oh,
Drew Thomas Hendricks 20:35
that's totally I haven't heard from her. And it disappeared into the vineyard. Okay, see? Well, I have what you know, there's a perfect transition to what sets kerchief, points apart from, you know, the multitude of other wineries out there in California.
Casey Kirchhoff 20:58
So I think, I think what we're doing out here is, is kind of more similar to what you'd find in Spain on these old world wineries. We take an old world approach to our winemaking and we do things the way that that we want to see our wines turn out we take the extra step on if that means using our hands more than using machines, or we do native yeast in our in our cellar, which is not an easy way of fermenting grapes. We basically don't add yeast at all. So it ferments on its own. It picks up it's it's it's a tough way to produce wine somewhat because it's less controlled. But what we what really sets us apart is that we really, we focus on quality from from the day one when we and since we're a family winery, we get to we get to you know, starting the vineyards, we like to start by we grow organically in the vineyards, we don't use any pesticides, or Roundup in our in our vineyards. So, you know sustainability is very key to what we do.
Drew Thomas Hendricks 22:27
On the farm, I heard you just have recent some new additions to the new additions to the farm.
Casey Kirchhoff 22:35
Yeah, part of what helps us not use pesticides is we recently integrated some sheep into the vineyards, we found that they eat about as many grapes as they eat weeds cut. Yeah, we have to pull them we have to pick them up for the middle part of the growing year. But during the winter, certainly they do a great job and get out there and do our weeding for us and also help fertilize everywhere they go. So that's what we're doing sustainability. We also we also are non certified organic but you know we use mechanical weed control as well. And and that that aspect of sustainability it starts in the vineyards but it also extends into our winery, we we utilize solar panels on our winery to power a winery, we we don't use additives in our in our wines which we'll get into a little bit but basically we're just we're trying to be light on the land and create you know a better place than what we've done it so Nancy has looked into air it has planted some some hedgerows for us which will help that the native insects beneficial insects and yeah just we're constantly looking for ways to better grow excellent not only excellent grapes but an excellent environment on our land.
Drew Thomas Hendricks 24:22
Yeah, Clayton I was building off what Casey said about using just needed use. Talk to me about the the benefits and challenges of working exclusively with the materials that are in your vineyard.
Clayton Kirchhoff 24:36
Yeah, I mean, I guess the there's good and bad that comes with being kind of idealistic with our wines and the way we both grow the grapes and make the wines and so the the way we grow the grapes, and dad has molded this to the way we've decided To make our wines which is kind of low impact and so, you know, the dry farming we've talked about a little bit and we're growing organically and these things are difficult things to stick to, and but we have to believe that they result in a in a cleaner, more succinct version of the wine that that come from that plan so but the wine making is basically as simple as it can be, which is to add as little as possible. And that's kind of the kind of a core part of what I would call a minimalist or natural winemaking, which is just to, to not correct problems, but just basically be preventative. And so the, the difficulty is that we often we often we have to allow wines to ferment the way they will and we try to kind of coax them along with temperature and things like that. But we also have to be pretty, I guess I'd say judgmental, we get we have to be pretty picky about what wines we put to bottle and how we blend and what we choose to put into any given line. Because with fewer corrective measures, we we you know often have wines that just that aren't the quality so it's a little bit of a double edged sword where we have to stick to these these ideals to present lines that we think are the truest expression and but you know, ultimately we have I think I'd say a bigger margin that doesn't make it tomorrow because of that because we have to be a little bit more rigorous in our in our blending.
Drew Thomas Hendricks 26:52
I like to I like that rather than being your Creator or custodian but over and above all you allow the talent the vineyard to express itself and your biggest job is editing. Figuring out what doesn't fit that
Clayton Kirchhoff 27:06
Yeah, and that can that's you know, I mean editing is a tough job editors definitely are in there keep an eye in a good movie here you know, and that's Yeah, so one thing is a big thing for us and you know, it informs what we're doing right or wrong both in the winery and in the vineyard and you know, we make adjustments as we go along but you're when you're really limited by truly limited by what you you get you have to be a little bit more mindful of it. And so yeah, that's kind of what we kind of tried to stick to for our wine making is just kind of allowing it to follow what we call the energy be put into into the vineyards
Drew Thomas Hendricks 27:49
great expression is it now let's do kind of crafting your vision and editing things and what what is the current often winery expressing? How would you describe your wines?
Clayton Kirchhoff 28:03
So yeah, unfortunately, Gabby, my wife isn't able to join this class, she would be probably a better advocate and she's a great teacher in her own right she can and really is really good, able to vocalize things but I guess I'd say in general the the wines tends to be I would say especially the whites are on the leaner side that we want them to be to have a solid amount of acid that lets them stand up and pair with food and be you know, wines that of stature I guess I'd say are ones that have some some good structure. They also that being said that the native yeast ferments allow them to kind of have a richness through them even though they are what I would say leaner and more acid driven wines. So you know, any winemakers aiming for balance any any wine grower anybody growing grapes is looking for balanced finds and and and then ultimately balanced wines as a result of that. And so I think our wines are, I guess I would say generally balance though maybe a little bit less alcohol or richness than than then some wines out there are certain A gets into it does bring in that kind of Richard elements of the whites, which we think is a is a good balance for that wine. Growing Chardonnay in Clarksburg you can often have some tropical notes and some some more exotic flavors and so having some richness to go along with that we find is really beneficial. But the wines are all neutral barrel fermented and aged for the most part so you're not getting a lot of oak impact. It's really fruit driven. And I'd say again, a little bit of mineral minerality based on the acidity in the wind just kind of the house style And then we get into reds which we do some I think little The reds are based on what blends we can accomplish by utilizing grapes that grow really well. We have you know, some standard standard French and Spanish Fridays that kind of make the base of some are blends with Cabernet and and tempranillo is really a standout for us and then we have some blenders that bring us different aspects that we get to use in in blends like the red table blend and the home ranch red each are kind of individual blends, so we get to make some variety of wines and then we get to utilize some of some smaller varieties that we have in really small quantities as as blenders as well. So kind of a little bit about the the Red Book program that we have, I guess.
Drew Thomas Hendricks 30:52
You mentioned the varietals and I wanted to ask Craig from the time you planted your the first vines are curating the vines How has the vineyard makeup evolved over the years?
Craig Kirchhoff 31:04
That's it's interesting. I started growing production Chardonnay and for several different sound sources always you know, commercial Chardonnay and and once we started playing with the playing with the idea that we were going to that we that we had had a product that we could could use actually all you know all of our children decided to hey, we would like to be involved in and have some input into it so along with input they also put their their own money into the first the first three acres of vines so I on the ground but they own the vines on the ground and so we we just decided we decided we were going to experiment with several different similar things and see which one work and so you know, varieties wise we do like Clayton said we have we have a fair amount of temper Neal and panache and cam and then we dropped to some smaller some smaller acreage is of Petite Syrah and Mourvedre. Graziano and Barbera and, and then we also moved to the whites and we incorporated the Chardonnay of course. But at the same time we went into to try and try several different white varietals. So we we started with Renee Holt and Alboreto and, and Shannon Blanc, which was we were kind of happy to bring Chenin Blanc into the fold. Because clarksburg was kind of was kind of built on Chenin Blanc, I mean, it was one of the first writers that that really, really got a foothold out of clarksburg was was shedding so, so, so, you know, and actually, you know, we, we tried to find the bridles, Clayton having spent some time in Spain, we look for varietals that, that he was familiar with, from Spain, and we really feel like we have a pretty similar climate to, to, to an area's pain that he was asked so we, you know, we focused on the temporary or the operational. So that's, that's, it was always it was, as we said, it was an experiment. Let's see what will work and what will work and we really haven't found anything that doesn't work. Yeah.
Drew Thomas Hendricks 33:41
Family effort, vineyards like that. Lisa, I gotta, I gotta bring into this discussion while I have you here. What's the like joining the Kirchhoff family and being part of this vineyard. Oh,
Lisa Kirchhoff 33:57
you're gonna record that answer. I think kind of almost parallel to Craig and his comfort of Midwest to Clarksburg. I saw a lot of familiarity in this family in mind their their larger family. But they took me under their wing as soon as Casey started bringing me around. And again, I think kind of that I also have a Midwestern background. So they're worth ethic and the hospitality in both this family and in Clarksburg was really drew me in and then also, again, to kind of be a part of watching them grow and being a part of it, you know, I remember really early coming up to visit and Kate Mansi would pull me in and say we're having this discussion can be a part of it and and so kind of hearing You know, the conversations and hearing everybody's opinions, and I very quickly offered mine maybe that was warranted or not. I was never, never shy to jump in. They may regret that now. But, um, yeah, it's been, it's been great to be to be a part of it and see them grow into this as well as grow in the community and kind of continue to draw attention to the ABA. And it's, it's really inspiring to be a part of something that you're proud of, you know, I'm proud of this family and proud of the wines that we make. I'm not a big wine drinker. I don't know if we've covered this already. But Casey and I tried to start a brewery and we got shut down real fast. So you know, I, I didn't drink a lot of wine, but I like our wine. And not maybe because I've helped pick the grapes or stomp the grapes or sell the tasting room. But it's, um, you know, when somebody says what you want for Mother's Day, I'm like a bottle of rose say please, like, so I think it's, it's something that I enjoy. And, again, that family orientation of wanting to just all be together and do something that we're all proud of, that we can put our name on. And we really put a lot of effort to.
Casey Kirchhoff 36:21
Yeah, I don't know if you can see it. Well, when she disappears, this is our home Ranch, find us on the video, you know, Lisa helped us be hand planted this year, back in 2010. Yeah, come back or go away sometimes disappears into the vineyard. We had planted it and drove steaks by hand, I remember that, that when it wasn't, it wasn't cool that day that we you know, and we all we all went out there and I think that's how at least has been in this family nicely is that she's not afraid to roll up her sleeves and, and do the work. We're a small operation, we have to do things, everything that that is required of us in order to produce this product. So that's why you see all of us on screen because we've all just had a big part in getting it to where it is today.
Nancy Kirchhoff 37:13
Casey Can I piggyback on that, because I wanted to correctly say that she said she's enjoyed watching them grow. She's enjoyed watching us grow and been such an integral part of that growth has brought so much to the table and so much to the Kirchhoff wine brand that that we didn't didn't have the time to do and she's like Casey said, from from every aspect but a lot of things that none of us had any skills in Lisa has brought them in with with the tasting room and with the would you call it marketing and and events and all these things that were not we weren't capable of doing and she has done so she's not watching from afar, but she's watching inside the circle. So what I wanted to say, Oh,
Drew Thomas Hendricks 38:09
I love this is such a special episode, do a true family all just combining it and talking about what it's like to run a vineyard. Since you're one one side and they say oh, it's a group effort. It's really fun to actually have the whole group here. Well, not the whole group, but as many people can do
Lisa Kirchhoff 38:30
that as a group effort.
Drew Thomas Hendricks 38:31
Emma what were you gonna say?
Emma Kirchhoff 38:36
I was just gonna add Yeah, we are missing Gabby as well, um and it's been really cool to watch her help us grow in another sector as well that we didn't have any experience in before Gabby works in the glass industry and so talk about you know, Clayton finding this like missing puzzle piece it's it's just been really cool to see her literally fit into our family as well as into the family business. So, so quickly in some Well,
Drew Thomas Hendricks 39:11
class industry is that's that's being here and 2022 is supply change. US industry is a big topic of conversation.
Clayton Kirchhoff 39:20
It's a tough one. I joke often that I glass glass was so bad I married my rep. And we actually glasses so bad that Gabby brought Lisa into the glass. Also working for a Taxco company that's big in both glass and aluminum and packaging and, and yeah, they've both been very, very successful in working for them and it's but if it is a nice thing that kind of complements. What we do, it definitely makes it we understand a little bit about what goes into packaging at least and can it maize is I think a little bit more responsive specifically for small producers, you know, large breeders have the ability to batch and buy big, big lots at once. And so to have some insider insight into that has made us a little bit more limber as a company, I guess.
Drew Thomas Hendricks 40:19
For sure, for sure you don't have a barrel maker hidden behind
Nancy Kirchhoff 40:25
the grandkids
Emma Kirchhoff 40:27
Hey, I still have to find somebody you guys so I got
Lisa Kirchhoff 40:32
added to the checklist, Emma,
Casey Kirchhoff 40:34
I'm sure there's some girl makers there.
Clayton Kirchhoff 40:38
There's a couple of weeks
Craig Kirchhoff 40:40
we'll set up this is family by committee we are always looking for for for for friends and spouses to come in because we always need to help.
Emma Kirchhoff 40:53
An application at this point
Nancy Kirchhoff 40:58
has to pass muster with your brothers so good luck.
Drew Thomas Hendricks 41:04
So So what's what's the like? Visiting curse I'm sure everyone now listening is dying to visit. Emma Tell Tell me about what the what the experience is like visiting the tasting room or visiting.
Emma Kirchhoff 41:16
How could you not want to hang out with a group of like, like Kirchhoff I love our tasting room. I love being in our tasting room, I miss our tasting room stuff every day, I text them all the time. Our tasting room is a really special place. It's any in a in a location called the old Sugar Mill. Yeah, and it is quite literally an old Sugar Mill. I think it was built in 1934. And it's it's just this really interesting rustic brick building with gorgeous outdoor space. In the springtime, it's absolutely lovely to get a glass of wine and go sit outside on the lawn and watch, you know, children play. But our tasting room is is really special. I think I think it's a very welcoming environment. Like when I when I go wine tasting, I'm looking for location, I'm looking for a place that looks pretty, maybe that I can take cool pictures in as well as how it feels when I'm walking up to the bar. You know, you don't want to be necessarily intimidated by by who is greeting you. And the the tasting room staff that we have are so open and lovely. And it just I think it makes for a really great experience. People come for our staff and they stay for the wines and they stay for the family. And our staff really is our family. I definitely consider Tina and Erin and Sheila and all of our all of our tasting room staff to be our extended family. For sure.
Drew Thomas Hendricks 43:06
That sounds sounds fantastic. And how many wineries are in the old Sugar Mill tasting facility
Emma Kirchhoff 43:12
14 1314
Drew Thomas Hendricks 43:18
That's kind of fun. You can kind of get around and kind of sample sample the variety from the community talking about visiting in the tasting room. You guys just came off one of your big events, which I'm so bummed I missed your wine and swine. Talk to me about that.
Craig Kirchhoff 43:40
Well, I'll say My job was to cook was to cook this wine 80 pound 80 pounds. We we've done this for five, six years, I don't even know and we we shut we shut down for a couple of years but but we do it in our front yard. And we have a very nice grass area and we It started out as exclusive for club members only and and we had such a such a call for people that wanted to come that we expanded it out that that we let we let other people come and you know, I think this year we're probably about 150 people came out and and had live music
Nancy Kirchhoff 44:27
and Lisa can speak to Yes, Lisa runs our events here at property.
Lisa Kirchhoff 44:34
Well as Craig kind of mentioned them disappearing again. I don't know whether go forward or backward. Um yeah, so we had about 150 people out this year. Again, kind of how everything else has grown. I think one of the very first times we had this event it was just come alone up there on our deck with her little ukulele and every She's come out and she came out with two more people and then she came out with five people and so the music gets bigger and bigger. But we we've kind of left that she's a little piece of that puzzle that really puts the perfect vibe into that day. It's it some reason, it always lands on the hottest day of the week. But once the shade comes in, it's really nice. Again, it sounds modest when we say it's in the front yard, but it's actually out in Clarksburg. The yards are pretty large. So we're, we're able to fit a lot of people. But the tasting room staff comes in. And we get to really go by and talk to people. And we'll open up the house and let them see the property. And this was something we had been doing a couple of years in a row. But definitely during the pandemic years, we really opened up the house for private vineyard tours also. So in addition to the tasting room, people can book an opportunity to come out to the ranch and you can pet the sheep and get information about the hedgerow plants and go into the cellar and pick grapes off the vine no matter what stage they are in the process. You covered nervous we might let you see a punch down or do a punch down
take all the help. But so I think if you if they haven't if somebody hasn't already come out to the tasting room or come out to the ranch for a private tour. Sometimes these big events are really fun to to just relax and enjoy and bring out your friends that haven't maybe experienced with us or have a different type of experience. So if you're looking for a bigger event or a more intimate event, both those options are available through either the tasting room a private tour or through events.
Drew Thomas Hendricks 46:55
That's fantastic. Craig did I hear that you cook the soy you were the chef for this event?
Craig Kirchhoff 47:01
I I have a roaster box. It's called A ka cheana And it's you put the pig inside and put charcoal over the over the top and cover the top and put charcoal out at four and a half hours later you take it out and and serve it.
Drew Thomas Hendricks 47:17
Those are fantastic. I did have the opportunity to use when the ones man
Nancy Kirchhoff 47:28
it was good. It was the best pig ever this year. I
Drew Thomas Hendricks 47:32
must say I'm fantastic with the temper Neo.
Craig Kirchhoff 47:36
Yes, it was for sure.
Drew Thomas Hendricks 47:39
Yeah. Kind of jumping around here but talking about visiting the visiting the winery. You're talking about petting the sheep. Now these aren't just any old sheep from what I know. These are the little ones
Lisa Kirchhoff 47:55
baby dolls. But
Drew Thomas Hendricks 47:58
we had quite an experience about three weeks ago I think was calving
Casey Kirchhoff 48:03
for birthday Norman. First we had our first lambing session and with with we we got sheep on the property two years ago and this is our first lambing this year and I read that there's about a 5% chance that you can have a breech baby come and sure enough, on our first night we had two to use give birth and one of them was was breech. So we got to become veterinarians very quickly. And
Lisa Kirchhoff 48:41
doodle when you do.
Casey Kirchhoff 48:43
Yeah. Those are ageing.
Drew Thomas Hendricks 48:48
So one person will fix this and the other person was actually fixing it and a couple of people were supervising.
Casey Kirchhoff 49:00
Yeah, and deliver some sheet or some some cash out in Nebraska. And so he was our he was our mentor during this. And it was just quite quite a harrowing experience out at midnight entering the stars and wasn't quite sure how things ended up. And sure enough, we delivered a breech baby about about midnight 1230 In the morning, and both both mother and the baby survived and we're pretty proud of that.
Drew Thomas Hendricks 49:30
Yeah, I wanted to bring that up because that just shows that whole family getting together just figuring out and watching the filmmaker larger was Was she
Lisa Kirchhoff 49:40
literally all hands on deck.
Nancy Kirchhoff 49:43
Well not on deck.
Craig Kirchhoff 49:44
That is amazing. What you can find at 1230 in the morning on the internet when you need something really badly. You can look something up on the internet.
Drew Thomas Hendricks 49:54
That's so so fantastic. Lisa, I want to shift with no segue Talk to me about your labels in their art.
Lisa Kirchhoff 50:03
Well kind of to bring back he kind of talked about like the expression of the wine and the expression of the grapes. I think there's something about each one of us that brings to the table that there's this artists and, and and in different ways, whether that's in the vineyard or in the winemaking. And a big tribute to the creativity in artists in our family is to Nancy with her photography background. So all of our labels are in the layout of a Polaroid. And each label has their own distinct image. The majority of them are photographs, some of them, Nancy has taken some of them Casey took some of them, I took some of them. We've had other people kind of contribute to them. But for the most part, they've all been taken by us. And the majority of them all feature a heritage oak tree that's on the property. So you'll kind of see different ways of looking at it and views of it, as well as capturing the Delta itself, or clarksburg itself. And then you can drink a bottle of wine and sit underneath that oak tree when you come out. So again, you're kind of connecting with the property and with the family in that sense
Emma Kirchhoff 51:21
that they cover all of it.
Drew Thomas Hendricks 51:26
Family, your lamb, you're cooking, you're making the wine, you're taking the pictures, you're it's end to end and end DIY. I love it. I love it. So as far as that oak tree is that in the is that on the front yard where the it's a great, great logo on your label.
Casey Kirchhoff 51:53
Yeah, that's our home ranch. On the Home ranch Red Label, you can see a shot of the ran all of our reds are housed Right, right along. It's kind of backs up to a levy there, we're located on a slew. And all of our rents are grown right there and our whites are about another five minutes south of our location. So definitely, it's worth the drive out if anybody can come out to do a ranch tour or come to one of our events. It's our little site. And we're just really happy to be able to be stewards of it and share it.
Drew Thomas Hendricks 52:37
That's fantastic. What I'm
Lisa Kirchhoff 52:41
not it's Craig's photo from China
Nancy Kirchhoff 52:47
but it's a reflection of some trees. Yes. Just not our tree.
Drew Thomas Hendricks 52:53
Yeah. Um, are you gonna send some sphinx photos from Spain for the dump?
Emma Kirchhoff 53:00
Well, I'm gonna have to you know, listen the the creativity in this family I think was spent by the time we got to Casey so photography has never really been my thing. But maybe I can have my students to a competition to see who could draw the best tree and contribute somehow
Drew Thomas Hendricks 53:27
so is there as we're kind of wrapping down here I'd like to everyone to kind of just go around and say one last thing that really some of that comes to mind something you want the listeners to know about Kirchhoff Wines. Am I starting with you
Emma Kirchhoff 53:43
on the spot here um, honestly I'm getting a little misty I just looking at looking at my family here. Kirchhoff Family Wines is really special and I miss every every single bit of us quite a lot while I'm here I miss the home ranch I miss even as as hard as being the harvest intern was this last this last fall? I miss waking up and Casey texting me Do you want some coffee and him rolling in a little later and I miss getting to have my nephew's come out and give me a hug while I'm out. In the in the vineyards. And being a family business is so central to us and so central to who I am as a person and now it's it's just been wonderful to watch us grow. And you know, I'm really thankful for this opportunity to get to share this with a whole new whole new crowd of people. So I hope that we're coming through how we how we are as a family, I think I think each one of us brings something really special to the table and I think we've been able to kind of show that here. So
Drew Thomas Hendricks 54:54
we say okay, see,
Lisa Kirchhoff 54:55
I would say the thing that comes most to mind is um authenticity, I think we work really hard and what we can do. And as you've heard time and time again, we're hands in everything, I think we do have a problem with asking for help other people, which we probably should do more, but we may not be the newest, brightest, shiniest, most expensive, but we're authentic, we're true to who we are, we're true to who we are, as a family. We're trying to really pay tribute to the land and the region, and highlight that. And so what you see is what you get. And I think that's why people not only fall in love with the bottle, but they fall in love with the property and they fall in love with us. And we're not trying to sugarcoat anything or hide anything, I think, I think you can taste that in every glass that we are putting, putting everything we can into this. And whether you like it or not, we're having a fun time. Most of the time.
Casey Kirchhoff 56:15
Yeah, I think we're just a big part of our ethos is trying to shine a light on this, this region, which has been it's a it's a tiny little, you know, wine region, the ABA that could and we're trying to showcase the best quality that we can, and go out there every day and and improve and make that best foot forward. So that so that we can, yeah, showcase what what the land here has to offer.
Drew Thomas Hendricks 56:49
Very good. Clayton
Clayton Kirchhoff 56:51
Yeah, I think, well, they were just a follow up, kind of each person family, and then I think kind of authenticity. And, you know, I kind of add in that it's a, we pry, I think, pride ourselves on it being a true product. You know, I think the authenticity is great, but we also it's a it's a true product, we can all kind of stand behind and it it, it delivers our family story. And it, it it's something that we really love sharing and having people be a part of, and it's meant to be accessible and enjoyable. And you know, not you know, wine can be pretty fussy. And and we can I really enjoy that I can share our wines with people and be really proud of them and know that it can be a wine that people can enjoy regularly and be a part of their lives. And I think that's kind of what I think is really important for us to have something that is true and in real both at the same time.
Drew Thomas Hendricks 58:01
Very well said. Yeah, I'd say Craig saw because you
Nancy Kirchhoff 58:09
it's hard to piggyback on that. They the kids have said it, you know, we're very proud of, of what they've done. Because they've done it, you know, it's like, I can't even have all the working and all the things that Casey who who has the brunt of the day to day operation is just an incredible renaissance man, if he can do everything from you know, designing this to making the wine. Clayton's is skilled at winemaking and his and his knowledge of wine, Emma's A joy of life and all this, all these things like I can't, I shouldn't list them out individually. But it makes a fan of farm family so proud. Like Casey said earlier, the first thing they wanted to do out of high school was get get out of town and go go to the big city, but they're back. They're back and they're making it better and they're not making they're only they're making it better for all of us and for their own kids. So it's really it's really cool. Like
Craig Kirchhoff 59:26
whatever of what everyone is, has set has just kind of wrapped up here. I think, you know, starting out first with with the community we're, we're, we're we're proud of We're proud of our kids and our family because we we are community minded and we're all about Clarksburg. We're all about the area that we that our kids have grown up and we're we're growing our grandkids I just wanted to throw in because because we started about six or seven years years ago working on a project in Clarksburg, the high school, we realized that there was a there was a real lack of vocational training in the biggest industry in the area. And that was that was that was vineyard. So group of people got together and we we secured a couple of acres of donated ground and and people contributed money, vines, steaks, labor, everything. And we put in a couple acres, one an acre of cinderblock and an acre of cat proc, and we sell it, we the high school students, and the junior high students that have put it have planted the grapes, put the steel on the ground, put the straws in, they they do everything they
Nancy Kirchhoff 1:00:49
make the wine, yeah, that would not be legal. But but it's a, it's an educational project that from the get go to, to now producing wine. It's Craig's been a big part of and, and it's really cool. Really cool deal. Oh,
Craig Kirchhoff 1:01:06
that was, you know, and last year was our first actual producing vintage, we bottled 20 cases of Chenin Blanc that we're that we're selling, it's all going into, it's all going into a scholarship fund for the, for the graduating seniors that are going to anybody that wants to, that is going to move on and get into an egg based egg they study so so that that was a little bit about what we like to do for the community. And the other thing was, was, you know, everybody's talking about family, it's probably every, every farmers dream to have that have this, his kids come back and come back and work on the farm in some, you know, some way or another for either for a harvest or full time. And that's not that's not always easy, you know, we, there's things that you can say to an employee that you cannot say to your sons, or your or your or your, for your in laws. It's just a different dynamic, but we still make we make it happen and, you know, some, some days, some days, we have disagreements, but we we all sit around the table that night and have dinner and come together as a family in the in the business end so so that's, that's, that wraps up our family. I'm pretty, pretty nice. I think
Drew Thomas Hendricks 1:02:35
it's amazing. So, so good. So good to hear this story. So good to hear it. Casey where can people find out more about Kirchhoff Wines
Casey Kirchhoff 1:02:45
currently, we're mostly sold just on online at our website kirchhoffwines.com and in the tasting room at the old Sugar Mill, we are starting to expand out into a few retail locations. And so hopefully, you'll see our wines around town a little bit more as time goes on. But the spot is to come to the source.
Drew Thomas Hendricks 1:03:11
Or you go if you're looking for a true expression with Family Wine. There you have it. Thank you so much, everyone, for joining us today.
Outro 1:03:22
Appreciate it. Thanks for listening to the Legends Behind the Craft podcast. We'll see you again next time and be sure to click Subscribe to get future episodes.