Last Updated on July 23, 2021 by rise25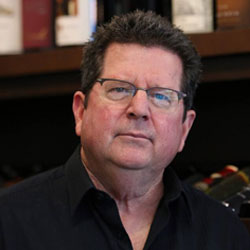 Michael Bergin is the President and CEO of Bergin Screen Printing and Etching. Bergin Screen Printing and Etching provides unique and cost effective alternatives for paper wine labels, including screen printing and hand-done etching. Michael founded his company in 1989 as a small artisanal studio focused on public relations. He has since expanded to an 82,000 square foot studio where he and his team produce over 100,000 bottles a day.
Here's a glimpse of what you'll learn:
Michael Bergin explains his company's journey and how it has grown over 33 years
What's the difference between etching and screen printing?
Michael explains the process behind hand-etching wine bottles
How having a hand-etched or screen-printed label can create a world of difference for wine producers and brands
Michael delves into his company's screen printing process
Why should wineries choose screen-printed labels rather than traditional paper ones?
Michael discusses where he believes the art of screen printing will go in the next few years
How unique wine labels make smaller brands stand out from larger competitors
Michael mentions some wineries and producers he admires in the wine industry
In this episode with Michael Bergin…
Are you a small wine brand struggling to keep up with the larger competitors? What if there was a way to transform your brand just by customizing a new label? Michael Bergin can give you all the answers.
Michael Bergin is the President and CEO of Bergin Screen Printing and Etching, a company that provides unique and cost effective alternatives for paper wine labels, including screen printing and hand-done etching. Michael has been running his company for over 33 years and is the expert when it comes to crafting stunning wine labels for brands of all sizes. He's here to tell you all about it, and why you should consider throwing out your paper labels.
On this episode of the Legends Behind the Craft podcast, Drew Thomas Hendricks has a conversation with President and CEO of Bergin Screen Printing and Etching, Michael Bergin, about his process for creating wine labels. They discuss the benefits of having a screen printed or etched wine label, how to make your wine brand stand out, the process behind creating individualized wine labels, and much more. Stay tuned!
Resources Mentioned in this episode
Sponsor for this episode…
This episode is brought to you by Barrels Ahead.
Barrels Ahead is a wine and craft marketing agency that propels organic growth by using a powerful combination of content development, Search Engine Optimization, and paid search.
At Barrels Ahead, we know that your business is unique. That's why we work with you to create a one-of-a-kind marketing strategy that highlights your authenticity, tells your story, and makes your business stand out from your competitors.
Our team at Barrels Ahead helps you leverage your knowledge so you can enjoy the results and revenue your business deserves.
So, what are you waiting for? Unlock your results today!
To learn more, visit barrelsahead.com or email us at hello@barrelsahead.com to schedule a strategy call.
Episode Transcript
Intro 0:03
Welcome to the Legends Behind the Craft podcast where we feature top leaders in the wine and craft beverage industry, with your host Drew Thomas Hendricks. Now let's get started with the show.
Drew Thomas Hendricks 0:19
Drew Thomas Hendricks here I'm the host of the Legends Behind the Craft podcast where I talk with leaders in the wine and craft beverage industry, from logistics experts like Alexi Cashen who enables wine importers to move their product efficiently around the globe. To today's guest Michael Bergin, the screen printing and etching business creates wine labels that go far beyond those traditional paper. Today's episode is sponsored by Barrels Ahead. At Barrels Ahead, we work with you to implement a one of a kind marketing strategy. One that highlights your authenticity, tells your story and connects you with your ideal customers. Michael, in short, if you're a business looking to retain a winery for craft beverage producers a client barrels ahead we'll figure out a plan to make it happen. Go to barrelsahead.com today to learn more. Now before news today's guests I want to give a big thank you to Diane Strand. On last week's show Diane and I discussed the ins and outs of video production. Looking to incorporate video into your marketing strategy. You've got to check out last week's episode for some great tips. I am super excited to talk with today's guest Michael Bergin, president of Bergin Screen Printing and Etching in Napa, California. And I want to thank sensory branding expert Dr. Hoby Wedler for introducing us asked Hoby, who would be a great guest and without hesitation, he said, You've got to have Michael on your show. Now Michael is born and raised in Napa Valley, and launched his business 33 years ago. Over this time, Bergin Screen Printing and Etching is grown along with the entire wine industry. Today, they operate out of an 82,000 square foot state of the art production facility. They employ over 75 wine industry professionals and produce bottles for some of the most elite wineries in the area, a bourbon bottle. It's truly a work of art. Welcome to the show, Michael.
Michael Bergin 1:58
Thank you Drew, I appreciate you having me on today. It's a pleasure to be here.
Drew Thomas Hendricks 2:01
Oh, thank you for being on. So Michael, tell us a little bit about yourself.
Michael Bergin 2:04
Well, I'll try to encapsulate 33 years down to about three or four minutes. I came back to Napa in my early 30s. And I had an opportunity to start a public relations business. And then it kind of segwayed into being introduced to a small artisanal studio, who was etching wine bottle. And one thing led to another and my partner at the time, and I thought it was kind of an exciting opportunity. We might want to launch engraved wine bottles for the corporate world with corporate logos on wine bottles, pretty much But much like other edge specialty type of things. So we're going to launch that back in '89. And we're focused strictly on corporate America. We hired two or three artists and have been doing the work here in Napa Valley. And then in 1992, I believe it was Robert Mondavi Winery approached us to do a very special package celebrating Robert Mondavi. It's I believe it's pretty it's harvest. Oh, yeah. So from that, we really started to pivot to look strictly at the wine industry. And over the next six months, we got a great project working with Seagram Wine Company, which was a great marketing company back in the 90s. And we created the three liter distributor incentive. Yeah. Oh, we engraved a lot of stigma of labels for them. After that. Sebastiani vendors hopped on, Gallo hopped on. And so they were our bottles were probably in 1000s of restaurants all over the country, and many other wineries joined on as well, that we really started out as the artisan Etching Company through the 90s. We were doing a lot of work for cruise lines. At one time, we had 25 pitchers and painters just specifically for these particular markets. And then one of my great clients in mid 95 asked us to get into screen printing. And and for us back then it was a you know, nothing we really knew that much about the matter of fact, we were asked to screenprint filled wine bottle, which we don't do that we have furnaces that that we kind of laughed back in the day, we would print one color with an Air Cured epoxy printed bottle, put it on a shelf, look at it for three days and put it in a box. It was pretty primitive. From that I joined the National Association of Screenprint Decorators. I met a gentleman who at the time was a was a president of a decorating company outside the United States. He became a great mentor to me during the last four or five years. And then in 1999 and 2000, I heard a young print technician of the country to come down here and help me really build a screen print company. We had done some work. But you know we had a small furnace was only 40 feet long and three feet wide. And we launched a print division and this gentleman went to Italy and bought our first Italian print machine and 20 years later, we now have eight Italian or we have six Italian print machines, three furnaces that are 110 feet long. And we are printing all three lines running. We're printing 100,000 bottles a day, when way back in the day, we thought we were really something because we were printing 2000 bottles a day. Oh no, that's been the progression which ultimately got us to move from our last building, which was 40,000 square feet. We moved in here in January of 2018 into 82,000 square feet. And we still have probably the largest etching and painting artisanal studio in California, we have 17 full time artists natural. So we we still do a very large body of work, which is all hand done hand work. And you know, I say that we we have the greatest forgers in America and we can be produced Monet's Picasso's, there's, there's not a wine label that they cannot etch and paint and really emulate anything that's been thrown at us though. So it's been a it's been a great ride a lot of fun. It's the the etching, the commitment, the quality of etching was so ingrained in our people and in the industry. And then when we started to dabble in screen printing, we took their time to bringing in the expertise. And then bringing in the absolute best equipment that you can find all the screen print technology really is is a comes out of Europe, they've been doing it for a long, long time. And so the Italian to the fight of producers and makers of screen print equipment that we get to really, you know, see the latest and greatest technology of what they have to do. And then our latest machine, actually, we have three fully automated machines. And our two biggest ones are nine colors. And our latest one that we got in about two years ago, because of the multiple axes that it has in the machine, the bottles turn the screens turn. And we can also do at around bottles. So if somebody had squared bottles, or kind of an oblong or rectangular bottle, we could print that as well. Oh, wow. Oh, so we're, it gives us flexibility of people, whether it's a spirit thing, two, three, if somebody wants to come up with something, you know, very, very unique and different. We can look at that, you know, our machines are capable of not only printing the bodies, but the shoulders and the neck. But we have some, we have some pretty spectacular pieces of equipment that we're pretty proud of. Maybe we can have design designers and wineries really push the envelope on what can be done.
Drew Thomas Hendricks 7:18
That's amazing. So Wow, that's a that's a lot for the general audience. What is the difference? You started as etching, what's the difference between etching and screen printing, to a lot of people looks the same?
Michael Bergin 7:30
Well, for etching, it's truly a hand. It's really a hand process, every bottle. When you're editing a bottle, every bottle gets a vinyl stencil or a mask, you then have to take masking tape, you mask off the whole bottle, nearly got into it, then one bottle goes into a sandblast cabinet where you are then etching out the design with a stamp tool brought back out of the cabinet, made sure it's all cleaned up and then it goes into the paint department. And then imagine if you will that you've got a canvas that looks great because that's what the color of glass looks like on a wine bottle. Once you once you've cut the aggregate surface, it looks great. And then like an ash, and then a mate. And then think about it. Now somebody is bringing all the color back end it was on that line label with a paintbrush. Oh, we have we have some bottles that take anywhere from eight to 20 hours of labor to paint a bottle for a single bottle for a single bottle. We have spent because there are people we have wineries that literally give us famous art pieces. And they say Here it is, we would like you to etch and paint 26 liter bottles, because they're all pre sold to their wine club. And so we go to work in screenprint you're putting bottles through the presses or the print machines. And so our big machines, they can run up to 65, 70 bottles a minute. So our typical high speed line, we run double shift, we're printing 20 hours a day, our guys work 10 hour shifts. So every when are we have a high speed line one and two. And when they're both running, they're both producing somewhere between 40 and 50,000 bottles a day. So that's the difference. You have machinery on the screen print side, etching is truly artisanal. It's literally one bottle at a time, which is why they truly are one of the kind art pieces. And that's what makes them so special. And that's why they're so beloved.
Drew Thomas Hendricks 9:23
Yeah, so there's no no equipment out there that can do in an etch bottle. No, it's all just hand done. What do they look like pieces of art you see?
Michael Bergin 9:32
Well, it you'll see people have said the term Oh, we laser etch our bottle. Like I kind of call that nonsensical. There's little machines that can put a wineglass in there you can stencil Bob and Sally and their wedding date, which is what I call Ed specialty, you know, stemware which is wonderful, but when you're adding color field into wine bottles, you have to add a certain depth and be able to have the color field go in. So like the like I said, it's about one stencil per bottle. Somebody has to stand Less that bottle out. And then it's all hand painted. So So yes, it takes, it takes time, it takes effort. I think if people would go on our website, they'll see it notes. They oh my goodness, it's really handy. I, if I, if I had a nickel for every time somebody came into our shop, and they they tour our etching facility, and they say, My God, they're hand painted, I might say, yeah, I've been trying to tell you that for the better part of six months that it's really hand done. So you know, we love We love when people come in and take tour, because they're absolutely kind of gobsmacked about what it was like it is, it's truly magical. It really is. And we love doing, that would be a great tour, do you do offer tours to the public, we really don't we our tours are always open to our clients. So any prospective client or winery customer or any of our winery clients, they like to try to come in while we're doing their bottle fill those kinds of things. So and now more than ever, it's funny, just because I don't give them to the advent of zoom and the COVID shut down. And a lot of people, our clients are looking for contents, the more and more of our wineries are asking us to kind of do videos of their bottles being SD painted, kind of won the process, that we're trying to do that to be able to give them those videos, so they can put them on their website. And it could just give more power to their wine club members, when they see the bottles that they now own. They saw how they were made. So we're trying to pivot a little bit with our social media people to try to make some of those things available for our clients. Somebody if somebody called me out of the blue, you know, before COVID, I would say yes, if they if they were referred to like as an example, a winery has a really good wine club member. And they said, Mike, we have somebody in from Michigan, they would love to come down and take a tour, we would do that. But in terms of really being open to the public, we're not really set up to do that.
Drew Thomas Hendricks 11:45
Yeah, I could see that you the artists need to be left alone to create their art.
Michael Bergin 11:49
Well, and we don't sell you have to remember we we we make nothing that hasn't already been purchased by a winery client. And we had a retail shop and we were doing other things. But we don't every everything that we make is proprietary. And we've had people come in and say, Oh my god, you have that bottle, that bottle. Can we buy those? And I say No, you can't. You don't own them. It's the property of though it's the winery that I'm sure they did. They'd be delighted to sell you one of those bottles full of wine and about 1, 2, 3 $4,000 to go you know, get your checkbook out and go see him.
Drew Thomas Hendricks 12:20
Oh absolutely. And what a great, What a great idea to enhance a winery story, especially in the wine club. Because getting those bottles It is so special when you see it and then to show the behind the scenes just further helps. And that's, you know, Barrels Ahead, we help suppliers tell the story. Because that final bottle of wine, there's a lot that goes into it more than just the grapes. And your etching truly shows that.
Michael Bergin 12:41
Drew we've seen over the last four or five years more and more of our smaller producers they are they're ordering larger amounts of large format x bottles because their wine club absolutely loved them. And they're looking for something different. And they love to show them off in their wine cellar that repressor proud of them. I mean, they're really excited about the wine, it's inside the bottle. But obviously if they can bring a bottle like that, like that at a dinner party or or an anniversary and pretty spectacular.
Drew Thomas Hendricks 13:07
I'd always feel bad about opening it though.
Michael Bergin 13:10
Well, you want it sooner or later, you want to open them to the wine do pretty darn good too. So that's okay.
Drew Thomas Hendricks 13:16
The bottle will last forever, The wine inside unfortunately, will not exactly right. But more accessibly, though, is your screen printing. And now what what makes your screen process so unique. I know you've got the fancy machines for middle in the nine colors.
Michael Bergin 13:30
Well, I think what what separates us I think other decorators is the fact that we're all about color theory now. And by that I mean we are when we deal in high fire thermal plastic games. And so these are they come to us, literally like almost like a chunk of wax. And when we melt them, we get into a certain temperature we melt them, they go into the screen, and then it allows the squeegee to force it think through the screen onto the surface of the bottle. The bottles in good conveyed goes through a furnace of 11 180 degrees. Oh, there's um, you know, everybody starts sometimes with a Pantone book or PMS colors. There's over 3000 colors in that book, under that goes on line three, which is where we do all of our small production runs of 150 cases 250 cases, September, October, they're busy bottom line are they're busy crushing and you know, they're crushing their grades. They're not necessarily bottling. So we use those two months, every year where we can to experiment with color, and where we are some of the colors that are really intrigued the industry is we're really good at our blacks, a matte black, a satin edge black, a gloss black and we kind of add a different color to it because it's it's funny Where have you noticed over the last two or three years, suddenly black kind of really became Vogue, where if you see a lot especially on the higher end wine, you'll see a black, you see a black paper background, and then I'll have their branding icons on top of the black surface and we kind of chuckle and we say it's too bad the designer didn't think about screen printing it because when a bottle of red wine School, there's your black background that we can each go and take it a step further. And we'll add these black mats, that niche finishes. And then we print over the top of that, though I think what really separates us is we're not, we're not afraid to mix colors where other decorating companies, they'll, they'll go to the companies back east, they're all in Pennsylvania and Ohio. And they'll just say, well, customers call that a Pantone colors such and such, try to get as close as you can to it. And they'll do that, and they'll they'll send it out. But we're not afraid to mix colors. So literally, if you go into our showroom, we have over 200 Custom mix colors, and we say pick any of these. And if you want us to tweet something between color number eight and pillar number 10, we'll do that. So we we are, we're, we're real expert, I'm very competent on doing our gram mixes to come up with a color. And even if there's three different colors that we're mixing, it will make sure that if we do a run of 5000 cases 60,000 bottles are gonna look the same. It's though I think that's what really, that's what really separates us. And I think because of our our expertise, where I have guys on the production floor that have over 25 years of print experience, nothing fazes them, and I've got an art department, it's got years and years of experience with me that will will test the waters on how we want to do 360 degree reps, print up on a shoulder do doing godly type registration of color, color on color. So you know, we're probably our worst enemy when it comes to design. But we try to push the envelope all the time because we tell our designer design what you like pretend the sky's the limit. And when we get your package, and we'll help him along the way, we'll go okay that you went a little too far out. But path up, we got to bring you back a little bit. But we want we don't want to dampen their enthusiasm. So we'll we'll act as a consulting arm to them to kind of keep them on the rails. But in the same token, we want them to feel that they can really push us when it comes to color design for like I said full reps, top bottom shoulder, you name it, we'll work together in concert at the real one, I want to be a trusted supplier partner, you know that a client or a long or long standing customer, because at the end of the day, it's all about making that package step out. And this is what the vision and dream was for the winery. But we got to make sure we can execute it from a production standpoint. Sure. We like we'd like to be we like to be brought in on the front end. And in the smart guy really get that because they realize they don't want to have a production show on the backend. So the sooner they can bring us in and we help guide them a little bit in print, frankly, our guides and consulting it's free of charge on graded factory,
Drew Thomas Hendricks 17:34
that's pretty awesome. Helping is so nice for a designer to be told, just find the edge even jump off of it will put you right back on that edge versus giving them this long list of do's and don'ts where they're still designing this bottle.
Michael Bergin 17:48
Drew over all the years, I've seen too many designs, they've come to us. And I can tell production never had any input. And then we have to be the bearer of bad tidy and nobody feels good about it. So I'd rather say to the designer, when you're getting close, just you know, throw us some concept where you're going and we'll tell you immediately This is great. This is the challenge. Here's why this is that this is an absolute No, no. Here's why. And also the thing with us is the great thing about screen printing, you can literally go color over color or color as quickly as the bottle moves to the next station. If you're you know, if you're printing 60 bottles a minute, it's moving fast through it, it's the process. But whether it's metallic or regular colors, white red creams, blue and green, you can go color over color. However the thing that we use, we introduce precious metal. Whereas sometimes you'll see on paper you'll see like a foil color or a gold or a silver we use honest to god milled 22 karat gold and white gold for platinum and precious gold. So these are these are inks that are milled specifically for US and Europe in the Netherlands and Spain. And the thing about precious metals, you cannot put it on top of another color you have to trap around it. So these are things that are kind of tricking people in so we always tell this guy to go on laughs He got a six pillar package. The precious metal is the last guy going on. And so these are things because a lot of people love precious metals that we tell them to offer you the judiciously. They are milled 22 karat gold. So right now if you look at where gold was last year, when it could be four COVID our material cost went up by 65% in 12 months, money on the gold market. We tell people before you want to splatter precious metals all over one bottle, you want to think that that might cost you about 50 cents. So let's kind of dial that back. Maybe use the metallic colors and you know, use use of precious metals as the mag cents. And so they all get that if we all have a pretty good laugh about it's gonna say, yeah, we want to kind of, you know, be cognizant of what you're doing use of precious metals to really make an impact that then let's really make sure that we kind of, you know, deal with insanity prevail here. So, so those are part of the things that you get in screen printing that you can't necessarily get in paper but But don't get me wrong we we love. We're not about you know, bashing paper labels. We love packaging. That's incredible no matter what what the we see beautiful paper labels that have come to us. And we tell people you cannot convert this to screenprint this designer, get it out of the park. We will if we try to convert it, we will not do justice with it to it. But you need to stay there. Now on the rare occasion, where they said we don't care needs to be converted, it was usually because of a production issue. Hmm, maybe the corners got ripped up on the edge or there was a large, beautiful matte black paper, but it got ripped up in production. whatever it is they said, we're having too many complaints, we need to come up with something that is when we might change or modify design. But we are not bashful about telling people this is a beautiful label, leave it as is, let's do something else. Or in some cases recently, we have been doing combination packaging where we are doing putting a screen print design down. And then a paper label is going to say you know a bottom strip or over the you know over the lower part part of the bottle. A great example would be if people go to Michael David winery download I they have a beautiful package called earthquake. Hmm. So we have the we have the Richter scale that's going up and down like that, you'll kind of hear the earthquake. And we have the gray and then beautiful, precious gold going right down down to the center. And then they put a paper label over the bottom of it. So there's a beautiful example of nicomedia of screenprint and paper working together.
Drew Thomas Hendricks 21:28
That's a man I gotta check that one out. That sounds fantastic.
Michael Bergin 21:32
Yeah. So we're doing some some different things. I can also tell you, we we had a great client. We have a great client in Bogle and we converted their package called Phantom to screenprint couple years ago, and they are the first screenprint package that uses an augmented reality app. Oh, really? Yes, I'm sure people thought Treasury at 19 crime for the payment label when you do the augmented Ria. Well Bolger did that with their Phantom package in a pretty cool, so people should check that out. If it's called Phantom, either their Chardonnay or the red wine blend.
Drew Thomas Hendricks 22:03
I did know I did notice that they went to the screen printing, my screen did not know that they had augmented reality
Michael Bergin 22:09
From the back of the bottle. And there's your augmented reality, check it out.
Drew Thomas Hendricks 22:13
That's awesome. So you did list you did let some of the advantages of screen printing and there's money, what in a concise statement, like when when would a winery go for screen printing over traditional label. I know a traditional label could have textures and paper labels.
Michael Bergin 22:26
I think it's really about people that come to us where maybe they want to refresh their brand, or they want to get away from what they had. And they want to kind of update it, you know, we have a lot of people that well, you know, we have a lot of estate or reserve packages here in Napa Valley. And that's where we do we're doing, you know, two 300 500,000 case run. And so they had their top tier. But then we've also seen what both was done with Phantom. And we also have brand builders like klinker brick where they wanted to, they went in, they wanted to do something other than a paper label because they wanted to grow their brand. And so by by by changing that, they over the course of five or six years, they tripled their volume, you know, so so people want something different, we were able to in both cases, almost the design wraps all the way around the bottle. So it can be very tactical, it's extremely hard to take a paper label and wrap it all the way around a bottle, especially if you've gone top to bottom. And you're ultimately you're going to have to have a break, we can go all the way around a bottle without a break. And so so there's things that we can accomplish, that you can't always necessarily get in paper. And a lot of times we have, we have maybe 4050 wineries that we do, all of their bridal lines are all screenprint. But we have many of the others where we might screen print one tear, and then they use paper label for another tier. So the most of our clients are like that. So in the valley, probably I would say it's the higher tier that we spray in print. And let's say if they got more of a kind of a premium, or you know, kind of a premium level one and maybe sells in that, you know, 25 to $40 range that, you know, that might be paper. So it just depends on what their branding wants to do. But they want to try to be consistent, it just means they might eliminate a big white background, and we just kind of float elements on a reserved Pier, but it might be only 500k. And that's also, you know, direct to consumer, where some of the bigger wineries might have something where they're obviously going through a three tier, and maybe they've made 5060 100,000 cases. And they've kept that with paper. So it just depends on, you know, where people are, people have come to us and say, You know what, this is our winery. It's why it's still for this, we're kind of flat in sales right now, you basically have two choices, you know, Drew, you can either lower your price, which is a slippery slope, nobody likes to do that. Or you can change the package. So they come to us and say let's change the pack. And we don't want to do another paper brand, we want to do something different. So you essentially have three ways to get a label onto a bottle are actually just there for there's a paper label, there's a pressure sensitive label, there's a heat shrink sleeve and you have a big quantity for that. And then you've got screenprint so those are basically your four ways to get a label. Those are four areas that you go to if you're going to get packaging on the glass. And so I think that we just like to think that now that we've done enough of this over 20 years, that we are now in the conversation. So anytime a winery says, okay, we want to introduce a new tier, or this premium tier, what do we want to do, they sit down and say, well, we can go paper, or we can go screenprint. And that kind of go, Hmm, let's talk about screen printing. And so we can, we can talk about that I can tell you over the last two or three years, which really kind of come up in, we're doing a lot more white wines and rosebay. And the biggest thing is, is basically, they're waterproof. I mean, they're they come a long way. And paper labels that are, you know, they kind of really resist being getting foggy or extending in a bucket of water. But clearly, if you screenprint, the rose a package, or a white wine, you know, a lot of white light, a lot of wineries, they'll harvest the grapes, you know, in September, October, they're they're bottling in January, and you know, staying in Tang, and get ready to go and they're bottling and cold. So we've been winery that might by the time we drain that wine out and it hits the bottle, it immediately starts to condensate, by the time they get by the time it hits the label, or the label can stay on the bottle, oh, yes, oh, if you screen print the label, you follow the production end of it. But also, it can fit in a bucket bucket of water for hours on end come out and it looks gorgeous. And so and we also like the fact that especially with rose, we design elements to let the let the beauty of the color of the wine itself come through, like on a flint bottle that looks stunning. So maybe they have an imagery on the front, we'll put the back label information, we'll print it on the very sides. So that when you're looking at something, you don't get blowback from the backside. So these are just some of the aesthetic design things that we can do. And again, if you had a paper label on front and back, you're going to, you're going to kind of see through it, you're going to see that back label coming at you. So these are things that makes people kind of think from a design and aesthetic standpoint, less is more, we want to let the color of the wine show itself up. We have people you know, basically, you know, using beautiful bottle as an example I can show you. You know, everybody loves, you know, bottles like that you can see where they're, you know, so they're they're, they're beautiful, they're sexy, you know, they got gorgeous lines to them all themselves. So we want to try to lift the bottle really kind of stand out for yourself along with the color of the why. So we're seeing a lot of it. We're seeing a lot more interest in the white wine in the Rose a package over the last two or three years.
Drew Thomas Hendricks 27:32
I can imagine one thing I do have a I have a question Can with screen printing can you actually print to see the backside of the like, I've seen some different wines where if you look through the front of the bottle, you can see it the back of the bottle.
Michael Bergin 27:46
Yeah, you know, a knockout window. Yeah, you can look to it. Yeah. So we basically we're we're pretty on there, but we do it for the purpose. Yeah, you're looking right through the glass and kind of go Uh huh. It's almost like a portal. Yes. The backside. Oh, yeah, we can do that as well. That's, that's amazing. Yeah. So there, so you can just um, it's, you know, the world is so used to paper labels, because that's still probably represents. I want to say 95 to 96% of all packaging. Really? Yeah, ironically. You know, European, you know, the Europe, this is European technology. But you know, what do they normally screenprint there are high end spirit packages. Belvedere, Chopin, Grey Goose, I mean, we have the machine that saver France runs Grey Goose. I mean, so those clear, so the spirit packages seem to be what it is. But it's funny where you've got wineries in Italy, France and Spain, that have been doing it for generations. So as you will know, if you've been there tradition runs long and deep European wine families. So you're not about to convert any paper label to a different medium, or you know, some young new wine maker, he or she is going to have to convince their parents or the grandparents, we want to come up with a new line. And we might want to screenprinted the by and large, whenever I've traveled throughout this country, a very rarely Will I see a screen printed package. But that's why it's so nice to be here. And we call ourselves you know, we're the New World. Yeah, if you really think about it, we're much more open to different packaging ideas and things like that. So screen printing is really I think that I'd like to think that there's been a lot of work that we've done and a couple other companies that people have now seen enough of it, that they kind of go You know what, that's an option, that it's an alternative that I want to have in my design discussion. And that's really all we're looking for is we want to say, give us a seat at the table. You might be surprised by what we can show you. And and I think it's funny, a lot of people will come into our showroom, Drew and we have probably over 900 samples of what we've done for people. And people first come in and they're mesmerized by it and then they realize I haven't seen any of this stuff anywhere. And I say it's because Probably 90% of this stuff you'll never see, unless you went to that winery, and they sell it there or sell to their wine club, or they have some high end wine shop for maybe a few, the lesson pet restaurant account, you will not see it throughout the three tier system, because they do have to make, you know, the budget somebody in my packages, they're 200 to 1000 pesos. Well, if you only make 500 cases of Napa, cab or, Noma Zinfandel, you're not going to put that through any sort of a massive three tiers, you just gonna have an a volume, right? And so the once they see that, they're gonna go, oh, wow, this really is extraordinary, because they never see it. I mean, even in wine country, I can go to some of the nicer wine shops, and I'll see my stuff there. Because I know that they like to support the local wineries in Napa, and Sonoma and Mendocino. But you kind of get out of that area, and you don't really see that many screen printed packages. So again, I tell my clients, if you want to be different, just by being screenprinted, by the very notion that 90 plus percent of everything for paper label, you're going to be different, just by that very nature, maybe it'll make somebody go to that shelf and kind of go, What is this, like, we kind of go once they pick it up, and they kind of feel the metallics, and they kind of look at a bottle of going around. And that's I laugh with my clients is they got it, it's halfway to their, it's halfway through the cart, it's almost there, you know, so I have a lot of fun with my, my clients. And we talked about that, but it's all about differentiation as well. And so I think that that, in fact, between the colors that we're doing, and between the matte blacks and the richness of our metallics and what we're doing to soften those, we have some iridescent colors that are really kind of wild. So like I said, it's it is about color theory, and we have created these magical color wheel for designers that we can send them and it just, it's extremely helpful for them to see these wheels and to kind of go, Wow, okay, I, I really, I got a lot of options. And I and we say you have a lot of options. And so we are very painstaking, we painstakingly make these wheels of color that are that take a lot of work, but we just realize how important they are to a designer and our winery client, especially if they're in Southern California, or maybe, you know, they live in Denver, you know, this whole thing was zooming people all over the, they're all over the country. I mean, we're working on a package right now, the two brand people once in Denver, once enough, they connect up in upstate New York. And you know, because of COVID, they can't, you know, they can't travel out here. So this is a great way to help them, see what we can do. So it's kind of like, if you can't come to the mountain, then mountains got to try to go to you. And so and we are, we are so restless and ready drew for COVID to be over, because we have a lot of people that want to come in and visit us and we're ready. And they were in over all of our COVID protocols. And we're matched up and we have to be, but a lot of people still have a mandate, you know, from from their, their wineries, that they're just not making calls and not necessarily going places. So we get it, you know, and hopefully maybe by the summer, we'll start getting you know, more and more visitors again, because we kind of miss it.
Drew Thomas Hendricks 32:54
Yeah, we didn't really miss touring, we had exciting show and tell him he can't show and tell it's a little frustrating. Yeah, it's very, it's very physical object. It's so great. The way I ignite designers creativity with this color wheels.
Michael Bergin 33:05
Well, I think through that, you know, designer that it's a lot of fun when they come in because as a as a group, first of all, they're they're very creative, but they're also we're also all creatures of habit. And I think designer, if they're if they've never done a screen printed package, because it's flat color, every screen has a color. And let's say if you lay a blue over a yellow, you're gonna get purple, maybe in four color process, you're not going to get that on screen, but you're just gonna have a blue line over yellow. And so if the not to do with it, they're not going to feel as confident in designing with it. So if we get them in here, and they see within the showroom, it's like all the lights go on. And they're so darn smart. They kind of go, Oh, boy, I get it. I know what I can do, and what I can't do. So we make them armed and dangerous. And we love them when they come in are good. They're excited about nothing. Oh, now I get it. Because they just didn't have a lot of familiarity with it. Because they've been so used to designing for a paper label or a pressure sensitive label. So it's really cool when it come in, and they kind of they get it they said, Okay, I know what I can do. I can't I know what I can't do. But I think I can create something magical for my client here. And then we all work together collaboratively. And when we do that, it kind of a beautiful thing. So awesome. Yeah, a lot of fun.
Drew Thomas Hendricks 34:19
That's awesome. Where do you so screen printing? Where do you see it going over the next 10 15 years? What do you think the next step is? screen printing?
Michael Bergin 34:28
Well, I'd like to think it's going to continue to grow. Drew would that be nice? Oh, yeah. So it's, you know, we just have to continue to share the love and share the Word whenever we can. I think more and more as people are continuing to look at an alternative to paper again, and I've said it before, a lot of their paper levels are great, but they want something maybe a little different or maybe after a 10 year run, they want to change and refresh the package and they might want to consider an alternative. You know, you get a pressure sensitive label, what you what you really have done is the a screen print package, but with a clear substrate. You know, if you think about it, the PSL is clear. And you got your branding elements there. So really what it is, is, it's a screen print. So we want to have people that are creating PSL to think that you don't need to have the plastic, the, you know, the clear plastic, you can just go directly under the glass. But I think more your question, I think that we're gonna, we're gonna continue to see ink development, which is what we're excited about. So, and we'll push our ink suppliers. And if there's anything else that you can do, then we have a, you know, can we can we have this bright, you know, particular eight, you have to remember back in the day, just go back, back in 2001, and two, when we came through, and of course, lead with numbers, lead was taken out of a lot of things. Well, when you have lead and paint, you created some extraordinary colors, but we can lead out. And so, so they're always there, chemists are always coming up with ways can they give us more of those brilliant colors, but without lead, because we cannot have it in our we cannot have it in our thermoplastic inks. So we constantly push them and look at their technology does that we need to add this color, and you need to get it we we need it and I know you want to you can't have lead in it's the way you have. And they're working on it. So I think we'll see more things in that arena. I think what I'm going to see is it more and more people are going to look to possibly print up here. Oh, yeah. And so, I mean, they have to have a certain quantity, that's not outrageous. But I think more and more people are looking at that, that just that kind of know, the final dressing. You know, some people are now doing that. And they're doing you know, they got a cork and they're not doing a foil, you know, I kind of, I'm not sure I really like I really love boiled on bottles, I just like them.
Drew Thomas Hendricks 36:46
The naked look is takes, it takes a little bit of getting used to Yeah, the more I get it, but it looks like they forgot something.
Michael Bergin 36:53
Well, that's why I think they're kind of trying to do that for they're trying to maybe do that. And maybe by now they're looking at all their packaging costs. And maybe they do that. And then they they can eliminate the foil. But I kind of said I think you need the foil foil degree, but let us maybe decorate down below it or something like that. But these are options that people think about when they're looking at all their packaging. And so you know, the biggest thing I we like is that I think more and more designers are going to push us into color bands and color ideas that we haven't thought about. And so that's what I look forward to. And I'm excited about working with them, you know, whether we had, we have a couple of glow in the dark paints, but I think they can be better. And so and so and I want to know, you know, can I do four or five glow in the dark paints. So those are kind of a challenge. But so they're working on him. So it really gets it really gets back down to dealing with the ring suppliers. You know, what's what's the next hot thing that you're working on with color that we can then demonstrate on a wine bottle and show the industry to say this is new, it's doable is production friendly. This could be a mind blower designed in the right way. So I think that's really where I see it as more and more designers understand what can be done and screenprint more and more will embrace it as a possible alternative to what they're currently getting.
Drew Thomas Hendricks 38:09
Yeah. And push that will push it forward because there'll be demanding more and more colors or different variations.
Michael Bergin 38:15
Yeah. And so you know, so those are the things that we kind of look forward to me, from our standpoint, we're always looking at is, you know, the challenge for the small guys Drew is it you know, we have wineries that will never be bigger than 2000 or 2500 cases, there may be three or 4000 cases, that's the sum total, what they'll be within that three or 4000 cases, they have like 12 skews. They'll have 200 cases the bat 250 that 300 that toys, we look at things and when you look at that, by the time they start to look at those costs, paper, or other other options can be more expensive than screenprint to our job also was trying to say how can we give them the sterling package, but still deliver it at a price point that makes sense for them? Yeah, and focus we typically are a little bit on the on the smaller runs, where we're absolutely price competitive on larger runs, or a little more expensive. But it's all about the branding for what you're trying to create your brand building your there's their thing, the package is going to be critical to a wine, let's say that I'm selling for $22 a bottle, because there's going to be three tier. And unfortunately, you can't have the winemaker standing in Aisle three talking about this particular bottle of wine. So we need to come up with something to help them and that consumer gravitate over to that bottle to say what is this that I'm looking at and pick it up? Maybe reason those say I really love this look. I want to take it home and I want to try it. And so I'd like to think that that's part of the compelling story of what we have for brand builder says that we believe in the screen print medium because there's so few packages out there. If we design it correctly, it's going to make people gravitate to it and say I want to try it. No absolutely And then I say to him, we're gonna I will say to my winemaker, my wineries, they say, we will, we will ensure that we help you sell the first bottle, you better make sure you did your job because you're going to sell the second and the third bottle. You know, as long as you do your job on the inside of the bottle, we're going to kill ourselves and make sure that we do what we're supposed to do on the outside of the box. We'll guarantee the first bottle. Make sure they come back for a second. That's Oh, yeah, that's that is the thats the idea.
Drew Thomas Hendricks 40:28
That's awesome. That's great. As we wrap down here, I'm always I always like to ask, Who do you admire right now in the wine industry?
Michael Bergin 40:35
Boy, there's a long list, I would say in the valley. I've always admired Rombauer as a family business and the product that they produce. Kurt Venge is doing some incredible things along the trail with what he had done. I live with the guy doing it at B Cellar and O'Brien Estate and my small guys, one of my I'm a big fan of Fantesca Wines, and they they do some extraordinary work with us where we do a lot of engraved bottles for them. But everything they do is just over the top they don't you know, they don't spare any expense to make the finest mountain you know, mountain wines that you can get just, you know, from a small standpoint, I love Traindo over in Sonoma County. I've been doing wine for years, I would premiere other winemaker nights and I think also there's a Meritus Pinot Noir by Luke Kokomo. These are small guys out there that I really appreciate admire, what they what they do, you know, glass suppliers that we work with all of them, but no, we really love working with Tricore and ma Philbin, Encore we've known for a long time, Berlin, I mean, Faxcode. They've all been really grateful and gracious with us. They refer us business and we're happy to work with all of them. Oh, God, who else I mean, that's really our biggest. Our biggest interplay with other suppliers are the glass suppliers. We don't really interact with cork capsules. Good. That's all that's always on the final end so they deal directly with a winery. But in terms of people that I see out here that I've really done some incredible things from a winery standpoint. I mentioned Klinker Brick has been great client and I think they're doing all the right things out here in Lodi hope farms is another great artisanal producer out there in the Lodi or they're making some superb wine, you know down at Passerolas. You've got whole family there Triana brand. And we do a lot of work with Dell, Dell family vendors. It's an extraordinary winery down there, we do a tremendous amount of large format, actually, screen printing and etching. We're thrilled to be working with them on some exciting thing. So in an up in Oregon, we do some beautiful work for it ABC winery, we do a a seven screen five color package for their rose and then a five color package for the Rieslings and we we love the we love the printing in the packaging, and we're thrilled to be a supplier partner they seem to deliver, you know, a beautiful bottle of wine for a really great value. And so I really admire wineries, you know, that can somehow continue to do that, you know, I I get a script out here. But like I said, there's about 40 wineries that I mentioned, you know, Sue and I you know I love them all. But
Drew Thomas Hendricks 43:03
It's hard, you have so many clients it's hard to mention everyone.
Michael Bergin 43:06
Yeah, because they just as a you know, you know from small to large man, one guy in particular landlord vendors, he's been up on a mountain, and I've done work for Miko for like 1819 years, gentlemen, but again, classic case we do like six, seven our cases. That's what he uses off his mountain vineyard. So and we we have a lot of guys like that we just love to death and we want to know, we want to continue to be there as a critical partner, we want to continue to see them prosper. And when they bring us a new idea and a new concept. We're we're excited and delighted to try to, you know, be part of that success though. That's my story. And that's it.
Drew Thomas Hendricks 43:40
That's a good that's a pretty good story. Today, we've been talking with Michael Bergin of Bergin Screen Printing and Etching, Michael, where can people learn more about your company and you?
Michael Bergin 43:49
Well, the best thing is to start by going to our website, www.berginglass.com, Berginglass.com. And I'll give you a tease because we have a nice website that we're going to be launching a brand new website that's in development, and that should be rolling out early to mid July. And we're pretty excited about that. So make a note and check us out, same website address. But check this out mid end of July and I think you'll be excited by what you see.
Drew Thomas Hendricks 44:19
Oh, that's gonna be great. Oh, well, thank you so much, Michael, for joining us on the show today.
Michael Bergin 44:24
Drew my pleasure and you have a great afternoon. Thank you. Thank you.
Outro 44:31
Thanks for listening to the Legends Behind the Craft podcast. We'll see you again next time and be sure to click subscribe to get future episodes.