Last Updated on September 12, 2023 by nicole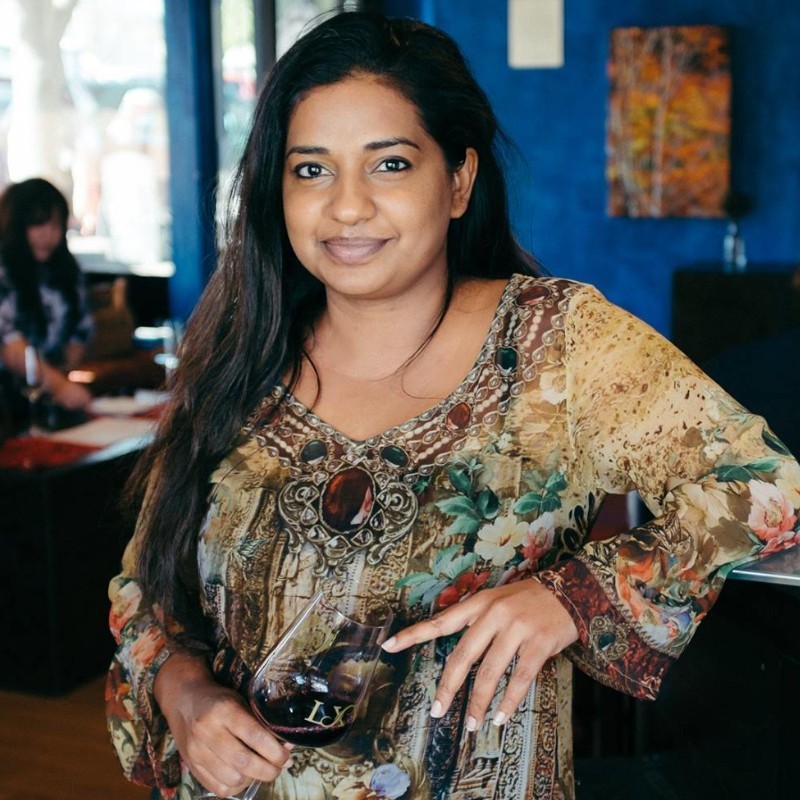 Neeta Mittal, Founder of LXV Wine, embarked on a love-fueled journey into the world of wine. Meeting her now husband, Kunal, in Berkeley, they both discovered their shared passion for wine. A chance visit to Paso, reminiscent of India's close-knit communities, ignited their passion for winemaking. As one of the first Indian women to own a U.S. winery, Neeta takes pride in fostering connections through culture, food, inspiration, and community. LXV Wine's recognition as a Top-10 tasting experience in America reflects her commitment to creating meaningful wine experiences.
Here's a glimpse of what you'll learn:
Get to know Neeta Mittal as she shares her journey into the wine industry, the allure of Paso Robles, and the community spirit that defines it
Explore the meaning behind LXV and how LXV Wine brings culture into the wine tasting experience
Listen as Neeta delves into the art of flavor pairings, how they complement and contrast wine
Explore unique spice pairings with each LXV Wine release and the importance of intensity and personalized flavors in pairing
See as Neeta discusses the dream of making wine in Saint-Emilion, Bordeaux, and LXV's journey to realize it
Delve into the Willow Creek area's terroir and why it's ideally suited for Bordeaux varietals
Explore Paso Robles' transformation over the last decade, particularly its growing reputation for Cabernet and Bordeaux varietals
Find out more about Neeta's role on the board of the Paso Robles CAB Collective and its significance in the Paso Robles wine industry
The impact of big players in the wine industry swallowing up smaller ones and whether it's a concern for Neeta and LXV
Discover Neeta's soft spot as she talks about their furry friends
In this episode with Neeta Mittal
Explore the world of LXV Wine with Neeta Mittal. Join us as Neeta shares her journey from discovering Paso Robles to creating an immersive wine experience. Learn about LXV's unique tastings, flavor pairings, and Bordeaux varietals.
In today's episode of the Legends Behind the Craft podcast, Drew Thomas Hendricks and Bianca Harmon are joined by Neeta Mittal, Founder of LXV Wine. Discover the allure of Willow Creek's terroir and the Paso wine scene's evolution. Neeta's role in the Paso Robles CAB Collective and her perspective on industry changes add depth to the conversation. Plus, stay tuned for a heartwarming discussion about Neeta's furry friends. Cheers to wine, culture, and more with LXV Wine!
Resources Mentioned in this episode
Sponsor for this episode…
This episode is brought to you by Barrels Ahead.
Barrels Ahead is a wine and craft marketing agency that propels organic growth by using a powerful combination of content development, Search Engine Optimization, and paid search.
At Barrels Ahead, we know that your business is unique. That's why we work with you to create a one-of-a-kind marketing strategy that highlights your authenticity, tells your story, and makes your business stand out from your competitors.
Our team at Barrels Ahead helps you leverage your knowledge so you can enjoy the results and revenue your business deserves.
So, what are you waiting for? Unlock your results today!
To learn more, visit barrelsahead.com or email us at hello@barrelsahead.com to schedule a strategy call.
EPISODE TRANSCRIPT
[00:00:00] Drew Thomas Hendricks: Drew Hendricks here. I'm the host of the Legends Behind the Craft podcast. You know, on the show I talk with leaders in the wine and craft beverage industry. Today we've got a really special guest on the show. It's Neeta Mittal from LXV Winery in Paso Robles. Bianca and I will be talking to her. Welcome to the show.
[00:00:16] Neeta Mittal: Thank you so much for having me. I'm just, I'll put myself on mute whenever I feel like there's a lot happening behind the scenes.
[00:00:21] Drew Thomas Hendricks: Oh yeah, no.
[00:00:22] Neeta Mittal: As I was explaining at our ranch and we are getting ready for a busy Saturday tomorrow, so.
[00:00:28] Drew Thomas Hendricks: So you're at the ranch, so give us a little rundown of LXV winery and kind of how you got your start in the wine industry.
[00:00:34] Neeta Mittal: Sure. Oh, where did we get my start? Although I'm doing the podcast alone, really, our story for LXV is the story of Kunal. That's my husband's, me and wine. So Kunal and I met about 21 years ago in, in Berkeley. I was studying and he was working, and Napa kind of became our thing to do. And if you've in, when you're from India, we didn't grow up with wine.
So finding each other. This is sound to sound like a corny, romantic movie, but finding, finding wine,
[00:01:07] Drew Thomas Hendricks: I love good origin stories.
[00:01:09] Neeta Mittal: At the same time. So all, all through our relationship, even after we got married, we were traveling all over the world pursuing various wine regions, but more than that, and I probably it's because of the culture that we come from.
The idea was just not the pursuit of wine, but always culture. So we pursued wine culture more than we pursued just wine. So everywhere we went, it was all about finding a place. What I realized is no matter where in the world you go, a dining table is where everything comes together. The wine, the food, the culture, the language.
You really understand that slice of life when you are at somebody's dining table. And so we've literally sought that out over the last 21 years that we've been together. And Kunal is a pilot by hobby and it was an unplanned landing in Paso that introduced us to Paso. And it's, I can't explain it and I say this all the time.
It reminded me then, and it reminds me every day of India.
[00:02:18] Drew Thomas Hendricks: Really? How so?
[00:02:19] Neeta Mittal: There is a lot of intimacy between people here. You've been to Paso, right?
[00:02:23] Drew Thomas Hendricks: Oh yeah.
[00:02:24] Neeta Mittal: There's this connection. There is this fabric that exists, which is very reminiscent of how people are in India and how people live in India, and how communities are in India.
So for me, it was interesting finding Paso was like finding home. That had, I think Paso happened first and then the wine happened.
[00:02:45] Drew Thomas Hendricks: Then the wine.
[00:02:46] Neeta Mittal: Yeah. So once we found Paso, we ran into Ron Denner, and who's a legend around here and he sort of, it's an interesting story for some other time, how that happened.
But he pretty much guided us into buying, waiting for a property to open in Willow Creek, which is the Appalachian that we are in, because at that time, going back into 2012, there were no Appalachians in Paso. It was something that you had to be an insider in the industry to know about the Appalachians.
And the reason I bring that up is Kunal and I are here today because somebody in the industry, who not just somebody, a legend, a leader in the industry, thought that it was worth his time to spend hours and hours explaining what would be the best course for us if we, so that's, that's Paso for you.
It's one of those, it's one of those communities where it's always, you're passing, you're passing goodwill forward, and you are always taking care of somebody, and more often than not, that person takes care of someone else. And that's my experience with Paso.
[00:03:56] Drew Thomas Hendricks: That feeling of help and that camaraderie is something that's really. That's what I love most about the wine industry is that sense of just everybody kind of just helping and you see it really in its biggest expression and in Paso, from what I can tell. Now, stepping back when you went, so you were in Berkeley, what were you studying in Berkeley?
[00:04:15] Neeta Mittal: I'm an Indian. So what are your guesses?
[00:04:19] Drew Thomas Hendricks: Engineering.
[00:04:20] Neeta Mittal: There you go. So I, I had been master's in engineering and Kunal has his, he's, he's a tech guy. He's,
[00:04:30] Bianca Harmon: And I was gonna say some kind of doctorate degree. I met a lot of lawyers and doctors too.
[00:04:35] Neeta Mittal: My sister is OB-GYN. So there you go.
[00:04:38] Bianca Harmon: Okay. There we go. There we go.
[00:04:40] Neeta Mittal: So this apple fell far away from the tree because my mother's a -. My father is an engineer. And so me doing wine is something that is fascinating to them. So it's fun. My mom supports it with the idea that it is biotechnology. And my dad supports it because it's me and I'm, I'm like the son that he never had.
So but it's, it's fascinating for my parents because in India wine is still not a culture.
[00:05:13] Drew Thomas Hendricks: Yeah. Do they enjoy wine?
[00:05:15] Neeta Mittal: So my mom was here and Saxum is a few ranches up and the parents are great, great friends of ours. And they invited us to, invited my mom, Terry, and Pebble wonderful folks.
And they were serving Saxum. And my mom was like, no. Her generation don't drink. And so she's like, no, thank you. And I'm like, "Mom it's Saxum." And she's like, "No, thank you." And then there was LXV opened, we just this is when we were like 3, 3, 4 years old. And she's like, yes, LXV I'll have.
Because for her, it's about her something that her daughter has made. So, and then my dad, I have an interesting story. You know, I was visiting India. I always take bottles for them. Because, you know, it's to share with them. And my dad calls me a few months later and he's like, "Oh, I'm having a great time with my friends and we are all enjoying a bottle of wine." And I said, "Dad, I don't remember leaving a bottle of wine behind." And he said, "Well, remember that one bottle you opened and we never finished?" Like, Yeah. Six months ago." He's like, "Yeah, well, we put work, it's in the fridge, and my friends are loving it."
"Thank you so much, dad. That means a lot to me." And you know, that's what parents are, right? It's, it's, you can do, it doesn't matter how you do or what you do. So long as they know that you are doing it with the right attitude and, and doing, doing good. They will be very supportive. So that's, that's my parents.
[00:06:43] Drew Thomas Hendricks: Oh, that's fantastic. So what does LXV stand for?
[00:06:49] Neeta Mittal: Is 65 in Roman numerals. We're inspired by the 64 Sutras. So the entire Indian culture based on the principles of music, dance, sanctuary, architecture. When we talk about India having a rich culture and heritage. That's the fabric that we are talking about, but really that's, that's topical. But the depth of it is we are talking about pursuing life with, with a depth, with precision, and with harmony. Because each of these art forms preach that. So it's not about the exact art form, but the kind of the, the arching principle on principle on all of these is about that, about, about pursuing something that's meaningful and creates, creates an experience.
And to me, that's the pursuit at LXV. We pursue excellence, we pursue harmony, we pursue quality, we pursue, something ground big, breaking every time we want to do something. So for me, LXV was the 65th Sutra, hence LXV.
[00:07:59] Drew Thomas Hendricks: Oh my gosh. That's a great, great backstory. That ties in also with the way that you conduct your tastings and you were ranked at this top, top 10 tastings, and just constantly, it's just a, it's a go-to place and it goes far beyond just the wine tasting. It becomes a whole experience.
[00:08:19] Bianca Harmon: Yeah. I wanna talk all about that 'cause you really bring in the, your culture into the wine side of the tasting as well.
[00:08:27] Neeta Mittal: Yeah. No, thank you. Bianca, I just realized as I'm talking to you, we have to talk about puppies, but we'll talk about that later.
[00:08:34] Bianca Harmon: Yes.
[00:08:34] Neeta Mittal: I just realized, yes. I was like, wait, Bianca and I talked about puppies. So to me, you know, we, when we talk about wine, just to give you a context, Kunal and I, we were Burgundy in November. And we, we were driving and we drove up to the vineyards of DRC, Domaine de la Romanée-Conti. And DRC is like the Mecca.
It's like where you go, it's like a pilgrimage and being on those ground grounds of DRC. I can't explain it. I don't know if it has something to do with the fact that there is that legend behind it, but just being there and we actually trespassed and when it up and and and it's cute because Google Maps allows you to do that.
So it's fun. Anytime I feel nostalgic, I'll just go into Google Maps and do that whole thing where you can actually drive. You guys know what I'm talking about. And so. I think wine is not about the content. Wine is not just about what's inside the bottle. Wine is also a lot about context. It's the intent of why you make it.
It's the it's the slice of that time. It is so many countless hands and souls that touch this, this bottle of wine in esoterically all literally. And so I've always been cognizant about that. Not in wine, but, but in other forms. I'm, I'm a professional dancer. I used to, I did some movie making in LA and so to me, it has always been important that.
Things that have a deep meaning, like art, like wine, have to be understood not for just what they are, but what is the context of it? Why did somebody make that or why did that story happen? And that's what I felt I wanted to extend to a wine. A lot goes into making wine. Doesn't matter if it is as big as you know, Dowell or J. Lohr, Justin or a small, no matter what your size, a lot goes into making a bottle of wine. And so I wanted to make sure that the context we create around it does service to that, to that wine. And so we've, but it also had to be something true to who we are. It something that we've experienced and it is our point of view.
Having traveled a lot around the world, we have picked on a lot of, lot of flavor experiences. And so that's what we brought to LXV. So two things that we sought out were: A. We are always in pursuit of the best terroirs, best vineyards of Paso, which is how we ended up in Willow Creek. And, and the second thing, we are always in pursuit of flavors that will create a context for them.
So for example, I was in Ireland in April of, of last year. And we had a fish that was wrapped in seaweed. They call it dulse. D U L S E. And I was so fascinated by that. So I wanted to bring that sort of that ocean flavor into LXV. And we have a Right Bank. We are a Bordeaux house. And so we have a Right Bank Bordeaux wine that.
Always reminded me of something very sultry, something very deep. And so we paired our, our Right Bank Bordeaux, which is a Cab Franc Merlot with this Irish Monk, we call it the Irish monk. And it has the dulse seaweeds, it has pink peppercorn and nutritional east, and a few other spices. So the idea is, In service of the wine, if it is a Right Bank Bordeaux, what is it that we want to notice, people to notice about this wine?
And bring in complimenting flavors. We bring in contrasting flavors. At the end of it, it becomes like this amazing dance where when people put it together, it just escalates. But we bring it always back to the wine because the idea is for them to understand that these, it is not a food and wine pairing.
I always, people that tell, tell people that it's not a food and wine pairing. It's really a, a way for us to understand the wine in its depth. That's really where the flavor pairings came from.
[00:12:59] Drew Thomas Hendricks: I like that it's a way to understand the wine in its depth. That's a, that's a very, to think about it.
[00:13:04] Neeta Mittal: 'Cause you know, when, when we present a wine, if we talk about acidity and, you know, that happens a lot when we all in our industry, we talk about wine, we get comfortable with certain jargon. We get comfortable with tannin and acid and alcohol and body and minerality, which is a hot topic of debate nowadays.
But when we are explaining it to someone, it almost like they want to understand it. They really are trying to, but there's no reference for them to understand what we are talking about. Now if I bring in, for example, something that has lemon peel in it or tamarind in it and say, okay, pair. Now you'll understand the downs of acid with dance.
Oh, acid with acid. If I'm talking about this wine has a lot of fruit on it. Okay, that's great. What do you mean? Well, let me bring in some spice into this context and see how it contrasts. And now you're like, whoa, I appreciate the fruit even more. And that's the whole idea is how do we showcase our wine and our terroir in a way that's more relatable to people, and then it takes a life on its own.
Where people who, who taste it, they just, they get excited about it. They do their own tastings. A lot of people do their own LXV tastings, which is fun. And then they will cook with it and you know, and the whole nine yards.
[00:14:22] Drew Thomas Hendricks: That's fun.
[00:14:23] Bianca Harmon: How often are you changing this up?
[00:14:25] Neeta Mittal: Every release of wine gets its own spice pairing. So I would say in a year we have at least 10 different pairings and then it changes. Now some stay absolutely favorite, which our club members insist that cannot be changed. So there was this pairing called umami with black truffle salt that we did for God, seven, eight years, which our club members were like now. But, so we took black truffle salt and we gave it a base.
So we did cumin, onion, ginger, garlic with it and some black lava salt. And it gave the, the truffle a base and we always pair it with a spill, which is a Cab Syrah blend. And so it just is beautiful harmony between those. It's gorgeous pairing, really highlights the fruit on the Syrah, the pepper on the Syrah, the fruit on the Cab.
Finally though, this year I said, okay, now that's great, but let's try something different. We are doing white poppy seeds, tamarind, and a few other spices for that. So,
[00:15:29] Bianca Harmon: And how is it presented?
[00:15:31] Neeta Mittal: Is it just a little spice or how do you, how are you presenting this to where they taste it?
So what we do is we use a very neutral cheese. The one that we use at LXV, it's called Ewenique, like a, like a cute take on, on sheep. And it's a neutral sheep milk because the idea for the sheep to the, the cheese to be just a carrier.
And then we sprinkle our, we sprinkle our spice on it. And can I ask you for a huge favor, Nick? Would you mind just doing some cheese and spice so I can show it? Thank you. Even just some.
[00:16:08] Drew Thomas Hendricks: Oh, that'd be great.
[00:16:09] Neeta Mittal: Thank you so much, Nick. I appreciate it.
[00:16:11] Bianca Harmon: Yeah. 'cause I have this visual of you just like giving them a cube or a bowl of all these spices and like taking their finger and licking it. And then, so I'm like, how are you doing this?
[00:16:22] Neeta Mittal: It's interesting. So when we get somebody who's vegan and I just need like a little bit so I can showcase on the gold plate maybe. Thank you, sir. Nick is fantastic. I love him. So one of the things that we do at, you know, sometimes we will have somebody who's vegan, who's who walk in, and we don't do vegan cheese because vegan cheese is very nutty and it kind of interferes.
So I just give them the spice without the cheese and you won't believe it. How intense and lovely that experience is. So we'd rather have people just take a pinch of that, that blend and taste it. Because the intensity pairing is a lot about flavors. Yes. But it is also a lot about intensity. And if you can highlight the intensity.
Gold plate plates are right in the rack. Yes. You'll see them. They're on the top. Thanks, Nick. If you can highlight the match, the intensity, and the more you highlight the intensity, the more it plays with the wine. So the people who don't use the cheese -. I had a master song. David Clancy was here during a dinner.
And one of the things that he talked, we presented something for dinner. But along with that, I also was putting the spices on the table or the flavors and saying, you know, – it up. And he said, "Well, how does the chef want us to have it?" And, and I told him, I said "No, because this experience is personal."
Something that is muted for you. Especially for me because my palate is heightened since I'm Indian, so it takes a lot to kind of impress my palate. Something that's muted for you might be a lot for somebody else, so, and they got it. Then they were like, oh my God, I'm loving how much it's interacting.
And then somebody would be like, oh, I'm loving it. Just the way it's been presented. And so intensity is very important when we talk about food and wine pairings. And we always forget the third component in pairings is the person. Pairings are very personal to people. If you talk to somebody in a certain generation or certain region, they want their pairings to not be too exciting because the palate is not used to that.
And then you talk to somebody from India. The our palates are, I like to say they're, they're, they're painted already. So it takes a lot for us to, to understand and appreciate. In that way sometimes I feel we are cursed because we don't, we miss the nuances on things at times. And so it's the third component of having that person is so, so important.
[00:18:46] Drew Thomas Hendricks: That's very good. Very interesting. In the pre-show you were talking about, you have 200 spices in your, up there.
[00:18:52] Neeta Mittal: More than that, yes. Let me see. Yeah. Nick is preparing something, so, oh, perfect. That's fantastic. Thank you, Nick. So can you guys see this?
[00:19:02] Drew Thomas Hendricks: Yes.
[00:19:03] Neeta Mittal: There you go. So this is how, so this is a spice that we recently did.
This is how we presented, not, not the amount. So it's, it's small cubes. For each of the pairing, we will have about four to five cubes, and there's a lot of spice that's dusted on it. This one we pair with our Sauv Blanc and we call it Khmeli Suneli. It's actually a spice that comes from Georgia, the country of Georgia, and it has marigolds, fenugreek, coriander, lavender.
It has close to I think 19 different spices. This is the most complex spice we've ever done. The idea to do the Khmeli Suneli was to, was to really pay homage much to the complexity of the wine. The Sauv Blanc that we have is absolutely fantastic and really, like I'm having these bitter notes coming from the fenugreek.
Lot of herbaceousness coming from it as well. The marigolds give a lot of florals, all the nuance that you would find in a Sauv Blanc. And so
[00:20:11] Drew Thomas Hendricks: Who comes up with all these spice combinations? Is this you and, and your team or?
[00:20:16] Neeta Mittal: It's a team effort. Really what we do is
[00:20:19] Bianca Harmon: A whole another take on the wine and food world, which is
[00:20:23] Neeta Mittal: You know, there is one thing. What we have to understand is wine and food pairings. We have a classic origin. You know, Italian wines are, or rather the Italian food and wine, French food and wine. These are very classic. They're very regional.
[00:20:42] Drew Thomas Hendricks: They kind of grew up together. The wine and the food, just kind history. Just combine them.
[00:20:50] Neeta Mittal: Exactly. And now we talk about a world that is infused with flavors literally and metaphorically. But now cumin is something that used to be very special to Mexico and India. Now it's used in so many dishes, even in Michelin Star restaurants that are French. Or you have Lapsang Souchong tea that comes from China. A lot of mixologists are using it now.
We used it as one of our flavors for our another Bordeaux where we had Lapsang Souchong tea and, and a few other spices. That's the culture we live in now. So when you are represented a dish at a restaurant, it's nine out of 10 times. If you are a foodie, it's not going to be your typical old-school regional dish unless you are going to a typical old-school regional restaurant and that's different.
And so how do you, now that the chefs are playing with flavors, how do we play pay with wine? And we tend to go back to our classics, steak and Cab. Well, it looked before, but the thing is now you get steak that is topped with caramelized, or not caramelized onion.
That's more a burger thing, but it's topped with say, a compound butter. Or with something to do with truffles or with, with – mushrooms. Well, now the high note in that dish is not the steak anymore. The fact that food pairs with the protein, it's way 2008. Wine actually does not play with the protein anymore.
It plays, yes, with the protein, but also everything else that now you get with that protein.
[00:22:26] Drew Thomas Hendricks: Yeah. All the spices and flavors, that's. Yeah. That's incredible. I mean,
[00:22:30] Neeta Mittal: Sauces and herbs and flavors.
[00:22:32] Drew Thomas Hendricks: Next, this is next. This is next-level stuff. I, I love it. I love it.
[00:22:37] Neeta Mittal: I know it sounds next level, and I tell people just come because once you experience it at LXV, it feels like, okay, it's doable.
It's not that complicated. I tell people that you have, when you go to a restaurant and you order something, ask them to give you three glasses, empty glasses of wine. You look cool doing that anyway.
[00:22:56] Drew Thomas Hendricks: Yeah.
[00:22:57] Neeta Mittal: Ask them to pour three wines that you wouldn't have thought of. And I'll tell you, there are times when you're like, wow, I did not expect a Zinfandel to pair with this, I'd not expect a -. Or one of my favorite pairings right now is a semis sparkling wine that comes from Greece. And it is, it's singing with Indian food right now. And so we do a White Sangiovese at LXV and we are doing a five-course menu with just that one wine.
Just one White Sangiovese. Everything that's happening in the kitchens is very experimental right now. And I feel like the wines need to kind of step up to it now when it comes to food and wine pairing. So at LXV, we're very, very traditional how we make our wine. Very classic to, to a huge degree.
In fact, we are making wine in Saint-Emilion in Bordeaux this year.
[00:23:53] Drew Thomas Hendricks: Are you really? Wow.
[00:23:55] Neeta Mittal: That's gonna be exciting. So we're really going back to the roots there. So very classic in how we make a wine. Very with it, with how we present our wine.
[00:24:05] Drew Thomas Hendricks: Wow. And that's gonna be an LXV Saint-Emilion.
[00:24:08] Neeta Mittal: Yes, yes. So I dunno how the nomenclature's gonna work. We are.
[00:24:11] Drew Thomas Hendricks: Yeah. That's, that's great.
[00:24:13] Neeta Mittal: But our dream is, this would be with a winemaker. Consulting with a winemaker. Our dream is someday to actually make wine in Bordeaux. We are a huge Bordeaux people. I'm Left Bank Bordeaux person. Kunal is Right Bank. I'm all, I'm all about not only Left Bank Margot, so I say Koac has my respect.
But Margot has my heart.
[00:24:35] Drew Thomas Hendricks: You're all about, yeah. Right.
[00:24:36] Neeta Mittal: Yeah. And then Kunal is all about the, the Right Bank to the extent that he actually started a Cab Franc Day in Paso.
[00:24:43] Drew Thomas Hendricks: Oh, did he?
[00:24:44] Neeta Mittal: Yeah. Yeah, yeah, yeah.
[00:24:45] Drew Thomas Hendricks: There's some wonderful Cab Francs coming out of Paso. Let's talk about the Willow Creek area and the terroir and why it's so suited to Bordeaux varietals.
[00:24:54] Neeta Mittal: It's Willow Creek is very special to my heart. It's interesting, so Willow Creek, there is this traditional context of Willow Creek, where we are closer to the ocean. So, you know, it's cooler climate. So just for, for people who, who don't know much about the details of Paso, it's divided into 11 Appalachians.
Every Appalachian has a different fingerprint. Willow Creek creates a lot of notoriety, a lot of spotlight because it's a very special Appalachian that's closer to the ocean, has a lot of limestone. So we, I like to call it the white gold. And I'm saying that because I'm looking at limestone rocks that were excavated.
And we also have a lot of, you know, so with limestone you have the struggle of the vine and the, the complexity. We get the Templeton Gap Effect. So we have the marine layer coming in and cooling us down. All that has created like this really complex, complex to – Willow Creek.
But within Willow Creek, because there are so many aspects to various vineyards, there are these microclimates that it has created. My property is only 14 acres. It's not that big. From the front to the back of my property, the temperature difference is about four to five degrees. We are only 14 acres, so our property backs into Willow Creek.
And so have Cab planted on two spots. One is closer to the road, one is closer to the creek, and they ripen completely differently. The Cab of course, they're two completely different clones and that's contributes to it too. So what's amazing about Willow Creek is it has that like the higher.
Thank you so much, Nick. I really appreciate it. It has all that higher arching themes of what works in the entire appellation, and then within that there are these microclimates, which are very, very special. We just recently released a wine for the first time for the market. We've always, on creating a fellowship for LXV.
So it's always been with club members and with our tasting room. It's the first time, in fact, this month that we released a wine for the community or for the market. And it's a wine called Meso by LXV. And the idea is exactly that Meso climate sits between macroclimate and microclimate.
And Meso is, so in broad terms Willow Creek would be a Meso. A vine would be a micro, and between there is Meso. And we select sites where we feel would be the best representation for that varietal. So we just released a Meso by LXV for Cabernet Sauvignon, which is a continuation of Terry Hoage's vineyard.
It's a vineyard called Gateway. And we are retailing it for 125. The reason I'm sharing that is that's the audacity of what we do in Willow Creek. That's the beauty of the, of this terroir is these special microclimates that we have and one of the challenges that happens in Bordeaux is ripening.
Ripening is a big challenge and so you have to be very careful. What are the different terroirs? Because you want that long hang season. One complexity, but at the same time you want those grapes to ripen as well. And so far so good. It's been, it's been really good. I have two too-long clones on our property doing fantastic. So that's Willow Creek for you.
It's really the microclimates are really what define Willow Creek. And then within that also that I think Willow Creek is two things. It's terroir and Willow Creek is also a culture. Because we are, we have attracted amazing winemaking acumen to this area.
We have, you know, legends like Stephan from L'Aventure, and Denner and then we have Guillaume who's, who is, who followed the footsteps of Stephan. And then we have numerous, I mean Saxum who's street from here. All these people have also created a culture of Willow Creek, which is all about sustainability.
Being a steward. Being, doing the best practices not only for the vineyard but for also for the people who work in the vineyard. And I think that elevates LXV, Willow Creek even more. Because now you, you have a beautiful terroir. You have the best practices, you have stewardship, and so everything that you create, it is sort of that a waterfall effect when one affects the other. And what you finally get into the bottom is, again, coming back to that context. The context is beautiful. The intent is very, very beautiful.
[00:29:47] Drew Thomas Hendricks: Well, that's fantastic. Yeah. With Willow Creek now, it's really, I mean, over the last 10 years especially, Paso's really coming into its own with Cabernet and all those Bordeaux varietals.
I think if you go back to the early two thousands, I think the Tablas Creek and the Rhône varietals were kind of rule ruling the day there. But now I'm tending to think more of the Bordeaux varietals as I visit, and I
[00:30:10] Bianca Harmon: Yeah, Bordeaux is, I mean, the statistics, I don't like to code statistics just because wine should not be about, it should be about what's right for that land.
But just going based on that, if you think about, I have a friend who has, who owns Saddle Peak Lodge in Calabasas, and he moves a lot of wine, and his highest selling wine is the – . If you look at the highest selling Cabernet Sauvignons in this country.
It's Justin, it's J. Lohr, it's Dowell. Funny story, we were in Cent Milion a few years ago. That just the town of Saint-Emilion has about I think crazy number of wine stores, from what I hear, about 40, 50 wine stores. In just that one hill. And we tasted with one person. He found out we are from Paso, we have winemakers.
He's like, "Oh my God. We just opened Dowell yesterday." To be in Saint-Emilion on that UNESCO heritage proparea and have talk about Dowell that's about the effect and that impact our Bordeaux are having here.
[00:31:18] Drew Thomas Hendricks: Yeah. Daniel was on our podcast about a year ago, and he was talking about the, well promoting Cabernet and talking about the – and how 40 40% of Paso is planted in Bordeaux.
But he was talking about the yeast that he discovered.
[00:31:32] Neeta Mittal: More, more than 50%.
[00:31:33] Drew Thomas Hendricks: Now being used more than 50%. Now more than 50% of Paso is planted. Wow. Wow, wow.
[00:31:38] Neeta Mittal: Plantation. I would say actually close to 50% of Paso is bordered, is planted Cabernet Sauvignon and then the other varietals take a small slice after that.
[00:31:48] Drew Thomas Hendricks: Okay. Yeah, that just shows what, what an area it is and that a lot of that has to do with the CAB Collective. You're a member of.
[00:31:55] Neeta Mittal: The CAB Collective is, yes. So very proud to be actually on the board of CAB Collective. It's a consortium of people who are leading with Bordeauxs and Pasos.
So we have, you know, all, all the culprits Justin, J. Lohr, Asan, not I'm sorry, Austin Hope. I'm forgetting Ancient Peaks. And then that's how it started. And I was like, that's great, but we need, you know, us small guys are also doing fantastic things because what's happening is these large guys, they are putting these fabulous things into the market.
When somebody takes a bottle of wine in New York and picks it up on Chicago. And they say, okay, Austin Hope, and then they read Paso Robles. And so it's because of this distribution that they have created, that this influx of so much tourism into Paso. And then it's a small guys who then say, okay, now we can show you what happens on a smaller scale.
So the synergy is so beautiful. So now we at CAB Collective are creating a fellowship of the small boutique people as well. So, so hope is that in a few years, we become like a good representation of the big ones who put the product out in the market and us small ones, were kind of taking baby steps towards that.
[00:33:19] Drew Thomas Hendricks: That's what I love so much about Paso and I I, I'm always worried 'cause you see consolidation so much in the wine industry, especially up in Napa and Sonoma where the biggers just keep getting bigger and bigger and swallowing up the small guys. Are you seeing that sort of consolidation in Paso as well or are you afraid of that?
[00:33:37] Neeta Mittal: Afraid? No, not at all. It always brings opportunity to the region. That's how I look at it. You know, we know Gallo is big time now in to Paso, so Constellation is big time in to Paso. So not only, but they're into Willow Creek big time. Why not? You know, one of the thing about, about these companies where they have reached is because of how professionally they have handled wine over decades.
And how professionally they have permeated the industry. It's somebody who's having that two buck chuck. And I know it's not a fair reference to make when we are talking about Dowell and LXV and such, but that's what somebody had when they were. Maybe 18, 19, although they're not supposed to say that, but when they were of the young introductory age to then say, oh, what is this?
This thing called wine. Let me learn more. These are the conglomerates that make it happen. And then as the palates hone in, they're asking for more and more and more of focus and vision and quality, and that's how it filters down to us. So if they need to be a part of this pie. Why not? I'm all about, you know if somebody's done something well.
Even if it's different from the philosophy you stand with, because you cannot, not every company can be everything, but if they have done something well, then there's something to be learned from and to be benefited from. And so them coming to the area, I, I think it's going to be only fantastic. And then we attracting.
People like Alpha Omega who opened the tasting room in downtown Paso. Which is brilliant. You know, that's, that's the kind of attraction we are talking about. So Paso is attracting the big guys. It's attracting the fabulously notable guys from Napa, Helen Keplinger bought a property literally behind, behind my hill.
She's going to now make Bordeaux in Paso. I mean, I think Paso is at a place, it's like a magnet right now and it's, there's something for everyone.
[00:35:40] Drew Thomas Hendricks: I love hearing the positive. I mean, that is the best positive.
[00:35:43] Bianca Harmon: I know. I was just gonna say, wow, I completely think the exact opposite of all of these things that you said most of the time about these guys.
[00:35:51] Drew Thomas Hendricks: You've changed my thinking.
[00:35:52] Neeta Mittal: It's one of those things where why do we demonize the big companies? I don't, I don't understand that companies become big because they have worked hard, they have the right principles, they have great business acumen. All we can think is how do we learn from them.
I don't want to be a Gallow, but I'm sure there are a hundred things that they do that if I pick up one thing, I might be able to better the way I do things. And so it's important to understand and respect them and not demonize them. I don't understand this. I really don't. And I hope, I hope people start looking at it in that way and, and trust me, like when Dowell.
When Dowell did their thing and brought these fabulous visitors from who they brought visitors into Paso that hadn't been to Paso before. But guess what? When they come to Paso, they just don't come for Dowell. Now you are seeing a spillover effect. And then they go to at least six to seven other wineries in their trip.
So thank you for bringing these people in. J. Lohr
[00:36:54] Bianca Harmon: Do you think other wineries have the same feelings that you're having? Behind these big wineries, some of these smaller guys. You know.
[00:37:03] Neeta Mittal: I know what you're saying and I know I've heard the discussion in social media and I refrain from saying anything just because it's, everybody's entitled to their opinion.
So I feel that there, there are two ways we can take any incident that happens. There can be two ways. Either it can be victimization or it can be what's the opportunity? And that's how I always look at it, is this is a great opportunity for Paso's. It's a great opportunity for us small guys.
We've had to step up our game in many, many ways because a lot of professionals and a lot of big companies have come, and
That
[00:37:39] Drew Thomas Hendricks: is so insightful. That is such a good way to think of it as a healthy ecosystem and it ties right into the way that you conduct your wine, your wine tastings with a full experience and the full how one component helps people understand another component. And if you're just kind of isolated in your own little environment, you're not gonna get that full effect.
[00:38:03] Neeta Mittal: Yes, I believe in that. It's, it's, we are all connected, big, small, we are all connected. So when somebody walks into LXV, everything that we do, the whole idea is do we leave connected? You know, that's, that's very important to me. Connections is very important.
[00:38:18] Drew Thomas Hendricks: Very, very good. So, I'm gonna not even have a segue here, but I, you mentioned it and I gotta, we gotta talk about puppies.
[00:38:26] Neeta Mittal: Can you gimme a second? Just a second. Yeah.
[00:38:28] Drew Thomas Hendricks: Yeah. That is so interesting, Bianca. I don't think I've ever thought of it that way.
Now I have whole another light
The larger companies do, they have the systems, they have the operations. There's so much to learn from them
[00:38:40] Bianca Harmon: That there's a place for everybody, basically.
[00:38:43] Drew Thomas Hendricks: Oh, look at that.
[00:38:44] Bianca Harmon: There's the,
[00:38:45] Drew Thomas Hendricks: Oh my gosh. Who is that?
[00:38:48] Bianca Harmon: I really wanna talk to you about these. I mean, I talked to him about 'em, so they're still available.
[00:38:56] Neeta Mittal: There are a few available. So what,
[00:38:58] Drew Thomas Hendricks: Who are they?
[00:38:58] Neeta Mittal: Happened is my, two of my puppies or my dogs now they are from a breeder who's now become a friend and he had three of his girls, kind of get knocked up around the same time.
It's a long story. And so he said, and we had told him it'll be nice to, to foster one and see how the experience of the birth is. And he, he said, "Hey, I have three girls and it's gonna be a lot for me. Do you mind helping out?" So we took in one of the girls, one of the dogs had six babies. One of the other one had eight babies or seven babies rather.
The, the girl who we fostered, she had 12 babies.
[00:39:38] Drew Thomas Hendricks: Oh my lord.
[00:39:39] Neeta Mittal: You, can you say hi to Nick by the way?
[00:39:46] Drew Thomas Hendricks: Good to see you,
[00:39:48] Neeta Mittal: Nick. So Nick is a passionate, passionate person on the LXV team and he's just absolutely wonderful.
[00:39:53] Nick: I keep joking with them that they're stuck with me.
[00:39:55] Neeta Mittal: Oh, of course, of course. I hope for life, Nick.
[00:39:57] Nick: And is there anything
[00:39:58] Neeta Mittal: No, but you can take him back with his,
[00:40:00] Drew Thomas Hendricks: That is, those are some paws. That guy's gonna be huge.
[00:40:04] Bianca Harmon: The owner sent me over some beautiful pictures of all of the dogs. The owner sent me over some pictures of all of the dogs, the mom, the dad, and 'cause they're like the exact same size and coloring that I've been looking, that I've wanted and looked for.
And then I ended up having three cheer competitions in a row and I never got back to 'em. And then by the time I thought about it, I was like, oh, they're probably gone by now.
[00:40:33] Neeta Mittal: The girl who we fostered gave birth to 12 puppies. So Alan, a breeder, had 24 puppies at the same time. So he has about, I think three left. Three and I say three plus one. So this is the one that Kunal and I both in love with, but practically we cannot have him. So till he gets,
[00:40:52] Bianca Harmon: How old are they now, Neeta?
[00:40:54] Neeta Mittal: They're eight weeks.
[00:40:56] Drew Thomas Hendricks: That's the exact age that you started adopting him out?
[00:40:59] Neeta Mittal: Yeah. Yep. So, most of them are gone. So this, this kid has our heart, but we travel internationally a lot.
[00:41:06] Drew Thomas Hendricks: That is tough.
[00:41:07] Neeta Mittal: We have two dogs, so it's gonna be difficult to keep him, but just after my heart, he's amazing.
[00:41:14] Drew Thomas Hendricks: That's great. So to talk about traveling, what's the next travel location you guys are out to?
[00:41:19] Neeta Mittal: Of course India, because I have to go see my parents next. That's gonna be next month. And then we are doing Bordeaux. We are actually, well, I can't officially talk about it, so I won't talk about it. But that has something to do with CAB Collective, so they're gonna make a big announcement about that.
We're, but I'm spearing spearheading something with the executive director of CAB Collective. Her name is Linda Sanpei. Oh my God. She's a woman of force. And so that travel will take us to Bordeaux. So we are going to Bordeaux. And then we also LXV, we'll do our club, you know how you do the, the river cruises.
So we did Burgundy last year. We are doing Bordeaux next year, so, so that's the other reason to go to Bordeaux as well. And then we are doing Africa this year, but that has nothing to do with wine. It's just, I love animals. So it's, it's a trip.
[00:42:12] Drew Thomas Hendricks: Going Kenya or South Africa, where
[00:42:14] Neeta Mittal: I'm not sure yet definitely where, where we can see the, the Great Migration.
So – and Serengeti seem to be like the two you would absolutely go to. So be just trying to figure out the logistics behind it.
[00:42:30] Drew Thomas Hendricks: Yeah, that sounds fantastic. So Neeta, as we're kind of wrapping down this podcast, where can people learn about more about you and LXV?
[00:42:39] Neeta Mittal: Sure. I would say, come, come, come to Paso. Even if you don't get to LXV. We just come to Paso for so many reasons. We are all about wine, but we are also about hospitality. People come first in Paso. It is not too far because we are right kind of in the center between LA and San Francisco or other San Francisco and LA.
You can come to LXV. We have a tasting room in downtown. And you can also order us, the wine online. We are, if you are interested, you can talk to me, you can order the wine and actually I can do sort of exactly the same tasting that we do in this room with the wine and the flavors.
We do it, we can do it for you for a, for a group of people. so for our club members, we do something very interesting is once a month, last Wednesday of every month, we do a Zoom tasting where it's any varietal. So it is like a Cab or a Syrah. So it's not a LXV tasting because for me it's important.
It's not just about LXV, you stay interested in wine, and so we just ask you to pull anything from your seller off that varietal and then. We, Kiki just talk about it so you can join that call as well. You just have to let me know that we want to be on that Zoom meeting and then you'll get to see experience LXV that way as well.
It's either me or pretty much every person who works at LXV is either Psalm two or Wset two or Wset three. I'm a French, I'm, I'm a Wset three and I'm, I'm going to be a French wine scholar soon. Oh, well, I shouldn't be presumptuous if I pass the,
[00:44:19] Drew Thomas Hendricks: I think you'll make it.
[00:44:21] Neeta Mittal: We're, we're very geeky about wines here, so, so you can experience us that way too.
Or just order a bottle of wine and just see if that's something for you. And regardless of that, just contact me if there's something you're curious about, Bordeaux and Paso or Bordeauxs in general, Paso, Willow Creek, food and wine pairing. Just reach out. I'm always available via an email.
[00:44:41] Drew Thomas Hendricks: That's fantastic. That is so fantastic. Well, Neeta, thank you so much for joining us today.
[00:44:47] Neeta Mittal: Thank you very much, Drew. Really appreciate it. Thank you so much for being patient about it. And Bianca, thank you so much for connecting. Really appreciate that.
[00:44:55] Bianca Harmon: Thank you, Neeta. I've been really looking forward to this one.
[00:44:59] Neeta Mittal: Thank you. And I hope you, I see you guys in Paso.
[00:45:02] Drew Thomas Hendricks: You will. Yeah. Have a good day. Bye-bye.
[00:45:05] Neeta Mittal: You too. Bye-bye.