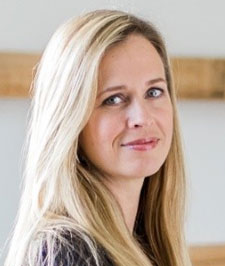 Megan Rounds is an award-winning designer and the Owner, Creative Director, Art Director, and Designer at Rounds Design. Rounds Design is a full-service brand and marketing agency that specializes in thoughtfully designed communication materials. Megan has over 25 years of professional design experience, and she has worked with clients ranging from Fortune 500 companies to small, grassroots nonprofits.
In addition to owning and operating Rounds Design, Megan has worked as a Faculty Instructor at the Academy of Art University and as an Art Director and Graphic Designer for multiple agencies. She is a member of the American Institute of Graphic Arts, the Academy of Art University Alumni Association, and the University of California Santa Cruz Alumni Association. Megan holds a Master of Fine Arts in graphic design from the Academy of Art University in San Francisco.
Here's a glimpse of what you'll learn:
Megan Rounds discusses how she got into graphic design by walking into the office of a creative director
How Megan took her career to the next level
What is the branding process like?
Megan's challenging — but rewarding — craft brewery project
How can you set your business apart from the rest?
Megan's advice for up-and-coming designers
What has Megan been reading?
In this episode…
Designing your brand is a vital step in building your business. So, how exactly should you go about branding your company? And how do you use your visual message to stand out from the competition? According to Megan Rounds, it's better to do your research first, so you don't have to reinvent yourself down the road.
Megan has been in the graphic design industry for 25 years, and she has worked with numerous companies to help them create their brands. What's her biggest piece of advice for new designers? Be solid in your craft and fluid in your medium; as the design industry evolves, you have to be open to change in order to grow with it.
In this episode of Legends Behind the Craft, Drew Hendricks sits down with Megan Rounds, Owner, Creative Director, Art Director, and Designer at Rounds Design. Together, they talk about the graphic design industry and how to brand your business. Megan discusses the questions you need to ask yourself while building your company, how to relay your message through visual content, and how to get your career started in the graphic design industry. Stay tuned!
Resources Mentioned in this episode
Sponsor for this episode…
This episode is brought to you by Barrels Ahead.
Barrels Ahead is a wine and craft marketing agency that propels organic growth by using a powerful combination of content development, Search Engine Optimization, and paid search.
At Barrels Ahead, we know that your business is unique. That's why we work with you to create a one-of-a-kind marketing strategy that highlights your authenticity, tells your story, and makes your business stand out from your competitors.
Our team at Barrels Ahead helps you leverage your knowledge so you can enjoy the results and revenue your business deserves.
So, what are you waiting for? Unlock your results today!
To learn more, visit barrelsahead.com or email us at hello@barrelsahead.com to schedule a strategy call.